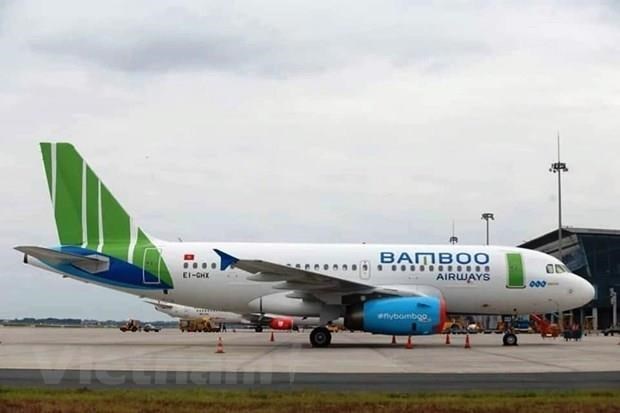 An aircraft of Bamboo Airways
The centre is set to be constructed on an area of 10 ha at the Nhon Hoi eco-tourism site in the central province of Binh Dinh. It will be built at a cost of nearly 700 billion VND (about 30 million USD).
The centre is projected to open in the first quarter of 2022, training nearly 3,500 students per year as pilots, flight attendants, technicians and ground service providers, among others.
It will also link with an international university of tourism, technology and aviation that the FLC Group plans to establish in Ha Long city of the northern Quang Ninh province, in order to offer training courses in transport management, global aviation operations, airport and flight activity management, aviation marketing and advertisement.
In addition, the centre will cooperate with the New Zealand Aviation Academy to train pilots in line with international standards.
The newest airline in Vietnam, Bamboo Airways reported that since its first flight took off on January 16 this year, it has opened 24 routes to 15 domestic airports.-VNA

Businesses say that the air transportation market is becoming saturated and growth has slowed down. The era when air carriers obtained growth with an increased number of passengers appears to be over.

That Bamboo Airways has received a green light from Vietnam's Ministry of Transport to increase its fleet to 30 aircraft by 2030 is making the competition among domestic carriers inevitably fiercer as the airlines vie for market share.

Bamboo Airways will start building an aviation academy this year to improve its human resource management.