Bamboo Airways, Vinpearl cooperate to provide air-tourism products

Bamboo Airways and resort operator Vinpearl on February 27 signed a strategic cooperation agreement in the field of air-tourism service.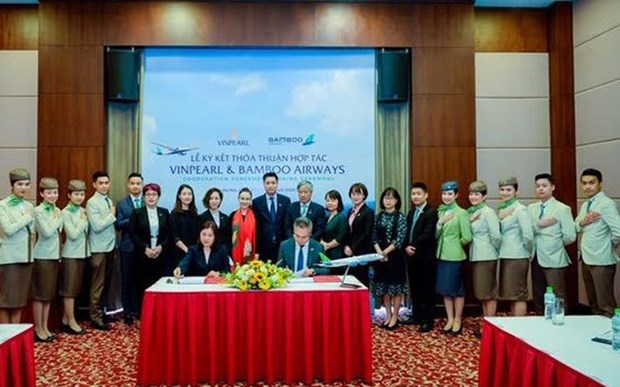 At the signing ceremony
Under the agreement, the two sides will coordinate in providing products and services, in which visitors will use Bamboo Airways' air service to visit Vinpearl's tourism sites across Vietnam.
Bamboo Airways and Vinpearl will also continue cooperating to develop domestic and international air routes to Vinpearl's destinations, towards increasing the number of international visitors from strategic markets of Vinpearl, including Australia, Japan, the Republic of Korea and China.
Joint promotional progammes for partners, customers and staff of both sides will be also swiftly designed.
Additionally, the two firms will work together to develop an international-standard golf tournament in Vietnam.
In the long term, the two firms look to jointly develop co-branded products to bring the most diverse services and options to the tourism market.
General Director of Vinpearl Vu Tuyet Hang said through their cooperation, Vinpearl and Bamboo Airways are committed to providing customers with high-class and diversified package vacations, giving customers access to travel packages combined with services from resorts and entertainment centres of Vinpearl, and the entire domestic network of Bamboo Airways.
Vinpearl – a subsidiary of Vingroup is the largest resort and entertainment tourism service provider in Vietnam, with 45 establishments in 17 provinces and cities nationwide, including 35 hotels with a combined capacity of over 17,200 rooms and villas; four entertainment parks, two wildlife conservation parks, and four golf courses.
Meanwhile, Bamboo Airways is the first private airline in Vietnam to operate wide-body aircraft. It is operating on 41 international and domestic routes with 26 modern civil aircraft. In 2020, Bamboo Airways aims to increase the number of routes to 85, including 25 international routes and 60 domestic ones with a fleet of 50 aircraft.
Authority proposes removal of limit on number of Bamboo Airways aircraft
The Civil Aviation Authority of Vietnam (CAAV) has proposed the restriction on the number of Bamboo Airways aircraft be removed, saying existing regulations do not set such limits.
In a recent document sent to the Ministry of Transport, the CAAV called on this ministry to propose the Prime Minister consider removing the limit on the number of Bamboo Airways aircraft.
It said under legal regulations, this carrier can develop its fleet to more than 30 planes, and the specific number will be considered on the basis of aviation safety, security and infrastructure.
Earlier, the Government approved adjustments to the Bamboo Airways air transport project. Accordingly, the firm is allowed to increase its fleet, including narrow- and wide-body aircraft, to 30 by 2023.
However, Bamboo Airways said legal regulations on aviation, including the Law on Civil Aviation and some related decrees of the Government, do not limit the number of planes of airlines. They can develop their fleets in accordance with their business purposes and market demand providing that they meet relevant requirements.
In fact, other carriers like Vietnam Airlines, Vietjet Air and Jetstar Pacific are all permitted to operate with an unrestricted number of aircraft, it added, noting that it is planning to raise its fleet to 50 by the end of 2020.
Bamboo Airways, which launched the first commercial flight in January 2019, is operating 41 domestic and international routes.
The company aims to gain a 30-percent share in Vietnam's aviation market and expand its flight network to 85 routes this year, including 60 domestic and 25 international ones.
As of late January 2020, it had operated more than 20,000 flights with nearly 3 million passengers and the on-time performance of 94.1 percent – highest among Vietnamese carriers in 2019././.VNA
Vietnam's Bamboo Airways will suspend flights from the central cities of Da Nang and Nha Trang to the Republic of Korea (RoK)'s Incheon city as from February 26 over coronavirus concerns.

Nearly VNĐ20 billion (US$861,000) has been pledged by Vingroup to fund research projects on the novel coronavirus (COVID-19).