Banh Chuoi – The Nostalgic Food of Childhood
Although the ingredients to make this addicting dish sound fairly simple: ripe bananas, sugar, flour, turmeric powder, making banh chuoi requires the exceptional skills of a master artisan.
For a lot of Hanoians, banh chuoi (deep-fried banana) is the nostalgic food of childhood. Many of us would savor these crispy, slightly sweet snacks on the sidewalks as an after-school snack, or as a treat to send away the cold. 
Street food stalls selling deep-fried bananas are ubiquitous in Hanoi. You can find them pretty much anywhere, but do keep in mind that they are open only in the afternoon. It makes a lot of sense actually, since rarely anyone wants something heavy and greasy in the morning.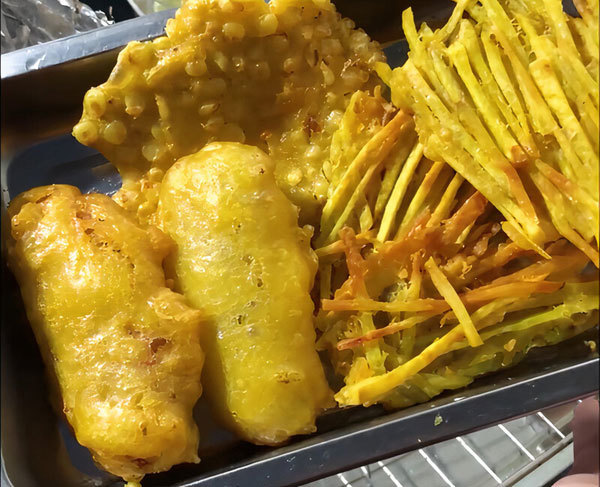 A set of deep-fried bananas, along with sweet potato pancakes and corn pancakes.
Although the ingredients to make this addicting dish sound fairly simple: ripe bananas, sugar, flour, turmeric powder, making banh chuoi requires the exceptional skills of a master artisan. It's not easy to achieve the golden ratio of the batter to produce a crunchy, delightful texture. And it's equally tough to master the art of deep frying.
After trying various food stalls, let me introduce you to one of the hidden gems of Hanoi. Settled in Van Chuong Street, this food stall has a simple set-up. You'll find two large pans full of scorching hot oil, a giant bowl of batter mixture, and some racks that serve to cool down the pancakes and to display them at the same time. While there are spaces for you to sit and savor the hot, fragrant pancakes right away, bánh chuối is often a take-away item. So, you won't find a lot of people who actually stay and eat.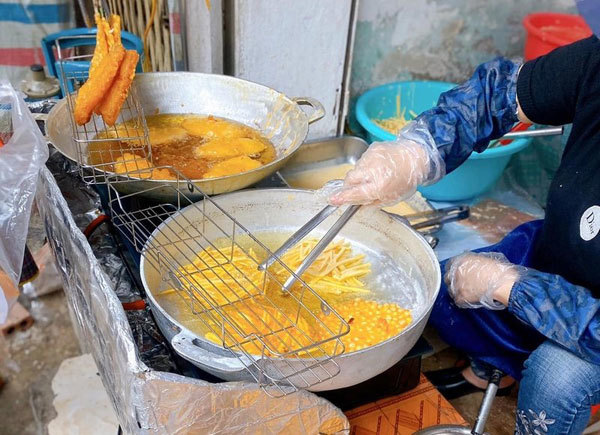 The owner skillfully cooks three different types of pancakes at the same time.
The key ingredient is obviously the banana. Not all kinds work, actually. The owner uses ladyfinger bananas (chuoi Su), a variety of short and small bananas that tastes much sweeter and is more fragrant than the more popular Cavendish cousin. It's important to use ripe bananas as well, since they're at their sweetest. The blacker and more wrinkled the peel, the better.
To make banh chuoi, the owner cuts the bananas in half and presses them gently into flat slices using a wooden handle. She then swiftly dips the banana slides one-by-one into the secret batter mixture and fries them to perfection in piping hot oil. Different from other stalls that solely rest the freshly-fried pancakes on a cooling rack, the owner, after cooling the pancakes down, adds another step and actually puts them in a mini oven so that they stay crisp and crunchy.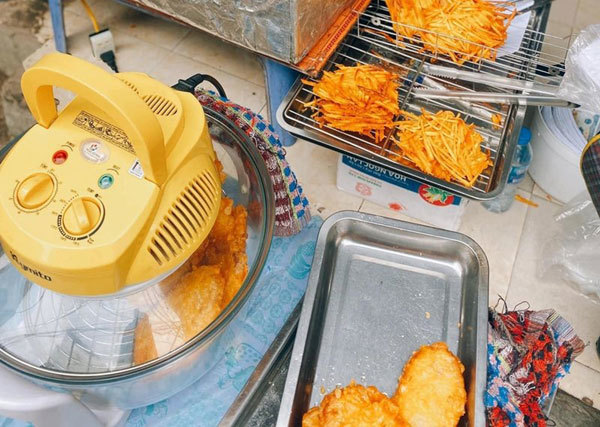 Different from other stores, the pancakes here are put into a mini oven to preserve the freshness and crispiness. Photos: Thuy An
The owner confides that she always threw away old oil that had been used several times for frying at the end of the day, and used new oil to maintain the excellent taste of the pancakes. "Everyone in my family has to eat at least two to three fried pancakes per day", she added.
Usually, deep-frying banh chuoi in old oil gives it an off-putting brown-yellow color and a greasy taste and burnt smell. On the other hand, the fried pancakes here have a bright, appetizing golden color and a signature crunchy texture of foods that are fried in new oil. I also love how she only fries the pancakes when ordered.
Another special point about banh chuoi here lies in its crunchy outer shell. When putting the banana slices into the frying pan, the owner makes sure that each layer is thinly and evenly spread, so that the banh chuoi doesn't become too dense and the exterior stays airy and crunchy. It is, in fact, very satisfying to bite into since you will be able to taste both the batter and the sweet, soft banana stuffing.
In addition to banh chuoi, the owner also sells sweet potato pancakes and corn pancakes. They are equally scrumptious and worth a try. The sweet potatoes are shredded finely so that when fried, they are cooked evenly and give you a crunch in every bite. Meanwhile, the corn pancakes are made of sweet, juicy corns and can bring you a harmony of flavor and texture.
Banh chuoi is a delicacy that is loved not only among children and teenagers, but also among adults. It's quite cheap, priced at VND6,000 VND only. So, whenever you're craving a snack, I hope I've given you enough reasons to give it a try. 
Hanoitimes
With the arrival of cold weather, this part of the year represents the perfect time to sample hot street food. Let's visit Hanoi these days to taste these special dishes and enjoy an unforgettable experience.

Banh chuoi is a dish best served... in winter. In fact you will only find this sweet treat for sale when they weather is a bit chilly.