Banh mi – the iconic dish of Vietnam
When it comes to Vietnamese cuisine, one of the first images that appear in most people's mind is banh mi.
It's undeniable that banh mi has become an icon of Vietnamese cuisine. So if you ever consider visiting Vietnam, it's the quintessential dish that you might not want to miss out.
When it comes to Vietnamese cuisine, one of the first images that appear in most people's mind is banh mi. And while it's fairly easy to get drowned in the flavors of this seemingly simple yet oh-so-delicious baguette, banh mi also entails a captivating history that has further solidified its position in the evolving food scene of Vietnam.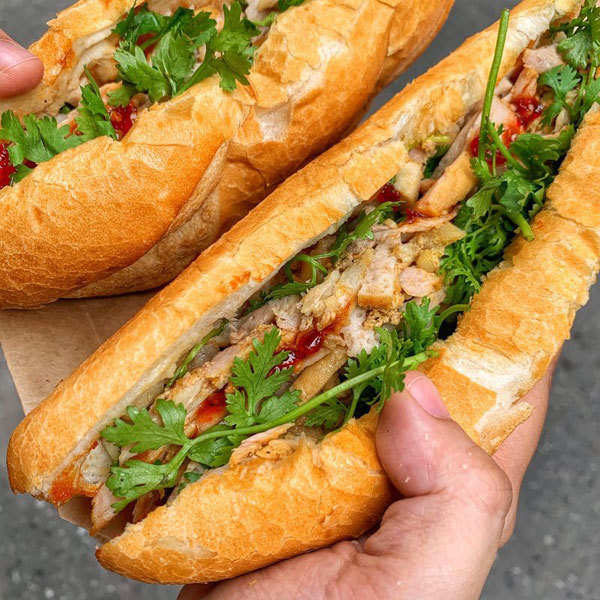 A standard banh mi usually consists of some herbs and Vietnamese sausages. Photos: Thuy An
From 1887 to 1954, Vietnam was ruled by the French. Since it wasn't pragmatic to ship food from France to Vietnam, the French decided to introduced various crops and livestock into Vietnam so that they could still maintain their usual diets. Unfortunately, wheat couldn't be grown in Vietnam, and baguette was shipped to Vietnam at an outrageous price. Baguette, therefore, was a luxurious item that's reserved only for the French. And the Vietnamese, deemed as the inferior, were not worthy of eating the same kind of food as their masters.
However, during World War I, two German-owned import companies were seized by the French. Inside their warehouses, there were ample of Western foods that eventually made way to the local markets in Ho Chi Minh city at a discounted price that the locals were able to afford. The increase in wheat shipments from America and also the change to local ingredients made baguettes no longer a food item that was hard to attain. And in the late 1950s, banh mi was invented by Mr. and Mrs. Le in Ho Chi Minh City. They tweaked the French baguette by using Vietnamese ingredients and directly putting ingredients inside the bread so people could take it with them.
This quick, easy-to-make dish then made its debut in Hanoi as well. Banh mi is considered a breakfast staple for many, but it can be eaten as a midday snack or for dinner as well. The  fillings are quite diverse, consisting of different kinds of meat and veggies. Back in the day, ham and pork liver pâté were the only toppings. But nowadays, you'll find options such as grilled pork, chicken patties, pickled veggies, and even French fries! Literally, the choices are endless.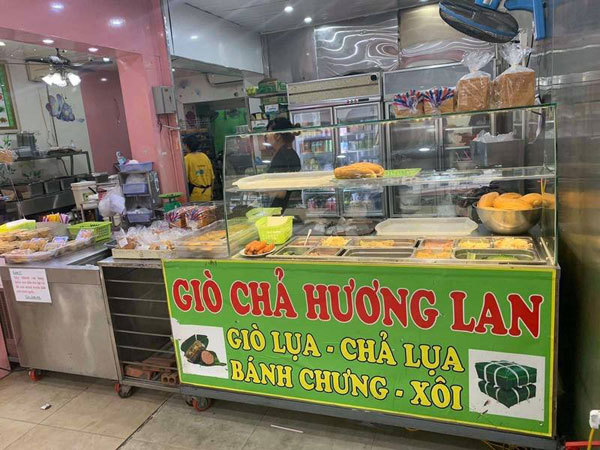 To purchase banh mi, you will have to get a stamp coupon first and wait for the bread to be made.
For many Hanoians, Banh mi Huong Lan, located at 513 Kim Ma, is probably the food store that they frequent. It's used to be called "Banh mi Nhu Lan" and has a history of over 50 years. What's special about this place is that you have to purchase a stamp coupon (tem phieu) first and then wait for your baguette to be made.
The fillings are very traditional, including ham, Vietnamese sausages, eggs, grilled meat, and pork liver pâté. The baguette itself is crispy. But the pork liver pâté is probably the reason why people keep coming back for more; it's rich, fatty, and has an irresistible aroma. There're also pickled veggies, but I find them to be a bit sweet.
Since banh mi here is made in a traditional way, it doesn't have any special sauce. There's only chili sauce which you can order if you would like your banh mi to be a little bit spicy.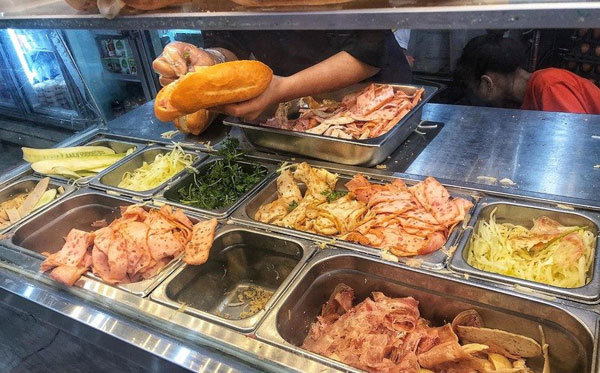 The toppings for bread here are quite simple - pickled veggies, herbs, ham, Vietnamese sausages.
Depending on the amount of fillings you want, the price can range from VND15,000-30,000 (US$0.65 – 1.31).
From a humble beginning, banh mi has earned global recognition and become one of the iconic dishes of Vietnam. Although there have been many innovative versions of the traditional banh mi and you can probably find it anywhere in the world, the banh mi in 
Hanoitimes

Four Vietnamese eateries have been included in the Inaugural "Essence of Asia" Collection, an unranked collection by Asia's 50 Best Restaurants.

"Hard to resist" is what Theign Yie Phan, a head chef, describes Vietnamese "banh mi" (sandwich), in an article entitled "Story of the banh mi: Vietnam's super sandwich that took on the world" run in the South China Morning Post.

The South China Morning Post (SCMP) has published an article detailing the journey of Vietnamese Banh Mi to conquer the world.