Banks to provide over $12-billion credit to epidemic-hit firms

The banking sector is building a credit support programme with a value of $12.2 billion for firms hit by COVID-19, in an attempt to help ease their difficulties, according to an official of the State Bank of Vietnam.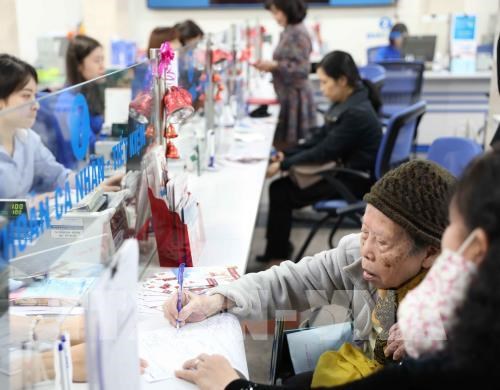 Transactions at Eximbank (Photo: VNA)
In a recent interview granted to the Vietnam News Agency, head of the central bank's department on credit to economic sectors Nguyen Quoc Hung said most of the commercial banks have registered to join the programme.
The official further said the interest rates will depend on the concrete situation of the customers, from 0.5-1 percent lower than those on the market.
Credit organisations are not short of capital, but the question is how the firms can absorb the support, Hung stressed, adding that the capital for the programme comes totally from the banks, not the state budget.
He however also warned of the possibility of bad debts as a result of the customers' failure to pay due debts because of the epidemic.
At a recent conference on measures to support those firms and people affected by the COVID-19, a representative of the State Bank said in the initial stage, credit organisations had supported over 44,000 customers with loans totaling 222 trillion VND through various measures like restructuring their payment dates, reducing interests on their current or new loans, and exempting fees.
Tax, land lease payment term extended for epidemic-hit firms
The term for tax and land lease payment worth about 30 trillion VND (1.3 billion USD) has been extended in a support package for enterprises and business households hit by COVID-19 outbreak, the Finance Ministry said on March 6.
The ministry added that it will work closely with relevant ministries and agencies to ask the government to promptly issue a decree on the extension of payment term of added value tax, individual income tax, and land lease tax for affected sectors such as tourism, transportation, hospitality, garment and footwear.
It also coordinated with units concerned to review the Government's proposal to reduce input fees for production and trade.
On February 28, the ministry issued Notice No.2155/BTC-CST requiring ministries and ministry-level agencies to review fees associated with services under their management, and suggesting them reduce fees to support those affected by the outbreak.
During the Government's meeting for February, the Prime Minister also agreed with the Finance Ministry's proposal on support package for enterprises and business households.VNA

Analysts say banking will be one of a few sectors to benefit from Covid-19 as the central bank may loosen the monetary policy to support the economy in crisis.

Another 15 commercial banks have slashed fees for interbank transfers of small sums worth less than VND500,000 (US$22) on March 4.