Black credit is raging in large cities, targeting petty merchants whose capital is getting dry and individuals who lose jobs because of Covid-19. It has also reached its 'tentacles' into remote and mountainous areas, where many ethnic minority people are facing poverty.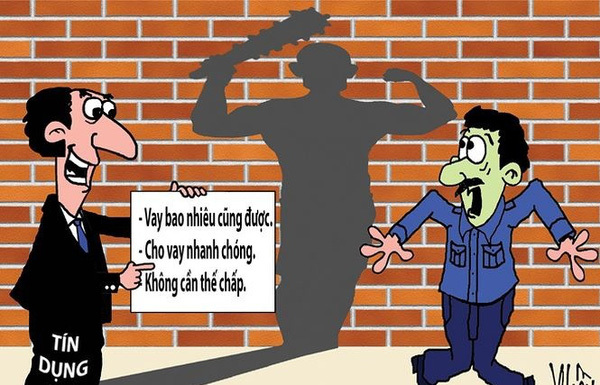 A man from Cao Phong district in Hoa Binh province said leaflets advertising 'super easy loans' now appear everywhere, along inter-district and inter-commune roads and at every corner of villages and communes. The ads say that people can borrow money with very simple procedures and that people just 'make a call and get money'.
He said a 'black credit ecosystem' has been established in the area, which comprises lenders, pawnshops, and sellers of collateral for loans and debt chasing groups.
Lai Chau, Son La, Gia Lai, Dac Nong and Binh Phuoc have also become black credit hot spots. The remote areas, where it is difficult to access bank services, are a promising land for usurers. Local people, who don't have deep knowledge about financing, are easily trapped.
Many households in the localities, after borrowing money from usurers, had to sell land, houses and motorbikes to pay debts.
Dao Minh Tu, Deputy Governor of the State Bank of Vietnam (SBV), said that black credit can reach every corner to access borrowers, so bank services should reach people in remote areas to repel black credit.
Tu said SBV will ask commercial banks to come to every village to deliver leaflets and carry out information campaigns to help locals understand how to get bank loans.
This will be implemented on a trial basis in Lac Thuy district in Hoa Binh province. Banks have to commit to provide loans with simple procedures, while borrowers who get a loan for the first time have to prove they will use capital for appropriate purposes and pay their debts. Local authorities will have to help certify borrowers' identity.
Tu said the central bank has instructed credit institutions to runspecial credit programs for the agriculture sector, and develop networks of branches and transaction offices to remote areas to satisfy the local demand for loans, thus helping curb black credit.
The preferential lending programs run by the Vietnam Bank for Social Policies under instruction from SBV are another important factor contributing to the repulsion of black credit.
The bank has lifted the maximum value of loans to VND100 million per household and extended the lending time to a maximum of 12 months, applied to poor, near-poor households and households which have just escaped poverty. It ' is offering loans with no collateral required. 
Duy Anh

Covid-19 has caused many people to lose jobs and has paved the way for black credit to emerge.

It is now easier than ever to borrow money through apps, but paying back the debts can be difficult since interest rates can be 700-1,400 percent per annum.