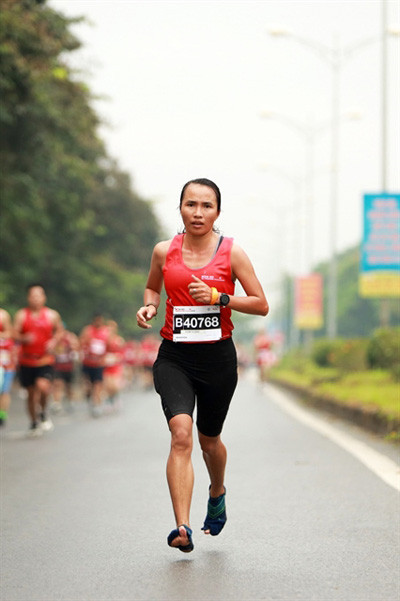 Nearly eight years after retiring from professional competition, 'Barefoot Queen' Pham Thi Binh is back and winning again.
The 33-year-old marathon runner triumphed in the VnExpress Marathon Quy Nhon 2022 in June, VnExpress Marathon Nha Trang 2022 in August and Binh Duong International Marathon last month.
In September, she also finished second in the 42km race at the Techcombank Hanoi Marathon.
"After I stopped competing professionally, I saw the running movement in Vietnam growing more. That motivated me to train again and register for marathon events. I have endurance due to my long professional career, so it's not too difficult to run again," Binh told Việt Nam News.
Fans were excited by the intriguing image of the 42km women's champion in the above events. She reached the finish line with her bare feet, leaving her competitors behind.
However, longtime track and field followers recognised that it was Binh - the once "barefoot queen" of Vietnamese athletics. Even eight years on from retiring, she is easy to recognise.
"I've been used to running barefoot for a long time as my body is not suitable to wearing shoes. I have tried different types of shoes, but they don't fit. If I wear shoes to compete, I will lose the skin on my feet, and the soles of my feet will shrink," Binh said.
"I still run barefoot now. But, compared to athletes wearing shoes, running barefoot is more disadvantageous, so no one else does it," Binh added.
In 2013, Binh made history when she brought home the first women's marathon gold for Vietnam at the Southeast Asian (SEA) Games with a time of two hours 46 minutes 03 seconds.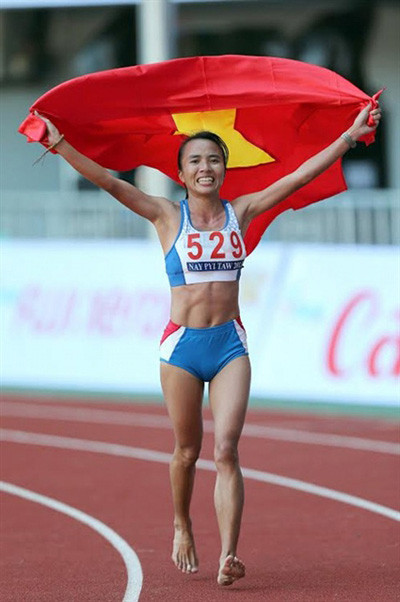 The Vietnamese athlete finishing with blistered feet in the women's marathon event was one of the most impressive images of the 2013 Games in Myanmar.
She also bagged a bronze medal in the 2011 Games in Indonesia marathon with a time of 2:48.43. Bình's gold medal is precious because since then, no Vietnamese female marathoner has brought home a gold medal.
Binh started training in athletics in 2004. In 2005, she joined the national youth team and was called to the national team in 2011.
In 2015, after winning the gold medal and breaking the record of the National Sports Games, Binh officially retired from running.
During her career, she won about 80 medals, including about 30 gold medals in domestic and international events.
After retiring, she returned to her homeland, Quang Ngai Province, to train young athletes at the Provincial Sports Training Centre.
"I wanted to retire to focus on my family. At that time, athletes were not given as good conditions as now. The running movement in the country was almost non-existent. There were only a few traditional running tournaments, and only a few familiar faces, including me, regularly participating," Binh said.
Nowadays, more and more people are running, both young and old, so her passion for running is renewed. She trains and competes to both satisfy her passion and raise her health.
Binh returned to competition in 2021 with a 10 km at Ba Ra mountain climbing tournament after just a month of training.
"I usually practice 5-6 times a week with a distance of 10-25km. Before competing, I run 35km to increase my endurance," Binh said.
"Last year, there weren't many marathon events held because of the COVID-19 pandemic, so this year I wanted to attend some events and won first place. I was surprised and very happy because I can still run well many years after stopping playing professionally."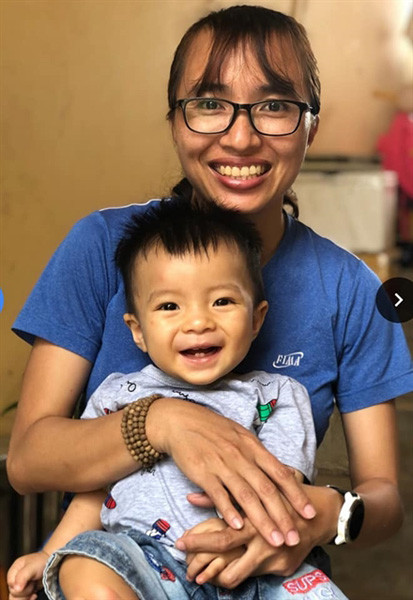 Binh currently trains the youth team of Quang Ngai Province. She has two children.
"I am very satisfied with my professional work. I'm also seeing some potential track and field athletes for the province," Binh said.
Binh's family has been supported by a business to buy land after about seven years of living in a room in the provincial stadium. She is preparing to build her dream house.
Source: Vietnam News