VietNamNet Bridge - Vietnamese beef and litchis will be seriously affected by the Trans Pacific Partnership (TPP) Agreement in import and export markets. While beef will have to struggle to hold the home market, litchis will have to struggle to penetrate more foreign markets.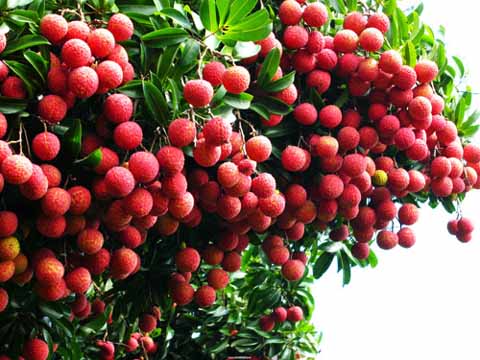 In principle, when Vietnam joins free trade agreements (FTAs), it will be able to boost exports to FTA member countries thanks to the zero tariff FTA member countries offer each other.
However, this is not true for Vietnam's litchis. The tropical fruit is being sold in Australia, the US, Japan and Malaysia. It will have a larger market when Vietnam joins TPP, but this does not mean that export market doors will be open widely to it.
Nguyen Thi Hoang Thuy, the Vietnamese trade representative at the Vietnamese Embassy in Australia, said Vietnam's litchis now do not bear tax when entering the Australian market. Therefore, the TPP membership will not bring tariff benefits to that kind of fruit.
"Under the currently applied Australia-ASEAN FTA, 96 percent of ASEAN's export items to Australia enjoy the zero tariff," Thuy explained.
"Therefore, whether Vietnam's litchis in particular and farm produce in general can penetrate Australia will depend on non-tariff matters, including the quarantine," she said.
The same is expected to occur in the US. Quarantine, irradiation and packaging fees alone make up 20 percent of the production costs of exports.
The director of an export company noted that the markets that order Vietnam's litchis are all far from Vietnam. This means that Vietnamese exporters will have to spend more money to keep litchis fresh and ship litchis by air. The air transportation fee makes up nearly half of the production cost.
"Vietnam's litchis will not be taxed, but Vietnam will have to compete with other exporters in terms of price," he said.
Meanwhile, analysts warned that beef and other livestock products will have to struggle to survive in the home market.
According to the General Department of Customs (GDC), the boneless and boned cattle meat imports in the first quarter of 2015 were 199 and 8,405 tons, respectively.
Vietnam is the second biggest importer of beef from Australia, just after Indonesia, with 10,000 cows every month.
As Vietnamese prefer fresh to frozen meat, Vietnamese enterprises import fresh cows and slaughter in Vietnam. This has resulted in a sharp decrease in the number of cows in Vietnam, while imports have increased dramatically by 50 times just within two years.
According to Doan Xuan Truc, deputy chair of the Vietnam Livestock Association, Vietnam's animal husbandry will have to compete fiercely with imports when Vietnam officially joins TPP.
"Small farms will suffer the most, because the imports, especially from Australia, have very reasonable selling prices," Truc said.
Zing