Australian scientists say they have developed the world's first WHO-approved "gluten-free" barley, a breakthrough for global beer manufacturers which have had to use alternatives to barley such as rice and sorghum to brew gluten-free beer.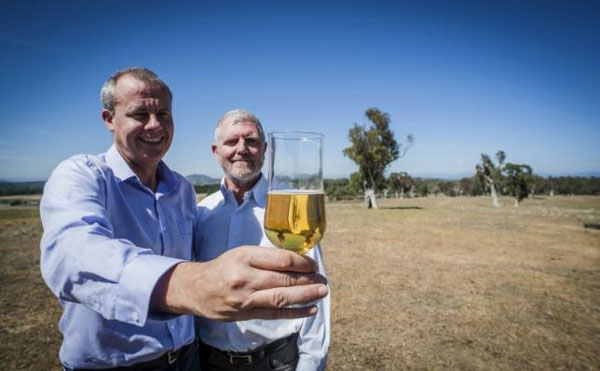 Researchers Crispin Howitt (L) and Phil Larkin from Australia's Commonwealth Scientific and Industrial Research Organisation (CSIRO) hold a glass of beer in Australia's capital, Canberra, March 3, 2016. Australian government scientists say they've developed the world's first...
Australia's Commonwealth Scientific and Industrial Research Organisation (CSIRO) said on Friday it had sold 70 tonnes of the new Kebari barley to Germany's largest brewer Radeberger, which has produced a beer to be sold in local supermarkets.
"Gluten-free barley will be highly sought after, with European brewers particularly interested," said John O'Brien, a brewer of gluten-free beer in Melbourne.
Gluten-free is one of the world's fastest growing consumer trends with the market expected to grow more than 10 percent a year until 2020 to be worth $7.59 billion, a 2015 report by MarketsandMarket estimated.
European drinkers, already among the world's largest consumers of beer per capita, have embraced gluten-free more than other regions, brewers said, with several large manufacturers releasing gluten-free brands.One of the problems brewers have faced in making gluten-free beer without barley, or barley with the gluten stripped out, is that beer drinkers often complain it doesn't taste like traditionally brewed beer.
"A true gluten-free barley variety is a true game changer, there is going to be a massive market for the product," said Phin Ziebell, an agribusiness economist at National Australia Bank.
While the new "gluten-free" Kebari barley actually contains minute amounts of gluten, the CSIRO said it had 10,000 times less gluten than traditional strains, or about 5 parts of gluten per million, well below the World Health Organization's (WHO) 20 parts per million for classification as a gluten-free grain.
Barley is primarily used for animal feed and alcohol production and the development of a "gluten-free" barley is expected to boost Australia's ability to capitalize on the growing global gluten-free market.
"As it expands, certainly some growers will benefit, this will be a premium grain," said Phil Larkin, research manager for healthy cereals at CSIRO.
The new "gluten-free" barley is part of Australia's push to become Asia's delicatessen, supplying premium agricultural products like finger limes, olive oil, honey, wagyu beef and organic baby food to the region's growing middle class.
While the diagnosis of gluten-related disorders such as coeliac disease has increased, the majority of consumer growth in the sector has come from non suffers.
However, gluten-free beer has seen only small gains, curbed by differing global standards of what is considered gluten-free. The United States plans to tighten requirements on manufacturers of gluten-free beer to prove their claims.
Kebari barley is not a product of genetically modified farming, but a decades program of breeding out the gluten by cross-breeding low gluten barley varieties, said the CSIRO.
Production of the new strain of barley, which has been patented by CSIRO, will be strictly controlled within Australia, limiting farmer access to seeds, in order to prevent cross contamination, said the government-funded scientific body.
Source: Reuters