Big shot investors in real estate M&A push

Vietnam's real estate market is currently one of the most attractive in Southeast Asia, with many opportunities for domestic real estate developers to find partners and investors in the form of mergers and acquisitions.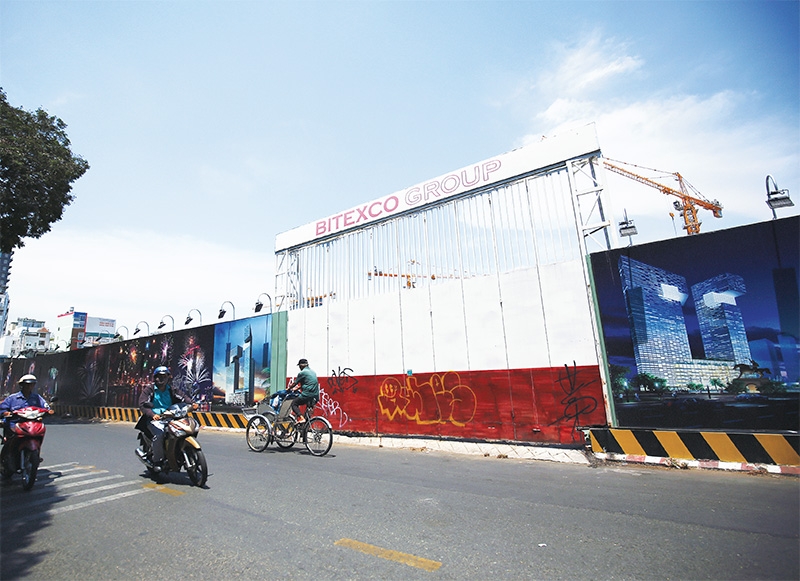 Investors are seeing hope in Vietnamese real estate after suffering from issues elsewhere in the region
As 2020 began, Kinh Bac City Development Holding Corporation announced the acquisition of full stakes in Lotus Hotel Development Company – the developer of the Diamond Rice Hotel Complex, from Tan Hoang Minh Corporation. The deal was done with the total value of VND1.85 trillion, or $80 million.
The Diamond Rice Hotel Complex covers more than 4.2 hectares of land area located next to the Vietnam National Convention Center in Hanoi's My Dinh area. With the proposed investment capital of $250 million, development of a 100-storey hotel building, an 80-storey building, and another 15-storey building has been set.
At the same time, Saigon Glory, another domestic company, was announced as the new investor of The Spirit of Saigon, the 5-star complex located right at the heart of District 1 in Ho Chi Minh City, opposite to Ben Thanh Market. This complex previously belonged to Bitexco Group and the transaction deal was valued at VND7 trillion ($300 million).
The two outstanding cases of transactions are proving an opportunity for new investors to push them forward after long delays.
Attracting investors
Although mergers and acquisitions (M&A) are amassing through domestic investors, overseas equivalents are increasing their interest and participation into the field.
According to Akihiko Iwatani, chief representative from Haseko Corporation, Vietnam is assessed as one of the biggest potential markets for Japanese investors in particular and other foreign investors in general.
"Choosing a suitable segment of the real estate market depends on each investor. However, I think that apartments, offices, and hotel developments in major cities of Vietnam are the most fruitful segments which attract foreign investors," Iwatani said.
Iwatani further compared the Vietnamese real estate market with other countries in the region, saying that international investors are finding it tough when investing in other mature markets like Indonesia or Malaysia, while Singapore is a small market. Vietnam, meanwhile, has more favourable conditions, with a huge population, stable economic development, and a fast urbanisation growth rate which consistently pushes the demand for accommodation.
Luu Thi Thanh Mau, CEO of Phuc Khang Corporation, said that M&A deals are needed to increase more financial sources and ensure the Vietnamese real estate market becomes more transparent.
"I see great opportunity for domestic investors to mobilise financial sources from foreign investors, especially those who own compensated land with clear legal dossiers," Mau said.
According to figures released by the Foreign Investment Agency under the Ministry of Planning and Investment, foreign direct investment (FDI) pledged to Vietnam surpassed $38 billion in 2019, marking a 10-year high and representing an on-year increase of 7.2 per cent.
Of those, 65 per cent or $24.56 billion was directed into the processing and manufacturing sector, while 10 per cent, or $3.88 billion, went into the real estate sector, and the remainder into wholesale and retail, and science and technology.
The capital contribution trend emerges as both domestic and foreign companies realise the complementary support that they can offer to each other.
Foreign investors are usually hesitant to enter the market because of the changing legal environment. Therefore, co-operation with Vietnamese partners through share purchase and capital contribution enables them to receive access to land plots, which are ready for construction.
Meanwhile, due to the State Bank of Vietnam's stricter control on bank loans to domestic real estate developers to avoid a market bubble, Vietnamese businesses often turn to foreign investors through share sales and joint ventures as a new funding source. Also, sharp land prices and hindrances within the regulatory framework could be obstacles to FDI, so they resort to M&A deals with local counterparts who have easier access to cleared land for the development of projects.
Ben Gray, director of Capital Markets at Cushman & Wakefield Vietnam, said that during the last two years, some transactions were reported as the well-known benchmark in the market.
Last year saw SK Group invest $1 billion into Vingroup, while Saigon Co.op joined forces with Auchan, taking over 18 physical stores at an undisclosed value.
Truong Hai Auto Corporation (THACO) also increased its holdings in Hoang Anh Gia Lai Group after buying over $100 million of convertible bonds. Meanwhile, SonKim Land closed a round of investment worth $121 million from a consortium led by existing investors EXS Capital and ACA Investments, as well as a new backer in Credit Suisse's Singapore branch.
Although Japan and South Korea have been the leading investors in M&A in the real estate market, domestic investors are still retaining promises with a range of deals carried out in the last quarter of 2019 and even the first days of this year.
Existing concerns
According to Gray, when looking at the Vietnamese market, real estate investors are identifying the same key concerns they have been highlighting for years.
These risks include the regulatory and legal framework that investors must navigate, the complex nature of Vietnamese tax law, and the sometimes unfavourable business and deal-making environment.
"The valuation of assets continues to be problematic. Investors' expectations on pricing are frequently incongruous with the sellers' perception of the asset's worth," he said.
Furthermore, Gray added that management and accounting standards are lagging behind international standards. "When investors are considering target companies for acquisition or joint venture partnerships, they tend to be guided by existing relationships or their knowledge of a real estate submarket in Vietnam," he added.
In the absence of quality public information on target companies, partners, or transaction evidence, investors find it difficult to crystallise a deal that is in line with international standards of transparency and fair market pricing.
Gray added that for real estate M&A in Vietnam, the lack of comparable evidence that can be analysed and the common practice of mismatched – or even dual book – accounting systems is holding back the growth of the market.
"The value of a partnership or a company and its underlying asset base or project is often over-optimistic or overestimated due to differing valuation standards, and Vietnamese companies failing to regularly produce business plans or financial projections. This is a strong contributor to deal failure and accounts for the low closing rate for M&A in Vietnam, with only 2 per cent of deals being successful," he explained. "Most of these hurdles can be readily cleared if investors use third-party advisors to track records from deal origination to execution and provide post-deal support."
According to Cushman & Wakefield Vietnam, going forward, the real estate segments that will continue to attract foreign investment will be infrastructure and development, utilities, and support services.
"Developers will continue to seek joint venture partners to help manage how their projects are funded now that the banking sector's view of real estate lending is more closely aligned with international risk management," said Gray.
Meanwhile, Phan Huu Thang, vice chairman of Vietnam's Association of Foreign Invested Enterprises, said that condominiums, offices for lease, industrial and warehouse properties, trading centres, and hotel resorts are still attractive for foreign investors currently and will remain so in the coming years.
"South Korea and Japan remain the leading investors into the Vietnamese real estate market, especially via M&A deals, together with a remarkable investors coming from Singapore and Hong Kong," Thang said.
In regards to regulation, the Vietnamese government should continue on its current path with rules that are well-drafted, clear, and contribute to the continued improvement of the market, according to several experts.
Additionally, Vietnamese companies aligning themselves with standard international practices for accounting and management will be better positioned regionally and globally.
In addition, the proposed revisions to securities, enterprise, and investment laws would greatly improve the M&A environment, resolving many of the structural issues investors face such as licensing, conditional business lines, the ability to offshore capital, and ownership limits and ratios.
Meanwhile, Savills Vietnam also said that 2020 would see rising demand in new segments of the industry, including resort and industrial property.
With more than 15 per cent growth in the number of international tourists, it creates good opportunities for real estate developers in popular tourist areas such as Danang, Phu Quoc, and Nha Trang to introduce resort properties. Such resort properties are designed to harmoniously combine cultural characteristics and natural features.
Thanks to manufacturing companies' transition from China amid the trade dispute with the United States, and new free trade agreements (FTAs) including the EU-Vietnam FTA, industrial property is in high demand in key industrial clusters such as Ho Chi Minh City, Binh Duong, and Dong Nai in the south, as well as Haiphong and Bac Ninh in the north. VIR
Bich Ngoc

Akihiko Iwatani, chief representative of Haseko Corporation in Hanoi, believes that Vietnam is the most attractive market in ASEAN for Japanese investors in particular and foreign investors in general.
Investment in real estate sector through capital contribution would avoid risks that might cause to new comers who know little about the market and law.