Billionaire businesspeople donate millions of dollars to local charities during COVID-19
Vietnamese businesspeople have donated billions of dong to charitable activities during the COVID-19 crisis.
Pham Nhat Vuong of Vingroup
Vingroup in February 2020 signed contracts on funding research to cope with the pandemic worth VND20 billion. In March, it committed VND125 billion for buying ventilators, testing machines, biological test kits and conducting research on SARS-CoV-2.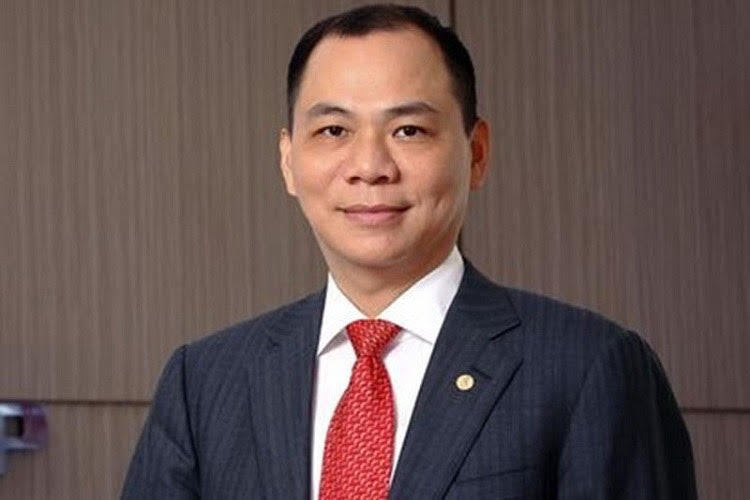 Pham Nhat Vuong, president of Vingroup
When the pandemic reached its peak, Vingroup automobile factory manufactured ventilators.
Soon after signing a contract with Medtronic on using its PB560, an invasive ventilator, Vingroup began doing research on non-invasive ventilators based on the design that MIT shares with the community.
It took just three weeks for Vingroup engineers (Vinfast and Vinsmart) to complete manufacturing of the two models – VFS-410 and VFS-510
According to Forbes, billionaire Pham Nhat Vuong, president of Vingroup, and Thien Tam Charity Fund of Vingroup, donated $77 million this year to relief activities, as well as education scholarships and healthcare programs throughout the country.
Vingroup's finance report showed that in the first nine months of 2020, the group transfered VND2.3 trilliont to Thien Tam fund.
Most recently, Vingroup announced the establishment of VinFuture fund which will organize scientific and technological awards with the mission of creating positive changes in the daily life of millions of people on Earth by promoting scientific reserach and technological innovation.
"Branded goods King" and the emergency flight of his daughter
Deciding to charter a flight worth VND10 billion to carry his daughter who was suffering from Covid-19, from the UK to Vietnam, Johnathan Hanh Nguyen, dubbed as 'branded goods King' put all his hopes on Vietnamese doctors to save his daughter.
After she was cured, he donated money and materials to fight the pandemic. Johnathan and his family have donated VND30 billion so far.
Of this, VND15 billion was sent to the HCM City Fatherland Front to contribute to the fight against Covid-19, and VND5 billion to Mekong Delta provinces, which were struggling with a drought and a lack of clean water. The remaining VND10 billion was spent on equipment used at the hospital where his daughter was treated.
The businessman revealed that he had worked with suppliers in Germany on the procurement of medical equipment for the hospital.
As Vietnamese from all over the world have been returning, the businessman decided to allow the healthcare sector to use his supermarket, covering an area of 5,000 square meters in Tay Ninh, as a quarantine facility.
Billionaire Trinh Van Quyet weathers the storm
Looking back at 2020, Trinh Van Quyet, president of FLC Group, did not talk much about difficulties, but about Vietnamese businesses' determination to overcome difficulties.

"The year 2020 showed strong resilience of Vietnamese businesses. They have been brave, serious, not afraid of difficulties, not fearful of hardships, and they did not shrink back,"
Trinh Van Quyet, president of FLC
"The year 2020 showed strong resilience of Vietnamese businesses. They have been brave, serious, not afraid of difficulties, not fearful of hardships, and they did not shrink back," he said.
Quyet's Bamboo Airways received and put wide-body aircraft into use for flights to Northeast Asia and long-distance flights to Europe and Australia. It received a license to fly non-stop to the US.
Trinh Quoc Ky's ambition
Vietravel Airlines officially joined the market in 2020 when the world's aviation sector was paralyzed because of Covid-19.
The air carrier plans to use three aircraft in the first year and raise the figure to 30 within five years.
Vietravel Airlines' CEO Vu Duc Bien, said Vietravel Airlines will be an airline "between that of Vietjet and Bamboo Airways". There will be 17 price levels for only one class of ticket.
Nguyen Quoc Ky, president of Vietravel Airlines, said Covid-19 forced it to restructure its operation and products to adapt to the new conditions.
The carrier is now focusing on the domestic market, mostly serving the tours of the company and commercial passengers. The airline will set aside around 55 percent of seats for some 35-40 percent of the customers of its parent firm Vietravel.
"We will fly domestically first in the local 100 million person market. This is not a small market. Our revenue from domestic travel services in July 2020 was unexpectedly higher than that before the pandemic outbreak," he said.
Tran Dinh Long becomes third richest billionaire
Hoa Phat shares on October 23 hit a record high of VND30,900 per share after 13 years of listing.
After that, the share price continued to escalate. The shares' closing price reached VND35,700 per share on November 20.
This helped the stock assets of Hoa Phat president Tran Dinh Long increase sharply. Forbes estimated that Long has $1.7 billion, the highest stock asset value of Long so far.
He was recognized by Forbes as a dollar billionaire in March 2018 with asset value of $1.3 billion. Later, he was excluded from the list of billionaires in the next two years as the Hoa Phat share price decreased.
In late May 2020, Long reentered the club of billionaires when his asset value hit $1 billion, thanks to the strong recovery of Hoa Phat share prices. 
Luong Bang

Once dreaming of becoming a university lecturer, Nguyen Thi Phuong Thao finally became a businesswoman and billionaire. Others became billionaires though they did not complete or even attend university.

Trinh Van Quyet, president of FLC Group, has decided to spend nearly VND100 billion to buy FLC shares, though prices have increased sharply recently.