Billionaire's companies make big profits during difficult period
The businesses owned by the dollar billionaire Pham Nhat Vuong have all reported record-high revenue at a time when the real estate market has been bogged down in difficulty.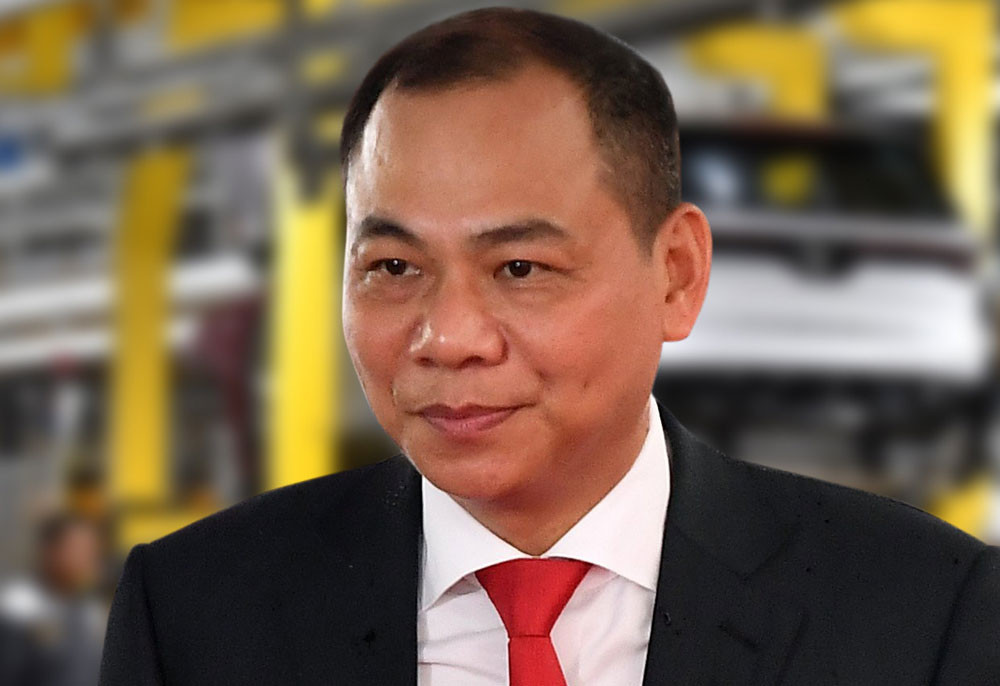 Vingroup has record revenue, high inventory
Vingroup (VIC) has released Q4 2022 financial report which shows an 18 percent increase in revenue compared with the same period in 2021, the highest level so far, at VND41.2 trillion. Its post-tax profit was VND410 billion, while it took a loss of VND9.284 trillion in Q4 2021.
These are impressive business results amid the difficult real estate market and sudden cash flow decline in the last quarter of 2022 with credit exhaustion, frozen corporate bond market and interest rate hikes.
The record-high revenue is attributed to real estate transfer deals, worth VND29.2 trillion in total, up by 26 percent.
In Q4, Vingroup had big revenue from low-rise real estate products at Vinhomes Ocean Park 2 (The Empire). This is a super-project in Hung Yen, comprising 1,300 products developed at lightning speed.
Meanwhile, other business fields, including real estate leasing, hotel services, tourism, entertainment, healthcare and education brought higher revenue, but just made up 29 percent of total revenue.
Vingroup's production activities saw a 12 percent decrease to VND3.6 trillion, which is partially attributed to the stop of gasoline-run VinFast car sales.
For 2022, Vingroup had revenue of VND101.5 trillion, down by 19 percent from 2021, while post tax profit reached VND1.982 trillion (it was minus VND7.558 trillion in 2021).
Real estate transfers brought the highest revenue to Vingroup, while real estate leasing brought 8 percent of revenue (VND8.11 trillion).
Vingroup's assets increased by 34 percent by the end of 2022, while its cash rose to VND28 trillion.
However, inventory also increased by VND50 trillion to VND103.7 trillion. Total accounts payable increased by 63 percent to VND439 trillion.
Vinhomes booms after pandemic
In Q4 2022, Vinhomes (VHM) had net consolidated revenue of VND32 trillion, up by 34 percent, thanks to the handover of 2,200 more real estate products at Vinhomes Ocean Park 2.
Its post-tax profit reached VND8.952 trillion, lower than the VND11.703 trillion in Q4 2021.
For 2022, Vinhomes reported revenue of VND62.4 trillion, a sharp fall compared with the VND85 trillion in 2021. Its post-tax profit was VND28.6 trillion in 2022, lower than the VND38.8 trillion in 2021.
According to Vinhomes, the value of the contracts signed in 2022 reached a record high of VND128 trillion thanks to the economic recovery after the pandemic.
Its financial report shows that Vinhomes' assets soared to VND185.2 trillion by the end of 2022 from the VND94.4 trillion in 2021. However, the inventory rose from VND28.6 trillion to VND65.8 trillion.
Vincom Retail profit doubles
Vincom Retail (VRE) saw revenue increasing sharply in Q4, from VND1.367 trillion to VND2.084 trillion, and post-tax profit increasing by 6.5 times to VND791 billion.
For 2022, VRE's revenue reached VND7.309 trillion, up by 24 percent, and post-tax profit VND2.736 trillion, twice as much as the same period of the year before (VND1.315 trillion).
In 2022, Vincom Retail opened three new shopping centers, including Vincom Mega Mall Smart City (Hanoi), Vincom Plaza My Tho, Vincom Plaza Tran Huynh in Bac Lieu, raising the total number of shopping centers it has to 83, located in 44 cities/provinces.
Share prices up
The prices of many shares, including VIC, VHM and VRE, increased sharply in the first days of the Year of the Cat, which helped Vuong's stock assets increase by $400 million compared with early 2023.
According to Forbes, as of Jan 27, Vuong had total assets of $4.5 billion.
The shares of the companies owned by Vuong have seen impressive price increases, serving as the 'pillar' of the stock market.
On Jan 28, VIC price increased by VND1,800 per share to VND59,200, VHM by VND1,100 to VND53,300 and VRIE VND650 to VND30,300.
According to Bloomberg, VinFast might have an IPO (initial public offering) in the first months of 2023 and could mobilize at least $1 billion worth of capital.
Manh Ha