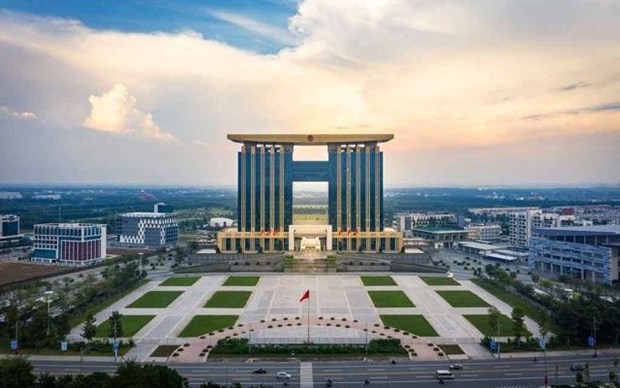 A corner of Binh Duong Smart City (Photo: baobinhduong.vn)
This is the first time Binh Duong was honoured as one of the seven communities worldwide having outstanding smart city development strategies after three consecutive years it was in the ICF's Smart 21 list, along with three Canadian cities, namely Langley Township, Mississauga and Winnipeg; Curitiba of Brazil; Moscow of Russia; and Townsville of Australia.
The ICF Top7 Intelligent Communities of 2021, which are models of economic, social and cultural development in the digital age, will be featured throughout the ICF Summit in October. Representatives from the Top7 will take part in the programme's features – including special Top7 Conversations – and one of the Top7 will be named the 2021 Intelligent Community of the Year.
Binh Duong Smart City is a new development that is transforming a traditionally agrarian, low-population region into the core of Vietnam's southern key economic zone. With guidance from the city of Eindhoven, ICF's 2011 Intelligent Community of the Year, the new city has already developed an international university, six industrial parks, the region's first accelerator and a series of tech and digital fabrication labs. But its original population is not being left behind. Working with farmers associations, the project is delivering information on prices, markets and best practices, and training farmers in applying digital tools to agriculture. Binh Duong Smart City aims to build a more prosperous future for all.
Amidst complicated developments of the COVID-19 pandemic, this recognition helps Binh Duong further promote its image to the world.
According to a report on socio-economic development in the first half of 2021, Binh Duong posted a gross regional domestic product (GRDP) growth rate of 7.23-percent in the period.
The province's Index of Industrial Production (IIP) picked up 8.23 percent, while the total retail sale of consumer goods and services, and export turnover of goods surged 10.4 percent, and 47.2 percent, respectively.
Binh Duong attracted 1.4 billion USD of foreign direct investment (FDI) in the period. Its State budget revenue rose by 22.6 percent./
Source: VNA

HCM City authorities plan to promote Artificial Intelligence (AI) as part of its effort to become a smart city with e-government, e-enterprises and an electronic society by 2030. 
Developing a smart city and commercializing 5G are the two key tasks the Ministry of Information and Communications (MIC) and the Hanoi People's Committee have assigned to the Hanoi Department of Information and Communication.