BioPlas founder seeks capital to expand production of degradable bio-plastics
BioPlas is one of the most interesting and inspiring projects of the Shark Tank TV Show series, where startups meet "sharks" to seek investors.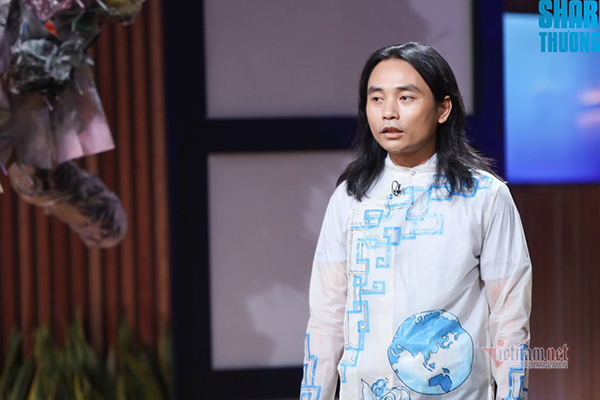 Nguyen Chau Long, CEO and founder of BioPlas
Nguyen Chau Long, CEO and founder of BioPlas, took part in the show with his ambitious project on creating plastic made of biological materials which can replace disposable plastic.
The bioplastic has the ability to decompose, thereby avoiding the problem of microplastics now plaguing the world.
A survey found that Vietnam consumes 938 million plastic bags weekly, while a report released two years ago showed that Vietnam ranked the 17th out of 109 countries in the amount of plastic waste discharged every year.
Bioplas products have received an OK Compost certificate from Europe and the US.
BioPlas has created bioplastics used for producing soft packaging, including T-shirt bags, food bags and gloves, and for trays, cups, glasses and spoons.
BioPlas has a factory which manufactures biogloves and other biological packaging products. The founder hopes he can find more capital to scale up production and put out 1,000 tons of products a month.
Long said BioPlas bioplastic resins are created from PLA (Polylactic acid), PBAT (Polybutylene adipate terephthalate) and wheat starch.
BioPlas finished bioplastic resins are priced at VND82,000, or twice as much as common resins in the market (VND35,000). If counting the environmental tax imposed on traditional plastic products, the prices of the two kinds of products would be the same if the Bioplas products were made on the same production scale.
In the domestic market, in addition to packaging of different types sold directly to consumers, BioPlas is selling products to partners for export. The company is striving to provide products to foreign markets, including the US, Japan and European countries.
BioPlas products are made of Vietnam's wheat flour. If the company finds more capital, it will consider creating bioplastics from other materials, including bamboo and rice husks.
Long's ambitious plan and the great potential of BioPlas convinced Phu, one of the Shark Tank investors, to pour money into the project under a convertible loan worth VND15 billion with an interest rate of 10 percent.
If the project succeeds, the loan of VND15 billion will be converted into 35 percent of shares of the project.
Long said he not only wants capital from investors but also their commitment to become his "fellow-traveler" in implementing the project. 
Trong Dat

A project in HCM City is creating pairs of socks from recycled plastic bottles. And anyone who donated bottles to the scheme last week were given a pair of socks in exchange.

Vietnam is striving to become a regional pioneer in reducing ocean plastic waste, heard a recent virtual meeting of environmental officials of Vietnam, Germany, Ecuador and Ghana.