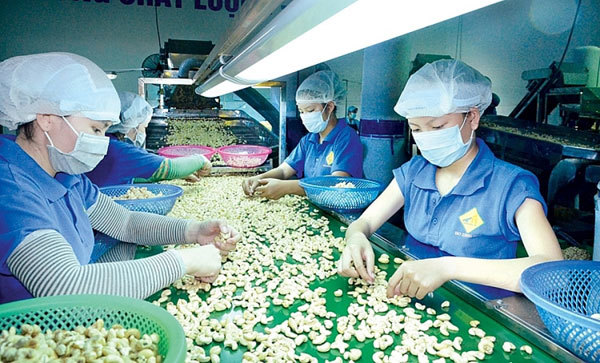 Processing cashew nuts for export in Vietnam. (Photo: congthuong.vn)
Risks from payment methods
A total of five cashew exporters, through brokerage company Kim Hanh Viet, signed a contract to ship approximately 100 containers of cashew nuts to a number of partners in Italy.
The exporters agreed to the international payment method of D/P (Documents against Payment), meaning they accepted delivering the documents before receiving the back payment.
According to the buyer's instructions, businesses submitted their original documents to Vietnamese banks to ask for money from the sales, and the local financial institutions then sent the original documents to the buyer's Turkish banks.
However, the Turkish banks informed them that the buyer is not their client and returned all of the documents to the Vietnamese bank. For documents sent to banks based in Italy, they were all informed that the documents were not original.
In detecting signs of fraud, export businesses and banks have made every effort to keep goods and withdraw documents, although several of the 100 sets of documents of the cashew nut containers which have been arriving at Italian ports are missing. This means that local exporters no longer have control over 36 containers of cashew nuts worth more than US$7 million.
Five cashew exporters have called for help. The Vietnam Cashew Association (VINACAS) immediately sent a report to the Prime Minister requesting that the Government leader direct relevant ministries and agencies, as well as Interpol Vietnam, to intervene to best support local businesses.
Meanwhile, a number of Italian buyers paid port fees and submitted original documents to receive these containers. However, the Vietnamese Trade office in Italy asked shipping lines to stop delivering the shipment, explaining that Vietnamese exporters had been deceived and that they had not received any form of payment. The request was later accepted.
The largest fraud case in the history of the Vietnamese cashew industry has to date shown positive signs, particularly as Italian police have decided to blockade the goods and not deliver them to buyers. The Italian port system has also been alerted to the incident. 
Lessons for exporters
At present, the case is not yet over. Although the scam is not new the authorities have repeatedly warned about it for years, but what has made businesses fall into this trap?
A lawyer specialising in providing consultations for Vietnamese export companies told plo.vn that transactions with foreign clients remain very risky, particularly if businesses are not careful about signing contracts and choosing safe payment methods. The lawyer recalled a similar incident occurring recently in which a plastic product export company lost approximately US$100,000 to a buyer in the Middle East.
"The foreign partner deposited 30% of the contract value, but when the Vietnamese company delivered the shipment, the foreign partner used sophisticated tricks to get original documents and take all the goods as well as the remaining amount to be paid," said the lawyer.
Such scams reveal similar trends, that Vietnamese export companies have not clearly verified their partners and often executed the contract through brokers.
Most notably, D/P is a popular payment method in farm produce transactions. Up to 90% of cashew nut exporters choose this payment method because there are no fees included and the entire process features simple procedures.
The biggest lesson for export businesses, according to experts, is to learn, carefully evaluate partners, and understand market risks, especially in the current context of electronic transactions. In addition, the export businesses should regularly keep in touch with local representative agencies in export markets, whilst they should also contact companies providing credit verification services to find out more about partners.
Finally, there is a lesson to be learnt on compliance with business safety principles, in which payment is considered vital.
Judging from the suspected scam, local enterprises face an array of risks in international transactions. They should therefore be equipped with comprehensive knowledge of international business transactions, from seeking partners and signing contracts to delivering shipments and receiving payment in order to avoid similar scams in the future.
Source: VOV

Competent authorities of Vietnam have asked relevant ministries and agencies of Italy to conduct a quick investigation into a suspected scam involving 100 containers of Vietnamese cashew nuts exported to Italy.

PM Pham Minh Chinh has asked relevant ministers and the central bank's governor to coordinate with the Vietnam Cashew Association and agencies concerned to verify the information that many cashew nut exporters are facing rist of big losses.