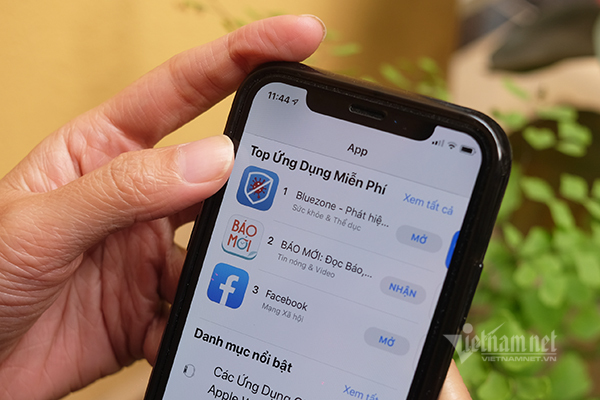 Bluezone becomes top-downloaded app in Vietnam again: Photo: Trong Dat
As a result, Bluezone has become one of the top-downloaded apps in Vietnam in the last few days.
On January 29 morning, the Bluezone application climbed to number 1 in the Health category on the Google Play app and was the number 1 in the top free apps on the App Store.
Bluezone is a Bluetooth-based app that helps determine whether or not a person has come in contact with a COVID-19 patient.
The contract tracing app, developed by tech firm Bkav, uses Bluetooth Low Energy, a wireless personal area network technology, to link with smartphones within a two-meter distance.
If a user is positive for SARS-CoV-2 (known as person F0), health authorities can identify those who had close contact with that person (known as F1), and the system will alert them about the risk of infection.
They will be also provided with instructions on contacting health authorities for assistance.
The app is completely confidential, anonymous, and transparent, as it only stores data on the user's phone and does not transfer user's information or locations to the system.
Bluezone's effectiveness was proven when it helped the medical agency track thousands of people who had close contact with an infected person or a suspected case.
According to the Department of Information Technology (Ministry of Information and Communications), by the end of 2020, Bluezone downloads exceeded 22.5 million. Da Nang, Hanoi, Quang Ninh, Ho Chi Minh City and Binh Duong are the top 5 provinces and cities in the country in terms of the proportion of Bluezone users over the total population.
Viettel is the mobile network with the highest percentage of Bluezone users, accounting for 26.7% of the total mobile subscribers, followed by MobiFone (24.6%), VinaPhone (22.1%) and Vietnamobile (9.3%).
About 40 countries are implementing technological solutions to detect those who have had close contact with Covid-19 patients, thereby reducing the spread of disease.
In Vietnam, Bluezone remains the most effective and simplest way to combat the spread of Covid-19. This application can only function effectively when there is a large enough community of users.
Trong Dat

This is the question many people ask when they are called to download and install Bluezone application to track down suspected Covid-19 cases.

If this app is deployed on a large scale enough, Bluezone will help save huge social resources and cost to fight Covid-19 epidemic in Vietnam, as well as help the economy resume operation under the new normal state.

Those with smartphones in Vietnam have been advised to download Bluezone, a Bluetooth-based app that helps determine if a person has come in contact with a COVID-19 patient.