VietNamNet Bridge – To make a boat tour along the O Lau River, we departed at a wharf in Hoi Ky Village in Thua Thien-Hue Province, where bamboo clumps mirrored in the clear water. We slowly sailed past My Xuyen carpentry village and Phuoc Tich ceramic village, which is famous for its centuries-old wooden houses.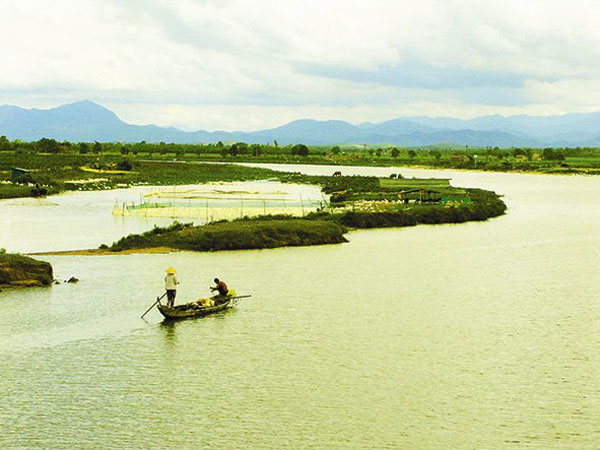 A section of the peaceful, romantic O Lau River in the central province of Thua Thien-Hue
The boat then arrived at the junction of O Lau and Thac Ma rivers. These two rivers flow from the west of Phong Dien District to the east, crossing National Highway 1A at Cau Nhi Bridge on the O Lau River and My Chanh Bridge on the My Chanh River and meeting in Hai Lang in Quang Tri Province. From there, the river receives O Giang and Vinh Dinh tributaries before pouring into Tam Giang Lagoon, which is renowned nationwide.
We sailed down the O Lau River. Along the banks are peaceful wharves shaded by bamboo clusters, here and there dotted with lotus ponds. The more we traveled down, the narrower the river became.
Our boat arrived in Van Trinh where the O Lau River meets the Vinh Dinh River before flowing into Tam Giang Lagoon. At the section the river became wider, tourists could hear bustling sound from fishing boats of the residents of Tam Giang Lagoon from afar.
Our boar sailed to Dai Loc where a big market used to be formed in the old days by traders along this waterway network between Hue and Quang Tri. Leaving Van Trinh, we traveled along the O Giang River to the low-lying area of Hai Lang with thousands of hectares of paddy fields deeply flooded all year round. The scene reminds travelers of the flooded season in the Mekong Delta. The only difference was the Truong Son Mountain Range to the west. On the emerging ridges amidst the flooded areas were houses and gardens of local people.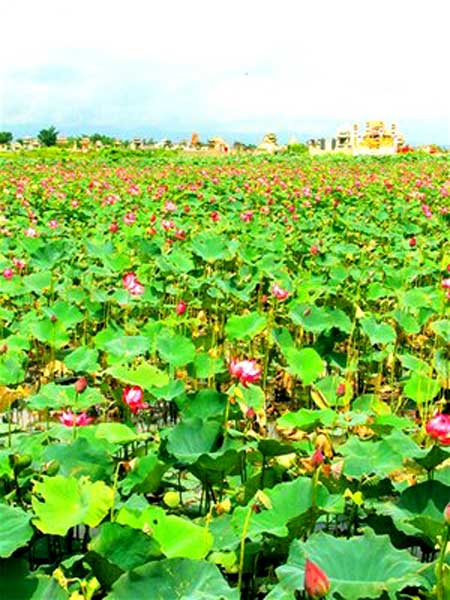 A lotus pond along the river's bank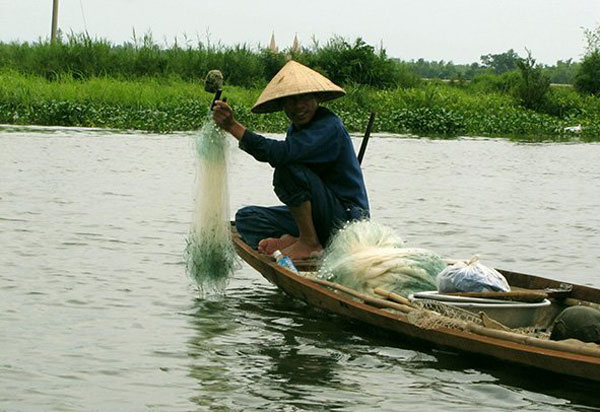 A local man catches fish on the river
We saw immense rice fields along the banks and the bell tower of a church. The boat came ashore in front of a big, beautiful church in Cay Da Village in Hai Lang District. Inside Cay Da Church is a school set up by parish priest for local children.
Returning along the O Giang River, we got back to the O Lau River. On one bank are Ha Lo and Cau Nhi villages while Luong Dien Village is on the other bank. We returned to the junction, where the promontory in the shape of a turtle's head is considered the holy land of Cau Nhi Village, and went back to Hoi Ky Village where we had started the boat tour.
SGT