Bottom fishing may push shares up slightly
Vietnamese shares may bounce back next week as investors will seek stocks that suffered sharp falls in previous sessions, analysts said.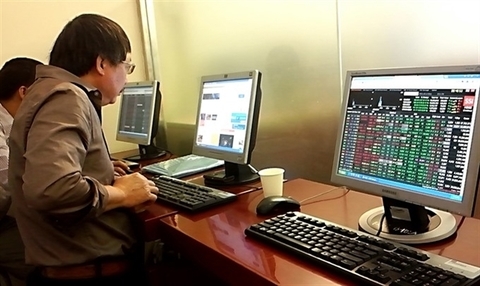 Investors watch market movements at the SSI trading floor in Ha Noi. Vietnamese shares may bounce back next week as investors will seek out stocks that suffered sharp falls in previous sessions.
Vietnamese shares may bounce back next week as investors will seek stocks that suffered sharp falls in previous sessions, analysts said.
The benchmark VN-Index on the Ho Chi Minh Stock Exchange (HOSE) gained 0.04 per cent to end Friday at 970.75 points.
It totaled a weekly loss of 0.72 per cent last week.
An average of 187.6 million shares were traded on the southern bourse last week, worth VND4 trillion (US$171 million).
According to Hoang Thach Lan, head of individual investor division at Viet Dragon Securities JSC (VDSC), the market might recover slightly because of the bottom-fishing demand on large-caps, many of which had suffered sharp falls and declined to attractive prices.
The VN-Index is forecast to continuously receive support from 966-971 points next week, Bao Viet Securities (BVSC) said in its report.
"If breaking through this zone, the market will possibly fall under a stronger declining risk to the medium-term support zone 949-955 points in the short term," it said.
"However, foreign investors maintained their net buying activities as various stocks are in the oversold zone after the recent plunge, therefore, we expect a recovery from the current support zone next week," BVSC said.
However, the downward momentum remains high while the market lacks supporting news for early December. Therefore, even if recovering, the market will need to accumulate 970-985 points before sending clearer signals of a recovery in the short term, the company said.
The market shook strongly in the last trading week of November. The prices of pillar stocks were differentiated strongly, causing market indexes to fluctuate in a narrow band, according to vietstock.vn
According to the HOSE, the VN-Index hit its peak at 1,025 points on November 6. However, it could not maintain the level and quickly plummeted after that. Within 15 sessions from November 6, VN-Index has fallen 55 points, equivalent to 5.2 per cent, breaking many support point levels to settle at 970.75 points on Friday.
Market capitalisation on the HOSE on November 6 reached VND3.49 quadrillion, but so far it has diminished VND186 trillion.
On the Ha Noi Stock Exchange (HNX), at the end of November, market capitalisation reached VND98.16 trillion, down about VND4 trillion compared to November 6. Similarly, market capitalisation on the Unlisted Public Company Market (UPCoM) reached VND125.63 trillion, down VND21 trillion.
In all three exchanges, Vietnamese stock market saw a decline of VND211 trillion in market capitalisation within 15 trading sessions.
Duong Van Chung, head of the investment division at Military Bank Securities Corp (MBS) told the news website cafef.vn that the VN-Index had suffered strong selling force so the uptrend formed from June had been officially broken.
"It is difficult for the index to recover immediately because investors have lost confidence in the market," Chung said.
Nguyen Chi Hieu, Investment Consulting Director at VPS Securities JSC, said the cause of the deep fall of VN-Index did not come from the world market nor the business performance of listed businesses as they still reported positive results.
"In my opinion, there seems to be potential bad information that the masses do not know yet, and when the reason is found, the market will have dropped sharply," Hieu said.
The US-China trade dispute is not yet over and tension in Hong Kong is risky. The fact that US stocks are at the peak of their times is a risk that worries investors. In addition, the following year holds the US presidential election so it is also a sensitive time and cash flow is waiting.
On the HOSE, the best gainer last week was Yen Bai Industry Mineral JSC (YBM) with nearly 40 per cent increase. YBM hit the daily limit rise in the whole five trading sessions last week, up from VND3,760 per share to VND5,260 per share.
YBM made impressive gains despite the news of the delay on the 2018 cash dividend payment, which will be postponed until July 2020. The payout was previously scheduled for November 29 this year.
According to the board of directors, the company was focusing on debt payments and investment in the factories first so it might need more time to arrange the money to pay dividends.
Following YBM, Vicem Hai Van Cement JSC (HVX) surged by 28.4 per cent last week. HVX shares hit the daily limit rise on four out of five trading sessions last week and went sideways in one session. The liquidity of the stock remained at a very low level with an average of only 10 shares matched per session.
In the list of gainers on the HOSE last week, there were also notable names such as Cuu Long Pharmaceutical JSC (DCL), Long An Food Processing Export Joint Stock Company (LAF), VRC Real Estate and Investment JSC (VRC) and Hung Vuong Joint Stock Corporation (HVG).
On the other hand, Tien Bo Group JSC (TTB) was the worst performer last week as it dropped by 30.3 per cent. TTB shares hit the floor price in all five trading sessions in the week. After a series of eight falling sessions, TTB recovered on November 20 thanks to the information of shares buyback, then immediately returned to the downward trend and kept follow the trend until present. VNS
Though the index has increased slightly, the stock market remains inactive as a lot of individual investors have incurred losses and many brokers have given up their jobs.

The proposal to merge Hanoi and Ho Chi Minh City stock exchanges has been put on hold for the immediate future, according to a government report.