VietNamNet Bridge – The film Nhung Nguoi Viet Huyen Thoai (The Legend Makers), winner of the Golden Lotus Award at the National Film Festival, has premiered in HCM City to local cinematographers, art critics and press.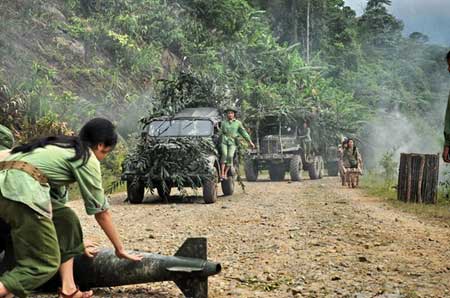 Helping hand: A scene from the Nhung Nguoi Viet Huyen Thoai (The Legend Makers). The movie is failing to attract the interest of domestic film producers.
"I don't know when the film will be shown in cinemas," said film director Bui Tuan Dung. "I'm very concerned about the film distribution."
Dung said he had searched for financial support in HCM City. "It's a waste if my film is not shown to audience."
Produced by the Viet Nam Feature Film Studio for more than VND10 billion (US$470,000), the film won four awards including the Golden Lotus Award for the best feature film and the Best Screenplay Award at the festival, held in Quang Ninh Province in October.
The film praises heroic soldiers who built petrol pipelines running from northern areas to southern battlefields during the war for national reunification.
The film was warmly welcomed when it was screened on the opening day of the festival, organisers said.
"I spent seven years fighting in a forest during the war and I understand soldiers' feelings, pain and sacrifice," said well-known director Viet Linh. "The film is full of emotions. It's a good war film."
"Humorous elements and soldier-nurse romances make the film less tense," said Han Dong, from the Nguoi Lao Dong (The Labourer) newspaper. "The film producers should work with cinemas owners in HCM City to bring the film to the public."
After completing a film, producers invite distributors to see the film.
"The producers of my film did not meet distributors or have a plan for film distribution," Dung said.
"State film production companies are not interested in releasing their films because no one is held accountable for the public funds," respected film director Phan Dang Di told Thanh Nien (Young People) newspaper.
Most cinemas in big cities are run by foreign companies that choose to show imported films to lure audiences and profits.
"The quality of our films cannot compete with foreign films," said Luu Phuoc Sang, director of Phuoc Sang Entertainment Co.
Last year, 17 Vietnamese movies were shown in cinemas compared to 106 foreign films.
Some cinemas in HCM City have screened award-winning movies in recent years, but tickets sales did not cover expenditures.
"The State should build some state-funded cinemas to screen Vietnamese films," Sang said.
Despite praise from cinematographers and the media, The Legend Makers still has a long way to go before it can be screened in cinemas.
Source: VNS