Breaking through prejudices holding back female founders
Making up nearly 50 per cent of the labour force and contributing about 30 per cent of Vietnam's GDP each year, women are becoming an important driver of economic development. 
However, the startup stage is still heavily slanted towards men, with deep-rooted stereotypes and prejudices putting women in a disadvantage.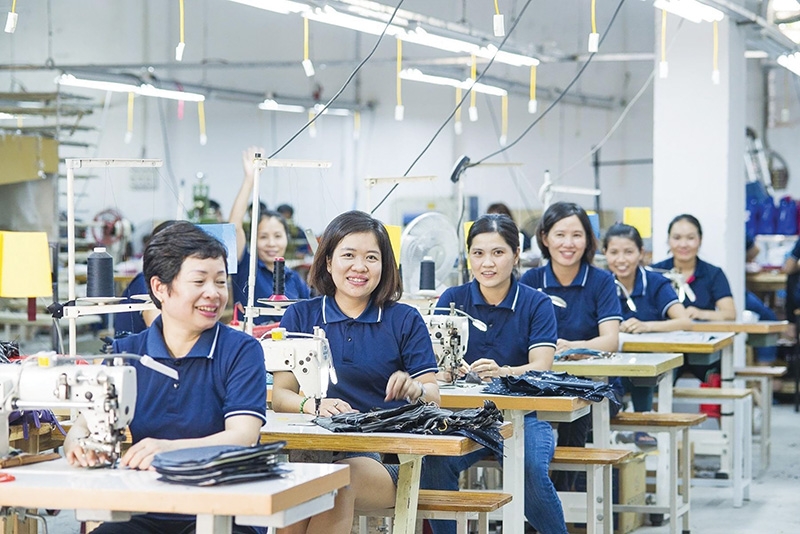 Having more women entrepreneurs can create more employment for women while addressing crucial preconceptions holding them back
Marina Tran Vu, one of the 21 female entrepreneurs to watch highlighted by Female Laboratory of Innovative Knowledge in 2021, surprised the audience of Shark Tank Vietnam by appearing on the show at the end of May to raise capital for startup Equo Vietnam.
Vu is a veteran who has filled senior management roles at several large corporations. She has served as assistant brand manager at Unilever, brand manager at LG Global, global brand manager at Spin Master Global, and head of marketing at California Fitness & Yoga Centers Vietnam.
However, she gave up her cushy corporate position to produce disposable plastic substitutes such as straws, knives, and spoons from used coffee grounds and rice grass two years ago.
Although only established a short time ago, Equo Vietnam's products are now distributed in the United States, Australia, Canada, and Vietnam, drawing the attention of prestigious international press agencies such as Forbes and Business Insider.
Vu shared, "There are many women who are very smart but are not brave enough to overcome the prejudices surrounding them," she said. "I believe that the value of a woman lies not in her family background, status, or her life partner but on what she brings to life, to her family and loved ones. Women should be given more opportunities to pursue success and demonstrate their capabilities, and I aspire to be able to do that as a young woman starting a business," said Vu.
Difficulty finding support
Vu is certainly not the first or only person to raise their voice about the challenges women face in starting a business. In a country like Vietnam where the startup movement is on the rise, the increasing number of women starting up a business means that more of them are coming face to face with discrimination and prejudice.
According to the Mastercard Index of Women Entrepreneurs 2020, Vietnam ranks sixth among the countries with the highest percentage of female entrepreneurs and is the only Asian representative in the global top 10.
Women-owned enterprises in Vietnam accounts for 26.5 per cent of the total number of enterprises in the country but they are mainly micro- and small-sized enterprises with limited access to support programmes and policies. Besides, pre-defined gender roles and characteristics mean that women also face more difficulties than men in realising their business ideas.
According to Pham Khanh Linh, founder of Logivan, one of the 15 startups with great influence in the Vietnamese economy as voted by Asia's leading technology news site Tech in Asia in 2019, while many people first think of capital as the No.1 difficulty for startups to take off, there are deeply ingrained prejudices that make it an uneven playing field for women.
Since establishing Logivan, Linh has been facing the abundant stereotypes in the digitisation and trucking industries, two fields that are more associated with men than women.
"From the very beginning I have been told that I know less about the transport sector because I am a woman," she explained, adding that this has made it particularly difficult to convince business partners that she can develop this "Uber for trucks" in Vietnam, replicating a tried and tested model from around the world.
"Apart from the common difficulties of a startup, women have to make more sacrifices and tradeoffs. However, I hope that in 10-20 years, none of these prejudices about women leaders will remain," Linh shared.
In fact, female-owned businesses find it much harder to access capital in the very first stages. Tu Thu Hien, CEO of the Women's Initiative for Startups and Entrepreneurship (WISE), said that only 2 per cent of venture capital investment reaches female startups due to prejudices. Investors think that women are less ambitious than men when it comes to business, therefore, many investors will unconsciously favour male-owned businesses.
According to WISE, the majority of women have little access to credit from banks, mainly because they do not own collateral or have their name on the family assets.
Lack of motivation
In addition to the issue of capital, long-standing prejudices make it twice as hard for women then for men as they have to take care of their families while running a business. Women also lack opportunities to participate in trade promotion activities and have far fewer opportunities to participate in training or exchange next to family and childbirth.
A survey of Vietnamese labour force by the International Labour Organization (ILO) shows that women spend an average of 20.2 hours per week cleaning the house, washing clothes, cooking, shopping, and taking care of the family and children while men spend only 10.7 hours on such tasks. Nearly a fifth of men do not even spend time on housework.
Valentina Barcucci, labour economist from the ILO, affirmed: "Inequality for women in terms of job quality and career development also stems from the double responsibility they have to shoulder. They have to spend more than twice as much time doing housework as men."
Family responsibilities require women to work more and their startup journey is often quite lonely without the support of family members.
Mai Pham, founder of "Made in Vietnam" leather goods brand Lecas, said that she was luckier than most other female startup entrepreneurs as she received a lot of support and help from her husband. However, her responsibility for their children kept her from longer business trips that men can take. While building a brand and opening stores, Pham also had to overcome disrespect and bullies.
However, she affirmed that if they can overcome these challenges, women founders will experience success they would not see in any other way. "Starting a business will help women become more brave and proactive. Successful women will not only earn a certain amount of respect from men, they will also be able to support and create jobs for many other women," said Pham.
Currently, 90 per cent of employees at Pham's business are women. They are also filling up positions that are traditionally reserved for men such as warehouse management, machinery operation, and technical management.
Vietnam's National Strategy on Gender Equality defines that by 2025, about 20,000 women will be supported to start a business. The rate of female directors or owners of businesses is expected to reach at least 27 per cent by 2025 and 30 per cent by 2030.
Since 2017, more than 38,400 women have received support to start a business. The proportion of women holding senior leadership positions in businesses in Vietnam is 39 per cent, according to a 2020 report by Grant Thornton Vietnam.
Source: VIR

Three Vietnamese women, including two entrepreneurs and a fashionista, were listed in the 2021 Forbes 30 Under 30 Asia, which was announced on April 20.   

Despite their young ages, a number of women hold important positions in large corporations and own assets worth trillions of dong.