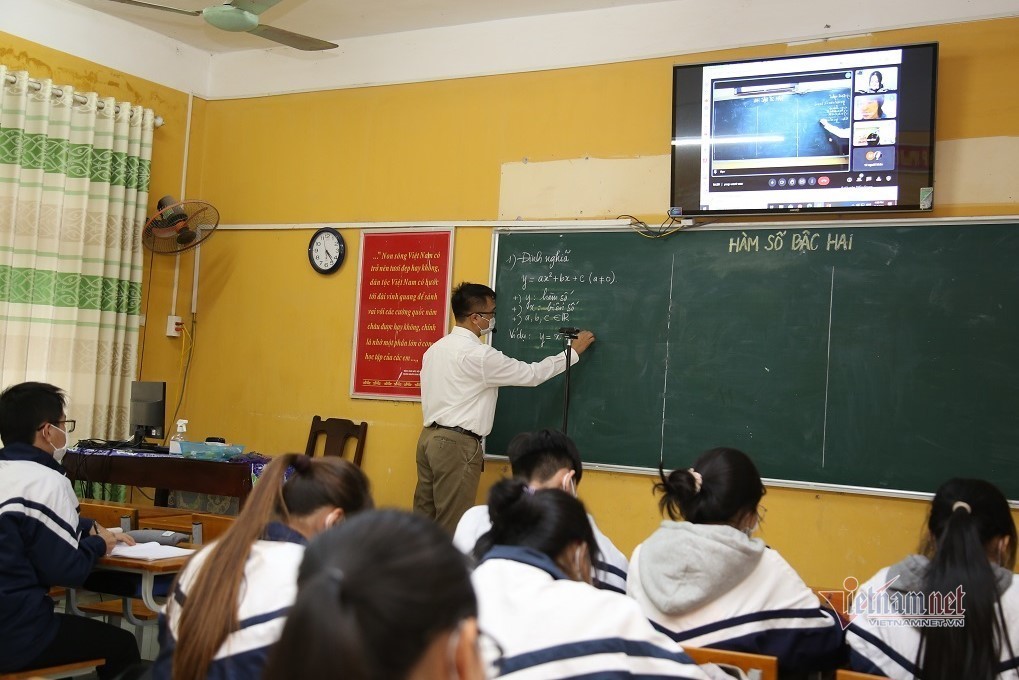 Son said education and training has been affected by Covid-19. Academic year plans have changed and education content and programs have been adjusted. Nearly 20 million students have been studying online.
Son said the challenges are unavoidable. As certain conditions are still poor, especially infrastructure, online teaching has caused some negative consequences.
"Students feel stressed and tired, teachers feel pressure, parents complain and the whole society has concerns," Son said.
Thoroughly grasping the spirit of the saying 'stopping going to school, but not stopping learning', the educational sector has tried to mitigate the adverse effects of the pandemic by pursuing the goal of high education quality.
Over 1.8 million students have no device to study with and many of them have given up learning. Ministries of Education and Training (MOET), Information and Communications (MIC) and local authorities have called for support for the program 'Internet and computers for students' initiated by the Prime Minister. Benefactors have committed to donate 140,000 devices, and 50,000 computers will be distributed in November.
MIC also instructed telecom carriers to urgently come up with technical solutions to optimize internet coverage. Just within two months, 283 out of 1,919 depressed areas were covered with broadband. Large telecom carriers have been required to participate in a program on national digital transformation, building a unified online teaching platform, large enough for national use.

Schools and teachers have been instructed not to organize exams or tests immediately when students go back to school. At first, they need to help students review and improve their knowledge after the online study period.
Meanwhile, MOET will conduct deeper studies and legalize documents that serve as temporary regulations or guidance. It will also organize a courseware store, which will be ready for use once the national platform is set up.
Son, while citing important tasks of the educational sector, put emphasis on the psychological support to students who have had to study online for a long time.
Schools and teachers have been instructed not to organize exams or tests immediately when students go back to school. At first, they need to help students review and improve their knowledge after the online study period.
Suggested solutions to teacher shortage
The teacher shortage is one of the issues put forward by Nguyen Van Hieu, who was then Deputy Director of HCM City Education and Training Department, at a working session of the National Assembly Delegation in July 2020.
"District 11 needs to recruit 21 teachers of English, but there were no candidates. BinhTan district recruited one teacher, but the teacher later left," he said.
Thai Van Tai, Director of the Primary Education Department, said the number of teachers had increased by 6,000 as of the end of the first semester of the 2020-2021 academic year in comparison with the previous year. However, he stressed that it's very difficult to recruit teachers of information technology (IT) and English in many localities.
Pham Thuy Chinh, a National Assembly Deputy, on November 11 asked Son to explain the lack of teachers of IT and English in mountainous areas. In reply, Son said teachers do not want to work in remote areas, despite preferential treatment.
To solve this problem, Son said MOET would increase the training quotas for regional universities and provide more human resources to mountainous provinces.
Son also mentioned another important solution – digital transformation. It's necessary to create e-lesson plans so that students in mountainous areas can learn with good students though the areas lack teachers.
Opportunities exist in risks
Schools in the country will reopen in the near future. However, online teaching will still exist thanks to its advantages. Online teaching allows learners to have more choices and is more fair in information access. They can attend lessons anywhere, provided they have devices and Internet access.
The development of online training has been done at different levels and scale. Virtual universities, training from a distance and online training are expected to be more common training models in the future.
"These will be the works of the future. The work that needs to be done now is preparing the legal foundation, human resources and the sandbox mechanism," Son said.
Mentioning the big impact caused by Covid, Son said opportunities always exist in difficulties. 
Phuong Chi

In a report answering National Assembly Deputies' inquiries, the Ministry of Education and Training (MOET) affirmed the efficiency of online teaching and learning, and fairness in accessing learning conditions among regions.

The use of different teaching modes, including online teaching and teaching via TV, is putting pressure on teachers. Parents also have concerns about teaching quality and their children's health.