Brighter outlook for Vietnam stock market but risks abound

Market analysts and experts have forecast a brighter outlook for the stock market in 2020, but challenges remain arising from internal and external influences.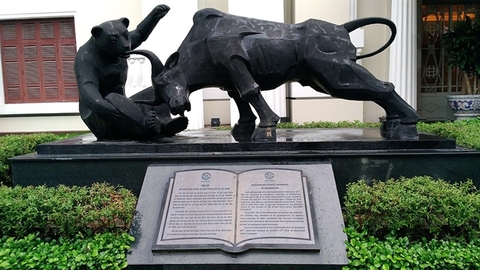 A statue of a bull and bear outside the HCM City Stock Exchange. Viet Nam's stock market is forecast to grow in the first phase of 2020. — Photo hsx.vn
The benchmark VN-Index on the Ho Chi Minh Stock Exchange finished last year at 960.99 points. Compared to 2018, it increased 7.7 per cent.
An average of 183 million shares were traded on the southern bourse during each trading session, worth VND4.12 billion (US$177.5 million).
During 2019, the VN-Index hit the 1,000-point milestone only twice.
The index touched 1,001.32 points on March 12 and stayed there for just seven sessions.
The southern market index then hovered around the 950-990 point range before conquering the 1,000-point landmark again on October 30, hitting 1,000.89 points and floating up the 1,000-point mark for 15 days.
But in the last two months, the index has disappointed many investors and transformed into a bear market.
The VN-Index touched its all-time high of 1,204.33 points on April 9, 2018.
The minor HNX-Index on the Ha Noi Stock Exchange finished last year at 102.51 points, little different from the 102.67 points posted at the start of the year. The index hit its peak on March 18 at 110,88 points.
Since its all-time peak of 138.02 points recorded on April 6, 2018, the HNX-Index has declined by nearly 26 per cent.
Viet Nam's stock market was forecast to become more prosperous in the first phase of 2020, according to Le Ngoc Nam, head of the analysis department at Tan Viet Securities Incorporation (TVSI).
Recent movements on the VN-Index indicated it had found strong support at a price range of 940-950 points. The index was forecast to advance in the first quarter this year thanks to a stable macro-economy and positive developments in the global situation.
"Viet Nam's economy recorded impressive growth of more than 7 per cent in 2019 and inflation was kept under control. After a period of escalating tensions, the trade war between the world's two largest economies has shown signs of cooling off towards the end of last year through a 'phase 1' trade agreement," Nam told Viet Nam News.
"The current price-earnings ratio (P/E) of Vietnamese stocks stands at just 15.7, which is quite attractive compared to regional markets, so the VN-Index is expected to recover after reaching the support zone of 940-950 points."
Late January-early February this year would also be the time for fourth quarter earnings reports. Businesses with positive performances would witness their stock prices stablising or even climbing after adjusting sharply during the current downturn, Nam said.
US bank JP Morgan in mid December last year released a forecast for the Vietnamese stock market, which said that the VN-Index might reach more than 1,200 points in 2020.
JPMorgan's forecast was feasible if Viet Nam's equity market was added into the watch list of Morgan Stanley Capital International (MSCI) for a classification review and a possible lift from a 'frontier' market to an 'emerging' one, said Dinh Quang Hinh, director of the market strategy division at VNDirect Securities Corporation's analysis department.
"However, the feasibility of Viet Nam's stock market being added to MSCI's watch list is relatively low as the market has not yet satisfied some qualitative criteria, especially those regulating the limit of foreign ownership," Hinh told Viet Nam News.
"Viet Nam has already been added to FTSE Russell's watch list for a possible upwards reclassification, however, more significant changes are needed if the country wishes to get an actual upgrade this year," Hinh said.
"In the most optimistic scenario, Viet Nam's stock market could be upgraded to secondary emerging market status in the FTSE Russell classification review by 2021 and upgraded to an emerging market status in the MSCI review by 2022," Hinh said.
Sharing the same idea, Nguyen Duc Hoang, market strategy analyst at Bao Viet Securities Company (BVSC) told Viet Nam News that VN-Index can conquer the 1,200-point level again if only Viet Nam is included in MSCI's watch list, which, he said, would require the market to make extraordinary improvements.
"In a more feasible scenario forecast by BVSC, the VN-Index will advance by about 10 per cent and close 2020 in the area of 1,070-1,110 points," Hoang added.
Positive factors at home and abroad, together with the stable growth of the economy, would help the stock market climb, Hoang said.
"High GDP growth rate, inflation under control and profit growth of listed companies, will be the supporting factors for a market rally. The total profit of listed companies will grow by 13.9 per cent in 2020, higher than 2019's figure of 10 per cent, with contributions from key industries such as banking, food and beverage, and steel production.
High post-tax profit would boost earnings per share to 10 per cent, pushing the price-earnings ratio in 2020 to an attractive level of 14.5," Hoang said.
Internal factors affecting the market in 2020 included the possibility of Viet Nam being added to MSCI's upgrade watchlist and FTSE's upgrade list; foreign capital pouring into the stock market through exchange-traded funds (ETFs); and the EVFTA being submitted to the European parliament for approval, Hoang said.
The market could also face risks from the rapid development of the corporate bond market, high inflation due to the African swine fever and the US reviewal of its currency manipulation watchlist, he said. — VNS