Bringing American food and beer to the Central Highlands

The last thing you may expect to find at the foot of Lang Biang Mountain in Lac Duong District, the Central Highlands province of Lam Dong is a pizza restaurant.

But find one you will in K'Be Wood Fired Pizza, run by James Reelick, a middle-aged man from Connecticut, the US.
Love for hiking and history and economic brought him to Vietnam in 2011. He decided to settle down in Lac Duong due to the good weather and the proximity to the mountain.
Reelick and his wife Nguyen Thi Lien opened K'BE Wood Fired Pizza and BBQ five years ago.
"I built a wood-fired oven for myself and family so that I could roast chickens the way I liked and be able to bake bread," he told Việt Nam News.
"Over the course of the year many friends, Vietnamese and foreigners, enjoyed eating with our family and encouraged us to open a restaurant. So, we did."
K'BE specializes in pizza, roast chicken and BBQ pork ribs. They also have mashed potatoes and macaroni and cheese.
"We are a farm to table restaurant, which means everything is sourced from local farmers of Lac Duong," he said.
Reelick said they are very conscious of sustainability and only use coffee wood in their oven as coffee trees need to be cut every 15 years so they can rejuvenate.
"We buy this wood for the oven, we do not go to the forest to cut trees to make pizza," he said.
They are also very conscious about chemicals in their food.
"We buy from farmers we know and who use as little chemical as possible," he said. "The vegetables we buy are not the largest or most beautiful, but, we know they have a very low chemical input."
Two years ago, he also started Langbiang Mountain Brewery.
"I saw that Da Lat did not have its own craft beer brewer," he said. "It was then that I decided, I would brew beer here and ride on the coat-tails, so to speak, of the ever-growing craft beer industry in Vietnam."
James Reelick tests his beer at home.

Langbiang Mountain Brewery currently only makes a Belgium farmhouse wheat ale.
Reelick said it is a style of beer Vietnamese people can easily drink.
"Another reason I only make an ale, is that an ale can be fermented at a temperature between 18 and 24C degrees, which is the average temperature in Da Lat," he said.
This saves the use of electricity, which, would be needed to cool the beer during fermentation.
"Just another part of our working towards sustainability," he added.
Reelick said K'BE restaurant offers a very unique experience and would be very difficult to duplicate.
In the meantime, Langbiang Mountain Brewery is set to expand.
"At present we only sell the beer at our restaurant. But, over the next few months we will be selling into restaurants in Da Lat," he revealed.
They are also working on opening another brewery in Hội An within a year and collaborating with his wife's family and Hoi An Brewery Company.
He also plans to start Pizza Tony in Da Lat, offering a pizza delivery service specialising in New York-style pizza.
The service will be located in Da Lat Night Market by the end of this month.
On his wife, Reelick said she is "the hardest working woman" he has ever met, who wakes up at 5am and sleeps at 10pm.
"When I was introduced to her, it was love at first sight," he recalled. "At the time she had a mask and helmet on and I looked into her eyes and knew instantly we had met in a past life and were meant to be together again."
Reelick said she is the backbone of K'BE Wood Fired Pizza and BBQ. She does all the cooking, which is a "very difficult" job.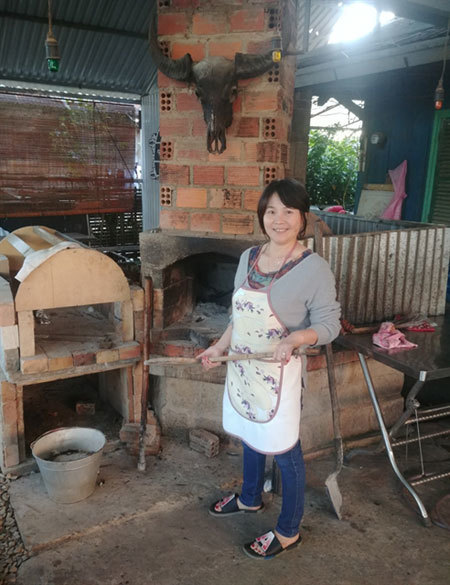 James Reelick's wife by the wood-fired oven.

"To understand cooking in a wood-fired oven takes years to learn," he said.
Their daughter, Reelick Nguyen An Trung, will be seven years old in January and speaks three languages: Vietnamese, Kơ Ho and English.
She speaks Kơ Ho language, which is spoken by neither her mother or father, with their neighbours.
"She also works in the restaurant bringing dishes and glasses to the tables and also helps her mother in translation if English-speaking people come into the restaurant," he said. "She is kind, thoughtful and on the most part polite."
"I love Vietnam!" he added. "It has been a great pleasure to be able to watch Vietnam grow over the last eight years. It is changing so fast."
He said if he could say one thing to Vietnamese people, it would be: "Thank you for allowing me to live in your country, Vietnam is a special place."
Le Huong
VNS