Not only contributing to protecting the environment, many unique art and fashion products made from recycled materials also tell stories about both nature and people.
Giving new life to old items
Coco Casa's products, made from recycled waste wood, receive much interest from customers.
Born and raised in the ancient city of Hoi An, Quang Nam province, Le Ngoc Thuan has rich experience in working in tourism and travel-related services. Over the past year, the number of tourists to Hoi An has seen significant decreases due to COVID-19. To overcome this difficult period of time, Thuan strived to seek new directions for his career.
One day as he collected trash and scrap woods left by floods along Cua Dai beach, he arranged the wood into a picture and hung it onto the wall of his restaurant. His "artwork" received much interest from customers, and some of them even asked him to buy it.
This motivated him to launch the wooden handicraft brand Coco Casa in early 2021, with "Coco" stands for "Co Co" river while "Casa" means "house" in Italian, making it ear-catching for customers while reminding them of a peaceful shop on the bank of the poetic river.
Recycling scrap wood left by floods on the Thu Bon river, and waste wood from the Kim Bong carpentry village in Cam Kim commune, Hoi An city, Thuan and his team have created many beautiful household products and souvenirs, such as wood wall murals, decorative statues, flower pots, cosmetic containers, tables and chairs, trays, and plates. His products have been highly lauded by customers and Coco Casa has received many orders from hotels, resorts, and cafeterias.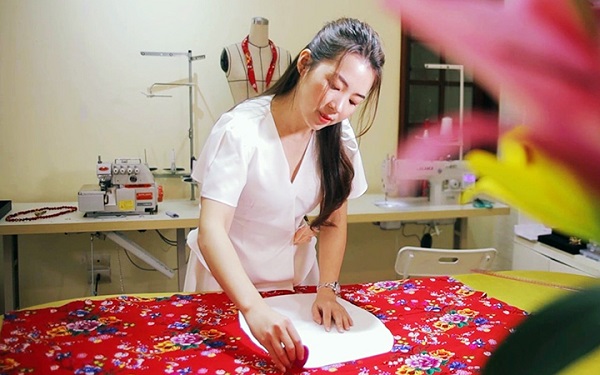 Hoang Hue working on a design made from an old blanket at her amReborn tailor shop.
Meanwhile, Hoang Hue, owner of amReborn tailor shop in Hanoi, is interested in tailoring handbags, shoes, wallets, and accessories from old clothes and blankets. Launched in March, amReborn receives old clothing items from customers and turns these into fashion products, which not only extends the lifespan of the old items but also brings them a new and fresh look.
Hue said that each old product carries the owner's memories. A customer once came to her shop, asking to turn the old jacket of her deceased father into a bag so she could still use it frequently in remembrance of her dad.
Not just a temporary trend
The wooden handicraft products of Le Ngoc Thuan and the recycled fashion products of Hoang Hue are among examples of the strong development of recycled art today, which have created positive values from both an environmental and cultural perspective.
Le Ngoc Thuan plans to develop Coco Casa into a cuisine, entertainment and arts space where visitors can not only enjoy the beautiful landscape of Hoi An but also taste signature dishes, listen to music, and try their hands at making souvenirs from scrap wood and waste wood.
He has also worked with several businesses to open classes on recycled art for tourists and host fairs featuring recycled crafts.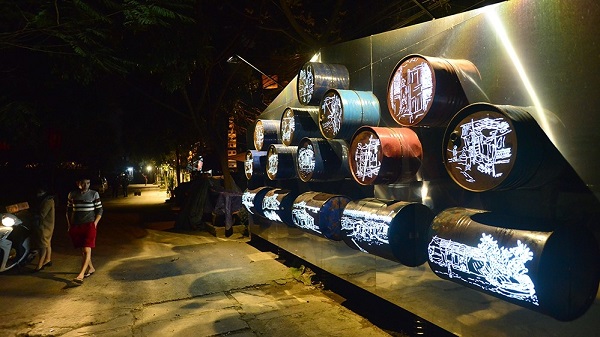 The road along the Red River in Phuc Tan Ward, where a lot of trash was gathered, has been turned into a prominent art space.
According to Hoang Hue, recycling is an emerging trend in the global fashion industry, not only in Vietnam, especially amidst the COVID-19 pandemic as people become closer to nature and now prefer handicraft products.
Hue's amReborn shop has created jobs for 10 workers, including those with autism and members of the LGBT community. Her products are now available at several international e-commerce platforms such as Etsy and Amazon. In addition to old clothes, her team has also tried creating more recycled products from bamboo, coffee grounds, and bagasse.
In addition to Coco Casa and amReborn, many other recycling projects have been tried out. Recycling has also been integrated into school programmes and chosen as the theme for students' competitions.
In early 2020, a group of 16 artists utilised recycled materials to transform the road along the Red River in Hoan Kiem District's Phuc Tan Ward in Hanoi, where a lot of trash had gathered, into an eye-catching and interesting contemporary art space.
Most recently, the University of Civil Engineering in collaboration with Architecture Magazine, UNESCO Office in Vietnam and British and Italian embassies launched the 'Waste into Art: Plastic into Creative' contest.
Taking place from July 12 to August 14, the event featured a series of online training and consulting sessions for young people while seeking designs and products which recycle waste into applied arts.
Source: Nhan Dan

All old things, from clothes and guitars to motorbikes, can be recycled into useful and highly aesthetic items thanks to talented artisans.