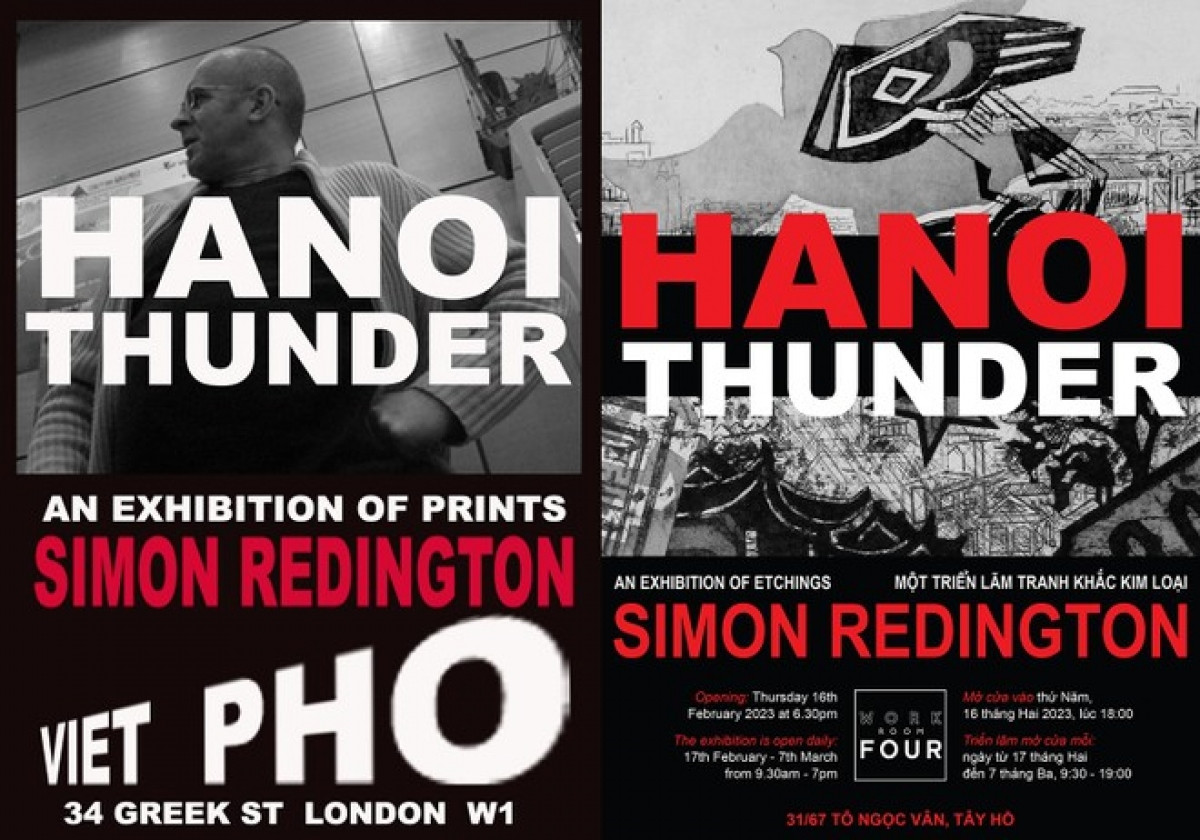 The exhibition will serve as a retrospective of Redington's etching works; Hanoi Thunder, his collection of Hanoi centric frenetic landscapes which are entangled and overlaid with landmark symbolism.
This titled body of work is to be displayed alongside prints from his earlier epic folio "The Ten Kings of the Courts of Hell", which was first shown in Hanoi back in 2002 at Art Vietnam. These two series are supplemented by single standalone etchings from throughout his print career.
Etching have been part of Redington's work since the mid 1980's and the artist became an elected member of the Royal Society of Painter Printmakers (UK) in 1994. Redington draws inspiration, "From the masterful etchings of Rembrandt, the visionary illuminations of William Blake and the merciless insights of Goya." Etching is process heavy and exacts all marks, intentional or otherwise, created in the image, making it part of the final printed piece.
Born in London, he came to live in Hanoi 25 years ago and the Vietnamese capital became his muse, with his work since often focusing on a dialogue with the city itself.
Indeed, Hanoi holds a multitude of stories, particularly of those of developing modernity and ancient heritage combined in a rapidly changing urban landscape. The etchings in the exhibition in part portray his relationship with the city, which he views as a wonderland of contrast from his previous backdrop of London.
Redington now shares his time between his painting studio in Hanoi and his printmaking workshop in rural France. He holds a BA from Goldsmiths College, a Post-Graduate Diploma Art Therapy from Hertfordshire College of Art, and a Post-Graduate Diploma in Advanced Printmaking from Central St. Martins College of Art, London. In 1993 Simon founded his Imprint, the Kamikaze Press, and has been showcasing his works in numerous exhibitions and publications since.
One of his recent shows was "The Grand Charade" held at SUNY Potsdam in the United States back in 2018. Significant past exhibitions include "Fine and Dirty: Contemporary Letterpress Art" Minnesota, New York & San Francisco Centre for Book Arts 2011-2013, "On the Fractured State of the Book" at the Eagle Gallery in London in 2009, and "What's so funny about Peace, Love & Understanding?" at Art Vietnam Gallery in Hanoi in 2008.
In addition, Redington's work is featured in a number of notable public collections in both the UK and the US, and can be found in the Victoria and Albert Museum, Museum of London, Ashmolean Museum, Oxford University, Art Institute of Chicago, Metropolitan Museum of Art, and New York Public Library.
Source: VOV