Buc Tuong rock band to perform in Saigon on Dec. 7
The 'Buc Tuong' (The Wall) rock band, one of the most successful Vietnamese rock bands, will participate in a musical program at the Nguyen Du Indoor Stadium in Ho Chi Minh City on December 7.
Buc Tuong rock band to perform in Saigon on Dec. 7
The 'Buc Tuong' (The Wall) rock band, one of the most successful Vietnamese rock bands, will participate in a musical program named 'Dau An So Thu 5' at the Nguyen Du Indoor Stadium in Ho Chi Minh City on December 7.
The program will take place at 8.30 pm and will be televised live on VTV9, Phu Yen VTV and other channels.
The Buc Tuong band is a hard rock band formed in Vietnam on 26th March 1995, and includes three members-musician Tran Lap, guitarist Tran Tuan Hung and Nguyen Hoang. The band grew up from musical movement of students.
In 1996, the band created their first impression for audiences with their hit song 'We are the Wall' in SV' 96 program.
In 1998, the 'Buc Tuong' rock band was considered a professional rock band of Vietnam. In 2000, the band changed to an English name 'The Wall' and went on to become a leading rock band in Vietnam.
In 2006, the band decided to split and hold their last live show 'The last Saturday' at Giang Vo Exhibition Center to say good bye to about 20,000 fans who gathered at the show.
In July 2010, the rock band re-grouped with a new performance style from hard rock to modern rock. The band released a series of albums such as 'Ngay khac', 'Tam hon cua da', 'Vo hinh' and 'Nam cham'.
After re-grouping the band continues to receive good response from audiences and has become one of the most successful rock bands and will participate in 'Dau An So Thu 5' musical program. The musical program is an advantageous opportunity for the rock band who will recreate their hit songs of the past 18 years.
Zen meets piano at HCM City cafe
Poet Nguyen Duy and German Frank Gerke will recite Zen poetry composed during the Ly and Tran dynasty eras of 1,000 years ago, and pianist The Hien will accompany them, playing impromptu compositions based on the mood created by the poems at an event in HCM City on Saturday.
"Piano meets Zen", sponsored by the German consulate and organised by Saigon Cultural Circle, will see Duy and Gerke read in Vietnamese and German from the Vietnamese Old Zen Book.
Hien will play impressions and variations in "pianissimo" and "fortissimo" depending on the verse.
The consulate said in a release that the event is targeted at bringing audience to a space of "listening-breathing-culture, the counterpart of noise".
Organisers said they want to create a "quiet event" as a counterpoise to the daily noise.
The event, entry to which will be free, is set to take place at the Evita Bistro Cafe, City Garden Towers, 59 Ngo Tat To Street, behind the zoo.
Gerke, 48, was born in Bremen, and was given the Vietnamese name of Trinh Cong Long by the late songwriter Trinh Cong Son in 1993, a year after he first came to the country.
He now lives in Viet Nam and is a literature researcher and critic and German-Vietnamese translator.
He composes poems in German and Vietnamese, including in the formerly used Han character.
Duy, 65, served as a northern Vietnamese soldier in the American War and later became the southern editor of the literary journal Van Nghe.
In 2005 he edited and published a book of Zen poems on traditional do (poonah) paper written in Han Chinese and with their Vietnamese and English translations.
Hien, 58, is a member of the Viet Nam Music Association.
He started to compose in 1982, and became famous in the 1980s-90s with songs like Nhanh Lan Rung (A branch of wild orchid), Toc Em Duoi Ga (A tuft of hair like chicken tail).
Lao Cai markets will remain traditional after upgrade: official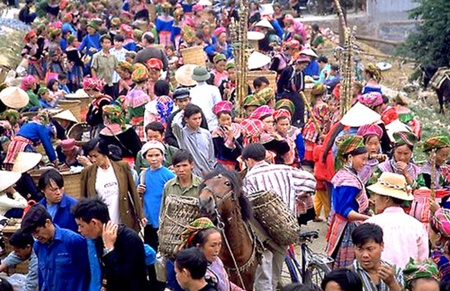 Authorities in the northern province of Lao Cai plan to expand and upgrade traditional markets in Bac Ha District to facilitate more trade by ethnic minority communities and attract more tourists.
Tran Huu Son, director of the Lao Cai Culture, Sports and Tourism Department, said locals should be able to offer more than agricultural produce at the markets, and the space should be big enough for them to display their wares and for tourists to watch trading activities.
Apart from agricultural produce, there should be a space in the market for cultural products like khen (bamboo flute) and they can attract more tourists and buyers if they perform with the instruments, he said.
The province also plans to arrange accommodations for tourists, who wish to stay there overnight and attend the early morning trading sessions, he said.
The plan will relocate the market sites to facilitate access by both locals and tourists without affecting the daily routines of ethnic minority communities, Son said.
"We will not let the traditional markets be commercialised and lose their identity," he assured.
Presently, tourists flock to just one big traditional market at the heart of Bac Ha Town held every Sunday morning to get a glimpse into traditional customs and lifestyles.
Poems honour General Giap
A poetry collection commemorating General Vo Nguyen Giap has gathered 103 poems written by 103 writers throughout the country. The very specific number represents the age of the well-known general, who died last month.
The anthology, entitled Tien Dua Nguoi Vao Bat Tu (Seeing Him off to the Eternal World), gathers the musings of many famed poets including Nguyen Khoa Diem, Nguyen Thuy Kha, Le Canh Nhac, and Nguyen Trong Tao.
The collection expresses the authors' admiration and respect for Gen Giap, considered one of Viet Nam's most distinguished military commanders and politicians in recent times.
Information and Communications Publishers gathered the material from poems which were widely published in the media after the general's death.
Free concert to highlight sopranos
The soprano in opera is subject of this month's free art programme for young audience in HCM City.
The monthly programme, called Giai Dieu Tre (Young Melody), has been carried out for the last three years by the HCM City Ballet Symphony Orchestra and Opera (HBSO).
The orchestra and conductor Ly Giai Hoa will perform for the first time in the city one of Wolfgang Amadeus Mozart's famous opera Cay Sao Than (The Magic Flute).
The opera tells the love story between Prince Tamino and the beautiful Pamina. While Tamino is being chased by an evil serpent, she is rescued by the Queen of the Night. To show her gratitude, Tamino saves the queen's daughter, Pamina, who has been imprisoned by Sarastro. Both Tamino and Pamina have to experience harsh hardship to get their love. Today's show will take place at the Opera House, 7 Lam Son Square, District 1.
The free tickets are available at the Student Support Centre, 33 Nguyen Thi Minh Khai Street, Distict 1; or at the ticket-office of the Opera House.
Press Photo Contest to mark Vietnam Revolutionary Press Day
Saigon Giai Phong Newspaper along with the Ho Chi Minh City Journalist Association will launch a press photo contest to mark the 89th anniversary of Vietnam Revolutionary Press Day.
The contest is opened to journalists, members of the Vietnam Journalist Association, Vietnam Association of Photographic Artists, and professional and amateur photographers nationwide.
Photos describing activities of people who have made outstanding contributions in developing and protecting the country, maintaining social order, public security; and individuals who have overcome challenges in life will be highlighted.
Submissions of four to 14 photos with descriptive article of not more than 100 words can be sent to Email ID: duthipsasggp@gmail.com; or Saigon Giai Phong Newspaper's branch at 18 Vo Van Kiet Road, Nguyen Thai Binh Ward in District 1; Ho Chi Minh City Journalist Association at 14 Alexandre De Rhodes Street in Ben Nghe Ward in District 1 until May 15, 2014.
The awards ceremony and exhibition of winning entries will take place in June 2014 on occasion of Vietnam Revolutionary Press Day.
Countdown Festival to welcome New Year 2014
The Countdown Festival welcoming the New Year 2014 will take place on New Year's Eve on November 31, 2013 in Ha Noi.
Annually, during the festival, thousands of visitors gather at the August Revolution Square, Ha Noi, to participate in special artistic performances and a countdown event to herald the New Year
In Ha Noi, the festival, firstly held in 2010, is an eagerly awaited event.
Born in 1907, the festival was originally an event for welcoming New Year in Times Square, New York (US) with the giant ball lowered within the last 60 seconds of the old year./.
Finnish poster art displayed in town
The Embassy of Finland in Vietnam Monday opened the "100 years-100 posters" exhibition at the City Exhibition House in District 1.
Visitors to the event can admire the colorful posters which focus on the development of graphic design, the country and the people of Finland and especially some familiar Finnish brands like Finnair, Nokia, Fazer and Sinebrychoff. The works on display, which were created in the early 20th century, were selected by Kari Savolainen, curator of the Lahti Poster Museum, from the collections of the museum.
Finnish poster art has developed since the late 19th century along with other European nations. During the last decades of the 19th century a number of Finnish artists studied in Paris, creating a storm when they returned to Finland. The Finnish poster art genre was influenced by national romanticism, Jugendstil or Art Nouveau from Eastern Europe, Italian futurism, cubism and commercialization, among others.
The exhibition is part of the 40th anniversary of diplomatic relations between Finland and Vietnam and is running until Friday from 8:30 a.m. to 11:30 a.m. and from to 1:30 p.m. to 5 p.m. The City Exhibition House is located at 92 Le Thanh Ton Street in District 1.
Exhibition envisions a world free from domestic violence
Forty-one photos relating the stories, feelings and actions of modern Vietnamese men of diverse backgrounds are on display at an exhibition hall in Hanoi.
The event was organised in response to the International Day for the Elimination of Violence against Women (November 25).
Addressing the opening ceremony, Arthur Erken, a representative of the United Nations Population Fund (UNFPA) in Vietnam, expressed his hope that the exhibition would help improve public awareness and change the attitudes of Vietnamese men towards domestic violence.
"I found the stories of abused women despicable. Men should use their strength to protect women and should not commit acts of violence against women", said Bui Van Thuan from Sung village, Hoa Binh northern province.
One corner of the exhibition is dedicated to photo stories with the theme 'violence destroys love', which is placed opposite other photos in a larger space under the theme 'sharing inspires happiness'. The positive images reflect the present and future with bright colours, showing the ideas and actions of Vietnamese men aimed at terminating violence against women and building an equal life with respect and love.
In a new approach to violence against women and girls, photos by Na Son are displayed in a modern and upbeat atmosphere, conveying the message that men are not only people who need to be changed; they can also be factors for change, contributing to ending domestic violence through sharing and love.
The exhibition has been organised by ActionAid International in Vietnam; the UNFPA; the Centre for Studies and Applied Sciences in Gender, Family, Women and Adolescents (CSAGA); the Canadian Embassy in Hanoi; Oxfam and CARE International in Vietnam.
The exhibition can be viewed at 29 Hang Bai Street, Hanoi from November 26 to December 2.
Source: VOV/VNA/VNS/VOV/SGT/SGGP/Dantri