Buffalo-themed exhibition welcomes Lunar New Year
More than 80 artworks inspired by the buffalo are on display at an exhibition in Hanoi to welcome the Lunar New Year of Buffalo.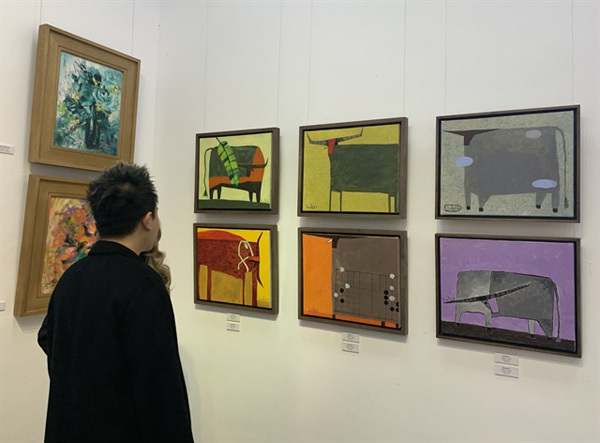 Visitors are seen at the exhibition Đón Trâu vàng 2021 (Welcome the Golden Buffalo). Photo baotintuc.vn
Entitled Đón Trâu vàng 2021 (Welcome the Golden Buffalo), the exhibition presents pieces by G39 – a group of Hanoian artists who gather to honour traditional values as well as to bring art closer to public. The group's members include several famous painters of Vietnam's contemporary painting such as Le Thiet Cuong, Vuong Linh, Nguyen Minh, Doan Hoang Lam, Tao Linh, and Do Dung. The exhibition is the group's annual event since it was founded seven years ago.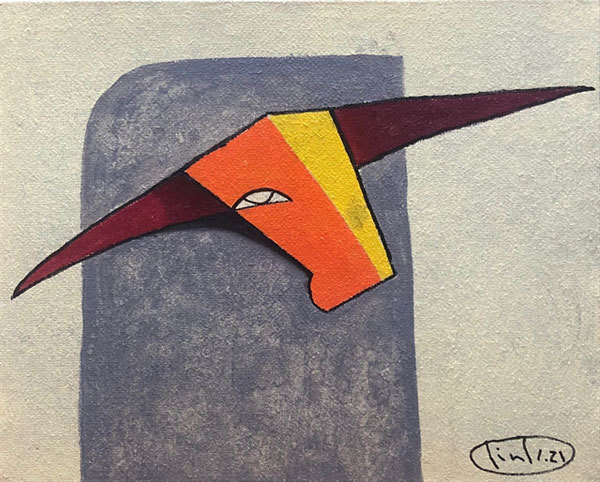 A painting by Tao Linh at the exhibition.
A variety of mediums such as dó (poonah) paper, watercolour, oil on canvas, acrylic on canvas, and ceramic, have been used by the artists to depict the image of the buffalo – the animal that also regarded as 'Vietnam's national animal', which plays an important role in the culture of Vietnamese wet rice civilization for centuries.
The G39's leader, painter Le Thiet Cuong, who is famous by his minimalist paintings said: "Vietnamese culture was nurtured from the culture of wet rice civilization, of which the buffalo has been regarded as a key role. The buffalo, which closely associates with diligence, hard work, and strength, is a nice inspiration for artists to create their artworks, especially when people nationwide prepare to welcome the Lunar New Year of Buffalo."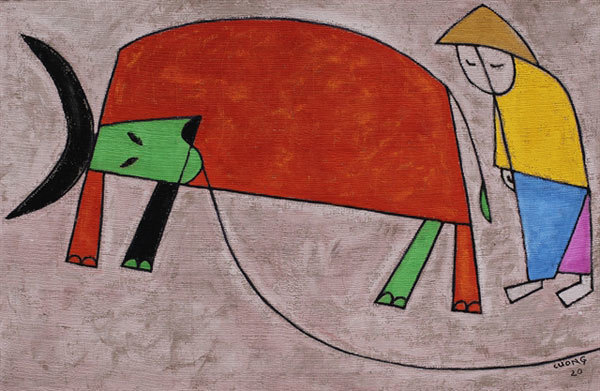 Buffalo-themed painting by Le Thiet Cuong, leader of G39.
At the exhibition, Cuong has presented some artworks including mosaic paintings and ceramic pots depicting buffalo. He has also showcased tempera paintings on tulle, and Chinese ink on poonah paper.
Female painter Hoang Phuong Lien is the only artist from HCM City joining the exhibition.
"I was born and grew up here in Hanoi, so I have a bond with this sacred city. Although now living in HCM City, but part of me still in Hanoi and I still join some art activities here whenever it's possible. However, I've never been absent in any annual exhibition of G39," she said.
For the Đón Trâu vàng 2021, Lien has created three paper collage paintings.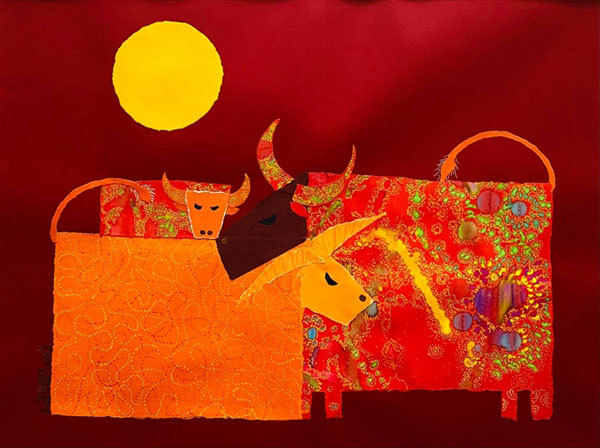 A paper collage painting by the HCM City-based artist Hoang Phuong Lien.
Painter Do Dung has unveiled seven acrylics on canvas paintings.
His painting Giá Lâm (Coronation) was inspired by the tale about Dinh Tien Hoang (924-979) – the founder and the first emperor of the ancient Great Việt which nowadays is Vietnam. Born when the country was under the rule of the Chinese Tang Dynasty, together with other village boys, he often played the war game, of which he is a general, riding his buffalo to fight with his enemy.
According to the painter, the Kim Ngưu (Golden Buffalo) expresses the strength and enduarance, while the Quây Quần (The Gathering) presents the close connection between human and the animal.
Fashion designer Trinh Bich Thuy also joins the G39 artists by showcasing her creations depictings embroidered pattern inspired by buffalo paintings by Le Thiet Cuong.
Alongside works by wellknown artists, the exhibition also introduces paintings by 'junior artists' whose parents are G39 members.
The Đón Trâu vàng 2021 opens to public until January 29 at 29 Hang Bai Street, Hanoi. VNS
A collection of 54 wood sculptures, lacquer, oil and canvas, silk and watercolour paintings are on display at Da Nang City's Fine Arts Museum in celebration of Vietnam's Fine Arts Day.

With the Lunar New Year, just under one month away, Lai Thieu pottery village in Thuan An City, Binh Duong Province have released a series of gold-plated ceramics shaped to look like buffaloes as a way of marking the upcoming Year of the Buffalo.