BUSINESS IN BRIEF 16/8
Vegetable, fruit import strongly increases, Nutritional packaged F&B taking off, Mekong Capital fund invests in education concern, Vietnam wins prize in Asia HRD Awards 2017, HCMC firm in pork traceability
Vegetable, fruit import strongly increases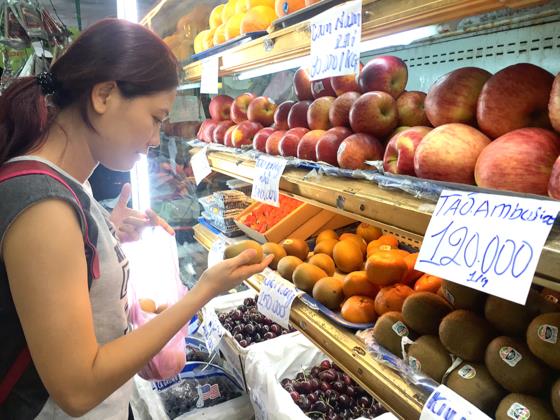 Vietnam spent US$215 million on importing vegetables and fruits in July, taking the total import turnover in the first seven months this year to $851.8 million, double compared to the same period last year.
During the first seven months, vegetable and fruit export growth rate neared 49 percent while import growth rate approximated 103 percent.
Thailand outstripped China to become the largest vegetable and fruit exporter to Vietnam. In the first half this year, the import turnover from Thailand hit $362.2 million, up 2.5 times over the same period last year and accounting for 57 percent of the market share. Import value from China was $107.1 million accounting for 16.8 percent.
They were followed by the US, Australia, Myanmar, New Zealand, India, South Africa, South Korea and Chile.
Besides import through official channel, foreign fruits have been portable to Vietnam by air. These products are usually sold at shops and on the internet with high prices but supply has been short of demand.
According to records by Sai Gon Giai Phong reporters, a kilogram of Australian avocado is priced VND350,000, pomelo VND130,000, mandarin orange VND200,000 and dried grape VND600,000 a kilogram.
Australian red peel banana has the price of VND500,000 a bunch, Canadian yellow cherry VND700,000 a kilogram, Spanish melon VND300,000, Egyptian fresh date palm VND800,000, South African red orange VND150,000 and Peruvian pomegranate VND200,000.
Regularly buying foreign fruits, Ms. Vo Thi Kieu Giang in Go Vap district said that she had been afraid that local products were soaked in chemicals. Other countries have technical barriers to control fruit quality. The price of foreign and local mandarin orange, orange and banana is not different much. Only those uncultivated in Vietnam such as cherry, date palm and some melons are expensive.
A staff of a shop in District 1 said that some fruits must be ordered before a month because they are expensive and quickly rotten such as South Korean strawberry priced VND800,000 a kilogram, Japanese strawberry VND1.5-2 million, Japanese grape VND2 million and Swiss red apple VND1 million.
An unnamed air hostess said that many air hostesses had carried foreign fruits to Vietnam to supply shops. Chinese fruits are also sold in other countries as the country's climate permits cultivation of many temperate fruits such as grape, apple, kiwi and cherry besides tropical fruits.
Chinese fruits imported to developed nations must ensure safety and quality standards. However, they are usually imported to Vietnam through the border with small volumes, so quality has not been ensured.
Therefore, consumers should be watchful as air hostesses might buy Chinese fruits from markets and mix them with portable fruits for sale. They should require sellers to present purchase invoices. However, it is not an optimal solution as sellers can use one invoice for many times or have other tricks to cheat buyers.
In addition, consumers should have some knowledge of fruits in other countries. For instance, New Zealand kiwi is yellow, green kiwi is only available in China. Australian cherry can be kept within one day while it is a week for Chinese cherry. Australian plum is priced VND400,000 a kilogram, South African plum VND320,000, American VND390,000 and Japanese VND1 million.
Nutritional packaged F&B taking off
The in-home fast-moving consumer goods (FMCG) nutrition market (including dairy and products from dairy, soya milk, tonic food drinks, noodles and soups, biscuits and cakes, canned food, processed food, and frozen food) has grown at a compound annual growth rate of 10 per cent over the past five years and is forecast to hit $6 billion by 2020, according to recent data from Kantar Worldpanel Vietnam.
On average, each Vietnamese household spends more than 3 per cent of its total monthly income on nutritional packaged foods and beverages that they bring home to consume. And every year, urban households dedicate 10 per cent more to this spending and such spending in rural households is accelerating in line with higher health consciousness and better education. This raises some interesting questions for those looking to take a bigger slice of this growing pie, about why there is so much potential and how to tap into it.
According to Kantar Worldpanel Vietnam's latest Lifestyle Report, it is now harder than ever for new brands and new products to gain consumers' trust and be picked up from the shelf.
Consumers are more skeptical about the influence of media around them, such as news, ads, POSM (points of sales material), and promotions, as well as suggestions from others. In some ways, the more they see or hear the less they believe. This drives them to spend time seeking information to gain a thorough understanding of what they are going to buy before making any decision. By being connected to the internet via smartphones and other modern devices, this is easier than ever!
"Even in the complicated world of nutrition, what isn't complex to observe is that people still want to eat things that taste good, are convenient, and are value for money," said Mr. David Anjoubault, General Manager of Kantar Worldpanel Vietnam. "Going beyond just simple nutrition will help to explore the full potential of the food and beverage industry. Manufacturers should step into providing more innovative offers that are both nutritious and appealing to consumers. For example, fortified products, which offer more nutrients at a competitive price, liquid formats for ready-to-drink occasions, or even smarter and more functional packaging."
Building trust is paramount, as a trustworthy image coupled with strong product quality management will help win consumers' hearts. According to Mr. Anjoubault, however, at this moment, only around one-third of consumers in Urban or Rural Vietnam said they believe in the benefits claimed by products. In fact, there is no magic formula to build trust, but there are actions that businesses can take to maximize and maintain trust. Be sure that your products are accredited and searchable is the first step.
Nowadays, the nutrition market is more welcomed across Vietnamese age groups and is no longer limited to children.
Vietnam's population is aging and the white space of the nutrition market for seniors seems compelling. The number of people older than 50 is rising and expected to account for 22 per cent of the country's total population in 2020. Helping this group take care of themselves and proposing solutions for their children and grandchildren to take care of them is a viable strategy to invest in.
Today in Vietnam there is not a huge amount of product choices targeting this segment of the market and there is room to welcome more diverse offerings that meet the nutritional needs of seniors. It's large population, most of whom are young, are more open to trying novelties, promising growth for new ideas and new products. There will be also a challenge, however, to retain these young consumers as they change tastes quite easily.
Mekong Capital fund invests in education concern
Mekong Capital's Mekong Enterprise Fund III has invested $4.9 million in purchasing a minority stake in the education firm the YOLA Joint Stock Company, the fund's sixth investment.
"YOLA as an organization is led by a team of exceptional founders who have successfully built a platform to realize their long-term objectives. We share a mutual commitment to contribute to high quality education for Vietnamese families and children and as such, empower the children of today to reach their dreams and full potential," said Sjoerd Zwinkels, Mekong Capital's deal leader for the investment.
With the investment from Mekong Capital, the company has opened four new training centers in Ho Chi Minh City, bringing the total number of YOLA campuses to ten nationwide.
The investment will help YOLA enhance its products and services, build its team of professional managers and teachers, and finance the launch of new campuses.
"We are excited to have entered into a strategic partnership with Mekong Capital, as they have strong experience in adding value to private companies in Vietnam and also the educational sector," said Khoa Pham, Chairman and CEO of YOLA. YOLA is the second education portfolio company of Mekong Capital, which sold its stake in K-12 Vietnam Australia International School to global alternative investment firm TPG.
Starting out in 2009 as an online English education startup, YOLA has evolved into an integrated educational services provider with a wide range of test preparation courses (SAT, TOEFL, IELTS, GMAT, and GRE), English language and soft-skills training, after-school tutoring, summer camps, and the development of educational content.
It has successfully trained over 30,000 students with over 10,000 currently studying abroad, including those admitted to top universities such as Harvard, Stanford, Yale, and Cornell University.
"We will leverage our partnership with Mekong Capital to invest in teacher and talent development, curriculum innovation, and new learning technologies, so that we can achieve better student outcomes, increase student access, and innovate education delivery," Tu Ngo, co-founder and Vice President of Strategy and Products at YOLA.
Vietnam wins prize in Asia HRD Awards 2017
Thanh Nguyen, Anphabe JSC's founder, has become the first Vietnamese businesswoman in the last fourteen years to win a prize at Asia HRD (Human Resources Development) Awards 2017, a celebration and recognition of virtuosos who contribute to employees' development.
On August 8, 2017, in Kuala Lumpur, Malaysia, Thanh Nguyen was awarded the Contribution to HR Community Award in recognition for her creation and application of new concepts and ideas which brought about positive influences to the HR community and impressed international and domestic HR experts and community.
Also in this celebration, Abdulla Yameen Abdul Gayoom (the Maldives' President) took over the award of Lifetime Achievement, J. Edurdo Malaya (former Ambassador of the Philippines to Malaysia), one of the five individuals receiving the Contribution to Society Award, and Dr. Venkates Rao (YouthCorp Malaysia's Chairman) who was handed the award of Movers & Shakers, among others.
"I myself was surprised when awarded this international prize. I dedicate this honour for the entire Anphabe staff, those who have teamed up with me in the past and present to implement the mission of Happiness at Work. We regularly hold different supporting activities for the HR community and workers in Vietnam as well as regional areas. I want to send my most sincere thanks to all of my customers and partners, who believed and accompanied us to develop happy human resources," Thanh said.
Besides being a CEO, a leading counsellor, and an experienced coordinator, Thanh Nguyen is also the speaker of "Monday Motivation," the video series that share tips to build a Happy Workplace. This series has thousands of views every week.
H. Kannan, former HR head of Pepsico Vietnam and now HR head of Pepsico India, said, "I had a chance to cooperate with Thanh Nguyen and Anphabe during my seven years of working in Vietnam. Thanh is a trusted expert with rich experiences and knowledge in the HR industry and a unique foundation of Marketing, but above all, she has an endless positive power in HR development. She has partnered up with enterprises to develop a Happier and Better Workplace. Meanwhile, she has inspired millions of workers and officers, helped them realise and enjoy the values of work and life. Thus, I nominated Thanh for the HRD Asia 2017, and I believe that she and her Anphabe deserve the recognition."
Nguyen Tam Trang, deputy HR head of Unilever Vietnam, one of Anphabe's customers, said, "We have cooperated with Anphabe in many HR projects right from their very first days of establishment. We believe that Anphabe not only supports Unilever, but also helps other leading enterprises in connecting their employees, thereby, creating a happier workplace. With our knowledge and international experience, Unilever will stand by Anphabe to enhance Vietnamese HR."
Anphabe is a pioneering enterprise in Vietnam as well as the region in providing solutions for building employers' brands and a Happy Workplace for the business community, so that they can attract and keep talented employees working for them for a long time, as well as motivating them to devote themselves to the company.
During the last five years, Anphabe organised the Award of the Best Workplace in Vietnam to honour enterprises with ideal workplaces. Meanwhile, Anphabe also organised many different programmes so that different enterprises can join to exchange experiences and learn from each other.
Launched as an independent initiative in 2003 with just five recipients from two countries, the Asia HRD Award now has become a prestigious annual event, honouring a total of 229 recipients from 21 countries.
The goal of the Awards is to showcase achievements and develop best practices to further enrich the field of people development. Recipients of the Awards are honoured for bringing significant changes to human development through their initiatives in the five categories, including Lifetime Achievement, Contribution to Society, Contribution to Organisation, Contribution to HR Community, and Movers and Shakers. In each category, there have been different criteria to choose the winners.
ROK logs US$2.4 billion trade surplus with Vietnam in July
The Republic of Korea trade surplus remained in the black for the 66th month in a row in July amid brisk exports, the country's customs data showed on Tuesday, August 15, reported The Korean Herald.
Asia's fourth-largest economy has consistently posted a monthly trade surplus since February 2012.
It logged US$6.7 billion in trade surplus with Southeast Asian countries in July, including a surplus with Vietnam at US$2.4 billion, while it posted an excess of US$3 billion in trade with China, its largest trading partner.
The country's exports have been on a roll since November last year, said The Korean Herald, on the back of growing overseas demand for semiconductors, petrochemical products and vehicles.
ROK exports to Vietnam soar 67.3% in first half of 2017
Republic of Korea venture company exports to Vietnam soared 67.3% year-on-year in the six months leading to July 2017, according to the Korea International Trade Association.
The Korea Herald reported that outbound consignments per the Association by local venture companies expanded at a double-digit pace, registering US$9.86 billion for the 6-month January-June period.
Exports to Vietnam led the surge said the Association in its report, shooting up 67.3% to US$1.48 billion, followed by a jump of 18.4% for Chinese exports tallying in at US$2.48 billion.
June shrimp exports to US slide, cloud economic outlook
In terms of volume, US shrimp imports rose 16% on-year for June 2017 on the back of major increases coming from India and China as imports from Vietnam, Indonesia, Ecuador, and Thailand slid.
According to recently released figures from the National Oceanic and Atmospheric Administration, the US imported 53,394 metric tons of shrimp for the month, 7,207 metric tons higher than the 46,187 metric tons logged for June 2016.
In terms of value, the month's imports surged 23% year-on-year to US$513.5 million.
For the first half of 2017, imports – including all shrimp species product forms such as value-added products like breaded shrimp – totalled 286,769 metric tons valued at US$2.75 billion.
That marks a 9% increase by volume and 15% rise in value over the same six-month period in 2016.
Prices are on the uptick as well. In June 2017, the average price of imported shrimp was US$9.61 per kilogram. In June 2016 that same kilo cost just US$9.06.
By volume, seven countries made up more than 90% of US shrimp imports during the first six months of 2017. They are India (30%), Indonesia (20%), Ecuador (13%), Thailand (10%), Vietnam (8%), China (7%) and Mexico (3%).
During the first six months of 2016, Indonesia had the largest market share (22%), followed by India (20%), Ecuador (14%), Thailand (13%), Vietnam (10%), China (6%) and Mexico (4%).
Wellness resort group comes to Phu Quoc
Fusion, a wellness resort and hotel chain, has launched its sixth property for relaxation and rejuvenation on Phu Quoc Island.
The 20ha resort opened in June in Vung Bau Beach in the north of the island.
Its 97 villas were built using natural coastal materials and by drawing inspiration from the island's traditional architecture and fishing culture.
They range from one- to five-bedroom for solo travelers, couples, families or groups of friends travelling together, each with a private pool and garden.
Fusion's founder and CEO, Marco Van Aggele, said: "It's also extremely exciting to bring the concept of a wellness resort to Phu Quoc".
The resort offers daily spa journeys to all guests at no extra cost.
With an international morning buffet served in the Secret Garden restaurant, Fusion's "breakfast anytime, anywhere" concept invites guests to enjoy the meal at any time of the day or night and anywhere they want -- in the bathtub, pool, beach or the bar.
For evening meals, Vietnamese specialties and international favourites with seating both indoors and out, serve fresh seafood such as lobster, crab, clam, oyster, fish, sea urchin and more.
Since its launch in 2008 Fusion has become a leading wellness-inspired hotel group, and is now the only fully vertically integrated Hospitality Company in Southeast Asia.
Its six properties are in Da Nang, Nha Trang, HCM City and Phu Quoc under the Fusion Resorts, Fusion Suites, Fusion Retreats and Fusion Originals brands.
HCMC firm in pork traceability
HCMC authorities have just launched a 10-day program to bolster pork traceability by intensifying checks on the origin of pork supplied to the city from August 12 to 22, said Nguyen Ngoc Hoa, deputy director of the municipal Department of Industry and Trade.
Beside two wholesale markets, the city will focus on checking the origin of pork transported in vehicles to the city and those traders committing violations will face heavy fines.
The city will establish three interdisciplinary inspection teams to conduct quick tests of pork samples to find whether they contain microorganisms and banned substances. Vendors will be sanctioned if the pork they sell has no traceability tags and fails to meet food safety and hygiene standards.
These teams will inspect vehicles on main roads leading to the city via northwestern, northeastern and southwestern gateways such as Trung Luong Expressway, Highway 50 and Nguyen Van Linh Parkway, and slaughterhouses in Binh Tan District and Binh Dien wholesale market.
Especially, the HCMC government has directed Binh Dien wholesale market's management company to control closely the origin of pork sold at the market and ask pork vendors to implement the program seriously.
Thus, the city has applied heavier sanctions to deal with violations after a period of ineffective implementation of a program to make sure all pork on sale has clear origin. However, HCMC still creates favorable conditions for vendors and their vehicles to transport pigs and pork with traceability tags to the city for slaughtering and sale at two wholesale markets.
According to latest data of the Department of Industry and Trade, on August 12 alone, 9,495 pigs were brought into the city from other parts of the country, with 8,055 of them through Binh Dien and Hoc Mon wholesale markets. There are 7,351 pigs wearing traceability tags from farms, 6,387 from slaughterhouses and 3,093 from wholesale markets.
The number of pigs wearing traceability tags at the wholesale markets reached 33-36% of total pigs imported into the city by August 12. Hoc Mon wholesale market has effectively implemented the program with 100% of pigs sold at the market wearing traceability tags while the ratio in Binh Dien market was only 25%, or even at 0% at sometime.
Major hindrances to hi-tech agriculture development in HCMC
Vague regulations and management mechanisms, as well as difficulties in attracting qualified manpower and transferring technologies have become major obstacles to the development of hi-tech agriculture in HCMC, according to the management board of the HCMC Hi-tech Agriculture Park.
The management board says in a recent report that the application of high technology has exposed a slew of shortcomings, hindering the development of local hi-tech agriculture.
According to the report, the State management function of the board is ambiguous, resulting in a host of hindrances, especially when the board teams up with relevant departments and agencies to do its job.
The report stresses complicated mechanisms and procedures to invest in the park have taken investors much time to go through, as the one-door mechanism has yet to be applied, and investment regulations are overlapping and unclear.
The HCMC Hi-tech Agriculture Park, which covers 88 hectares in the outlying district of Cu Chi, requires total capital of VND152 billion for infrastructure development, averaging out at VND1.7 billion per hectare of technical infrastructure.
The park has so far attracted 14 projects which need around 57 hectares. However, four firms have yet to start work on their projects that are allocated 11 hectares and have total registered capital of more than VND141 billion.
Besides, the report notes that the search for output via the transfer of technologies and farming models to local farmers is also faced with many problems, as farmers shy themselves away from the high costs.
The link between the park and hi-tech farms is weak, as many firms and cooperatives are not willing to apply hi-tech farming techniques and models while the fund for transfer activities is quite modest.
Notably, a lack of hi-skilled manpower is also a serious obstacle. The board says it has found tough to lure well-qualified staff, due to unfavorable travel conditions for technical workers and other employees who must cover long distance to the park.
In a related development, the Ministry of Agriculture and Rural Development has plans to organize a conference on the development of hi-tech agriculture in the central province of Lam Dong this week. Delegates are expected to share their experience and suggest workable solutions so as to fuel the growth of the sector.
Vietnam Airlines to promote flights to Hue
National flag carrier Vietnam Airlines will raise the frequency of its flights and open new air routes to the central province of Thua Thien-Hue, according to a cooperation agreement between the provincial government and the airline.
The deal, signed last Friday, shows that Vietnam Airlines will also create mechanisms to support new air routes in the initial stage to increase the number of passengers to and from Hue. The two sides will cooperate in investment and tourism promotions in 2017-2021 through national and international tourism, cultural and sports events in Hue City.
Specifically, the province and the carrier have planned to organize media trips for journalists and travel agencies from Europe, Northeast Asia and Oceania to learn about Hue's tourism potential.
Vietnam Airlines is currently operating three to four flights from Hanoi and HCMC to Hue a day. The province wants to connect with other parts of the country and other countries to attract more tourists.
To turn tourism into a key economic sector, Hue has supported enterprises to maintain or add more flights to the province. Hue - Can Tho - Phu Quoc, Luang Prabang (Laos) - Bangkok, and Ayutthaya (Thailand) - Bagan (Myanmar) air routes are typical examples.
South Korea sees Vietnam as major source market
South Korea now considers Vietnam a major source market for its tourism sector and seeks to attract more tourists from Vietnam to offset a slump in Chinese tourist arrivals after a ban by China's government on its people traveling to Korea.
Earlier, Korean agencies used to cater to a lot of Chinese visitors on chartered flights but now they have to aim at other ASEAN countries as replacement markets, especially Vietnam, said Le Thi Thu Trang, marketing director of the Korea Tourism Organization (KTO) in Vietnam.
Among ASEAN countries, Vietnam ranks third in terms of arrivals in South Korea, behind Thailand and the Philippines, so many Korean firms see Vietnam as a highly potential market, Trang of KTO said.
The clearest sign is the rising number of chartered flights organized between the two countries. Currently, there are many agencies offering seven-day tour to Korea's Jeju Island at a total price of only VND11 million.
Trang expected there will be more than 40 chartered flights for tourists between the two nations from now until year-end. She also predicted high growth in the number of tourists travelling between the two nations.
In the first seven months this year, there were 200,000 tourists coming from Vietnam to Korea, up 29% year-on-year.
Since the beginning of the year, the Korea Tourism Organization and many other local authorities in Korea have come to HCMC, Hanoi and Danang to promote tourism.
Government requires to reduce costs for businesses
The Government has required provinces and ministries to simplify administrative procedures and reduce costs for businesses in the recently issued resolution of the regular cabinet meeting in July.
Specifically, provincial people's committees should simplify administrative procedures to reduce fees for businesses. Ministries and authorized agencies should decrease inspection procedures and cut the ratio of import consignments in need of specialized inspections to 15 percent from 30-35 percent now.
The Ministry of Science and Technology should remove at least 50 percent of commodities from Group 2, subject to inspection before customs clearance of 12 ministries, before June, 2018.
The Ministry of Industry and Trade should have measures to lower logistics costs to account for 28 percent of gross domestic product (GDP) by 2018 and 20 percent by 2020.
In the short term, the Ministry of Health and Vietnam Social Insurance Agency should not increase health insurance premium to prevent from raising costs for businesses.
Expert proposes new sustainable export strategy
Despite remarkable achievements in export activities, it is time to develop a new, sustainable, and effective export strategy for restructuring and maintaining positive economic growth, amidst increased challenges from both home and abroad, economist Vu Dinh Anh has suggested.
In the context of the economy facing difficulties, especially low growth rates and a slow process of restructuring compared to the set plan, Vietnam's exports in the first seven months of 2017 recorded remarkable progress, creating a positive premise for fulfilling the set target of annual export growth. However, the situation still mixes both joy and concern regarding the quantity and quality, as well as the structure.
After seven months, the total export turnover has reached US$115.2 billion, up 18.7% over the same period in 2016 - far exceeding the set target of approximately 10% for the whole year, with a surprise in the exports of fruit and vegetables reaching their highest growth of 44.4%, worth US$2 billion; followed by the export of electronics, computers and spare parts (up 43.3%, reaching US$13.6 billion).
It is noteworthy that exports of machinery, equipment and other spare parts increased by 29.5%, to US$6.9 billion, along with transportation means and spare parts reaching US$4 billion, an increase of 20%.
Whilst still accounting for the largest share of total exports with US$22.6 billion, exports of phones and related components slowed down and rose by just 15%.
In the same group, with export growth rates lower than that of the common trend, are textiles and garments (US$14.2 billion, up 8.1%), shoes and sandals (US$8.4 billion, up 12.9%), seafood (US$4.3 billion, up 18.1%), wood and wooden products (US$4.3 billion, up 12.4%) and coffee (US$2.1 billion, up 8.3%).
Particularly, crude oil exports increased by 36.1% in value and 12.3% in volume, although turnover was low at only US$1.8 billion.
The structure of export goods has not shifted sharply with the change in the structure of production and business, which is further deepened as a number of exported agricultural products decreased compared to the same period of last year, such as pepper (down 18% but up 21.1%), cassava and cassava products (down 7.5% in value, down 0.3% in volume).
The export capacity of the domestic economic sector has not improved significantly with a turnover of just US$32.2 billion, up 14.6%; while the exports of the foreign invested sector continued to soar, up 20.3% to US$83 billion.
An increased trade deficit in the domestic sector after seven months seemed to add more fuel to the fire as the figure has reached US$14.77 billion, while the FDI sector continues to enjoy a trade surplus of US$11.69 billion.
The market for export goods also contains several signs of change, both positive and negative. A number of the top export markets remained in place, but the pace of growth slowed down dramatically.
Typically, the US remained Vietnam's largest export market with a seven month turnover of US$23.4 billion but up just 9.9% over the same period last year, followed by the EU with US$21.5 billion, only up 12.8%.
China rose to third place with US$15.5 billion in turnover, up 42.6%, while ASEAN recorded US$12.3 billion, up 27.1%, Japan US$ 9.6 billion, up 20.6% and the Republic of Korea US$7.6 billion, up 26.4%.
Market structure and the growth of export turnover in key markets of Vietnamese goods are affected by the trade policies of the leading economic powers in the world in addition to international market fluctuations. The recovery of trade protectionism has a strong impact on exports in particular and on export-dependent economies such as Vietnam in general.
Meanwhile, increased competition in penetrating into large-scale markets, for Vietnam's traditional exports such as apparel, footwear and furniture, has forced the country to change its export strategies in line with restructuring its key commodities and focused export markets.
Fate of long-delayed Park City remains murky
Despite being taken over by a new investor, the construction of the long-delayed Park City in Ho Chi Minh City remains uncertain.
A representative of Gaw Capital Partners told VIR that the firm submitted the adjusted design of the project to the relevant authorities for approval.
Gaw Capital Parnters is waiting for the adjusted investment certificate as well as the approval from local authorities for the new design, thus it has yet to determine the specific time of starting the construction.
Park City was initially granted an investment certificate in 2008 as a joint venture between Saigon Development JSC and Saigon Entertainment Park Holding Pte., Ltd. from Singapore. The development, which has a total investment capital sum of $310 million and lifespan of 50 years, was intended to be a multi-functional entertainment centre.
The 49.5-hectare project's investors were replaced by Indochina Land Holdings 2 and 3 in 2009, and in 2010 its function was changed into a trading centre and residential development.
Faced with investor restructuring, difficulties in land clearance and compensation, and the downturn of the real estate market, the project has been in limbo ever since.
In mid-2015, Gaw Capital Partners, a Hong Kong-based real estate private equity firm, announced taking over the Park City project, along with two other projects, namely Indochina Plaza in Hanoi, and Hyatt Regency Danang and Malibu Villas in the central province of Quang Nam.
The move fuelled expectations for the long-delayed Park City project because Gaw Capital Partners was considered having solid financial potential. At that time, Gaw Capital Partners said that it paid a total of $106 million for acquiring the above projects from property funds Indochina Land Holdings 2 and 3.
Furthermore, Gaw Capital Partners would co-operate with partner NP Capital to implement the construction. The founder of NP Capital is the vice chairman of Vietnam's leading real estate developer Tien Phuoc Real Estate JSC.
Besides, in 2015, the real estate firm also announced its intentions to develop the mixed-used project Empire City in Ho Chi Minh City, with a total investment capital sum of $1.2 billion. The project would be implemented via Empire City Limited Liability Company—a joint venture between Tien Phuoc Real Estate, Tran Thai Real Estate, and Denver Power, a member of Gaw Capital.
Dien Quang Lamp sees plunge in profit
Dien Quang Lamp Joint Stock Company (DQC) saw a plunge in consolidated profit in the first six months of this year in general and the second quarter in particular.
According to its consolidated financial report of the first six months of 2017, DQC earned VND418.8 billion ($18.4 million) in revenue and VND61.6 billion ($27.1 million) in net profit from business operations, signifying respective decreases of 7 and 53.7 per cent on-year. The company's after-tax profit decreased by 52.8 per cent to VND50.4 billion ($22.2 million).
In the second quarter alone, the company reported VND26.7 billion ($1.17 million) in after-tax profit, a 62.6 per cent decrease on-year.
Along with the decrease in profit, DQC's troubles also stem from the scandal of Deputy Minister of Industry and Trade Ho Thi Kim Thoa, former chairwoman of the board of directors and general director of DQC from January 2004 to May 2010.
According to newswire Vietnamnews, while serving as Secretary of the Party Committee and director of formerly state-owned DQC, then Secretary of the Party Committee, chairwoman of the board of directors, and general director of DQC from January 2004 to May 2010, Thoa was said to have violated regulations and procedures on business equitisation and misappropriated loan interest worth VND6.7 billion ($298,000) exempted by banks.
Additionally, she infringed on state regulations on land management when the company signed a contract with another company to invest in the land area at 12 Ton Dan Street in Ho Chi Minh City. She also failed to properly handle the VND30 billion ($1.3 million) collected from the transfer of land use rights.
Thoa bought more shares than the permissible level and her transfer of shares also violated the company's regulations.
With these violations, the Party Central Committee's Secretariat has decided to relieve Ho Thi Kim Thoa of her Party membership at the Ministry of Industry and Trade (MoIT).
At a meeting chaired by Party General Secretary Nguyen Phu Trong on August 8, the Secretariat also proposed the prime minister to dismiss Thoa from the post of Deputy Minister of Industry and Trade.
Domestic, int'l factors aid rate cut
According to the National Financial Supervisory Commission, many supporting factors in both the domestic and international markets could help an interest rate cut until the year-end.
Firstly, the commission said, the pressure from the exchange rate is not too large, as the US dollar has devalued by more than 7% since early this year, and the chance to raise interest rates this year from the US Federal Reserves is less than 50%.
Secondly, inflation is more likely to stay below the National Assembly's target of 4%.
Thirdly, the country successfully issued 75% of the Government bonds planned for the entire 2017, and the G-bond yield decreased by 0.2 percentage points to 0.3 percentage points compared with the end of June, and 1 percentage points compared with the same period in 2016. Hence, it would facilitate the reduction of interest rates in the banking sector.
According to the commission, thanks to the positive movements in interest rates when the deposit interest rates are stable, lending has so far grown positively. Credit growth by the end of July 2017 was 9.3%, compared with the end of 2016.
The lending structure by currency also continued to remain stable with loans in the đồng accounting for 91.7% of the total outstanding loans.
Despite the rapid increase in lending, the liquidity of the banking system has been plentiful and inter-bank rates fell to the lowest level, since the beginning of the year.
As a result, the State Bank of Vietnam (SBV), in the first seven months of the year, withdrew VND48.6 trillion (US$2.13 billion) via the open market operations (OMO).
According to the commission, liquidity is plentiful because the SBV bought a significant amount of foreign currency to increase the foreign exchange reserves, thereby increasing the supply of đồng to the market.
According to the latest data released by SBV Governor Le Minh Hung, foreign exchange reserves are currently over US$42 billion.
However, the commission noted that the proportion of medium- and long-term loans decreased to 53.9% against 55.1% at the end of 2016, while short-term credit accounted for 46.1% against 44.9% at the end of 2016.
Upbeat signs in fast-moving consumer goods sector
The fast-moving consumer goods (FMCG) market is expected to see good expansion towards the end of this year thanks to stronger purchasing power in both urban and rural areas, experts said.
Statistics from the retail sector showed that after reaching a record growth rate (9.6 percent) in the first quarter, the expansion of the FMCG market slowed down to 5.8 percent during April-June. Notably, six main FMCG categories, including beverages, food, dairy, household care, personal care and cigarettes showed positive growth in the quarter.
Food and dairy sector grew 8.1 percent, home care 5.7 percent, beverage 5.4 percent and personal care 5.4 percent.
Beverage made largest contribution to the total FMCG sales in the period with 42 percent, followed by food (16 percent), cigarettes (15 percent) and dairy (14 percent).
Meanwhile, rural areas continue to be a promising land for manufacturers. Whilst urban growth stood at 5.1 percent, urban areas post a more rapid growth at 6.5 percent. Urbanisation, Internet access and the popularisation of smart phones have changed the lifestyle of rural consumers. They are willing to pay more for high-quality products.
In addition, improved consumer confidence and the development of consumer finance will be key drives to boost FMCG market in the last months of the year.
Vietnam's exports to Algeria continue to grow
Vietnam's exports to Algeria continued to grow by 29 percent year-on-year to 208 million USD in the first seven months of 2017 after rising by 37 percent in the first half, according the General Department of Vietnam Customs.
Coffee remained the largest earner which saw a shipment of over 35,300 tonnes for about 76 million USD (up 12.8 percent), followed by telephones and spare parts valued at 58 million USD (up 5 percent). Rice came third with exports worth of over 10 million USD, jumping five-fold from the same period last year.
Algeria is now Vietnam's second largest importer in Africa, after South Africa.
Vietnam's shipments to Algeria were estimated at 271.42 million USD in 2016, a year-on-year increase of 37 percent with most of the revenue also coming from coffee and rice.
Last year, Vietnam's trade office in Algeria organised an array of trade promotion activities, including five workshops on bilateral trade potential. It also assisted two delegations of Vietnamese businesses to attend international fairs and stepped up communication activities there such as publishing business news bulletins in French.
The Ministry of Industry and Trade also sent staff members to Algeria to work with local ministries and agencies, seeking ways to boost cooperation in the time ahead.
Vietnam-Algeria economic cooperation prospects are plentiful, with Algerian consumers familiar with Vietnamese goods, while Algerian animal feed, medicine and natural minerals are sold in Vietnam.
In terms of investment, the Bir-Seba gas and oil joint venture between Petro Vietnam, Sonatrach (Algeria) and PTT (Thailand) became operational in 2015, producing 18,000 barrels each day.
Viet Nam: 30 years of FDI and counting
Viet Nam's Ministry of Planning and Investment (MPI) is drawing up a report summing up 30 years of foreign direct investment (FDI) since approval of the national Law on Foreign Investment, looking back at the impact of opening the country's doors to multinational companies.
Speaking at an MPI meeting last week, Nguyen Van Trung, Deputy Minister of Planning and Investment, said the FDI sector had helped rebuild the country's economy, increase export turnover, expand Viet Nam's reach to world markets, generate jobs, acquire technology transfers, management skills and attain global economic integration.
The MPI report will include results from different ministries and departments, experts and business associations in terms of FDI attraction and management.
The report will go into details on other key issues related to FDI, such as support industries, technology transfer, infrastructure, the high-tech agriculture and service sectors, as well as preferential policies and taxation, and prospects for the future.
According to MPI data, accumulated capital invested in Viet Nam to the end of July 2017, has reached US$307.86 billion in registered capital and $163.9 billion in actuality.
These capital flows are divided across 19 branches of the economy over 63 cities and provinces. Some notable branches include the manufacturing sector with $181.8 billion in FDI, the real estate sector with $51.6 billion, amd the electronics sector with $18.4 billion in the last three decades.
Out of the 122 countries and territories whose multinational corporations have set up production in Viet Nam, the Republic of Korea takes the lead with $55.26 billion in FDI, followed by Japan at $46.47 billion and Singapore with $41.6 billion.
Many other countries with strong financial ability have expressed their intention to increase investment in Viet Nam, such as the US and China.
At present, more than 23,000 FDI companies are operating in Viet Nam, contributing up to 22 to 25 per cent of social capital, and up to 15 per cent of the State budget. FDI companies now employ about seven per cent of the country's total workforce. Furthermore, FDI production accounts for more than 70 per cent of Viet Nam's total export turnover.
The MPI also cited World Bank data showing that at the end of 2016, the FDI sector had contributed around 19 per cent of Viet Nam's gross domestic product, almost twice the rate in the year 2000.
Despite its key role and major success, critics point to below expectation investment results, added values and value chain integration. There are also limits on different economic sectors in terms of FDI attraction, less than desired technological advances, and some unsolved legal matters pertaining to environmental protection, taxation and price transfer breaching.
Of special note is the fact that only up to 27 per cent of total FDI production input is generated by domestic producers, and only about 36 per cent of Vietnamese firms now participate in the FDI production network, according to the MPI.
Maritime Bank to support $104m project
The Governor of the State Bank of Viet Nam (SBV) has named the Maritime Commercial Joint Stock Bank (Maritime Bank) to support the "Urban Environment and Climate Change Adaptation Project" in the cities of Dong Hoi, Quang Binh province and Hoi An, Quang Nam province".
This project is funded by the Asian Development Bank (ADB) under Loan Agreement No 3340-VIE and Grant Agreement No 0462-VIE dated March 25, 2017, between representatives of Viet Nam and ADB.
ADB has committed US$104 million in support for this project. Of which, $100 million is from ordinary capital resources (OCR) loans and $4 million from Urban Climate Change Resilience Trust Fund under the Urban Financing Partnership Facility. The loan term is 25.5 years.
Under the project, infrastructure facilities to improve urban environmental conditions in the two cities of Dong Hoi and Hoi An will be constructed and upgraded. The improved urban environment is expected to strengthen the municipal financial bases in the project cities through an increase of tax revenues from the appreciation of land values and the tourism industry.
Additionally, it is expected to raise public awareness, strengthening the capacity of operation management, supervision and maintenance of works for a number of provincial and municipal agencies to ensure the effective and sustainable operation of the project, support localities to reduce environmental pollution, improve the urban environment and reduce the negative impacts of climate change.
The governing bodies of the project are the People's Committees of Quang Nam and Quang Binh. The executing agency is the Dong Hoi City Environment and Climate Change Project Management Unit, Quang Binh province and the Chu Lai Open Economic Zone Authority.
The project is scheduled to run from 2017 to 2023.
Bắc Giang posts high growth in loans
Outstanding loans of credit institutions in the northern province of Bắc Giang touched VNĐ34.4 trillion (US$1.52 billion) in the first seven months of 2017, up 10 per cent since last December.
Of this, short-term loans added up to VNĐ18.2 trillion, while medium- and long-term loans were estimated at VNĐ16.2 trillion, said Nguyễn Văn Oánh, deputy director of the State Bank of Việt Nam's branch in the province.
The credit of State-owned enterprises in this seven-month period was VNĐ1.88 trillion, of households was VNĐ2.3 trillion, and of private companies was VNĐ10.2 trillion.
Outstanding loans in the industrial sector reached VNĐ6 trillion, and in the agriculture and forestry sector was VNĐ10.2 trillion, while that of all other sectors came to VNĐ18.1 trillion.
Banks in Bắc Giang Province have prioritised loans for agriculture, rural areas, hi-tech agriculture, small- and-medium sized enterprises (SMEs), start-ups, and market stabilisation activities.
Several commercial banks in the region have launched multiple credit packages for micro-businesses and SMEs. For instance, Vietcombank offered a VNĐ10 trillion preferential loan package, while BIDV launched a VNĐ20 trillion package to support firms in the locality.
Oánh said there had been high credit growth as banks have taken steps to resolve difficulties that businesses face in getting loans. In addition, credit institutions have also promoted loans in the agriculture and rural development sector, as well as to poor households.
The central bank's branch in Bắc Giang has asked credit institutions in the province to strictly implement regulations on monetary and banking activities while co-operating with concerned industries to resolve bad debts and prolonged credit-related lawsuits, he said.
Banks would also focus on implementing flexible, synchronous solutions to facilitate capital mobilisation and lending. The province would implement programmes effectively to connect banks and businesses, and stabilise the market.
Upbeat signs in fast-moving consumer goods sector
The fast-moving consumer goods (FMCG) market is expected to see good expansion towards the end of this year thanks to stronger purchasing power in both urban and rural areas, experts said.
Statistics from the retail sector showed that after reaching a record growth rate (9.6 percent) in the first quarter, the expansion of the FMCG market slowed down to 5.8 percent during April-June. Notably, six main FMCG categories, including beverages, food, dairy, household care, personal care and cigarettes showed positive growth in the quarter.
Food and dairy sector grew 8.1 percent, home care 5.7 percent, beverage 5.4 percent and personal care 5.4 percent.
Beverage made largest contribution to the total FMCG sales in the period with 42 percent, followed by food (16 percent), cigarettes (15 percent) and dairy (14 percent).
Meanwhile, rural areas continue to be a promising land for manufacturers. Whilst urban growth stood at 5.1 percent, urban areas post a more rapid growth at 6.5 percent. Urbanisation, Internet access and the popularisation of smart phones have changed the lifestyle of rural consumers. They are willing to pay more for high-quality products.
In addition, improved consumer confidence and the development of consumer finance will be key drives to boost FMCG market in the last months of the year.
Homeland Security Expo 2017 to take place in Hanoi
The Homeland Security Expo 2017 will take place at the International Centre for Exhibition, 91 Tran Hung Dao Street, Hanoi on August 29-30, bringing together about 50 exhibitors from leading countries in security and defence.
The event was hosted by the Ministry of Public Security's General Department of Logistics and Engineering to introduce to visitors latest and modern equipment, technology and products for the homeland and public security.
The world and the region today are facing a number of threats related to security, social order and territory, resulting in increasing demand on homeland and public security equipment in Vietnam, said the general department's deputy head Lieutenant General Nguyen The Quyet.
The event will feature 100 booths showcasing technologies and products by 50 exhibitors from Russia, the US, France, India, South Africa, the UK, the Republic of Korea, the Czech Republic, and more.
On display will be personal protective equipment and safety wear, communication systems, detectors, emergency, disaster and rescue management, IT and Cyber safety, optics and optronics, surveillance and tracking systems, equipment and technology for maritime and salvage management.
VNA/VNS/VOV/SGT/SGGP/TT/TN/Dantri/VNEVET