BUSINESS IN BRIEF 18/5
Insurance industry encouraged to make preparations for TPP, AEC, Credit policies enable sustainable coffee development, EVN assures power supplies amid prolonged drought, CIEM: economic growth to post 6.17 percent in QII
Vietnam, Malaysia shore up oil and gas cooperation
The Vietnam National Oil and Gas Group (PetroVietnam) had a working session with Petronas, the national oil and gas company of Malaysia, to foster the implementation of oil and gas projects between the two countries.
At the event, PetroVietnam General Director Nguyen Vu Truong Son spoke highly of Petronas cooperation in carrying out joint projects.
Leaders of the two companies affirmed to make concerted efforts to seek solutions to difficulties, aiming to boost the efficiency of the existing projects while seeking new cooperation opportunities.
Regarding the proposal to buy gas from Malaysia, the two sides agreed major points in the negotiations of relevant trade agreements.
The event took place during a recent visit of PetroVietnam's delegation to Malaysia to attend a ceremony celebrating the two Governments' ratification of a ten-year extension of the Production Sharing Contract (PSC) for the PM3 Commercial Arrangement Area (CAA).
The PM3 CAA project, involving offshore fields in the overlapping zone between Vietnam and Malaysia, brings practical trade benefits to both nations while making significant contributions to Vietnam's oil and gas industry.
Petronas is one of the important strategic partners of PetroVietnam. The two firms have cooperated in all sectors of the oil and gas industry from oil exploration to product distribution for over 25 years.
Insurance industry encouraged to make preparations for TPP, AEC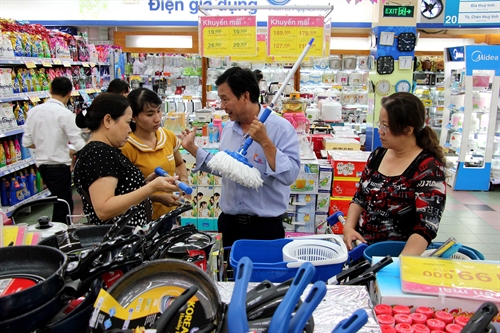 The Trans Pacific Partnership (TPP) and ASEAN Economic Community (AEC) are expected to offer more market opportunities for insurance companies in Vietnam, but will also present tough challenges in a more competitive international environment.
"The current Vietnamese insurance market is facing many disadvantages and hasn't met its potential for development," Pham Thanh Hai, legal director of Bao Minh Insurance Corporation, told a seminar in HCM City on May 12 on the development of the insurance industry in the country.
The insurance industry has been active for 20 years in Vietnam. As of March 2015, the country had 69 insurance companies, and more than 400,000 employees with total turnover of 54 trillion VND (2 billion USD) in 2014.
The legal framework for the insurance industry, however, is outdated and incomplete, and most residents do not buy insurance, Hai said.
Also, the industry lacks good governance, and fails to provide quality services and insurance products that meet customers' needs.
Shortages of high-tech use and trained and professional staff are other problems plaguing the industry, Hai said.
Unhealthy competition among insurance companies, through price and commissions, is another issue.
"Limited quality human resources, poor foreign languages, lack of experts in areas like the law, risk management, analysis and insurance fees have also restricted development of the industry," he said.
Hải noted that demand for insurance would sharply increase as Vietnam joins AEC and TPP.
"The insurance market will open and help improve the situation," he said. "The threat is real that Vietnam could become a place that imports insurance services from other AEC and TPP member nations to meet insurance demand for foreign capital."
Domestic companies are expected to face strong competition from other insurance businesses in the region, including Japan and the US.
Speaking at the seminar, Truong Minh Cat Nguyen, of the TILA Insurance Service Consultancy Ltd company, said, "The financial and governance strength of foreign insurance corporations will dominate the Vietnamese market."
To cope with the situation, Nguyen suggested that State authorities offer training to insurance corporations in AEC and TPP insurance-related content and complete a new legal framework for the industry.
Creating transparency and sustainable regulations and laws for the market, as well as better supervision to ensure safety, are also necessary.
He urged insurance companies to review the entire system to increase economic efficiency and to restructure management models with proper long-term business strategies.
The companies should also avoid unhealthy competitive activities, invest in human resources and technology, improve management skills, and promote co-operation among domestic insurance companies, he added.
Credit policies enable sustainable coffee development
Credits provided by banks have generally met the capital demand of businesses, cooperatives and farm households to produce, sell, process and export coffee, heard a conference in the Central Highlands province of Dak Lak on May 13.
The event aims to review the implementation of credit policies for sustainable coffee development in the Central Highlands and Southeastern region.
Deputy Minister of Agriculture and Rural Development Le Quoc Doanh called for close coordination among localities to weather difficulties for farm households and quickly disburse capital resources for coffee replantation.
Deputy Director of the Vietnam Coffee Company Dong Van Quy proposed the State Bank of Vietnam (SBV) reduce the loan interest rate for coffee replanting by 6 percent while the Government needs credit policies specifically designed for coffee development.
The banking sector is expected to continue prioritising credit investment capital to develop the sector in a sustainable manner from growing and caring process to selling and processing for exports.
The Vietnam Bank for Agriculture and Rural Development (Agribank) is proposed to promptly meet demand of locals and businesses to replant the old and diseased coffee trees.
Credit organisations are hoped to facilitate the development of models linking businesses and farm households to apply high technology in the production, processing and consumption chain and enhance intensive processing capacity to realise effectively the agricultural restructuring project.
They are also committed to offering loans to build logistics systems and invest in coffee production equipment according to the State's preferential policies.
Localities also suggested the Ministry of Agriculture and Rural Development work with relevant ministries and sectors to study and promulgate planning and management policies for sustainable coffee development.
They proposed the ministry soon revise coffee replanting plan in line with the small-scale farming land and reality of each locality while supporting farmers with varieties selection and growing, caring, harvesting and processing techniques, providing information on the market and promoting Vietnamese coffee.
EVN assures power supplies amid prolonged drought
The Electricity of Vietnam (EVN) has ensured enough power supplies for domestic consumption despite the lingering drought in the central and southern regions since the beginning of 2016.
The State-owned group said it has optimised thermal power plants and operated hydro power factories in an appropriate fashion to concurrently guarantee electricity supplies and release water for agricultural and daily use in the lowlands.
About 56.05 billion kWh of electricity was produced in the first four months of this year, rising by 13.91 percent from a year earlier, the EVN said.
It stated that the electricity system is capable of meeting the power need across Vietnam in May, when the election of deputies to the 14 th National Assembly and all-level People's Councils for the 2016-2021 tenure will take place.
The system's load can reach 539 million kWh per day this month.
Thermal power stations will continue to be optimised in May while hydro power reservoirs will also be operated properly to minimise drought impacts, the EVN added.
CIEM: economic growth to post 6.17 percent in QII
Vietnam's economic growth is forecast to expand 6.17 percent in the second quarter of this year, said the Central Institute for Economic Management (CIEM).
The CIEM's latest research forecasts that the inflation rate will rise by 0.73 percent against the first quarter's figure, export growth will reach 8.02 percent, and trade deficit will be 420 million USD.
CIEM Director Nguyen Dinh Cung suggested implementing regulations on business freedom, stressing that it is necessary to create a competitive business environment in Vietnam for enterprises.
Ministers and chairpersons of provincial People's Committees should drastically direct to set up a coordinating and competitive market mechanism, thus increasing coordination for the economy.
Economist Le Dang Doanh said Vietnam's participation in the ASEAN Economic Community will cause impacts on the nation's trade balance from the second quarter.
Vietnam will also meet difficulties in access to official development assistance (ODA) sources, he noted, adding that this will impact on the country's economy.
Efforts and policies should be promoted to stabilise the macro economy, thus helping enterprises develop in a stable and sustainable manner, Doanh said.
The State needs to tighten public investment projects and increase investments for those that bring real efficiency, he stressed.
Japanese enterprises eye Vietnam as export base
Japanese manufacturers are eyeing the ASEAN region, especially Vietnam as an export base since the signing of the Trans-Pacific Partnership (TPP) in late 2015, according to a recent survey announced by the Asian Nikkei Review on May 12.
The survey was conducted by the Mizuho Research Institute in February 2016, targeting 1,100 Japanese firms capitalised at 10 million JPY (92,200 USD) or more.
Some 43.8 percent of respondents to the survey revealed that ASEAN is the region where they plan to pour more investment into, an increase of 2.3 percent over last year's survey. This is the fourth year in a row ASEAN has topped the list.
Japanese manufacturers have shown their increasing interest in Vietnam with 53.5 percent of them saying they choose Vietnam among the 10 ASEAN member states to invest in, up 4.9 percent against last year.
Thailand, where auto industry growth is slowing, was picked up by 59.7 percent of companies, a decline of 2.2 percent from 2015 while interest in Indonesia felt 4.7 percent to 41.5 percent.
When being asked where they plan to expand investments among the 12 TPP signatories, 12.8 of respondents named Vietnam. Japan and the US came second and third with 10.7 percent and 4.9 percent, respectively.
Japanese manufacturers continued to pull out of China as its economy slows down. Only 76.4 percent of them said they have bases in China, which is a 2-percent drop from last year and the second decline in a row.-
Farmers need support to adapt to the TPP, say experts
Renewing policies and mechanisms is one way to help Vietnamese farmers adapt to the Trans-Pacific Partnership (TPP) when it takes effect, heard a workshop held in Hà Nội on Thursday.
The event, held by the Vietnamese Farmers Association, looked into challenges facing Vietnamese farmers and sought measures to help them benefit from the TPP.
It brought together more than 100 experts from ministries and agencies as well as scientists and farmers.
Participants agreed that while the TPP will open up large markets for Việt Nam's farm produce and boost investment in Việt Nam, more than 10 million Vietnamese farm households are anticipated to face difficulties due to their small scale operations.
Farmers are the most vulnerable to outside competition due to their lack of knowledge and low competitiveness, experts said, noting that animal husbandry farmers in particular are likely to be at a disadvantage compared to their peers in other countries with modern production processes.
Experts said the most important thing at present was raising awareness of farmers about the opportunities and challenges of the TPP, so that they will aim to increase productivity and product quality.
Farmer's associations at all levels need to connect farmers with businesses to sell products, experts recommended.
Vice Chairman of the Vietnamese Farmers Association, Lều Vũ Điều, said it was important to raise production capacity and trade promotions for farmers as farmers as they often depended on businesses to sell their products.
The association would instruct its branches in localities to work with authorities, scientists and businesses to form a value chain and build strong links between them and farmers, he said.
Chief Representative of the Food and Agriculture Organisation of the UN in Việt Nam, Jong-ha Bae, said Việt Nam was expected to benefit the most from the TPP of the 12 member economies.
However, Việt Nam's agriculture would face fierce competition from foreign manufacturers when the tariff and non-tariff barriers are reduced and eliminated, he added.
He suggested setting up a mechanism to attract private investment in agriculture and urged the country to improve food quality and safety.
Singapore ranks third for foreign investment in VN
As of April 2016, Singaporean businesses have 1,600 projects in Viet Nam, capitalised at approximately US$36.3 billion, ranking third among 114 countries and territories investing in the country, statistics from the Foreign Investment Agency (FIA) revealed.
In past four months alone, the firms registered 50 new projects and raised investment in 23 existing projects, with a total sum of more than $730 million, consolidating its position as one of Viet Nam's leading sources of foreign investment capital, FIA noted.
The average capital investment per Singapore-funded project in Viet Nam is $22.7 million, which is much higher than the average foreign investment of $13.8 million per project.
Processing and manufacturing remained the most attractive sector to Singaporean investors as it lured $16.1 billion, accounting for 44.3 per cent of Singapore's total investment in Viet Nam. Real estate came second with $10.9 billion, totaling 30 per cent of Singaporean investment.
In addition to large localities which have social and infrastructure advantages such as HCM City, Ha Noi, Hai Phong and Binh Duong, Singaporean firms have also spread their investment into others such as Nghe An and Thai Nguyen in recent years, according to FIA.
However, the southern economic hub of HCM City continued to attract the lion's share of Singaporean investments with $9.75 billion, making up 26.7 per cent of Singapore's total registered capital. It was followed by Ha Noi with $4.65 billion or 12.8 per cent and central Quang Nam Province with over $4 billion or 11.3 per cent.
Domestic cement consumption increases more than 15 per cent
Cement and clinker consumption in the country grew over 15 per cent, to 24 million tonnes, from the beginning of this year, meeting 32 per cent of the year's target.
According to the Department of Building Materials under the Ministry of Construction, the growth was due to the increase in construction activities during the current dry season. Cement consumption in the second quarter was expected to be higher than the first quarter, it added.
Local consumption in April alone reached 6.07 million tonnes, surging 17 per cent, compared to the same month last year.
Of the total, 2.4 million tonnes of cement were sold by the Viet Nam Cement Industry Corporation (VICEM), 31 per cent higher than its sales in the corresponding period in 2015, vietnamplus.vn reported.
In the first four months, 18.85 million tonnes of cement were sold in the domestic market, a year-on-year increase of 17.4 per cent. Meanwhile, cement exports remained stable with 5.15 million tonnes, a year-on-year increase of 0.4 million tonnes.
According to the department, thriving cement consumption in the second quarter was spurred by improvements in the real estate market. However, cement prices are still stable, it said.
The cement industry plans to produce 75 million tonnes to 77 million tonnes of cement this year.
The ministry predicted that the local cement industry would face difficulties in selling cement this year, especially in exports. Therefore, many cement projects have been taken out of the national plan of cement development for this year and beyond, and the nation would not have more cement production lines to operate this year, Cong Thuong (Industry and Trade) newspaper reported.
Nguyen Quang Cung, chairman of Viet Nam Cement Association, said the local market saw fierce competition among cement producers and the cement industry needed restructuring, as per conditions of the merger.
Many cement enterprises have merged with VICEM to increase their competitive ability. These include Ha Long, Song Da, Song Thao, and Holcim, in addition to Lafarge, Cung said.
To promote consumption of cement, avoid pressure from inventory and have selling solutions, Vicem requires its member companies to take full advantage after improving the distribution system, reviewing sales policies, increasing competitive ability, and seeking large export markets.
Le Thanh Long, general director of VICEM Hoang Thach, said his company has focussed on developing a brand, completing the system of major distributors and developing a system of shops with high standards to retain market share and expand further business.
Dong Nai exports reach $4.7b in last four months
The southern province of Dong Nai generated more than US$4.7 billion from exports in the past four months, up 5 per cent year-on-year, according to the provincial People's Committee.
During the reviewed period, the province recorded a trade surplus of $644 million, making up 40 per cent of the country's total surplus.
The foreign-invested sector contributed approximately $3.9 billion, or 80 per cent of the province's four-month export turnover, the committee said, adding that foreign-funded enterprises have benefitted the most from the ASEAN Economic Community and free trade agreements that Viet Nam inked with many countries and blocs.
Thanks to these FTAs, the inflow of foreign direct investment to the province, especially from Japan, South Korea and China, continued to increase significantly in recent years. For example, the province had attracted over $3.71 billion worth of Japanese investment by the end of April.
Meanwhile, the State-owned and private sectors made up over $80 million and $666 million, respectively, of the province's total export value in four months.
Earlier this year, Dong Nai's Department of Industry and Trade expected that the province's export turnover was likely to enjoy a boost of 10 per cent compared to 2015.
Exports of the locality's key commodities would increase, thanks to the recovering global market, said vice director of the department Duong Minh Dung.
Last year, the US was the leading market for provincial exporters, with a total goods value shipped to market reaching over $4 billion, while the import turnover from the country was $1 billion.
It was followed by Japan, with nearly $1.3 billion in export turnover, and $700 million in import value. The province's export and import turnovers to six ASEAN countries, including Indonesia, Thailand, Cambodia, the Philippines, Singapore and Malaysia, hit $1.5 billion and $600 million, respectively, with main commodities being textiles, footwear, computers, electronics, wood and wooden products.
Plan targets higher cashew yields
The sustainable development of the cashew industry will require replacement of old trees with high-quality seedlings, transfer of advanced farming techniques, and intercropping methods, the Department of Crop Production has said.
The national plan to improve cashew yields aims for a total cultivation area of 300,000ha, with average productivity of 1.5 tonne per hectare and annual total output of 450,000 tonnes by 2020, according to the Ministry of Agriculture and Rural Development.
The country also wants to double the ratio of fully processed nuts to 20 per cent, and process more cashew shells and wood to add product value.
The four provinces of Binh Phuoc, Dong Nai, Ba Ria-Vung Tau, and Binh Thuan are expected to remain the main cashew cultivation areas, with a combined growing area of 200,000ha, with average productivity of 2 tonnes per hectare.
Speaking at a seminar in HCM City on May 12, Nguyen Van Hoa, deputy head of the Department of Crop Production, said the cashew industry had increased export volume and value in recent years, and had created more jobs.
By using intensive farming techniques, including sufficient care, fertilisers and water, cashew farmers have gained 20-60 per cent higher productivity and efficiency.
To develop the industry in a sustainable manner, he said the industry should encourage farmers to use intensive cultivation methods to raise yields.
Older plants should be cut down and replaced with new plants, but this should occur gradually to ensure stable income, Hoa said.
Farmers should focus on planting new high-quality strains resistant to disease and climate change, he added.
Tran Cong Khanh, director of the Cashew Research and Development Center, said the industry should encourage modern technologies and equipment to expand processing capacity, improve quality, and ensure hygiene and food safety.
He urged the Government to devise clear zoning plans for cashew cultivation and invest more in the development of high-quality strains.
Nguyen Duc Thanh, chairman of the Viet Nam Cashew Association, said lower tariffs under free trade agreements, including the upcoming Trans-Pacific Partnership, would enable Vietnamese firms to increase exports to member countries.
However, to capitalise on opportunities brought from FTAs, domestic firms need to improve quality to meet strict hygiene and food safety regulations imposed by import markets, he said.
He said the Government should help cashew processors improve their technologies and encourage the establishment of large-scale cashew farming models.
According to the ministry, the area under cashew last year fell by 3,269ha over 2014 to 291,959ha, yielding a total output of 345,000 tonnes.
Last year, Viet Nam earned US$2.5 billion from cashew exports, an increase of 20.2 per cent over 2014.
In the first four months of the year, the country earned $688.6 million from exports of 91,000 tonnes of cashew nuts, a year-on-year increase of 7.7 per cent in volume and 14.6 per cent in value.
Vietnamese cashew nuts are available in 80 countries and territories, with the US, EU and China the largest buyers.
More affordable housing needed in HCMC
The real estate market in HCM City is on track to bounce back, but its sustainable development will only be ensured if housing demand from low-income and average-income earners is satisfied, a report from the HCM City Real Estate Association has said.
The report, sent to the city's People's Committee early this week said there would be stronger investment this year in social housing and affordable commercial housing projects, as well as serviced apartments, office space and industrial properties, thanks to the anticipated liberalisation of trade under the upcoming Trans Pacific Partnership agreement.
According to the report, the city has a total of 1.8 million households and a population of 10 million. Many of these people need either rental or owned property, especially the 3 million who are migrants; the 200,000 government employees, particularly those working in education and health care sectors; and the approximately 50,000 couples who are newly married each year.
However, the supply of apartments of one or two bedrooms priced at around VND1 billion (US$45,000) is still limited.
Early this year, the State Bank of Viet Nam issued an adjusted Circular 36 which constrains credit in the property market.
Since February, commercial banks have increased deposit interest rates to over 8 per cent annually for terms longer than 12 months.
Therefore, the lending interest rate might go up by one or two per cent, HOREA chairman Le Hoang Chau said.
According to current regulations, commercial housing projects of 10ha or more are required to allocate 20 per cent of the land to social housing, which may not be suited to specific projects.
The association suggested an option whereby project investors could develop social housing inside their projects, exchange land lots or apartments of equal value at other locations, or pay the required 20 per cent land allocation in cash.
HOREA also proposed that project owners be allowed to assign the development of the social housing responsibility to an affiliate without carrying out procedures to transfer that part of the project to the affiliate.
It is also recommended longer-term loans, from the current 15 years to 20 years for loans given to buyers of social housing.
Before decisions are made on resettlement projects, HOREA suggested that families that need to be resettled should be surveyed about their wants, their housing demands, vocational training needs, and their ability to earn a living in order to ensure that the new location fits their needs.
Currently, there are vacancies in resettlement projects, including Vinh Loc B, which offers 1,939 apartments and 529 house lots.
But only 306 units and 222 lots have been handed over to resettled households. The reasons include poor project quality and a lack of support facilities, transportation links and opportunities to earn a living. The residents are also unable to pay for the new units, which are larger (42 to 68sq.m in Vinh Loc B) than their previous ones, usually around 20sq.m.
The resettled residents should be provided preferential loans of 15 years to buy the larger units, HOREA said.
Nearly 2,100 apartments in the programme to build 12,500 units for resettlement work in the new Thu Thiem Urban Area have been handed over to owners.
Experts decry realty profit transfer rules
Regulations banning the use of profits from property alienation to cover losses in other businesses discourage property firms from expanding their investments and make tax policies seem unfair, experts said.
Under the established tax regulations, firms are allowed to use the profits of other businesses to make up for losses incurred in their real estate business. However, if the real estate alienation business earns profits, these profits must be declared separately for tax calculations and cannot be used to balance losses elsewhere.
"The regulations have proven to be unreasonable and in conflict with the spirit of the Law on Investment 2014, which enables firms to invest in all sectors except prohibited ones," Le Hoang Chau, president of the HCM City Real Estate Association, said.
Chau said most business lines were now allowed to account for profits and losses when calculating tax obligations in multi-sector firms following a full offsetting mechanism, but this was not fully applicable to the real estate business.
"This is unfair to property firms, and the regulations should be eliminated," Chau said.
Lawyer Truong Thanh Duc, from the Basico law firm, said real estate was not listed as a conditional business sector, which had a requirement to conduct business, and noted that many property firms had diversified their businesses, such as Hoang Anh Gia Lai, Mai Linh Group, Quoc Cuong Gia Lai and Thuduc House.
According to Duc, when a real estate business is profitable but many other business lines have incurred losses, the firm may suffer losses overall but still have to pay corporate income tax on profits from the real estate business. "This sounds unreasonable," Duc said. Property firms would be discouraged from investing in other sectors.
The regulations were put into effect in 2004 when the property market of Viet Nam was on its way to a boom and was expected to generate large profits.
Nguyen Ngoc Thanh, deputy president of the Viet Nam Real Estate Association, said the property market went through a boom and bust period since then, and the regulations have now become outdated given the differences between the current state of the market and that of a decade ago.
According to Nguyen Van Dinh, general secretary of the Viet Nam Property Brokers, property was not a "super-profitable" sector as has long been assumed.
He cited statistics revealing that more than 70 per cent of the country's 1,700 firms with a real estate business line were operating on a small scale, with charter capital below VND50 billion (US$2.24 million). In addition, some 80 per cent of the capital for property businesses came from bank loans.
Amending the regulations is necessary to ensure tax fairness among businesses and to improve the business climate, Dinh said.
Petrolimex posts pre-tax Q1 profit of VND1.37 trillion
Vietnam National Petroleum Group (Petrolimex) posted pre-tax consolidated profit of VND1.37 trillion (US$61.6 million) in the first quarter of this year, double the profit reported in the same period last year.
After paying corporate income tax, profit was at VND1.13 trillion, of which VND360 billion came from the parent company, four times higher than what was posted last year.
According to a report by the Finance Ministry's Price Management Department, the world's average price of petrol during the period saw a year-on-year decline of between 27 per cent and 49 per cent.
In April, Petrolimex had announced its production and business results for 2015. The company made VND146.9 trillion in consolidated revenue, equal to 70 per cent of its yearly target. However, its pre-tax profit was at VND3.75 trillion, an increase of 53 per cent compared with its target and 10 times higher than 2014.
Of this amount, profit from the oil and petrol business was at VND1.98 trillion. Meanwhile, non-core profit, which came from insurance, petrochemistry and gas, was at VND1.75 trillion.
The group's average income was nearly VND9 million per month.
Sabeco, Habeco say no to exchange
Ignoring currentstock market regulations - and continuous urging from the community of investors - the two largest brewers in Viet Nam still found reasons not to list on the local exchanges, after 8 years of equitisation.
Saigon Beer-Alcohol-Beverage JSC (Sabeco) in the south and Hanoi Beer-Alcohol-Beverage JSC (Habeco) in the north provide about two thirds of the beer for the local market, which ranks No.1 beer drinker in Asean and in the top five of Asia, with more than 4.5 billion litres consumed every year.
Le Hong Xanh, the Sabeco deputy general director, told local media that Sabeco was not eligible for listing. Under the current regulations, a joint stock firm, which was shifted from the State-owned enterprise, must have at least 20 per cent of stakes owned by other investors, could be able to be listed on the exchanges.
Meanwhile, after equitisation the Ministry of Industry and Trade (MoIT) still manages about a 90 per cent stake in both firms, on behalf of the State
Phan Dang Tuat, Head of the Committee for Business Innovation and Development at MoIT and former chairman of Sabeco, said both firms are not eligible for listing yet. He said final divestment from the two firms depends on Government fiscal and financial policies.
Xanh, the Sabeco deputy, told local media that the company submitted a plan to reduce state control from 90 per cent to 36 per cent. He is still waiting for the Government's response.
But according to many securities experts, the failure to list the two firms also violates current regulations which require joint stock firms to be listed on the market after a maximum of one year of equitisation.
Experts said the Government wants to turn the stock market into a channel that mobilised capital for the new development of the econonomy. However, the unlisted two brewers, among the largest capital firms in Viet Nam, would not contribute to that target. Their absense on the local exchanges would instead make the local stock market less attractive for investors.
In 2009, one year after equitisation, the two brewers were fined by the State Securities Commission for not registering for their listing under the regulations. Now they are still among more than 700 public companies not yet listed on any market.
In other news, giant milk producer Vinamilk (VNM) , which used to earn half the profit of Sabeco, has now grown threefold after 10 years on the stock market. Currently, VNM was one of the largest caps, one of the attractions on the southern exchange.
After completing their equitisation two years later, both brewers reported modest results despite great potential with increasing demand for beer in Viet Nam.
The local brewery industry achieved an average of seven per cent annual growth between 2011 and 2015. Beer production reached 3.4 billion liters last year, a 4.7 per cent year on year increase, according to a report released by the Vietnam Beer Alcohol Beverage Association in 2015.
In 2015, Sabeco was the country's largest brewer. It reported production of 1.38 billion liters last year, to keep its leading position. But the No. 2 position in the market was taken from Habeco by Heineken.
Vafi urges gov't to divest capital and list Sabeco and Habeco
The Viet Nam Association of Financial Investors (Vafi) sent a proposal for the divestment of State holdings and the listing of Sabeco and Habeco.
Vafi asked the Government to sell all State capital in the two firms, where MoIT still holds 90 per cent and 82 per cent stake in Sabeco and Habeco's charter capital, respectively.
The divestment would help the State raise US$3 billion, which should be used for developing public transportation projects, Vafi said.
The association said the divestment process should be conducted through auctions to ensure transparency.
Vafi also urged that the listing of Sabeco and Habeco on the exchanges be hastened to improve transparency and efficiency. Vafi has already asked this many times before.
So far, big brewers showing interest in Sabeco include Ashahi (Japan), Heineken (Netherlands), Thaibev (Thailand), and SAB Miller (US), as well as some local firms with large amounts of capital.
High foreign discounts cut local profit
Local producers are protesting against the discount rates afforded to foreign retailers, as it is taking a big bite out of manufacturer's profits.
Recently, the Vietnam Association of Seafood Exporters and Producers (VASEP) filed documents with Big C Vietnam proposing that the Thai-owned retailer lower the discount rate for VASEP members.
From March to April this year, several retailers issued notice of a discount rate increase to seafood producers.
"The highest rising margin was set by Big C Vietnam-the distribution company operating 32 outlets across the country, at 4.25% to 5.5%. This is unbearable for the suppliers", VASEP deputy chairman Nguyen Hoai Nam told VIR.
The association estimates that its members are being charged 17%-20% on average, with the lowest rate at 15% and highest at 25%.
Local retailers propose a much smaller margin of increase. For example, the Saigon Co-opmart hike was only 1% on average.
VASEP members believe that the main reason behind the increase stems from the recent merger and acquisition activities of many big retail players, which challenges their human and marketing management.
Big C's chain of supermarkets is the latest with its announced transfer to the Thai giant Central Group, from the French Casino Group.
As many find the current discount rate too high to make any profit, some suppliers have requested that Big C lower it by 15% or less. To date, they have yet to receive a response from the distributor.
Many suppliers are said to have ceased trading with Big C due to the recent tough policies.
Nguyen Anh Tuan, director of a Ho Chi Minh City-based company, specializing in the production of fish sauce and canned foods, told VIR that "Besides the high discount rates, Big C applied additional fees, for example, customer discount fees, and establishment celebration fees, among many others".
Tuan said that the total cost of his firm rose to 25% of its revenue from the 10%-15% level two years ago, when he first signed contracts with Big C, forcing him to withdraw his goods from the distribution system.
Earlier, the Ho Chi Minh City Union of Business Association (HUBA), sent proposals to Prime Minister Nguyen Xuan Phuc on the same issue.
"Extremely high discount rates charged by foreign retailers are barriers to local producers selling their products through these outlets", stated HUBA chairman Huynh Van Minh.
HUBA estimates that over 50% of the modern retail market (with distribution via supermarkets) has been acquired by foreign firms.
The association is also urging authorities to come up with measures to support local producers.
Given that the import tariff levied on various Japanese and Thai goods has been reduced to 0% since April 2015 and January 2016, respectively, the cost of imports has significantly dropped.
Big C Vietnam, however, assures that 90-95% of goods sold are still supplied by Vietnamese producers.
Government authorities said they would not intervene unless suppliers have evidence of foreign retailers' discrimination against particular products.
"Selling contracts are based on the market principle of price and demand, it's not a problem," said the Ministry of Industry and Trade's head of Domestic Market Department Vo Van Quyen.
Exporting high-quality rice-new path for Vietnam's rice sector
Though Vietnam is the world's third biggest rice exporter, the real value it gains remains modest.
In order to penetrate major markets in the context of international economic integration, many domestic exporters are focusing on high-quality rice.
In recent years, exports of organic rice, a form of highly nutritious rice, has helped increase the output of Vietnam's exports.
This is significant for developing Vietnam's rice trademark in the global market and changing old-fashioned rice cultivation practices.
Loc Troi food group is one of the leading enterprises to export high-quality rice to traditional markets such as Hong Kong, China, the US, Australia, the Netherlands and Chinese Taipei.
Pham Thanh Tho, Deputy Director of Loc Troi, said every year, the group sells 15,000 tons of rice in the domestic market while it exports high-quality rice to foreign markets, which earns a much higher revenue than the ordinary varieties.
In order to produce high-quality rice, the group follows a closed value chain from the sourcing of seeds, to the growing, harvesting, processing and distribution of the final products.
Tho said "They help farmers with farming tools and work with them in rice growing and harvesting and sales in line with the market price. We are targeting some major markets such as the US, Hong Kong, Singapore and European countries, which exempt taxes on rice products."
According to agricultural experts, the demand for high-quality rice in the world's markets is increasing but Vietnam's supply of this kind of rice is still limited.
Based on market demand, producing and exporting high-quality rice will not only bring higher profits but also promote the trademark Vietnamese rice.
This requires a synchronous process from production to consumption and a change in export methods, and searching for minor markets but generating high value.
Dr. Nguyen Do Anh Tuan, Director of the Institute of Policy and Strategy for Agriculture and Rural Development, said in the present context, building a trademark for Vietnamese rice is very significant. But this requires a long process and different factors from selecting seeds, irrigation systems and growing techniques.
He noted "Vietnam's agricultural sector wants to restructure the rice sector and aim for highly-demanding markets. Taking advantages of their rich natural resources and cheap workforce, our competitive rivalries such as Cambodia and Myanmar, are closely following us."
Vietnam has mainly exported rice at a low price. But in the near future, this will not be a great advantage any more as Vietnam cannot compete with Thailand for great rice sourcing.
Besides, with their geographical advantages, Indian and Pakistani rice also dominate the markets. Thus, it is essential for Vietnam to boost the production and quality of high-quality rice for export.
Le Van Banh of the Ministry of Agriculture and Rural Development said "Vietnam has diversified rice varieties but the most important thing is to develop a trademark, produce greater quantities and use plant protection chemicals in allowed amounts."
"To do this, enterprises need to have a stable source of materials with clear origins. It should be sychronous in terms of rice varieties to assure success in the strategy of trademark building," he added.
The scheme to develop a Vietnamese rice trademark by 2020 with a vision toward 2030 shows fragrant rice and rice specialites will account for 30% of total Vietnamese rice exports by 2030.
In order to expand high-quality exports to the US, Japan and Australia, enterprises and farmers need to further invest in rice seeds, quality, building a trademark and trade promotion.
Vietnam animal health introduces shock proposal on Chinese chicken imports
While domestic chicken prices are falling over abundant supply, the Vietnamese Department of Animal Health has proposed importing poultry breeders from China, shocking both farmers and experts.
Vietnam is still transporting live chicken and chicken breeders to and fro China across the border, which is considered unofficial import-export activities.
According to the Department of Animal Health, under the Ministry of Agriculture and Rural Development, officially importing Chinese chicken will allow Vietnam to better control bird diseases and epidemics.
Under the program, the department will have to ensure the poultry from the Chinese side are safe for imports, and the agriculture ministry is responsible for issuing the official decision to bring the chicken home.
While necessary steps are being taken to officially implement the chicken import plan, chicken prices in the southern province of Dong Nai, the country's largest poultry raising farm, fell to only VND23,000 a kg (US$1) on May 13, bringing losses for local farmers.
"The slumping prices indicate that there is a surplus supply of domestic chickens, so why we have to import more from China?" the director of a Dong Nai-based husbandry firm said.
Nguyen Thanh Phi Long, the technical manager of Long Binh, another husbandry company in Dong Nai, said it is "an unnecessary and unreasonable proposal" to importing Chinese chicken when local firms sometimes have to destroy their unsold stocks.
Bui Thanh Liem, head of sales of Minh Du, a chicken breed supplier based in the south-central province of Binh Dinh, said if Vietnam wants to improve the quality of poultry breeds, it should import world-renowned chicken from the US or France, rather from China.
An official from the Dong Nai's husbandry association said the Chinese chicken import will do harm to Vietnam's husbandry sector as domestic breed supply is enough to meet demand.
It is also illogical to import Chinese chicken as the cost to raise the poultry in China is higher than in Vietnam, according to industry insiders.
But the biggest concern is the imports will bring more diseases and epidemic to Vietnam, with China known as the origin country of many of the world's new bird flu viruses. Brining chicken breeds from such a country to Vietnam is therefore an incautious and dangerous move, according to experts.
Tran Duy Khanh, general secretary of the Vietnam Poultry Association, said all of the world's best chicken breeds have already been available in Vietnam. "China is not a source of good breeds," he pressed.
Khanh said the agriculture ministry should make it clear as to why it wants to import Chinese chicken.
"Has the ministry set up technical barriers to protect local breeders and consumers with such a decision?" he questioned.
China stops buying Vietnamese pigs, causing rapid price drop
Live pig prices in Vietnam have dropped significantly following a sudden buying halt from Chinese traders, who were willing to import the animals at any quality at high prices.
In northern regions, pig prices has decreased to VND51,000-52,000 (US$2.28-2.32) per kg, which is VND6,000-7,000 (US$0.26-US$0.3) lower than the beginning of this month.
"Prices began dropping this week and losses are guaranteed for farmers as Chinese traders stopped buying," Tran Van Chuong, a farmer raising a herd of 700 pigs in Binh Luc District of Ha Nam Province, said.
Pham Thi Hue, another Binh Luc trader who sold live pigs to China, said that she had lost VND270 million (US$12,077) as the Chinese stopped purchase.
Farmers in Dong Nai Province, a pig farm powerhouse in southern Vietnam, shared the fate as the prices plummeted rapidly to VND50,000 (US$2.236) a kg.
Dong Nai accounted for more than 50% of the total number of pig exports to China, said Nguyen Kim Doan, deputy chairman of the province's animal husbandry association.
"If Chinese traders stop sourcing Vietnamese-raised pigs abruptly, it is surely a great threat to local raisers," Doan added.
Nguyen Van Trong, deputy head of animal husbandry department under the Ministry of Agriculture and Rural Development, confirmed that China had stopped buying pigs at the Chinese border gate in the northern province of Lang Son, resulting in the rapid fall of pig prices in recent times.
Vietnamese pig farmers could in fact have avoided such hardship, as it is not uncommon for Chinese traders to source Vietnamese products, from rice, fruit and seafood, in large quantities before stopping trade abruptly.
The decision to halt purchase is usually made when trucks carrying the produce are already waiting at the gates to enter China. The products eventually must be destroyed, with farmers were left in debt.
Warnings have been issued when local farmers rushed to expand their herds to meet Chinese demand last month, but were ignored as farmers could not resist the attractive prices offered by traders in China.
VEF/VNA/VNS/VOV/SGT/SGGP/Dantri/VET/VIR