BUSINESS IN BRIEF 3/11
VN Airlines to sell 2.7% stake in bank; Vietnam enjoys 26% surge in export to Canada; Promotion month launched in Hanoi; Investors concerned about corruption in Vietnam; PM opens up to world credit ratings
VN Airlines to sell 2.7% stake in bank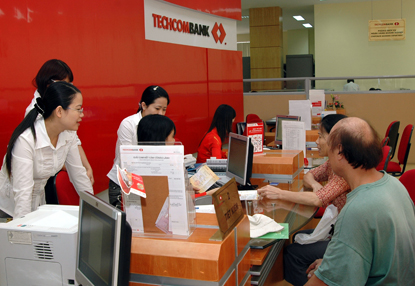 The national carrier Vietnam Airlines will sell more than 24 million shares it is holding in Techcombank on December 2, announced the Ha Noi Stock Exchange.
This is the second time the corporation has called for the auction after the first auction failed on September 26, as only one investor registered to buy.
The shares, accounting for 2.7-per-cent stake in the bank, will be auctioned at the Ha Noi bourse at an initial price of VND10,800 (US$0.51) per share. In the first auction, shares were offered at VND12,100 ($0.57) per share.
Although no share sold in the first auction, Vietnam Airlines had successfully sold all of its nearly 828,000 ten-year convertible bonds in the first auction to five investors, earning more than VND109.8 billion ($5.18 million). The selling is part of the road map to withdraw capital from non-core lines of business, in accordance with a restructuring scheme approved by Prime Minister Nguyen Tan Dung for the 2012-15 period.
Vietnam enjoys 26% surge in export to Canada
Vietnam's exports to Canada during the past nine months of 2013 were valued at US$1.063 billion, a 26% increase over the same period last year.
According to the Centre for Industry and Trade Information under the Ministry of Industry and Trade, Vietnam's main exports to the North America country include garments (US$280.78 million, up 16.9%), aquaculture (US$120.33 million, up 21.6%) and footwear (US$112.93 million, up 23.7%).
Vietnam and Canada marked the 40th anniversary of their diplomatic ties on August 21, 2013.
Since the two countries signed their Bilateral Trade Agreement in 1995, two-way trade surged by 20 times, hitting US$1.6 billion in 2012.
Canada jumped from 23rd position among foreign investors in Vietnam in 2006 to 15th position currently. Both countries are now joining the negotiations for a Trans-Pacific Partnership (TPP) – the largest trade agreement in the region.
The EU - one of HCM City's key economic partners
A HCM City leader has credited the European Parliament (EP) with promoting cooperative relations between the European Union and Vietnam, as well as its southern metropolis HCM City.
At a November 1 reception for visiting European Parliamentary Committee for Southeast Asia and ASEAN Relations Chairman Werner Langen, People's Committee Vice Chairwoman Nguyen Thi Hong emphasised the importance of European business operations in HCM City, noting 50 European investment projects were running during the first nine months of 2013.
She said she hopes the EP will lend its support to ongoing Vietnam-EU Free Trade Agreement (FTA) negotiations to facilitate bilateral trade and benefit both sides, including HCM City.
Werner said that the EP delegation's visit is to explore HCM City's investment environment and that European businesses have praised its business climate and the stability of its development.
He stated HCM City would be one of the major beneficiaries of a successfully concluded Vietnam-EU FTA.
Both host and guest also discussed sustainable development policies, transport infrastructure investment, and management decentralization at the grassroots level.
Promotion month launched in Hanoi
More than 1,000 stands of products will be set up in various venues across Hanoi, opening the biggest trade promotion month in the capital city.
The programme, which will run for the whole of November, will offer at least 15% discounts on many products.
It will start with an online sale from November 1-15 at www.hangvietchinhhang.vn , where customers can buy products at good prices from over 100 businesses.
Golden Days will also be held from November 16-17 at supermarkets and trade centres across the city, where discounts of up to 50% will be applied to major items including electrical goods and machinery.
The Golden Promotion Fair will take place from November 29 - December 3 at the Vietnam Exhibition and Fair Centre (VEFAC), with over 150 stands providing thousands of products of high quality and beautiful design at preferential prices.
This year's programme, the sixth of its kinds, aims to stimulate consumption and help businesses raise their turnovers.
The organising board is working with the Vietnam National Administration of Tourism (VNAT) and Asian Advertising Congress to lure more visitors.
Vietnam strengthens ties with Italian localities
Trade ties between Vietnam and Italy's industrial and trade development regions have grown considerably, signaling satisfactory results.
This was told at an October 31 press briefing reviewing activities of Vietnam's economic cooperation office in Emilia Romagna region hosted by Vietnamese ambassador to Italy Nguyen Hoang Long and President of the region's Legislative Assembly Palma Costi.
This year's two-way trade between Vietnam and Emilia Romagna is predicted to increase by 20 percent to approximately US$390 million, accounting for 12 percent of the two countries' total trade value.
Since its establishment, the economic cooperation office has organized 3 three major economic seminars and more than business-to-business (B2B) meetings between enterprises in Emilia Romagna's nine provinces.
From October 14-18, the office conducted a Vietnam trip by Emilia Romagna region President along with 20 regional manufacturing businesses during which the Italian delegation involved in 20 seminars and 80 B2B meetings in Hanoi, HCM City and Binh Duong.
Ambassador Long and Emilia Romagna region President Palma Costi agreed upon the office's working plan for 2014 with the aim of stepping up firm cooperation in economics, trade and investment in the time to come.
Emilia Romagna is the top development leader of Italy and EU with more than 450,000 businesses. The region is ranked second in Italy's exports, first in the investment and business environment and third in investment level for development research.
Meanwhile, Vietnamese representatives and Lombardy regional authorities have recently reached an agreement on setting up a Vietnamese economic office next year.
HCM City – an attractive destination for Japanese investors
Le Hoang Quan, Chairman of the HCM City's People's Committee received a delegation of Japanese businesses led by Kohei Watanabe, President of Mekong-Japan Economic Cooperation Committee on October 31.
He told them that the member of Japanese business associations operating in HCM City is the largest compared to other nations.
To facilitate their investment, HCM City has built Vietnam-Japan Industrial Park (IP) on an area of 100 hectares as part of its 1,000 - hectare for foreign investment, just after Le Minh Xuan IP.
Mr Watanabe said that Japan has considerably increased its investment in the country, especially in HCM City. He believed that in the near future, the city will become the most attractive destination for Japanese investors.
Mr Watanabe insisted that HCM City should have a master plan for development to make itself more environmentally friendly. The development of transport infrastructure is very important to facilitate the circulation of goods, he added.
On the occasion, Vietnamese ambassador to Japan, Doan Xuan Hung worked with the Southwestern Region Steering Committee and representatives from Mekong Delta provinces and cities on how to attract more Japanese investment.
Ambassador Hung said that many Japanese businesses are keen to strengthen investment cooperation with Vietnam in line with the Tokyo Strategy on Mekong-Japan cooperation.
Tran Thanh Huan, Director of the Economic Diplomacy Fund under the Ministry of Foreign Affairs said that to attract more Japanese investment in the Mekong Delta, local authorities should focus on upgrading transport infrastructure, create an open and sustainable investment environment for the development of the agriculture, fisheries and seafood processing sectors.
HCM City hosts int'l retail & franchise show
As many as 150 companies from 10 countries are showcasing their products at the Vietnam International Retail & Franchise Show 2013, which opened in Ho Chi Minh City on October 31.
The three-day event is jointly held by the Vietnam Trade Fair and Advertising Company (Vinexad) and the Korea International Trade Association (KITA), the Korea World Trade Centre (COEX) and the Korea Trade-Investment Promotion Agency (KOTRA).
On display at 250 booths are famous domestic trademarks such as Dalat Milk, Me Trang Coffee, Highlands Coffee, Pho 24, Tous Les Jours and Ong Kim, together with machines, equipment and new technologies for a modern retail industry.
Fifty businesses from the Republic of Korea (RoK) are introducing a variety of high-quality products, including food, fresh fruit, household utensils, garments, jewellery and electronic equipment.
Huyn Ho Ahn, KITA Vice Chairman and CEO, said that Vietnam sees great potential for developing its retail industry, with a young and dynamic workforce.
This event is expected to provide a great chance for business communities to seek partners and sign investment contracts, thus further boosting franchise and retail cooperation between Vietnamese businesses and foreign investors, particularly those from the RoK, he said.
To date, 105 foreign companies have registered to open franchises in Vietnam, mostly in the business of restaurants, fashion shops and convenience stores.
According to Deputy Minister of Trade and Industry Ho Thi Kim Thoa, over recent years, international franchising has helped promote the development of this form of business in Vietnam as well as contributed to creating jobs and increasing incomes.
It may also reduce risks for investors at a time of economic slowdown and limited access to capital, she added.
Investors concerned about corruption in Vietnam
Investors have voiced concerns regarding corruption in Vietnam, describing it as one of the major issues discouraging Vietnam-based business operations.
At an October 31 seminar on transparency and business, participants said corruption is particularly apparent in customs, tax, traffic enforcement, land management, and construction.
They acknowledged the role of enterprises themselves in combating corruption and proposed a number of measures for ensuring business transparency.
According to a recent Government Inspectorate survey conducted with the World Bank (WB), corruption cases are highest in the customs, tax, traffic enforcement, land management, and construction areas of the national economy.
Many businesses admit paying bribes to officials in amounts equal to as much as 10% of their revenue.
Le Hong Hai, General Department of Taxation Deputy Head, said State management agencies should unite with businesses to devise concrete anti-corruption solutions and deterrents.
She pledged authorities would take tougher enforcement measures in the name of promoting integrity and transparency in Vietnamese business.
Vietnam, Israel promote agricultural cooperation
Vietnamese Minister of Agricultural and Rural Development Cao Duc Phat and his Israeli counterpart Yair Shamir have committed to expanding bilateral agricultural and rural industry cooperation.
Highlighting the successes of past collaboration at their October 31 talk in Hanoi, the duo noted their interest in investigating seed variety and irrigation technology advances.
Shamir said Israel is eager to share its developed agricultural technology and research with Vietnam, export its produce, and work together cooperate in intellectual property.
Minister Phat mentioned the similar orientations of educational reforms undertaken by the two countries. He proposed stepping up the application of Israeli irrigation technology where suitable to Vietnamese conditions.
He asked Israel to host educational programmes for Vietnamese cardes, process Vietnam's raw agricultural material, and assist with incorporating information technology in Vietnamese hydropower, climate change, bio-technology, and seafood projects.
Vietnam has prioritised upgrading science and technology nationwide reinforcing intellectual property regulations.
The country's agricultural sector will continue to expand its farm produce exports into new foreign markets and would welcome inflows of modern Israeli equipment.
Both sides have conducted short-term training courses hosted by Israel, focusing on cultivation techniques, post-harvest technologies, and irrigation methods.
Bulgarian economic and trade office opened in HCM City
Bulgarian President Rosen Plevneliev believes the opening of a Bulgarian economic and trade office in Ho Chi Minh City will offer businesses more chances to expand their Vietnamese and the Southeast Asian operations.
President Plevneliev and HCM City People's Committee Vice Chairperson Nguyen Thi Hong cut the ribbon at the office's opening ceremony on October 31.
The President went on to describe the office as a timely initiative to support realizing cooperative documents the two countries have recently reached and direct their relationship towards forming a strategic partnership with a reinvigorated economic cooperation model.
Bulgaria considers its relationship with Vietnam an important part of its wider Asian strategy, he said.
He pledged to ease the entry of Vietnamese goods into Bulgaria and other European countries.
Bulgarian businesses are eager to invest in Vietnam, President Plevneliev said, noting the two countries' attempt to raise bilateral trade turnover from its current US$60 million to US$500 million as soon as possible.
Vice Chairperson Hong said the office presents a new marker in the economic and trade ties between Bulgaria, HCM City, and Vietnam.
She expressed her hope that with a strong contingent of businesses operating in various fields, HCM City will contribute to boosting bilateral economic and trade ties.
The President and his entourage toured the Cu Chi underground tunnel network and Ben Duoc Temple later on the same day.
Crown beverage cans factory opens in Da Nang
A beverage can factory, worth US$40 million, opened its doors on Wednesday in the central city of Da Nang, according to the Crown Da Nang Co.
Covering 3.6ha in the municipal Lien Chieu Industrial Zone, the new factory will produce 700 million cans annually.
PM opens up to world credit ratings
National agencies will provide more information to international credit rating bodies to ensure accurate representations of Viet Nam's economic wellbeing, after Prime Minister Nguyen Tan Dung signed off on a new decision 61/2013/QD-TTg.
Currently, no ministry or organisation in Viet Nam is authorised to provide economic data to ratings bodies, meaning the information they collect is often inadequate and sometimes inaccurate.
Accordingly, information needed to calculate the national credit rating will be handed over, based on recommendations from ratings organisations in accordance with Viet Nam's legal regulations and ability to meet the requirements.
The mentioned information includes general socio-economic information, fiscal data, monetary and banking data, external economic information, plus political and other socio-economic information.
The decision states that socio-economic general information includes mid-term and long-term strategies, as well as annual solutions for socio-economic development.
Data on economic growth, national income, income per capita, savings ratio, investment ratio, inflation, population, jobs and unemployment will also be provided.
Ratings agencies will also be able to access fiscal information such as policy and mid-term financial budget plans; State collection, spending and budget balance data; SOE reforms; Government debts; provisionary Government debt liabilities; public debt and external national debt.
Monetary and banking information on exchange rates, interest, compulsory reserves and open market operation (OMO); performance of the State Bank of Viet Nam, credit institutions and restructuring of the banking system; balance of payments, foreign currency reserves, credit, non-performing loans (NPLs) and strategies to reduce them will also be available.
External economic information covers import-export figures, trade balance and overseas remittances. Political information includes Government policies and directions; Government personnel; Viet Nam's relationships with other govern-ment's international financial institutions; administration reform and procedures control.
Under the decision, the PM also calls for stronger co-operation between relevant ministries and agencies to better implement the task.
Relevant agencies will have to report the aforementioned information periodically to the Ministry of Finance, which will be in charge of working with global ratings agencies to sign agreements on providing relevant data and ensuring agencies publicise the country's credit ratings, while making recommendations on the issues at hand.
The finance ministry will also co-operate with Government Offices; the ministries of Planning and Investment, Foreign Affairs and Industry and Trade; the National Committee on Financial Supervision and the State Bank of Viet Nam, to meet and provide socio-economic information for international investors, financial and export credit organisations, plus ratings agencies to ease the country's capital mobilisation in the global market and raise the national credit rating.
In addition, the Ministry of Finance is expected to launch a State-run credit rating agency (CRA) next year in a move to create a government-run institution able to reliably rate the country's stocks and companies.
The purpose of the CRA will be to judge how likely it is that a company is able to meet its financial obligations. It is projected to be backed by VND15 billion (US$714,000) in capital and will rate both private and State-owned corporations, as well as financial, banking, insurance and non-financial institutions.
VN firms urged to ramp up efforts to buffer against global instability
Vietnamese enterprises will have to pull up their socks, become more innovative and competitive if they are to successfully meet the challenges that loom large in the coming years, experts said at the Viet Nam CEO Forum held here on Wednesday.
Le Dang Doanh, former director of the Central Institute for Economic Management, said the world economy is showing signs of recovery, but it is very slow and there is latent instability in the process.
In the domestic market, Viet Nam is facing low economic growth, serious state budget deficit and other problems, he told the forum organised by the Young Business People Association, the Leading Businessmen Club, the 2030 Businessmen Club, the Sai Gon Business Club and the Association of Vietnamese High Quality Goods Producers.
It brought together more than 800 CEOs and leaders from Vietnamese companies, top economists and policy makers to network and exchange ideas on emerging trends that are shaping the business environment and future directions.
He said the country started to restructure its economy two years ago, but the exercise has not achieved its targets in all fields.
"Difficulties will continue for the next two years if the country does not take measures to speed up economic restructuring process," he said.
For instance, the Trans-Pacific Partnership Agreement (TPP) that is being currently negotiated will not only bring opportunities but also serious challenges for the country and its enterprises.
While the TPP can open more export opportunities for Vietnamese products, local firms will face drastic competition in both local and international markets, Doanh said.
This requires the country and its enterprises to work harder on reforming themselves towards being able to fully utilise advantages that the agreement generates, he said.
Innovation will be the main driving force to help Vietnamese enterprises develop, he said, adding that the competitiveness of the economy and enterprises should be improved significantly.
Agreeing with Doanh, Nguyen Quan, Minister of Science and Technology, urged enterprises to set aside a part of their profits to set up a fund to upgrade technology and train workers to improve their skills. He said this was necessary if local firms are to create highly competitive products.
"Currently, among 12 countries participating in the TPP, Viet Nam has the lowest level of technology, therefore if we do not reform, we will lose even in our home ground," the Minister warned.
Pham Phu Ngoc Trai, chairman of the Global Integration Business Consultants, said international integration challenges in the new business environment require firms to quickly develop the ability to adapt to new situations. They should accept change as natural and convert challenges into opportunities, he said.
While echoing previous speakers, Phan Quoc Cong, general director of the International Consumer Products Corporation, also struck a more positive note.
As a company working in the consumer goods sector, his firm has encountered fierce competition from multinational companies, forcing it to make "relentless changes" to meet market demand and maintain its competitiveness.
"Most of the Vietnamese firms are small and medium sized ones, but we should not feel inferior, with flexible operations and innovations we can hold our own against bigger, more experienced firms," Cong said.
Mai Liem Truc, former standing deputy Minister of Post and Communications, said that local firms should enhance the use of Information Technology in their production and management.
In discussions about human resource management, forum delegates agreed that local firms were facing twin challenges: the lack of talent; and the ability to attract and retain talent.
Cong said enterprises have high demand for high-level positions, but local talent is not available, so foreigners had to be hired.
Pham Thi Viet Nga, Chairwoman of the Hau Giang Pharmaceutical Joint Stock Co, said the biggest challenge she sees for her company in the integration process is that her staff either cannot keep pace since they are already very busy with work; or that they feel pleased with what they have and are not driven to learn and achieve more.
But in order to retain the talent they have, firms should pay attention to building a company culture that connects everyone, she said.
Cong said many people think that to retain talent they just need to pay higher salaries, but this is not enough, a good working environment is very important.
He advised SMEs to join hands to develop a quality human resource base for their future development.
New rules will limit foreign depositors
Foreigners living in the country may be not allowed to deposit foreign currencies at local banks given the draft decree of the State Bank of Vietnam (SBV).
SBV is fielding suggestions for the decree guiding implementation of the Ordinance on Foreign Exchange and the amended Ordinance on Foreign Exchange. Under which, only Vietnamese citizens will be allowed to deposit foreign currencies at local credit institutions and withdraw principals and interest sums in currencies deposited.
The Ordinance on Foreign Exchange regulates that Vietnamese citizens are allowed to make foreign currency deposits. However, given the Decree No. 160/2006/ND-CP, both Vietnamese and foreigners in the country have been allowed to open foreign-currency deposit accounts at banks.
This has led to inconsistency among regulations of legal documents and caused troubles to individuals and organizations. Therefore, the laws should be revised to secure transparency and synchronization among regulations.
According to a report evaluating impacts of revision of the decree, due to the wide difference between foreign-currency deposit rates and payment deposit rates, some foreigners have been found to transfer money to the payment accounts and then transfer to the deposit accounts to enjoy higher interests. Finally, the depositors will withdraw all principals and interest sums for remittance overseas.
Actually, this is a type of investment by foreigners in Vietnam. This problem has caused pressure on the foreign currency market, especially amid periods of foreign currency tension.
Therefore, the central bank will revise the rules to narrow down the list of foreign-currency depositors and ensure consistency among regulations. The new rules will also aim to improve management efficiency over the market.
High-class condos offered despite stockpile
Despite large stockpile and sluggish trading, many property developers in Hanoi City are still poring investment into the high-class condo sector, kicking off new projects while launching new products onto the market lately.
In the middle of this month, Cau Giay Service and Trade Investment Joint Stock Company and the Alliance of Property Trading Floors G5 launched the sale of high-class apartments of Discovery Complex project at prices from VND27 million per square meter. The project includes a 43-storey office tower and 54-storey condo tower, supplying the market with 45,000 square meters of office space for lease and 500 high-class apartments. The project is expected for completion and handover in the first quarter of 2016.
Earlier, Dat Xanh Mien Bac Company and Viglacera Land offered 44 houses of Xuan Phuong Viglacera urban area at around VND3.5 billion each. The investor has completed basic works of the project.
In September, Tran Hung Joint Stock Company also introduced the model apartment of Hoang Thanh Tower in Hai Ba Trung District, comprising of 183 high-class condos in the commercial quarter of the capital city. The enterprise commenced work on the project in 2011 with the total investment of VND1.2 trillion.
Tan Hoang Minh Group has also launched the sale of the luxury D' Le Pont D'or-Hoang Cau project, while Tay Ho Tay Real Estate Joint Stock Company has also offered apartments of the Watermark project at around VND46 million per square meter.
The market is expected to see more high-class projects in the coming time such as The Manor Central Park of Bitexco Group and Tay Ho Residence of Hanoi Housing Development and Investment Joint Stock Company No. 7.
Next month, Vietnam Sotheby's International Realty will introduce to local investors six projects including Indochina Plaza Hanoi, Hyatt Regency Danang Residences, Fusion Suites Danang and XI Riverview in HCMC and The Costa in Nha Trang City.
Although the realty market has been in hibernation in recent years, a lot of luxurious projects have been offered to homebuyers despite concerns over oversupply in the segment.
However, statistics of CB Richard Ellis show that high-end condo supply in Hanoi is just one-third of the mid-end segment, at around 22,000 high-class condos versus 66,000 middle-class condos.
Vu Cuong Quyet, director of Dat Xanh Mien Bac Company, said that each segment has its own customers. Although trading of the real estate market remains low, the high-class condo segment in Hanoi still saw successful transactions in the early months of 2013.
For instance, transaction of the Royal City project on the secondary market is bustling as the project is at the central area while its infrastructure facilities have been finished, Quyet said.
Michael Piro, managing director of Vietnam Sotheby's International Realty, also said that the high-class segment still has opportunities to grow. Recent developments have suggested positive signs in this segment.
Nguyen Quoc Khanh, representative of the Alliance of Property Trading Floors G5, said the number of clients with interest in high-class projects has increased over the past time. For Discovery Complex project, there were up 42 successful transactions in just three weeks, he said.
The figure is not too impressive given the sluggish market in recent years. However, it shows that the high-class condo segment is till attractive to customers, Khanh said.
According to Savills Vietnam, low-cost condos saw the number of successful transactions increase by 15% while those of middle and high-class segments increased from 3-5% in the third quarter of 2013.
Nguyen Huu Cuong, president of Hanoi Real Estate Club, said that many investors are still keen on high-class projects. They not only serve current demands but also foresee development trend in the future, when the market recovers and living conditions of people improve. At that time, customers will choose high-class apartments.
FDI attraction to surge to US$20 billion soon
Attraction of foreign direct investment (FDI) in October is estimated at around US$4.2 billion, which raises the total FDI amount in the January-October period to US$19.234 billion, up 65.5% year-on-year and far exceeding the whole year's target of US$13-14 billion.
According to a report of the Foreign Investment Agency, from the year's beginning to October 20, as many as 1,050 fresh projects with total registered capital of US$13.077 billion were approved, rising by 79% year on year. The amount of additional capital injected into operational projects was US$6.16 billion, up 42.5%.
As such, both fresh and additional capital amounted to US$19.234 billion.
According to the Foreign Investment Agency, the FDI inflow in October was the biggest monthly amount this year thanks to two big projects with pledged capital of over US$1 billion each.
One is the Vinh Tan 1 coal-fired thermal power project in Binh Thuan Province worth over US$2 billion. The 1,200-MW project is the fifth power project to be carried out under the build-operate-transfer (BOT) format.
China Southern Power Grid Company Limited (CSG) and China Power International Holding (CPIH) hold a combined stake of up to 95% in the project while Vietnam National Coal and Mineral Industries Group (Vinacomin) holds 5% interests.
Under the plan, the project will need 12 months for credit arrangement. However, the investors now target to finish capital arrangement in around six months so that construction of the project can begin sooner.
The second big project licensed this month is the integrated circuit project of Samsung Electro-Mechanics in Samsung Thai Nguyen hi-tech complex in Thai Nguyen Province.
Overall, the FDI amount pledged in Vietnam has far exceeded the forecast and target that the Ministry of Planning and Investment had set early this year. Experts said that the amount would continue to rise and might exceed US$20 billion this year.
In the ten-month period, foreign investors have poured investments into 18 sectors with processing and manufacturing attracting the highest capital amount with US$14.9 billion, accounting for 77.6% of total registered capital.
Fresh and additional FDI in the sectors of power, gas, water production and distribution amounted to US$2.03 billion, equivalent to 10.6% of total capital. The third position belongs to the property market with 16 projects with over US$588 million pledged.
Thai Nguyen Province is the locality attracting the highest FDI amount since the year's beginning with US$3.41 billion, followed by Thanh Hoa Province with US$2.921 billion. Meanwhile, the amount in Binh Thuan Province is US$2.03 billion.
According to the Foreign Investment Agency, the amount of FDI disbursement totaled US$9.58 billion in the year to date, up 6.4% year-on-year.
DHL confirms more investment in Vietnam
DHL Express is taking steps to boost investment in Vietnam to prepare for the opportunities arising from the country's further integration into the world's economy.
Jerry Hsu, chief executive officer of DHL Express in Asia Pacific, emphasized the company's increasing investment in Vietnam at its 25th anniversary function in the country in HCMC last week.
"We will continue to invest in Vietnam," Hsu stressed after reviewing the milestones of DHL Express in this market at the 25th anniversary celebration. He also confirmed this new investment at a meeting with reporters before the function last Friday with an aim to expand its business and capitalize on Vietnam's determination to join the ASEAN Economic Community, the Trans-Pacific Partnership and the Free Trade Agreement with the European Union.
Hsu said DHL became the first international express company to set up business in Vietnam in 1988, when the country opened its doors to international trade. DHL Express had signed its joint venture agreement with Vietnam Post in Hanoi in 2006 before the country became member of the World Trade Organization.
Hsu told reporters that having built a successful business model was one of the significant achievements of DHL Express in Vietnam. "We have continuously grown in the last 25 years with double-digit paces. We have gained a significant market share," he said.
He clarified as DHL Express committed to long-term investment, Vietnam's temporary economic setback was not a big concern for the company because it had managed to go through economic cycles of ups and downs in other markets.
"I think Vietnam, to us, will continue to grow with a healthy pace," Hsu said.
DHL Express has spent much on infrastructure development, including service centers, depots and airside facilities as well as human resource and new vehicles. "We have invested some US$25 million over the past 7-8 years and we will continue to expand our investment in this market."
As a clear indicator, DHL is developing a new building near Tan Son Nhat Airport to serve as an office and service center and a gateway to support its business expansion. Planned for opening next year, this integrated building of
nearly 5,000 square meters for warehouse, service and office facilities is more than double the space of its current building in HCMC.
"The more opening of this market will give us more opportunities to facilitate trade between Vietnam and the rest of the world, particularly the North Asian markets: Korea, Japan, China, Hong Kong and Taiwan. So, the growth is there."
New cures needed for struglling enterprises
The National Assembly Economic Committee has asked the government to apply new remedies to invigorate struggling enterprises.
"The current difficulties facing firms could be swept away if enterprise-oriented solutions on product consumption and a resolution of non-performing loans were implemented. Many of the existing solutions have proved ineffective," said the committee's chairman Nguyen Van Giau at last week's National Assembly meeting.
For example, since May 2013 the government has deployed a VND30 trillion ($1.43 billion) package to provide loans for people and enterprises to buy social housing. However, by late August, only about VND100 billion ($4.7 million) had been disbursed.
"The economy has been stagnating due to over-tightening of resources used for growth. Over the past three years, bankruptcy and the suspension of operations by a many enterprises has resulted in slow growth. Local demand for goods and services is declining. If this situation continues, there will be medium-term macroeconomic instability," Giau warned.
Nguyen Quang Duc, vice head of the marketing section under locally-owned Pico Joint Stock Corporation's Pico electronics supermarket chain, told VIR that the chain's ten-month sales volume had decreased 15 per cent on-year.
The corporation's revenue for 2013 was expected to decline from $144.23 million last year to around $115.38 million this year.
"Some of our rivals like Nguyen Kim, HC, Media Mart, Top Care and Tran Anh are bogged down in difficulties due to low sales. To keep our business afloat, we are offering an average 20 per cent discount on many products," he said.
According to a September survey of 500 people in Hanoi and Ho Chi Minh City by independent market research company Indochina Research, 50 per cent of respondents claimed that their financial situation was the same compared to last year, and 34 per cent believed it was worse. The results also confirmed that the older respondents were worse off, with 44 per cent of those over 40 claiming they were worse off financially than a year ago compared with 21 per cent of those aged below 25.
Some 36 per cent of the two cities' respondents said it was bad time to buy major household items now.
Japan-backed FTA Research & Consultant Company said in its recently-released survey of 300 consumer demand for home appliances revealed that due to belt tightening 62 per cent of respondents in Hanoi claimed they would only buy electronics items and kitchenware if desperately needed, with the figures in Danang standing at 38 per cent and 36 per cent in Ho Chi Minh City.
The committee reported that this year's first nine months witnessed a record number of over 60,400 enterprises cease operations or going bankrupt, including over 18,600 enterprises simply absconding. Registration of new capital for businesses decreased 21.6 per cent on-year.
The Ministry of Finance reported that in this year's second quarter, the number of enterprises declaring losses accounted 66 per cent of total corporate tax declarations. Their losses climbed 7.5 per cent on-quarter and 11.9 per cent on-year.
The committee also announced that local production woes would lead to a major budget deficit of VND59.43 trillion ($2.83 billion) for 2013, with the figure possibly being far higher next year.
EU to leverage links through SME assistance centre
The European Union will open an assistance centre for small and medium-sized firms in Vietnam from this November in order to further promote trade and investment.
Ambassador Franz Jessen (left) and CCIFV chairman Pierre-Jean Malgouyres (right) sign a contract on establishing a SME assistance centre in Vietnam on October 22 in Ho Chi Minh City
The 4 million-euro project is a consortium between the EU Delegation to Vietnam and the French Chamber of Commerce and Industry in Vietnam (CCIFV).
Ambassador Franz Jessen, head of the EU Delegation to Vietnam, said the project would support both European and Vietnamese companies. The centre will be located in the southern economic hub, but would also operate in Hanoi. Vice president of the European Commission Antonio Tajani will inaugurate the centre on November 11. Jessen added that an EU business mission would follow to boost trade and investment, with a primary focus on tourism, agriculture, chemicals and pharmaceuticals.
"The consortium has an agreed five-year timeframe, but we hope the consortium will continue to operate beyond this period. Match-making experts will work for the centre bearing this goal in mind," he said.
According to Jessen, European SMEs are strongly expanding to other regions in the world to tap more markets, with Asia being a focus. Many European SMEs are interested in Vietnam, and this had triggered the call for the centre. It would help European and Vietnamese SMEs deal with issues like accessing markets, legal problems, finding partners and suppliers.
Jessen said European companies were keen to see an effective Free Trade Agreement between the EU and Vietnam because such an agreement would affect their investment decisions in the future.
Lotte starts recruiting for iconic skyscraper
In preparation for its planned expansion in 2014 Lotte Group, developer of the second highest building in Hanoi, is actively recruiting for various positions in the 65-storey building.
Lotte Group is conducting recruitment programs throughout Vietnam to attract top candidates for its operations and achieve their vision for 2018.
On the 24th and 25th of October Lotte held seminars to introduce its 6th official recruitment drive in Vietnam at the Foreign Trade University, Hanoi University, and Hanoi National University. Thousands of students turned out to explore opportunities with the group.
The recruitment process will start in November, and qualified candidates will undergo a 3-month internship after which top workers will be offered a full-time position at the company.
Lotte was founded in 1967 in Korea. It is one of the country's five biggest conglomerates with earnings of $74.9 billion in 2012.
With a vision to become one of Asia's top ten global groups by 2018, Lotte has expanded into Vietnam, China, Russia, and Indonesia.
The company entered Vietnam in 1996 and since has invested in food, confectionary, retail, trading, IT, and property development. The company's Vietnam operation is valued at around $887.5 million with revenues of $264.9 million last year.
Its biggest property development at the moment is the Lotte Center Hanoi and will boast 65 floors and 5 basement levels.
Once completed, the company monument will include a Lotte Mart, department stores, Grade A offices and serviced residences, a hotel, and observation deck and will be a prominent landmark in Hanoi. It is expected to open in 2014.
Dai Phuoc Lotus launches sports centre
The Lotus Sports Centre was launched on October 26 on Dai Phuoc Lotus Island in Dong Nai province, a half hour from Ho Chi Minh City by ferry.
The opening ceremony was organised by Vina Dai Phuoc, a joint venture between Vinacapital and DIC Group who have appointed Savills as the project's sales agency.
The sports centre is a key part of Dai Phuoc Lotus, following the launch of the Ben Sen marina and the 18-hole, Korean-invested Taekwang Jeongsan country club and golf course.
The facility includes a 25-metre swimming pool, a kid's pool and playground, an artificial beach, camping area, two tennis courts, gym, coffee shop and convenience stores, and outdoor event space.
Vina Dai Phuoc is committed to synchronous progress on its villas and accompanying service facilities to ensure the island provides the green, convenient living space it has promised to customers.
To date, more than 200 villas have been completed and 175 units have been sold. Internet, television and all other living infrastructures are in full operation and it is expected that the value of the homes will quickly rise once the service facilities are in full operation.
Dai Phuoc aims at an original, ecological design implemented through urban engineering. The complex includes villas, administrative and commercial centres, sports facilities, hospitals, schools, golf courses, resorts, and marinas.
Standard Chartered Bank has new CEO for Vietnam, Cambodia and Laos
Standard Chartered Bank today announced the appointment of Nirukt Sapru as its new CEO for Vietnam, Cambodia and Laos.
Nirukt succeeds Louis Taylor who has taken up a new role with the Bank in London after three year assignment in Vietnam.
The new CEO has over 25 years of investment and commercial banking experience in both Europe and Asia. Prior to this assignment Nirukt had regional responsibility for Client Coverage, Wholesale Banking in Australia, The Philippines, Vietnam, Cambodia, Laos, Myanmar, Mauritius, Brunei, Sri Lanka, Afghanistan, Nepal & Bangladesh.
"I am looking forward to working closely with our various stakeholders to further build our franchise in Vietnam, Cambodia and Laos", said Nirukt Sapru.
"My priority will be continuing to support our clients and customers, our regulators, our employees and the communities we serve. I hope to reinforce our brand promise of being Here for People, Here for Progress, Here for the long run and being Here for Good. We are committed to putting that at the heart of all what we do".
"There are some interesting opportunities for Standard Chartered Bank in Vietnam and more generally in the Mekong region, both in consumer banking and wholesale banking. The Vietnamese economy continues to be one of the fastest growing in Asia. Like every economy globally, it has its own challenges but the longer term prospects remain very positive," he shared.
Standard Chartered is a leading international banking group. It has operated for over 150 years in some of the world's most dynamic markets and earns more than 90 per cent of its profits in Asia, Africa and the Middle East.
In Vietnam, Standard Chartered's history can be traced back to 1904 when the bank opened its first branch in Saigon (now Ho Chi Minh City).
The bank, now encompassing three branches employing nearly 700 staff, provides a full suite of Wholesale Banking products and services to corporate and financial institutions. It also has Consumer Banking to serve individuals and small and medium enterprises.
The bank also plays an active role in the Vietnamese community and has demonstrated this through many social and charitable activities.
Powerway has bright solar future
China's Powerway Group is still optimistic about its solar panel project in Vietnam despite other projects of its kind being stalled due to global supply-demand imbalance.
Managing director of Lauren Solar Energy Technology Company, a subsidiary of Powerway Group, Zhu Jun Yong told VIR, "We still see potential in investing in Vietnam and believe that our exports throughout ASEAN and the EU market will prosper for a long time to come. We are preparing to start construction on our facility."
Powerway Group received a licence two months ago to build its $50 million solar panel project facility in the northern province of Bac Giang with the designed capacity of 150 megawatts per year. It is expected to go online within the next 16 months.
Yong said the facility would use German technology and 90 per cent of production output would be for export.
This is the fourth solar panel project licensed in Vietnam after the US' First Solar announced their $1.2 billion plant in Ho Chi Minh City. Others include the $390 million IC Energy Company in the central province of Quang Nam and $310 million joint venture between Vietnam's WorldTech Transfer Investment Company and UAE firm Global Sphere.
Recently, Global Sphere announced it would be withdrawing from its project nearly a year after breaking ground due to the Vietnamese partner's performance problems. The First Solar and IC Energy projects announced a temporary stop last year because the world demand was too low to make them feasible.
Coal and gas power plants are still Vietnam's major sources of power. Recently the country has shown a great deal of interest in kick-starting the use of renewable energy source such as solar and wind power due to environmental problems that have resulted from hydro and thermal power plants, as well as rising fuel costs.
Renewable energy projects are also expected to woo hi-tech foreign investors into the country's energy market.
Source: VEF/VNA/VNS/VOV/SGT/SGGP/Dantri/VIR