Vedan eyes 15 per cent sales growth

Taiwanese-owned Vedan (Vietnam) Enterprise Corp., Ltd has set itself a target of growing revenues by more than 15 per cent this year.
Yang Kun Hsiang, the company's general director, said last year its revenues had topped over US$300 million, 46.7 per cent of it from exports, mainly of monosodium glutamate, food flavour enhancers, animal feed, fertilisers, and modified starch.
Speaking to journalists who visited the company last week on the occasion of the company's 25th anniversary, he said he was sorry about the 2008 environmental pollution incident, saying "the company accepted responsibility and once again sincerely apologised to the Vietnamese."
Since then the company has invested $33 million in building new wastewater treatment facilities, he said.
They now handle 6,000 cubic metres of wastewater a day, or around two thirds of their designed capacity of 9,500-9,600 cubic metres, he said.
The system sends monitoring results every five minutes to the Dong Nai Department of Natural Resources and Environment.
The company achieved ISO14001 certification for environmental protection, OHSAS 18001 for labour safety and ISO 50001 for energy management.
Ko Chung Chih, deputy general director in charge of external affairs of Vedan, said: "We will open the door to publicise information to the media so that Vietnamese can understand Vedan's efforts to … protect the environment."
He claimed the company had not actively shared with the media and Vietnamese public information about its efforts to protect the environment in the last eight years.
Vedan has so far invested over $580 million in Viet Nam.
Cambodia, Myanmar: opportunities for VN firms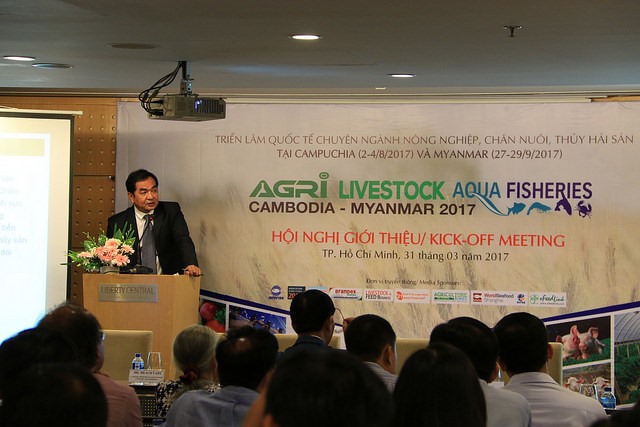 There is a huge opportunity for Vietnamese firms to invest in agriculture in their countries and export agricultural produce to other markets, Cambodian and Myanmarese officials have said.
Meach Yady, chief of agricultural marketing at the Cambodian Department of Planning and Statistics, said his country had invested a lot in agriculture but the sector had not developed commensurately.
He was speaking at a meeting held on Friday in HCM City to introduce the International Exhibition and Conference on Agriculture, Livestock, Aquaculture, Fisheries for Cambodia and Myanmar.
Cambodia imported large quantities of fisheries products, animal feed, fruits and vegetables, dairy and other agricultural products from Việt Nam, he said.
"There is great potential for investment in the agricultural and agri-business sectors. The Government is modernising logistics and infrastructure and streamlining the process to facilitate business processes."
Vietnamese firms could invest in growing rice, cassava, maize, mung beans, vegetables, rubber, livestock and fisheries, he said.
Businesses could invest in expanding fragrant rice cultivation or rice milling targeting niche and specific markets and in the rice seed industry.
Besides, investment to produce quality inputs such as fertilisers and pesticides to increase productivity was also neccessary because farmers complained about the poor quality of imported inputs and possibly fraudulent labelling by unreliable suppliers, he added.
The cassava sector needed investment to make quality chips and pellets complying with international standards for export to China and Korea, while mung bean production had been hampered by the poor quality of seeds and therefore required investment in seed production.
He also called on Vietnamese firms to invest in vegetable production and processing as his country imported large volumes from Việt Nam.
Investment in harvesting equipment and post-harvest processes was required to reduce losses during harvest and transportation.
Many Vietnamese firms have invested in Cambodia, mostly in rubber, cassava and sugarcane, and his country wanted them to invest in more sectors, he said.
U Hnin Oo, vice president of the Myanmar Fishery Federation, said his country wanted to boost exports of fisheries, but few of its processing facilities met EU markets.
Since Việt Nam was strong in fisheries exports, his country wanted to co-operate with Vietnamese firms, he said.
Besides fisheries, livestock breeding also offered investment opportunities for Vietnamese investors, he added.
According to the Myanmar Livestock Federation, with a population of around 54.5 million and increasing income, Myanmar offers opportunities in livestock and animal feed production.
Investment in livestock production could be 100 per cent foreign invested or joint ventures with local individuals or relevant Government departments or organisations.

Japanese flower firm to invest in Da Lat

Japan's Kawasaki Flora Auction Market Company Limited plans to invest in Da Lat floriculture to supply flowers to Japanese and European countries.

The company wants to co-operate for up to 50 years in Da Lat and the entire Lam Dong province, said former Counsellor from Vietnamese embassy in Japan Dao Ngoc Canh.

In the first year, the firm plans to grow flowers in a 10-20ha site, and then expand to a 50ha place after three years and 100-200ha after the fifth year.

Established in 1961, Kawasaki Flora owns production bases in 12 Japanese provinces and in foreign countries such as Colombia and Kenya in order to provide fresh flowers for its stores across Japan.

According to Viet Nam Cooperative Alliance President Vo Kim Cu, the organisation will create favourable conditions for the bilateral partnership. However, Japanese company needs to elaborate specific plans in terms of co-operation forms, shares, investment and responsibilities of two parties based on the principle of mutual benefits.

He also suggested the company make use of land sources to invest in vegetable cultivation and other agricultural activities.

Earlier, Da Lat was working with Japanese OTA Floriculture Auction Company Limited and local agencies to establish a flower trading centre in the city.

The centre will be set up at the bottom of Mimosa Pass, a gateway to Da Lat, on an area of 16.6ha with maximum purchasing capacity of 2.5 million flower branches per day and is expected to trade 550 million flower branches per year.

Once operational, the facility will serve as a trading platform for flower farmers and consuming units to supply flowers to markets with transparent prices.

Lam Dong Province has a total flower growing area of 7,760ha with an annual output of more than 2.4 billion flower branches, of which Da Lat and its neighbourhood make up 70 per cent of acreage and production.

Da Lat has built a common brand called Da Lat Flower used by some 110 grower households.

Earnings from the local floriculture sector currently reach VND750 million (US$33,000) per hectare annually.

VN apparel firms avoid stock market for now

Although Vietnamese apparel company movement toward the stock market is an inevitable trend in a market economy, only 30 businesses of the sector's total of 6,000 have listed so far.

Analysts say that most domestic garment and textile companies are concerned about the possibility that if they list, foreign investors could corner large chunks of their shares or even attempt hostile takeovers.

Many companies also fear their shares would not get fair value if listed now, because the sector faces many challenges.

Last year was a hard one for the sector, with results much worse expected, including just US$28.3 billion worth of exports, a year-on-year increase of 5.6 per cent.

In addition, the year's target had been adjusted down from $31 billion to $29 billion, after major importers, including the US, the EU and Japan, reduced demand for garment and textile products.

Listed companies did not escape the downturn: Sợi Thế Kỷ Joint Stock Company saw after-tax profits plummet by 60 per cent to less than VNĐ29 billion ($1.28 million), Thành Công Textile Garment Investment Trading Joint Stock Company's after-tax profit was down 25 per cent to VNĐ114 billion ($5.06 million).

This year, the sector is expected to face many challenges as well, including a lack of support from tax policies, since several important trade deals such as the EU-Việt Nam Free Trade Agreement and the Trans-Pacific Partnership will not come into effect.

Lastly, competition will only become fiercer, as other countries march ahead thanks to their conducive tax policies and exchange rates. The instability in the EU economy is also expected to have an impact.

Local investors bid for HCM City airport expansion

Early last month the Civil Aviation Administration of Việt Nam (CAAV) submitted plans to expand HCM City's Tân Sơn Nhất Airport to the Ministry of Transport for approval.

The work is estimated to cost around VNĐ19.35 trillion ($860 million) and is part of the Government's goals for 2020.

According to the proposal, the airfield's current runways will remain unchanged, though a new way will be added.

Two quick exit taxiways will be built between the runways, while extra taxiways will be added to facilitate aircraft movement.

The existing apron will be expanded to an area of 19.97 hectares on land belonging to the defence ministry.

Another apron will be built in front of a planned bimodal terminal that will expand Tân Sơn Nhất's parking capacity from 83 aircraft to 89 aircraft.

The expansion plan has attracted lots of interest from airport developers.

Liên Thái Bình Dương Import –Export Company (IPP) became the latest investor to join the race to build terminals 3 and 4.

IPP has been a partner of the CAAV for several years and is also a major shareholder in the Southern Aviation Service Company (SASCO).

The company promises to complete the construction within 18 months if it gets the contract.

Earlier, a joint venture company ATAD Steel Structure Corporation and Nam Việt Á Development and Construction Investment Company also submitted a bid to the Ministry of Transport.

However, Vietjet Aviation Joint Stock Company had been the first to evince interest.

The country's largest low-cost carrier made a bid to build terminal 4 with a capacity of 10 million passengers a year on a 21 hectare site.

It also wants to set up a VNĐ3.048 trillion aviation technical services complex on a 30ha site at the airport.

This will include a cargo terminal with capacity of 300,000 tonnes a year, a facility to repair and maintain aircraft and another to provide catering services to airlines.

The Government's policy of calling for private participation in major infrastructure projects seems to be paying off.

It also indicates the strong growth in the financial and technical capabilities of domestic players, which allows them to bid for large and important infrastructure works.

The plan to expand Tân Sơn Nhất International Airport's capacity to 45 million passengers a year is likely to be realised soon, experts said.

VN gets new energy efficiency labeling rule

On March 9 Prime Minister Nguyễn Xuân Phúc issued a Decision on four categories of appliances and vehicles that must comply with energy efficiency norms.

A roadmap for implementation of the new regulations is also in the new policy.

Cars and many kinds of equipment must carry energy efficiency labels and meet minimum energy efficiency norms from April 25.

The vehicles for which fuel efficiency labels are mandatory are cars with seven seats or less.

But for cars of between seven and nine seats, the labelling will become compulsory from January next year.

For motorbikes, compulsory labelling will begin in 2020.

The other categories are household appliances like fluorescent lamps, ballasts, air conditioners, refrigerators, washing machines, electric cookers, electric fans, TVs, LED lights and water heaters, and office and commercial equipment like photocopiers, computer monitors, printers, freezers, and laptops.

Industrial equipment like transformers and electric motors will also come under the purview of the new regulation.

The Government will also encourage voluntary fuel and energy efficiency labeling for vehicles and appliances other than these.

In April 2012, the Ministry of Industry and Trade (MoIT) issued a Circular on efficiency labelling for electrical appliances and equipment based on the Law on Energy Efficiency and Conservation that took effect in 2010.

Manufacturers and importers of the appliances and equipment listed in the Prime Minister's decision, officially known as No 04/2017/QĐ-TTg, and those voluntarily affixing energy-efficiency labels must follow the approved procedures for registration, evaluation and certification.

Energy labelling aims to enable consumers to identify energy-efficient products, discard low-efficiency appliances, reduce energy consumption and protect the environment.

The most popular products to be certified and stamped include air conditioners, refrigerators, television sets, washing machines, electric fans, rice cookers, and lighting equipment.

However, the new regulation reveals many practical difficulties. A large number of export-import businesses complain its implementation is cumbersome, costly, time-consuming and even impracticable.

Now they will have to test the same product more than once to get the certification since it is only valid for 6 months. But there are too few energy testing laboratories in the country.

Many experts warn life will become harder for enterprises, causing damage costing hundreds of billions of đồng due to a "discrepancy" among the rules on testing for customs clearance.

They say it adds yet another difficult administrative procedure and thus adversely affects the competitiveness of businesses.

Taking cognisance of the criticism, the MoIT has recently issued Circular No 36/2016/TT-BCT to replace Circular 07/2012/TT-BCT on energy labeling for vehicles and equipment. The new circular aims to remove regulations and terms which caused difficulties to businesses.

Accordingly, businesses will take responsibilities for their announcements and energy self-labeling products' quality.

The circular also allows pilot testing for energy self-labeling by independent testing organisations and laboratories of both domestic and foreign producers; not limited to testing on energy labeling in independent testing organisations.

Companies are allowed to use the results of energy efficiency tests done once for each model, whether produced domestically or imported if they are the same model, with their validity being unlimited.

The amendments mean the labeling requirements are expected to be met without much difficulty.

RoK airline opens Da Nang-Daegu route

A new air route connecting the central city of Da Nang and Daegu city of the Republic of Korea (RoK) was launched by T'way Airlines on April 2.

The airline, the RoK's best low-cost carrier selected by passengers, operates five flights a week on Tuesday, Wednesday, Thursday, Saturday and Sunday.

The opening of the air route is expected to help strengthen cooperation and increase the flow of tourists between Da Nang to Daegu – the RoK's fourth largest city.

Earlier, T'way Airlines launched Da Nang-Seoul air route on July 1, 2016 and another connecting Ho Chi Minh City with Seoul on December 24, 2015.

The airline is planning to open more routes linking Da Nang to Pusan and Muan in 2017 and is considering a service between Hanoi and Seoul in the time to come.-VNA

India firm invests in solar energy project in Binh Phuoc

The India-based Tata Group conducted a field trip to Binh Phuoc on April 3 and leased 200 hectares of the southern province for its new solar power plant.

The plant is expected to have an annual capacity of 100 MW.

Other firms, including Alphanam Group and the Vietnam Electricity Group, are also eyeing the local solar energy sector.

Binh Phuoc boasts between 2,400 and 2500 sunshine hours per year, with Loc Ninh and Bu Dop districts considered having the highest solar irradiance level.

Vietjet reports record profit

The VietJet Aviation Joint Stock Company recorded revenue and an after-tax profit of 27.499 trillion VND (1.209 billion USD) and 2.496 trillion VND (109.7 million USD) in 2016, up 39 percent and 113 percent from the previous year respectively.

The company's after-audit profit increased by 206 billion VND (9.06 million USD), while earnings per share (EPS) was 9,586 VND.

Therefore, as of December 31, the total assets of Vietjet reached 20.063 trillion VND, up 67 percent year-on-year.

The results were attributed to the opening of new air routes, effective use of existing routes and good management of operation cost.

Last year, Vietjet took 41 percent of the domestic aviation market share.

In 2017, it plans to open four new domestic and 22 international air routes, raising its total routes to 86.

Tien Giang, Palau sign seafood cooperation agreement

The Republic of Palau and the Mekong Delta province of Tien Giang have signed a cooperation agreement on fishing and seafood consumption.

The document was inked on April 3 between Speaker of House of Delegates of Palau Sabino Anastacio and the Thai Hoa Trading Service Seafood Company based in Tan Phuoc district.

During a reception for the Speaker and his entourage, Vice Chairman of the provincial People's Committee Le Van Nghia introduced local economic potential and investment opportunities in fishing, seafood processing and export, industrial trees and tourism development.

The Speaker also briefed the hosts on the potential and investment opportunities in his country.

The Republic of Palau has a total area of 458 sq.km and around 21,000 people. It boasts huge potential for forestry, minerals and sea products. Its major exports include dry coconut and tuna.

Thuong Kon Tum hydropower plant gets additional loans

Vietcombank and Vietinbank have signed revised agreements to provide additional loans of VND1.4 trillion (US$61.67 million) to the Thuong Kon Tum hydropower plant.

Under the agreements signed last week, Vietcombank will raise its loan from VND700 billion to VND1.6 trillion while the increasing loan from Vietinbank will be VND500 billion.

With the additional loans, the Vinh Son-Song Hinh Hydro Power Joint Stock Company (VSH) has also pledged to speed up the construction to be able to put the plant belonging to the VSH into operation in 2019.

The plant, which is located at the Kon Tum Central Highlands Province's Se San River, will generate an average output of 1,094 million KWh per year.

Markets stay positive, courtesy bank and property shares

Shares continued to rise slightly in both local markets on Tuesday morning as banks and property developers bounced back after recent fall.

The benchmark VN Index on the HCM Stock Exchange inched up 0.1 per cent to close at 723.05 points. The index had ended positively on Monday.

The HNX Index on the Ha Noi Stock Exchange gained 0.2 per cent to end at 91.13 points. The northern market index has risen by 0.1 per cent on Monday.

Banks rebounded after a two-day decline, on positive outlook and potential deals for the banking sector in 2017.

Among the nine listed banks, six advanced, with Asia Commercial Bank (ACB), Sacombank (STB), Vietcombank (VCB) and Sai Gon-Ha Noi Bank (SHB) being the strongest gainers.

Real estate developers also had a good trading session on Tuesday morning, driven by Kinh Bac City Development Holding Corp (KBC), FLC Group (FLC) and Vingroup (VIC).

Meanwhile, food and beverages stocks slumped on profit-taking after their recent rally. The sector was pulled down by brewer Sabeco (SAB) and dairy producer Vinamilk (VNM).

Energy stocks continued to suffer from low oil prices, and PetroVietnam Gas (GAS), PetroVietnam Coating (PVB) and PetroVietnam Technical Services (PVS) performed poorly.

Around 142.7 million shares worth a total of VND2.8 trillion (US$124.77 million) were traded on the two local bourses.

TV programme "Startup Nation" TV to air shortly

Việt Nam Television (VTV) and HCM Communist Youth Union on Monday announced a new TV programme titled "Startup Nation," which is expected to promote startups in Việt Nam.
The announcement was witnessed by Deputy Prime Minister Vương Đình Huệ, Minister of Science and Technology Chu Ngọc Anh, Minister of Agriculture and Rural Development Nguyễn Xuân Cường, leaders of the youth union and major companies in Việt Nam.
The talk show format will air on VTV1 every Friday evening from April 14 and rebroadcast Saturday afternoon.
Another programme titled "Startup Coffee" will air from April 10 every morning as part of the programme "Good Morning" on VTV1.
VTV Director General Trần Bình Minh said the programme producers wanted to deliver a message on startups, which is "Renovation is continuous and enduring. It's not just a movement but a path for the nation to follow."
He said successful businessmen would be invited to "Startup Nation" to share experiences and comment on startup models or business trends in Việt Nam and across the world. They could then suggest or invest in promising startup ideas.
The TV programme is part of the Government's mission to make Việt Nam a nation of startups.
First Secretary of HCM Communist Youth Union Lê Quốc Phong said the youth would applaud the new programme, which offers them an opportunity to present their startup dreams, and make those dreams a reality.
Phong said the youth expected relevant agencies to hear their ideas and suggestions thanks to the TV programme and subsequently timely adjust policies to support them.
In the first quarter of this year, 26,478 new enterprises were established in Việt Nam, a record number in the last six years.
Last year, Việt Nam recorded the establishment of 110,100 new enterprises, the highest number compared with the previous years. Last year is the first time the country had more than 100,000 new enterprises in one year, which is said to be the result of the Government's strong promotion of startups.
Việt Nam is expected to have one million enterprises by 2020.

Processing firms seen performing better in Q2

Enterprises active in the processing and manufacturing industry are hoping to fare better in the second quarter of this year following improvements in the first few months of 2017.

According to a recent survey of the General Statistics Office (GSO), some 57.8 per cent of respondents said they hoped for better prospects compared with the first quarter of this year, while 32.4 per cent said their businesses would remain stable. Other firms predicted they may face more challenges.

When asked about the first quarter, 33.7 per cent of respondents said they have achieved better business results in the first quarter of this year than in the previous quarter and 41.8 per cent said they maintained stable operations. The remaining 24.5 per cent reported difficulties.

Regarding factors affecting domestic production and business in the first quarter, most respondents said low competitiveness of domestic goods was the most significant factor.

Besides this, low domestic demand and financial difficulty were other factors that had a negative effect on domestic production and business in the first quarter, according to the survey.

More opportunities for foreign investors to contribute capital in Vietnam

With the addition of a foreign capital portfolio in the form of capital contribution and share purchase in the national statistics system, the picture of foreign investment attraction in Vietnam is gradually becoming clearer.

From the third quarter of 2016, the Foreign Investment Agency under the Ministry of Planning and Investment began to provide statistics on capital contribution and share purchases of foreign investment, instead of just FDI statistics. In the fourth quarter of 2016, the General Statistics Office (GSO) officially released this data.

According to the latest figures, there were 1,077 deals involving capital contribution and share purchases by foreign investors, with a total value of nearly US$825 million, a year-on-year surge of 171.5% in capital and 148.3% in the number of projects. This figure shows the excitement in merger and acquisition activities in Vietnam seen in recent years.

This strong growth is thanks to the attractiveness of Vietnam's economic prospects along with improvements in administrative procedures for foreign investors. The Investment Law of 2014 which took effect on July 1, 2015 made the regulations on modifying the form of capital contribution and share purchase of foreign investors more simple and convenient compared to the Investment Law of 2005. Foreign investors no longer need to apply for investment registration certificates when contributing capital or purchasing shares in Vietnamese enterprises.

Investors need only complete registration procedures with State management agencies, depending on the conditions of each business investment area. Thanks to these simplified procedures, many investors have chosen this investment method in order to reach the Vietnamese market in the speediest manner. In 2016, foreign investors purchased stakes worth more than US$3.4 billion in 2,547 firms and economic organisations.

According to economic experts, this trend will continue at a faster rate in future as equitisation policy conditions of State-owned enterprises (SOE) become more flexible. In particular, there are new points proposed by the Ministry of Finance in the draft decree on transformation of SOEs into joint-stock companies. Accordingly, a strategic investor that wishes to purchase shares of an equitised SOE does not need to have the same core business lines as the enterprise, instead, they need only meet a number of criteria for financial capacity. At the same time, the time limit for stock transfer of strategic investors is three years instead of five. This regulation is in line with international practice, which opens the way for financial investors to invest in equitised SOEs in order to create a new element in corporate governance.

According to Nguyen Viet Phong from the Construction and Investment Capital Statistics Department under the GSO, the national information system on data related to capital contribution and share purchase is standard, but there is still many shortcomings in initial information collection. Currently, there is only statistics on newlyregistered projects and projects with additional capital,while there are no statistics on detailed capital and investment areas. In 2016, foreign investors mostly focused their capital contribution on the real estate, wholesale, retail and aviation sectors.

Dr Phan Huu Thang, former Director of the Foreign Investment Agency, said that the bright side of this trend is to help investors access the Vietnamese market faster, but the statistics are not yet transparent enough to reflect the flow of capital into and out of the market. "In case of profitable investments, investors are willing to sell capital, but we still cannot evaluate this change in order to know the value of the remaining investor at the enterprises. Moreover, the growth of capital contribution and share purchase may limit the form of direct investment through new projects, which can slow the pace of attracting projects to the areas we want," he said.

Recently, concerns have emerged over the possibility of foreign firms acquiring domestic firms in the retail and real estate sectors through capital contribution and share purchase. Therefore, it is necessary to have sufficient statistics as the basis for evaluating and analysing the positive and negative aspects of this trend.

SBV signs ADB loan for central region climate change project

State Bank of Vietnam Governor Le Minh Hung signed a Loan Agreement and an Aid Agreement with the Asian Development Bank (ADB) on March 25 for the "Development of Environmental and Urban Infrastructure to Respond to Climate Change" project in Dong Hoi (central Quang Binh province) and Hoi An (central Quang Nam province).
ADB pledged to sponsor $104 million for the project, of which $100 million is ordinary capital resources (OCR) loans and $4 million is non-refundable aid. The loan term is 25.5 years, with project implementation from 2017 to 2023.
The project aims to build infrastructure for climate change adaptation and flood avoidance in Dong Hoi and Hoi An.
It will also improve the capacity of agencies managing and implementing the project, raise public awareness, and strengthen the management capacity, operations, supervision and maintenance of works of a number of provincial and municipal agencies in order to ensure the efficient operation of the project.
Localities will receive assistance to reduce environmental pollution, improve the urban environment, and mitigate the negative impacts of climate change.
The project's governing agencies are the Provincial People's Committees of Quang Binh and Quang Nam. Executing agencies include the Dong Hoi Environment and Climate Change Project Management Unit and the Chu Lai Open Economic Zone Authority.

Đồng Nai continues to lure foreign investment

Southern province of Đồng Nai attracted US$314 million in foreign investment (FDI) in Q1 2017, up 53.4 per cent year-on-year and reaching 31.4 per cent of its yearly plan.
This was announced by the provincial Department of Planning and Investment.
Some $137 million of the investment was registered to be poured into 15 newly-approved projects, while $177 million was added to 16 existing projects.
From the start of this year, new projects came mainly from the Republic of Korea (RoK), Japan, Singapore, British Virgin Islands and Germany.
According to the Department of Planning and Investment, invested projects in Đồng Nai focused on the locality's priority fields such as high technology, support industry and environmentally friendly projects.
To date, a total of 1,679 FDI projects have been introduced in the province with combined capital of $30.6 billion - 1,262 valid projects worth $25.7 billion and 417 projects worth $4.8 billion that were revoked.
These projects came from 45 countries and territories, with the RoK, Taiwan (China) and Japan being the leading investors.

Real estate startups jump in first quarter

The real estate sector took the lead in the number of startups as well as the growth rate, with 924 firms established in the first quarter this year, up a staggering 55% year-on-year, according to the Business Registration Agency under the Ministry of Planning and Investment.

The agency said the January-March period saw a rise in new firms in almost all sectors.

After the property sector, new enterprises in the power, water and gas generation and distribution sectors came second in terms of growth rate, with 200 firms, up 32% year-on-year, while the education and training sector took the third position with 640 freshly-established firms, surging 28%.

In addition, new businesses in the sectors of finance-banking-insurance and agriculture-forestry-aquaculture stood at 269 and 461 in the first three months, up 26% and 16% respectively.

Data of the agency showed the country had 26,478 newly-established enterprises with total registered capital of around VND271 trillion (US$11.9 billion) in the first three months of this year, up 11.4% in number and 45.8% in capital over the same period last year.

Besides, operational firms registered to inject an additional VND325.4 trillion in the period, bringing the total amount of fresh capital registered by businesses in the three-month period to over VND596.6 trillion.

Meanwhile, nearly 9,200 enterprises have resumed operation in the first quarter after a period of suspension.

The average registered capital of an enterprise in January-March was VND10.2 billion, a pickup of 30.9% compared to the same period of last year.

Last month alone, 12,027 enterprises were registered with total capital of VND118.7 trillion, rising 120% in number and 90.6% in capital against a month earlier.

Organic agriculture seeks solutions to grow

Organic agriculture is an important direction for the development of Vietnam's agriculture, given the growing demand for quality and food safety, according to Minister of Agriculture and Rural Development Nguyen Xuan Cuong.

Speaking at a conference on organic farming held in Hanoi on April 4, the minister said until recently, food sufficiency was the priority of Vietnam, hence the use of inorganic fertilizers and pesticide to ensure food supply.

But the situation has now changed as the country already meets its demand for food and quality and safety has gained priority over quantity, he stressed.

Deputy Minister of Agriculture and Rural Development Tran Thanh Nam said organic agriculture has made progress in recent years.

Statistics from the institute for organic farming showed that Vietnam had over 76,000 hectares of organic farms in 2015, 3.6 times higher than the figure for 2010. Most of these farms concentrated in Hanoi, Hoa Binh, Lao Cai, Ha Giang, Lam Dong, Ben Tre and Ba Ria-Vung Tau. Vietnamese organic agricultural products have been exported to Japan, Germany, the US, the UK, the Republic of Korea, Russia and Singapore.

Currently, there are about 59 organic farming establishments in 30 out of 63 provinces and cities nationwide and two large-scale organic dairy cow farms run by Vinamilk and TH True Milk.

The country has approximately 115 makers of organic fertilizers, with registered capacity amounting to 2 million tonnes per year. In reality, these facilities turn out an estimated one million tonnes a year, accounting for only 10 percent of the total amount of fertilizers used across the nation.

In fact, a large number of farmers are reluctant to shift to organic practice, due to strict regulations, high costs and unsecure markets.

In addition, Vietnam is yet to have national standards and verification organisations for organic production, thus available products on the market have not won consumers' trust.

To tackle these challenges, Deputy Minister Nam stressed the necessity of protecting unpolluted land and water sources, and completing standards and inspection systems for organic production.

He proposed that the Government assign the MARD to build an organic agriculture development project between 2018 and 2025, and a legal framework to certify organic produce and ensure production transparency.

Policies on land and credit incentives are also needed to attract investment in the sector, Nam added.

Binh Thuan cracks down on delayed investment projects

The south central province of Binh Thuan is getting stricter with delayed investment projects while continuing to optimizing Government and local incentives for investors.

The provincial Department of Planning and Investment regularly inspects delayed projects in order to scrap licences of those invested by incapable investors and at the same time to give timely assistance to those hindered by outside difficulties.

In 2016, the provincial Department of Planning and Investment inspected 83 projects that ran behind schedule and proposed revoking licences of 21 investment schemes.

Meanwhile, the province continues to offer support to investors such as credit for workforce training, technology transfer and market expansion, according to Chairman of the provincial People's Committee Nguyen Ngoc Hai.

Located in the intersection of the Central Highlands, Mekong Delta and South Eastern economic zones, Binh Thuan has strengths for the development of seafood processing, construction material production, handicrafts, mining and tourism.

As of April 2017, there are 1,281 valid projects with total investment of 233.6 trillion VND (10.3 billion USD) operating in the province. Among them, 113 projects worth 3.6 billion USD are run by foreign investors.
Italian trade mission comes knocking
A delegation from the Italian Chambers of Commerce in Asia and South Africa has arrived in Vietnam to sound out prospects for cooperation in fields such as agriculture, energy and infrastructure.
At a press conference in Hanoi on April 3, the Embassy of Italy in Vietnam said an annual regional meeting will be held for the first time in Vietnam on April 4 by the Italian Chamber of Commerce Abroad (ICCA) and the Italian Chamber of Commerce in Vietnam (ICHAM) to promote trade ties between the two countries.
The annual regional meeting in Vietnam is one of the most important events of ICCA, Cecilia Piccioni, Italian Ambassador to Vietnam, said, as it showcases the outstanding achievements which Italy has made in recent years and indicates the growing interest of Italian businesses in Vietnam's market.
Representatives of ICCA will present potential and opportunities for cooperation between Italy and Vietnam at a business forum with some provincial leaders and about 200 Vietnamese business executives attending.
Michele Dercole, president of ICHAM, said Italy was looking to cooperate with Vietnam in agriculture, especially high-tech agriculture, energy and infrastructure.
Bilateral trade between Italy and Vietnam has steadily grown over the past decade, with US$4.6 billion reported in 2016.
According to Vietnam's customs data, Italy is Vietnam's eighth largest trading partner and second largest EU exporter.
The Vietnam-EU free trade agreement will help boost trade ties between the two sides, said Piccioni.
Bangladesh-Vietnam Chamber of Commerce and Industry makes debut
The Bangladesh-Vietnam Chamber of Commerce and Industry (BVCCI) was launched recently in Dhaka, Bangladesh, aimed at promoting economic and trade cooperation between Vietnam and the South Asian country.
The launch was held in the framework of a Vietnam-Bangladesh trade promotion seminar, organised by the Vietnam Embassy in Bangladesh. The event gathered officials from the Bangladesh Parliament, representatives from the Federation of Bangladesh Chambers of Commerce and Industry, the Vietnam Embassy in Bangladesh and over 100 delegates from the two sides' business community.
Speaking at the event, Vietnamese Ambassador Tran Van Khoa emphasised that businesses from Vietnam and Bangladesh need to capitalise on the current large-scale potential for economic and trade cooperation, striving to increase bilateral trade to US$1 billion in the future as the target set by leaders from the two sides in 2015.
He expressed the embassy's willingness in assisting BVCCI in its forthcoming activities to further strengthen the traditional friendship between the two countries. This is the first time an organisation set up by Bangladeshi enterprises has been established to promote trade and business relations with Vietnam. At the same time, the launch of BVCCI also poses an urgent requirement for the early establishment of the Vietnam-Bangladesh Chamber of Commerce and Industry to create favourable conditions for businesses in both countries.
Abdul Matlub Ahmad, President of the Federation of Bangladesh Chambers of Commerce and Industry, stressed that the launch was an important event for businesses of the two nations, as BVCCI would be the bridge to quickly bring Vietnamese and Bangladeshi businesses to each other's markets and support them in penetrating those markets.
At the seminar, the Vietnamese Embassy provided information about Vietnam and introduced opportunities and orientations for attracting foreign investment into the nation for Bangladeshi businesses.
Bangladesh's businesses expressed their hope that Vietnamese companies would increase their imports of pharmaceuticals, rice bran oil for animal feed, jute fiber, shrimps and leather products from Bangladesh. These are key export items of the South Asian country but have not drawn much interest from Vietnamese enterprises or the Southeast Asian nation's enterprises and are not directly imported from Bangladesh but from India and China, causing higher import costs.
To address these shortcomings, the Vietnamese embassy said that it is coordinating with relevant ministries and branches in Vietnam to facilitate Bangladesh's exports, while expressing its wish that BVCCI have specific strategies to promote these products to Vietnamese consumers.
On this occasion, a delegation of Vietnamese enterprises in various fields, such as advertising design, IT, finance-banking, and fertiliser, worked with Bangladesh partners, in which they highly valued the potential of the Bangladeshi market and said that they are working with market research firms from the US to work out specific strategies to quickly tap into this market.
Dollar devalued by 0.4% against dong
Many commercial banks have weakened the US dollar against the Vietnamese dong by 0.4 per cent in the past two weeks.
In the opening hours of this afternoon, commercial banks' rates continuously witnessed slight reduction.
State-owned commercial banks Vietcombank and BIDV listed the buying rate at VND22,655 and the selling rate at VND22,725, down VND25 from this morning.
Vietinbank's buying and selling rates were VND22,670 and VND22,750, respectively, down VND30.
At joint stock commercial banks such as ACB, the buying rate was VND22,650 per dollar and the selling rate was VND22,740, down VND30.
Eximbank's buying and selling rates were lower at VND22,630 and VND22,730, down VND30.
Dong A devalued the dollar by VND40 to list at VND22,640 and VND22,730.
State Bank of Vietnam on Tuesday set the reference VND/USD exchange rate at VND22,288, up VND7 against the previous day.
With the current +/- 3 per cent VND/USD trading band, the ceiling exchange rate is VND22,956 and the floor rate is VND21,620.
6 Vietnamese goods fair to be held in Cao Bang, Lang Son
Ethnic minorities living in Cao Bang and Lang Son will get a chance to buy quality Vietnamese products at six trade fairs to be held in the two provinces starting on Wednesday.
The "Bringing Vietnamese Goods to Rural Areas" fairs will be held in Cao Bang's Tra Linh District from April 5 to 7, Hoa An from 9 to 11 and Thach An from 13 to 15.
In Lang Son, they will take place in Binh Gia District from 17 to 19, Van Quan from 21 to 23 and Chi Lang from 25 to 27.
The two provinces are home to many ethnic groups like the Tay, Nung, Hoa, San Chay, and Mong, who usually do not have much access to quality Vietnamese goods.
Organised by the HCM City-based Business Study and Assistance Centre (BSA), the fairs have attracted nearly 30 companies, most of them from the south.
They will also have booths selling agricultural products grown by the northern chapter of the Innovative Startup Club and by HCM City's Green-Nice Market.
Since 2009 the BSA and the Business Association of High Quality Vietnamese goods have organised almost 200 "Bringing Vietnamese Goods to Rural Areas" fairs, helping promote quality domestic products.
Workshop promotes Vietnam- Bangladesh trade
The Embassy of Vietnam in Bangladesh has organised a workshop in Dhaka to promote trade and economic ties between the two nations.
Attendees at the event included member of the Bangladeshi Parliament Alhaj Syed Nazibul Bashar Maizvandary, President of the Federation of Bangladesh Chambers of Commerce and Industry (FBCCI) Abdul Matlub Ahmad, Vietnamese Ambassador to Bangladesh Tran Van Khoa, and nearly 100 representatives from the two nations' enterprises.
Addressing the workshop, Ambassador Khoa called on Vietnamese and Bangladeshi enterprises to take full advantages of trade and economic cooperation potential in a bid to raise the two-way trade value to 1 billion USD set by the two nations' leaders in 2015.
The diplomat also briefed participants on Vietnam's situation as well as opportunities to invest in the country and its orientations for foreign investment attraction.
Local firms expressed their hope that Vietnamese enterprises would increase the import of pharmaceuticals, non-oil rice bran, jute, shrimps and leather products from Bangladesh, saying that most of Vietnamese businesses have bought these products from India and China at higher prices.
On this occasion, a delegation of Vietnamese businesses operating in various fields such as advertisement designing, information and communications technology, finance-banking and fertiliser production paid a fact-finding tour and worked with Bangladeshi partners.
Vietnamese firms highly evaluated the Bangladeshi market's potential, saying that they have worked with a US market research company to promptly explore the market.
On the sidelines of the workshop, the Bangladesh-Vietnam Chamber of Commerce and Industry (BVCCI) made its debut.
FBCCI President Abdul Matlub Ahmad said the launching of the BVCCI was an important event for Bangladeshi and Vietnamese businesses as it would serve as a bridge supporting them in penetrating in each other's markets.
Ambassador Khoa said BVCCI is the first organisation run by Bangladesh firms to promote trade ties with Vietnam, pledging that the embassy would support BVCCI's operation, thus contributing to the enhancement of the traditional friendship between the two countries.
Credit growth reaches 3.14% till March 23
Lending from January to March 23 rose by 3.14 per cent against the end of last year, according to a new report from the State Bank of Viet Nam (SBV).
Growth witnessed in 2017 was higher than the 1.79 per cent growth rate posted in the same period of 2016, the report said, noting that the rise in the first months of the year would help credit growth be spread more evenly across each quarter instead of only making an impact in the last quarter, as in previous years.
In the period, loans were mainly poured into production and business, accounting for up to 80 per cent of total outstanding loans.
Capital mobilisation in the period meanwhile rose 3.07 per cent, the central bank reported.
The central bank affirmed that the monetary market during the period remained stable and dong liquidity at commercial banks was good, meeting payment demands of individuals and organisations.
In the first quarter, the central bank took flexible and comprehensive measures to adjust and stabilise monetary and foreign exchange markets, meeting the Government's targets of stabilising macro economy, supporting economic growth at a reasonable level and controlling inflation.
SBV claims it will continue to enhance lending quality and apply tight controls over lending in potentially risky areas, such as lending to large clients, real estate, and BOT and BT projects in the transport sector.
Many commercial banks have so far also prioritised the quality of lending instead of only focusing on credit growth, as previously reported.
Nghiem Xuan Thanh, chairman of Vietcombank, the first bank to successfully recover all bad debts sold to Viet Nam Asset Management Company and currently has a bad debt ratio of less than 1.5 per cent, said his bank planned to actively promote lending to the Government's five priority areas this year. Outstanding loans to these areas amounted to VND170 trillion (US$7.49 billion), accounting for 35 per cent of the bank's total outstanding loans. The priority areas included agriculture and rural development, production for export, small- and medium-sized enterprises, support industry and hi-tech application.
The Ministries of Industry and Trade and Finance reduced prices of petrol products from 15:00 on April 5.
The price of RON 92 petrol dropped 81 VND per litre to 17,233 VND while that of bio-fuel E5 went down by 67 VND per litre to 17,032 VND.
The price of diesel 0.05S was cut by 369 VND per litre to 13,469 VMD while the price of kerosene went down by 189 VND per litre to 11,988 VND.
This is the third cut to the price of petrol and the fourth cut to the price of oil products so far this year.
The global price of petrol products during the last 15 days to April 5 averaged 61.837 USD per barrel, a slight drop of 0.1 USD per barrel from the last adjustment.
The prices of petrol and oil are adjusted every 15 days by the two ministries depending on changes in the world market.
Ha Nam gets approval of revised industrial zone planning
The Prime Minister has given the nod to several revisions to the development planning of industrial zones in Ha Nam province by 2020.
Specifically, the PM approved the expansion of the Dong Van I and II industrial parks to 371ha and 339ha, up 162ha and 18ha, respectively.
The area of the Chau Son industrial zone will be increased by 42.5ha, while the southwestern industrial cluster of Phu Ly city will be merged into the Chau Son industrial zone.
The location of Liem Phong IP will be changed and it will be merged with the Kien Khe industrial cluster under the new name of Thanh Liem IP, with a total area of 293ha.
The Dong Van III industrial park will be expanded to 523ha from the current 300ha. The location of the Liem Can-Thanh Binh industrial zone will be adjusted and renamed Thai Ha industrial zone.
The Prime Minister assigned the provincial People's Committee to implement the adjustment to land use planning by 2020 and a land use plan in the last phase (2016-2020) in accordance with legal regulations.
The committee was also required to speed up construction of accommodations for workers and welfare works for labourers at industrial zones to ensure living and working conditions for them.
VEF/VNA/VNS/VOV/SGT/SGGP/Dantri/VET/VIR