BUSINESS NEWS HEADLINES FEB. 22
Export-import to China impacted by COVID-19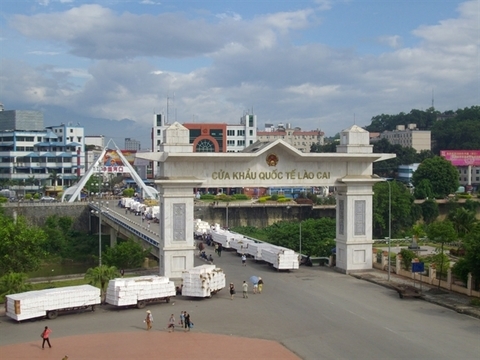 Lao Cai international border gate
In 2019, China ranked as Vietnam's second-largest foreign market with $41.41 billion, just behind the United States. However, the epidemic outbreak in China has had a great impact on trade between the two countries, as well as tourism and aviation.
11 out of 45 of the major export items to China reached a turnover of $11 billion, including computers, electronics, mobile phones and accessories, vegetables, fibre, and shoes.
Among the three main groups of export items, agriculture-forestry-fisheries contributed the most, with $8.2 billion. Therefore, the blow the novel strain of coronavirus (COVID-19) has dealt to this group by reducing exports to China, will be felt in the full-year 2020 export turnover of Vietnam.
In addition to the large turnover of agricultural, forestry, and fisheries products, seafood, and vegetables, preservation was another headache as these products do not keep for long. To solve this problem, the agricultural sector might need to actively search foralternative markets.
In terms of imports, 15 out of the 43 largestimport items from China reached over $1 billion, such as machinery, equipment, tools, and spare parts ($14.9 million), computers, electronic products and components ($12.1 million), fabric ($7.7 million), mobile phones and accessories ($7.6 million), iron and steel of all kinds ($3.3 million), plastic products ($2.7 million), and textile, garment, and footwear materials and accessories ($2.5 million).
As a large portion of raw materials imported is used to produce export items, the fluctuations in imports will affect production and exports as well.
Among imports, textiles accounted for a relatively high proportion (import turnover of fabrics, textile materials, footwear, and fibre in 2019 was $11.5 million). Since trade was restricted due to the COVID-19 epidemic, raw materials imports shrank, greatly affecting production in the industry and forcing businesses to let workers go.
The COVID-19 epidemic also affects Chinese visitors to Vietnam. In 2019, more than 5.8 million Chinese visitors arrived to Vietnam, making the country Vietnam's largest source market accounting for nearly one-third of total foreign arrivals, up 16.9 per cent against the previous year.
Since the beginning of this year, due to the epidemic, the number of Chinese tourists to Vietnam fell sharply, leading to a severe impact on the aviation and tourism industries.
The Civil Aviation Authority of Vietnam (CAAV) said that the Chinese market is accounting for more than 18 per cent of the global market. Particularly for domestic airlines, this market accounts for 26.1 per cent of international passenger volume.
The preliminary figures provided by the CAAV show that Vietnam's total air transport market reached 1.95 million passengers, down 4.5 per cent over the same period in 2019, of which the international market decreased by 14.1 per cent.
Vietnamese airlines reached 1.06 million passengers, down 4 per cent, of which international passengers decreased by 28 per cent over the same period of 2019.
The initial damage of cancelling flights of Vietnamese airlines is over VND10 trillion ($434.78 million). 
Digiworld sets sight on ambitious $443.5 million revenue target
Digiworld JSC (Digiworld, code DGW) continues to set a double-digit growth target for 2020. Digiworld is gunning for revenue growth of 20 per cent, reaching VND10.2 trillion ($443.5 million). Meanwhile, with the expected profit margin improving (by 1 percentage point), the company aims to increase after-tax profit by 25 per cent, from VND161 billion ($7 million) to VND201 billion ($8.74 million).
This business plan will be submitted to the shareholders for approval at the annual meeting held on March 31. The list of shareholders attending the meeting will be closed on February 27.
In 2019, the company's revenue and after-tax profit both exceeded the plan by 20 per cent. Specifically, the sales of Digiworld reached VND8.6 trillion ($373.9 million), up 43 per cent from the previous year. The company's spending on sales activities and sales in 2019 increased by 83 per cent, from VND134 billion ($5.83 million) in 2018 to VND245 billion ($10.65 million) in 2019.
This is the third year the company has set foot in the two new categories of FMCG and healthcare, through the distribution of consumer goods and supply of functional foods, besides its traditional strength of ICT products, including laptops and tablets, mobile phones, and office equipment.
Starting with the distribution of Kingsmen healthcare products (in August 2017) and acquiring 50.3 per cent of CL Co., Ltd., a business specialising in distributing high-end fast-moving Japanese consumer products, such as Kodomo toothpaste, Zact Lion whitening toothpaste, Systema toothbrush, Essense laundry detergent, Bio Zip washing powder, or Bubbi King dishwashing liquid in the third quarter of 2017.
Subsequently, Digiworld had several co-operation programmes to develop consumer goods, with the most notable activity being the co-operation with Nestlé Group in early 2019. Accordingly, Digiworld is the distributor of Nestlé's medical nutrition product.
Divestment in Quawaco running behind schedule
The divestment of the 94.7 per cent state-owned capital in Quang Ninh Clean Water JSC (Quawaco) is running behind schedule as the company is struggling to complete defining its assets and conduct business valuation.
According to Dispatch No.263/TB-UBND dated December 30 last year, signed by Bui Van Thang, Deputy Chairman of Quang Ninh People's Committee, Quawaco is still in the stages of defining its assets and valuating its business.
On February 22, 2017, Quang Ninh Department of Planning and Investment reported to the Ministry of Planning and Investment in Document No.350/KHDT-KTN on the list of state-owned companies to be divested in 2016-2020, including a full exit from Quawaco within 2017.
Quawaco was also listed among the enterprises to be divested in 2017 by Decision No.1232/QD-TTg of the prime minister. However, the divestment has been time and again delayed as the company has not managed to count its assets and has not changed the appraisal unit.
In fact, the divestment of state-owned enterprises in the water sector has been in the spotlight after a series of incidents in 2019. In a petition to the prime minister in May 2019, the Vietnam Water Supply and Sewerage Association expressed that it is necessary to maintain a proportion of state capital in equitised water supply enterprises to enhance responsibility and ensure state management in these enterprises.
Nguyen Van Thang, Chairman of Quang Ninh People's Committee,sent a letter to the government asking for the adjustment of the state divestment plan to retain 51 per cent in Quawaco. "This would help supervise the investment as well as ensure the quality of water resources to serve people, especially in disadvantaged areas," Thang said.
The prime minister's Decision No.2502/QD-TTg dated December 22, 2016, prescribes the operation principles and development policies of the water sector, while the sector is no longer subject to state monopoly. Accordingly, water supply activities are under state control, in order to protect public health and social security, including supporting the provision of water for the poor and extremely difficult areas.
In the process of divesting capital in Quawaco, Quang Ninh has drafted the criteria for selecting investors, including the criteria that require investors to commit to developing the market in urban areas and industrial parks, mountainous areas, islands, and remote areas. And the price of water can only be adjusted, according to current regulations and is subject to approval by Quang Ninh People's Committee.
In terms of economic development, the state dominion will maintain the retail price or water reserved for industrial parks, economic zones, production and service enterprises at VND11,100 (48 US cent) per square metre, much lower than some other localities as well supporting businesses and investors to reduce production costs.
While the regulations on divestment have not been finalised, the divestment of state-owned capital in Quawaco needs to be reviewed and adjusted.
In the context of the clean water deficient, the water sector is also an attractive area for investors. Thailand-based WHA Utilities & Power Plc.'s (WHAUP) in early November officially acquired 34 per cent of Duong River Surface Water Plant, around the time when Song Da Water Investment JSC was caught up in a scandal over its polluted water supply.
The first phase of the factory treating the surface water of the Duong River invested by AquaOne Water JSC (Vietnam) was put into operation on September 5 last year, easing the thirst of Hanoi and neighbouring province's population.
BSR to languish while waiting for capital for Dung Quat Refinery
Despite having gone two-thirds of the way since the investor issued the Front-End Engineering Design (FEED) dossier, the arrangement of investment capital for Dung Quat Oil Refinery remains uncertain.
According to Decision No.9016/QD-DKVN issued in December 2014 by PetroVietnam, the schedule of the upgraded and expanded Dung Quat Oil Refinery project was expected to be implemented within 78 months since the investor issued the FEED document.
The environmental impact assessment report of the project was approved in February 2019. At present, the project is in the bidding phase, the second phase of the engineering, procurement and construction (EPC) contract. This contract's dossier was issued in early November 2019 with plans to close the bid in May 2020. Besides, the land clearance has been finished.
According to the recent report by Binh Son Refining and Petrochemical Co., Ltd. (BSR), the operator of the project, as of now, it takes 56 of 78 months as initial expectation to complete the expansion, however, the construction is still behind the deadline because the investor faces massive difficulties in arranging investment capital.mobili
The project is not one of the projects guaranteed by the government, thus, BSR has completed the procedures to organise a bidding to select a consultancy to help with capital arrangement. It expects this to be completed in the first quarter of this year. Besides, the investor also builds financial plans and approaches financial organisations to mobilise investment.
The expansion of the project is expected to cost $1.8 billion, 30 per cent of which would be equity and 70 per cent would come from loans. BSR issued three capital arrangement plans, including loans from overseas, loans from local sources with the guarantee of PetroVietnam and loans from shareholders or PetroVietnam.
BSR also proposed PetroVietnam – which owns 92.12 per cent of the stake in BRS – to become the company's guarantor for both foreign and local loans. Besides, BSR required PetroVietnam to issue loans under sub-loans to support it to implement the project.
In 2019, BSR faced massive difficulties, eating into its manufacturing effectiveness. Notably, the gap between the selling price of finished products and crude oil has been narrowed. Particularly, in February and June, the selling price of gasoline was lower than that of crude oil. The difficulties are expected to be maintained this year, with the selling price of finished products and crude oil forecast to fluctuate wildly,putting further burden on enterprises.
Besides, the company has to compete Nghi Son Refinery and Petrochemical Complex which has been operating at 100 per cent of capacity, and competition from gasoline imported from markets with which Vietnam has signed free trade agreements.
This year, BSR targeted to acquire an after-tax profit of VND1.28 trillion ($55.65 million), down 41.4 per cent on-year.
On January 17, 2018, BSR succeeded in selling 242 million shares at its IPO, with the average selling price of VND23,043 ($1) apiece. However, at the transaction session on February 16, its shares were transacted at VND7,700 (33 US cents) apiece.
PCC1 acquires two more wind power projects
Power Construction No.1 JSC (PCC1), after the VND195 billion ($8.5 million) mergers and acquisitions (M&A) with Lien Lap Wind Power JSC, keeps pouring capital into two more companies owning wind power projects in Quang Tri.
PCC1 has just decided to invest more into wind power projects by acquiring 4.8 million shares of both Phong Nguyen Wind Power JSC and Phong Huy Wind Power JSC, equivalent to 96 per cent of each. PCC1 expects to implement the M&A in the first quarter of 2020 at an undisclosed value.
The two companies are in possession of wind power plants in Quang Tri province. In the last quarter of 2019, PCC1 also took over 4.99 million shares of Lien Lap Wind Power JSC, the investor of Lien Lap Wind Power Plant project in Quang Tri, valued at VND195 billion ($8.48 million), equal to VND39,000 ($1.7) per share.
According to information from Quang Tri Department of Planning and Investment, Lien Lap wind power plant has the designed capacity of 48MW, with the power output of 158.8GWh a year. The total investment capital of the project is nearly VND1.94 trillion ($84.35 million), of which the equity capital is 20 per cent. The project's operation duration is 50 years.
The two new transactions will bring the total up to three wind power projects in Quang Tri that PCC1 has acquired via M&A. Both Phong Nguyen and Phong Huy wind power were established in last August with headquarters located in Danang and the initial capital of VND330 billion ($14.35 million).
After three months of establishment, the two companies simultaneously reduced their capital to VND50 billion ($2.17 million) from November 2019. The shareholder structure of these two wind power businesses is similar. In particular, Mai Lieu Investment JSC owns up to 99 per cent of capital in both companies.
Besides the money spent to acquire the companies, PCC1 also needs to arrange significant capital to implement the projects. The total investment of these two projects is more than VND1.6 trillion ($69.57 million). Phong Huy wind power plant is built in Tan Thanh and Huong Tan communes (Huong Hoa district), with a capacity of 48MW. With the same capacity, Phong Nguyen Wind Power Plant (invested by Phong Nguyen Wind Power JSC) is built in Tan Thanh and Huong Phung communes (Huong Hoa district).
In the fourth quarter of 2019, PCC1 recorded the gross revenue of VND1.57 trillion ($68.26 million), up by a slight 4.1 per cent against the same period a year before. In the revenue structure, the segment that accounted for the largest proportion was construction and electrical equipment with VND884.5 billion ($38.46 million), up 21 per cent on-year.
Meanwhile, the strongest increase was in industrial production with VND406 billion ($17.65 million), 2.2 times higher than in the fourth quarter of 2018. In contrast, sales of goods and materials decreased from VND339 billion ($14.74 million) to VND72.5 billion ($3.15 million).
Singapore injects massive capital into Vietnam in January 2020
Registered foreign direct investment is exploding in Vietnam in January 2020, thanks to massive capital inflows from Singapore.
As of January 20, the registered inflow of foreign direct investment (FDI) to Vietnam was $5.33 billion, suddenly jumping by 179.5 per cent on-year, while disbursed FDI was $1.6 billion, increasing by 3.2 per cent on-year.
Most notably, more than 75 per cent of the total registered capital was made up of $4 billion registered capital for a liquefied natural gas-fired power plant by Singapore's Delta Offshore Energy Pte., Ltd., according to the macro research by KIS Vietnam Securities Corporation (KIS).
singapore injects massive capital into vietnam in january 2020
In January, foreigners invested in 17 sectors, primarily focusing on the electricity sector with the registered capital of $4.04 billion, accounting for 75.8 per cent of the total registered capital. Processing came second with a registered capital of $860 million, accounting for 16.07 per cent. Professionals and retail took the third and fourth places, equivalent to 2.23 and 2.21 per cent of the total, respectively.
59 countries and territories were investing in Vietnam in the first month of 2020. Surprisingly, Singapore became the largest investor with the massive registered capital inflow of $4.16 billion, accounting for 78.09 per cent of the total registered FDI. South Korea ranked second with $270 million (4.96 per cent of the total). Hong Kong (China) stood in the third position with $210 million (3.98 per cent). China and Japan were the fourth- and fifth-largest investors with $160 million and $130 million.
Waste-to-power plant of T&T-Hitachi Zosen JV added to PDP VII
The waste-to-power plant, developed by a joint venture between T&T Group and Hitachi Zosen Corporation, came a step closer to construction after being approved to be added into the adjusted Power Development Planning VII.
The prime minister has approved the Ministry of Industry and Trade's proposal to add Xuan Son waste-to-power electricity project to the adjusted Power Development Planning VII.
The project will be located in Ba Vi district, Hanoi and will be connected to the national grid with the capacity of 15.5MW by incinerating 1,000 tonnes of waste a day.
Earlier in March 2018, T&T Group and Hitachi Zosen Corporation signed an MoU to develop waste-to-power electricity plants in Hanoi. Accordingly, the two parties would establish a joint venture to build the first project in Hanoi and a number of others later on.
T&T and Hitachi Zosen would create the design, collect capital, build, and operate the plant.
This is the first project of T&T in Hanoi and would serve as the premise for upcoming projects in other places.
In September 2019, Thai Nguyen People's Committee approved T&T Group's plans to develop an industrial waste treatment plant with the total investment capital of VND3.6 trillion ($156.52 million). VND720.46 billion ($31.32 million) of this investment capital is the group's equity while the remaining VND2.88 trillion ($125.22 million) will come from loans.
Covering an area of 28.53 hectares in Pho Yen town, the construction of the project will be divided into two phases. The first phase will cost VND2.03 trillion ($88.26 million) and has the capacity of treating 300 tonnes of industrial waste and 300 tonnes of harmful waste a day. In addition, the plant will generate 13MW of power.
The construction of the second phase is expected to be kicked off in 2023 with a total investment capital of VND1.56 trillion ($67.83 million). This phase will have a daily treatment capacity of 600 tonnes of industrial waste and medical waste. Besides, it will be able to treat 300 tonnes of harmful liquid waste a day.
Specialist loans to jack up SME growth
Small- and medium-sized enterprises in Vietnam looking to develop new capabilities will now get a leg-up from business loans provided by Military Bank, Saigon-Hanoi Commercial Joint Stock Bank, and BAC A BANK. However, lenders are warned to keep an eye on the risks of financing these firms.
The Small- and Medium-sized Enterprises Development Fund (SMEDF) under the Ministry of Planning and Investment (MPI) is specifically designed for SMEs that are planning to create products in value chains or expand their business footprint. Now SMEs can tap into the new source of capital from these three banks to cover their expenses incurred prior to grant disbursement from the respective schemes.
SMEs will also enjoy preferential interest rates, as well as annual and early pre-payment fee waivers.
Phan Thanh Ha, director of the fund, said that 98 per cent of enterprises in Vietnam are SMEs and that the SMEDF aims to help innovate their products to be more competitive and environmentally friendly, and improve their technology capabilities, as well as enhance corporate governance.
"We are committed to constantly innovating and helping SMEs in Vietnam grow. With the economic outlook getting tougher, we hope that the new capabilities loan from Military Bank (MB), Saigon-Hanoi Commercial Joint Stock Bank (SHB), and BAC A BANK will be a cost-effective way to help alleviate the strain on SMEs' cash flows, thereby encouraging them to embrace innovation and grow new sources of revenue," Ha emphasised, adding that the fund will also assist SMEs to leverage the wide variety of government grant schemes available.
These business capabilities loans will come with the annual interest rates of 4.16 per cent for short-term loans and 6 per cent for both medium- and long-term loans.
The state fund also offers flexible funding amounts up to 80 per cent of the total investment of a business or project with the maximum duration of seven years.
Eligible SMEs must be incorporated in Vietnam and must operate in innovative technology, industry clusters, or value chains such as agricultural or food chain.
Recipients also need to satisfy the requirements of Article 6 of Decree No.39/2018/ND-CP dated 2018 on guidelines for the Law on Support for Small- and Medium-Sized Enterprises and Article 23 of Decree No.39/2019/ND-CP dated May 2019 on the organisation and operation of the SMEDF.
The move has represented the MPI's plan on lowering financing costs for small and private businesses.
"The Vietnamese currency has largely stabilised, and while some economic indicators point to a slowdown due to the coronavirus outbreak, others highlight the continued resilience of the economy. Those factors give the Vietnamese government and local commercial banks a window of opportunity to act," Ngo Thu Ha, deputy general director at SHB, told VIR.
Dinh Nhu Tuynh, head of MB's SME Division, also said that the bank currently extends financing services to 125,000 SMEs nationwide, with credit balance of about VND100 trillion ($4.35 billion).
However, lenders also must keep an eye on the risks of financing SMEs, especially the added threat of non-performing loans (NPLs).
Many banks, in fact, are less willing to lend to small business because it is not as profitable as loans that more easily fit into standardised approval and repayment processes – such as credit cards and mortgages – and can be packaged into securities for sale to investors.
BAC A BANK's deputy general director Nguyen Viet Hanh noted, "Small business loans, in fact, are often as nearly as complicated for banks to complete as large loans."
Tuynh of MB also added that in comparison with the wholesale department that specialises in large corporations and provides a more stable and solid return, providing loans for SMEs seems to be less profitable.
Compared to the wholesale or institutional banking departments that focus on multinational corporations, which provide a more stable and profitable portfolio, providing loans for SMEs is often seen as more troublesome.
However, big banks are also suffering from NPLs. For example, SHB reported a pre-tax profit of more than VND3 trillion ($130.43 million), representing a yearly increase of 47 per cent but risk provisions soared by 66 per cent on-year to almost VND2.37 trillion ($103 million). Half of the full-year risk provision was made in the fourth quarter of 2019. SHB is among the six domestic lenders with the highest amount of sour loans, at 1.8 per cent of its total assets.
MB's NPLs grew by VND400 billion ($17.4 million) to reach VND1.44 trillion ($62.5 million) as of September 30, 2019. Doubtful debts were estimated at around VND917 billion ($39.87 million), which is VND120 billion ($5.22 million) higher than in 2018.
Researchers at Viet Dragon Securities also cautioned of MB's future outlook, which they claim would be impeded by potential headwinds such as high NPL formation rate and provision charges growth due to higher risk appetite.
Hanh of BAC A BANK told VIR that SMEs seeking for tailor-made loans would be asked for alternative collateral in various forms so that the loan is backed in case the borrower defaults. For example, assets used as collateral include cash, account receivables, real estate, inventory, cars, equipment, or signing personal guarantee on a case-by-case basis.
The Small- and Medium-sized Enterprises Development Fund is co-operating with several domestic banks to offer attractive loans to local businesses to help these to maintain manufacturing and business operation, while diversifying capital streams and improving competitiveness. The fund's chairwoman Hoang Thi Hong talks with VIR's Nguyen Huong about how the new scheme will support the business community in the country.
How would the fund help answer small- and medium-sized enterprises' (SMEs) needs?
Businesses are not only interested in government funding with preferential interest, but also in diverse supporting policies that fit their actual needs. Going further, businesses are calling for more transparency in these policies and for deployment that makes them more approachable. That is why the SMEDF co-operates with banks to provide credit solutions for SMEs.
Under the arrangement, MB, SHB, and BAC A BANK have to prepare counterfunding that can cover the financing needs of their SME customers. The SMEDF partners now with five banks, all of whom wield significant experience and have branch networks of wide coverage across the country. We will also shake hands with Agribank and VietinBank, so the coverage will be wider.
The credit products the SMEDF provides in collaboration with these banks are favourable, probably doubling the benefits on offer for businesses. In addition to utilising the funds of the SMEDF, SMEs can borrow from the banks on a more flexible and a much easier basis. So far, the SMEDF has disbursed around VND150 billion ($6.5 million), and receivers have been performing quite well.
On what funding ration has the SMEDF agreed with partner banks?
We have not fixed the ratio. It will be considered on a project basis, based on the businesses. The SMEDF highlights that the loans will not exceed 80 per cent of the total investment value of a project or business plan, nor will it exceed 15 per cent of the total funds of the SMEDF (VND2 trillion or $87 million).
Businesses always want to borrow as much as possible from the SMEDF to take advantage of the preferential interest rate, which is much lower than what banks offer, even after the decrease. After appraisal and evaluation, we will decide how much of the funding is provided by the SMEDF and how much is supported by banks.
Businesses', particularly SMEs', activities have been hit hard by the disruptions caused by the COVID-19 outbreak.
These effects were more pronounced in production and manufacturing sectors like agriculture, as well as tourism and foreign trade. SMEs, which generally struggle with capital shortages and low manufacturing capacity, will be affected directly by the epidemic in every stage of their operations, from importing materials through production to sales, and will be hard-pressed to whip up the capital necessary to stay liquid or meet their financial obligations.
Therefore, I am confident the preferential loans of the SMEDF and other supportive programmes will prove quite effective, and will be immense help for SMEs to maintain manufacturing and business operation and help them diversify capital streams and improve competitiveness.
Lenders at odds with supporting strategies
While Vietnamese lenders have stepped up their support for the virus-hit economy by reducing lending rates or offering relief measures, foreign banks are adopting a wait-and-see approach.
The Vietnamese government has called on lenders to raise their tolerance for businesses effected by coronavirus (COVID-19), an attempt to ward off the signs of weaker economic growth.
Some local lenders such as SHB, Vietcombank, Agribank, and BIDV confirmed they would undertake relief measures for businesses which are particularly hard hit.
In particular, VPBank trimmed its lending rates by 1.5 per cent, targeting around 1,000 clients who have suffered during the outbreak.
Kien Long Bank cut its lending rates to 3 per cent to support customers in growing dragon fruit, watermelons, durian, mangoes, and bananas.
HDBank announced there would be no fee for international transactions for pharmaceutical and medical businesses, while ABBank is to allocate VND4 trillion ($174 million) for low-interest loans for vulnerable businesses during the epidemic.
The coronavirus contagion is showing how fragile agriculture, supply chains, and exports can be, and that they can be vulnerable to a whole range of risks. With close links in Asia, production could also be affected by supply chain disruptions due to delayed reopenings and deliveries by Chinese factories, as seen in the cases of Mazda, Toyota, and Nissan.
Elsewhere, banks offer financial relaxation to stimulate the economy. HSBC said it will offer more than $3.9 billion in additional liquidity to Hong Kong businesses pressured by the effects of the outbreak on the city's economy. "We hope these measures will bring some relief to those who are under stress from the economic fallout of COVID-19, allowing them to focus on getting through these critical days without having to worry about their finances," HSBC's Hong Kong chief executive, Diana Cesar, said to the South China Morning Post.
The move came a week after the Bank of China became the first lender to roll out relief measures to help Hong Kong's homeowners and businesses, offering interest-only payments on mortgages and loans to small- and medium-sized enterprises (SMEs).
The Industrial and Commercial Bank of China (ICBC) Asia would implement additional measures to help small businesses, including waiving fees and allowing SMEs to make interest-only payments on commercial mortgage loans for six months and to extend their loan-repayment cycles.
Standard Chartered, which also operates in Vietnam, said it would allow clients in Hong Kong with good repayment histories to make six months of interest-only mortgage payments and would offer a similar moratorium on principal payments for some commercial loans.
However, Standard Chartered Vietnam, HSBC Vietnam, and ICBC Vietnam, among others, are still playing the waiting game. It is highly likely there would be no additional liquidity measures, rate-cutting decisions, or tolerance to sour loans from overseas players.
Bui Quang Huy, senior vice president of Citibank Vietnam's Hanoi Branch told VIR, "Citibank Vietnam is closely watching the impact of the outbreak on the domestic economy. But we are banking on categories such as capital raising, mergers and acquisitions, securities brokerage, and digital business, which in fact have not been the worst-hit by the virus."
Meanwhile, a representative from a Japanese bank in Hanoi said, "We do not have such a framework or special treatment for our corporate clients, mainly foreign-invested enterprises from Japan. Actually, I do not see any evidence that our customers' businesses are in a crisis so far."
Other foreign lenders in Vietnam such as Kookmin Bank, Shinhan Bank, Bangkok Bank, and Hongleong Bank also currently seem to be reluctant to take pre-emptive actions.
Insurers race to help customers amid epidemic
While the Wuhan coronavirus outbreak – described by the World Health Organization as a public-health emergency of international concern – is just one step away from being classified as a pandemic and as such would normally be exempt from insurance coverage, insurees can relax as some companies have confirmed they will offer compensation.
With the coronavirus, or nCoV, likely to continue spreading, Ralf Klos, a German living in Vietnam expressed his concerns. "I have been trying to improve my immune system, and avoid crowds and potential threats," he said.
"But I cannot be sure that I will be totally safe in this situation. I am particularly worried that my health insurance might not be helpful if I get infected, because as far as I know, they will not cover epidemics and pandemic cases like nCoV," he added. Klos is not alone with his worries, as many people have raised similar questions.
Chu Quang Minh, general director of Best Life JSC, said that it is not surprising that customers are worried as some insurance products do not cover pandemics, not only in Vietnam but throughout the world.
Representatives from life insurance groups in Vietnam have told VIR that they will cover any fees for customers who are affected by the nCoV, namely Manulife, AIA, Chubb Life, Dai-ichi, Fubon, Sun Life, and FWD.
"We will cover costs and apply the usual waiting period as we would with a regular illness," a representative of Sun Life said.
Meanwhile, AIA Vietnam told VIR that until April 30, the firm will implement a special support policy for insured customers on hospitalisation support, reimbursement of hospital and surgical expenses, and health insurance.
In particular, the regular 30-day waiting period is void if the patients have to treat acute respiratory infections caused by nCoV, and all medical expenses arising from services prescribed by doctors during the treatment will be paid out within specified insurance policies.
Bao Viet Life confirmed that the company will still cover nCoV-related acute respiratory infections in terms of hospitalisation and risk of death, even as Vietnam acknowledged is as an epidemic. In cases when customers are exposed to coronavirus-borne risks, the company will compensate insurance benefits in accordance with the terms and conditions for "risks due to other pathologies or causes".
Meanwhile, Prudential Vietnam is providing a special healthcare programme for customers infected with the virus in Vietnam from now to April 30, with an additional cash benefit equivalent to VND10-20 million ($435-870), based on the duration of quarantine treatment in hospital.
If the duration of treatment lasts three to nine days, the company will offer financial support equivalent to VND10 million ($435).
In the meantime, customers infected by the virus will still be entitled to the existing benefits of their policies, including for total and permanent disabilities, critical illnesses, hospital care, and death, in accordance with the policy terms and conditions.
Life insurers Dai-ichi and Fubon Vietnam have also pledged to protect their clients in nCoV-related events, adhering to the existing contracts.
However, some non-life insurance companies such as PTI, Bao Minh, and BSH will only pay compensation depending on the terms and conditions listed in the insurance contracts. Elsewhere, PVI said that an nCoV infection falls under the firm's default insurance exclusion clause, which is specified in the insurance policy.
Travel insurances will only cover nCoV cases if the policy includes pandemic coverage. Therefore, it is important to check the plan's exclusions to make sure that the policy does not exclude pandemics or epidemics.
In addition, in order to be insured, customers should make sure they receive contractual documents issued by the insurance company.
EVFTA may boost Vietnam-Poland trade ties
The recently ratified EU-Vietnam Free Trade Agreement (EVFTA) is likely to accelerate trade between Vietnam and Poland, according to International Business Times.
The newspaper quoted Piotr Harasimowicz, Chief Representative Officer of the Polish Investment and Trade Agency in Ho Chi Minh City, as saying that Vietnam is one of the most promising markets for Polish companies in Southeast Asia.
The official said latest data from the agency showed bilateral trade between the two countries surpassed 3 billion USD in 2019. The key sectors of cooperation are agri-food, pharmaceuticals, cosmetics, green technologies and wastewater treatment.
Potential areas were software/IT, heavy industries such as mining, shipbuilding, machinery and equipment for agricultural production, and food processing. Vietnam mainly exports electronics and equipment, footwear, textiles and agricultural goods such as coffee, pepper, coconut and cashews, he added.
Harasimowicz said Poland boasts a large Vietnamese community that forms a link between these two countries 5,500 miles apart.
In Poland itself, Vietnamese are now the largest community after Ukrainians, Germans and Belarusians, with nearly 12,000 holding permanent residency permits.
The Vietnamese Embassy in Poland estimated that about 20,000 to 30,000 Vietnamese people live in Poland, while the Polish government thinks the accurate number is closer to 50,000. They are concentrated in Warsaw where they own at least 500 Vietnamese restaurants./.
Veggie, fruit exporters seek new markets through EVFTA
The recent ratification of the European Union-Vietnam Free Trade Agreement (EVFTA) by the European Parliament (EP) is expected to help with the market expansion of Vietnamese farm produce, including fruits and vegetables, in the face of the coronavirus outbreak disease (COVID-19), according to insiders.
China has always been one of the biggest importers of Vietnamese agricultural produce. In 2019, Vietnam exported 3.74 billion USD worth of fruits and vegetables, 65 percent of which went to China.
However, since the Lunar New Year, China has temporarily closed its border gates due to the spread of the acute respiratory disease caused by the novel coronavirus (COVID-19), causing difficulties for Vietnamese exporters.
In that context, the ratification of the EVFTA by the EP on February 12 has significant meaning.
According to Vietnamese Minister of Industry and Trade Tran Tuan Anh, the EU is one of Vietnam's most important trade partners.
Once the agreement takes effect, the EU will eliminate import duties on almost all tariff lines for Vietnam. This will be an excellent chance for Vietnamese agricultural businesses to boost exports to the market of over 500 million people, he said.
He advised businesses, especially small-and medium-sized firms, to study opportunities and challenges when making inroads into the market, and strive to improve the quality and design of products, and ensure rule of origin, technical standards, and food safety and hygiene./.
Vietnamese lobster breeders hit by coronavirus outbreak
The coronavirus outbreak has severely dented demand for lobster in China, the world's largest importer of the crustacean, which has caused difficulties for lobster breeders in the Vietnamese southern central province of Khanh Hoa.
Cam Binh Commune in Cam Ranh City is home to 1,100 lobster breeders with around 10,000 cages. At present, local farmers need to sell around 100 tonnes of lobsters.
Due to the stagnant export, lobsters are being boosted for domestic consumption. Now, a kilo of lobster is sold at the wholesale price of just some VND540,000 (USD23.47). While the retail price is just around VND670,000-700,000.
Traders are willing to send lobsters by air for customers who buy 10-20 kilos of lobsters a time. In this case, customers only need to pay additional transportation fees of VND500,000.
A company in Dong Da District in Hanoi has ordered up to 100 kilos of live lobster at the price of VND600,000 per kilo as a gift for their staff on the coming Women's Day. The company can refuse to receive the product if it fails to meet the expectation.
Alaskan lobsters and King crabs have also seen lower prices due to being affected by coronavirus.
Vinmart supermarket chain is selling lobsters at just between VND495,000-630,000 per kilo.
Quang Ninh remains active in promoting local tourism amid Covid-19 threat
The hospitality sector in the northern province of Quang Ninh has rallied every effort to seek new tourism market and step up tourism promotion activities amid the threat of the coronavirus disease 2019 (Covid-19).
It is forecast that there will be a significant decrease in the number of foreign travellers to Quang Ninh in the first quarter of this year due to the Covid-19 outbreak, particularly those from traditional markets such as China, Northeast Asia, North America, and Australia.
Therefore, the local hospitality sector has worked to promote tourism in new markets such as Russia, Western Europe, and India while also seeking connection with other cities and provinces nationwide to boost domestic tourism.
The sector has eyed this difficult period as a time to restructure its apparatus, improve tourism infrastructure and services, and enhance human resources in order to meet the increasing demand of visitors while ensuring their safety during their stay in the locality.
Secretary of the Quang Ninh Provincial Party Committee Nguyen Xuan Ky has asked the local tourism sector to work harder to promote Quang Ninh as a safe, friendly and attractive destination among foreign and domestic visitors while taking proper preventive measures against the disease.
As of February 17, no Covid-19 case has been found in Quang Ninh. The province continues to welcome visitors who do not come from the epidemic areas while coordinating with the health quarantine authorities to control the epidemic.
Vietnam strives to turn tourism into a key economic sector by 2030
Prime Minister Nguyen Xuan Phuc has recently approved a tourism development strategy by 2030.
The strategy aims to turn Vietnam into a renowned destination by 2025, ranking among the three leading countries in terms of tourism development in Southeast Asia and among the top 50 nations with the highest tourism competitiveness in the world.
By 2030, Vietnam has set a target to make tourism a spearhead and sustainable economic sector and become one of 30 countries around the world that hold the best tourism competitiveness.
The tourism sector aims to earn VND3.1-3.2 trillion (US$130-135 billion) and create 8.5 million jobs by 2030.
Vietnam looks to attract at least 50 million foreigners and serve 160 million domestic tourists by that time.
The strategy also devised a number of drastic measures such as the completion of tourism policies, as well as development of infrastructure, tourism workers and products.
In addition, importance will also be attached to public-private partnerships in sustainable tourism development. Advanced technology and high-quality human resources are seen as breakthrough elements to build a professional, quality and competitive tourism industry.
PM approves Becamex Binh Dinh industrial zone project
Prime Minister Nguyen Xuan Phuc on February 18 signed a decision approving the investment in Becamex Binh Dinh Industrial Zone project, which covers 1,000 hectares of land in the central province of Binh Dinh.
Set to be located in Canh Vinh Commune of Van Canh District, the project requires over VND3.3 trillion in funding. Of this, some VND500 billion comes from Becamex Binh Dinh JSC, the project's investor; more than VND2 trillion is from bank loans; and the remainder will be mobilized from other sources.
The project must be executed within 10 years from the date its investment was approved.
PM Phuc assigned the provincial government to manage site clearance and compensation and collect feedback from the relevant ministries and agencies during the execution of the project.
The project is part of Becamex Binh Dinh Integrated Township and Industrial Park, which extends over 2,308 hectares of land, according to the prime minister's Decision No. 514/QD-TTg, dated May 8, 2019, approving the overall adjustment of the general construction plan for Nhon Hoi Economic Zone.
Becamex Binh Dinh Integrated Township and Industrial Park consists of two phases. Phase 1 covers roughly 1,425 hectares of industrial land, and residential and resettlement areas, while Phase 2 covers 883 hectares of land that will become an Urban, Services and Commercial area with a total investment of VND4 trillion.
The province has invested over VND1.5 trillion in developing infrastructure on the 13-kilometer-long Provincial Road 638 in the west to connect Becamex Binh Dinh Integrated Township and Industrial Park with Quy Nhon City.