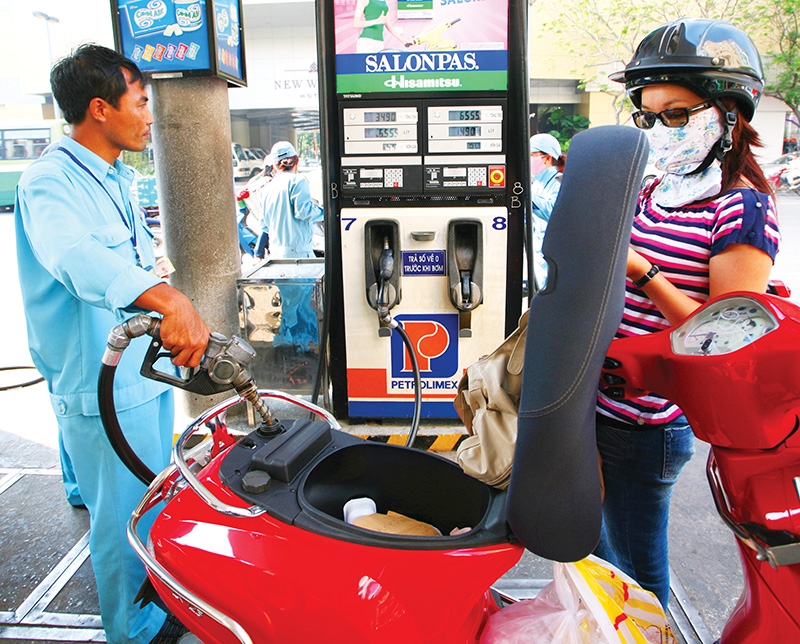 Rising petrol prices can harm consumers at the pumps as well as losses for businesses
As per the West Texas Intermediate oil pricing benchmark, the price per barrel decreased by 4.6 per cent to $59.70, the lowest price since December 16. Previously, shortly after skirmishes between Iran and the United States, the price peaked in April at $65.60 per barrel.
While a spiralling rise in the world's oil price is benefiting Vietnam's own crude oil exports, it brings more woes to the business community, especially logistics companies. Other affected areas include accommodation, fisheries, water supply, and warehousing services. Many businesses may fall in a dilemma due to the pressure of the rising petrol prices as transport fees increase proportionally and might cause losses for them.
According to the Vietnam Logistics Business Association, petrol currently accounts for about 35 per cent of the transport cost structure. Pham Dinh Thang, director of Decam Transportation and Services Co., Ltd., said that the freight charge calculations will change by 3-4 per cent if the petrol price increases or decreases by 10 per cent.
A representative from Singapore-invested Indo Trans Logistics Corporation said that each month, the company has to spend about VND3 billion ($130,000) on petrol to fuel its container trucks.
Maruichi Sun Steel JSC (SUNSCO), the first steel company in Vietnam that was fully invested by the Japanese, is also using logistics services as the company imports steel from their partners JFE from Japan and Posco from South Korea. Hoang Manh Hung, SUNSCO chief accountant told VIR, "the company has to set aside $540,000 for the ups and downs of petrol prices."
Binh Son Refining and Petrochemical JSC (BSR) set a plan of reaching after-tax profit of VND1.3 trillion ($56 million) in 2020, a decrease of 41.4 per cent compared to 2019, which is mainly caused by the strong changes of the price of petrol.
Bui Minh Tien, BSR general director, told VIR, "The global oil market has a significant impact on the production and business activities of BSR. The price of crude oil and products fluctuated abnormally in 2019."
In 2020, BSR's parent group PetroVietnam assigned BSR to focus on ensuring the operation of Dung Quat Oil Refinery in the central province of Quang Ngai and to shorten the overall maintenance time to increase the operational efficiency of the plant. In addition, BSR will prioritise the upgrading and expansion of the refinery.
In 2019 BSR imported 7.45 million barrels of crude oil, three million barrels of which came from the US. The conflict brewing with Iran poses a high possibility of global oil prices mounting, and with Vietnam's high reliance on imports – especially from the US – will affect the domestic oil market. According to the assessment of PetroVietnam, the price of oil will remain high after the OPEC and its allies curtailed its output by 1.2-1.7 million barrels a day until March. In this context, the stable operation of both Dung Quat and the Nghi Son oil refinery and petrochemical complex in the central province of Thanh Hoa will provide motivation for businesses. VIR
Tan Duong