Fishermen in Quang Nam Province have seen nearly 1,000 tons of dried squid become unsalable as Chinese traders have moved to importing the product through official channels instead of through border trade.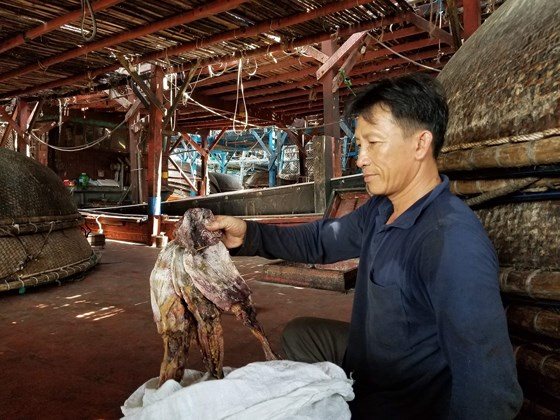 Quang Nam Province has seen nearly 1,000 tons of dried squid unsalable as China has imposed stricter import rules - PHOTO: SGGPO
Ngo Tan, deputy director of the Department of Agriculture and Rural Development, noted that Nui Thanh District's authorities had reported the situation to the provincial government, complaining that many fishing boat owners could not sell their dried squid to Chinese traders as traditional buyers.
Due to China's strict new import regulations on origin and quality, local fishermen agreed to lower their selling prices but still failed to sell their product.
In Nui Thanh District, the volume of unsalable dried squid has risen to some 930 tons, including 800 tons left on fishing boats and 130 tons in storage.
The district's squid fishing boats support nearly 2,000 workers. Each boat can harvest some 20-30 tons of dried squid on each trip.
Currently, China requires that seafood imports, including Vietnamese squid, come through official channels. To ship the product to China, exporters must present certificates of origin or stamps to customs officers, Tan said.
"We have asked the related agencies to calculate the volume of unsalable squid and cooperate with the Department of Industry and Trade to find a solution. The province will also petition for help from the agricultural and trade ministries to meet China's import regulations," the official added. SGT

MPM Investments Pte Ltd, a subsidiary of Japan's Mitsui & Co Ltd, has acquired 60 million shares in Minh Phu Seafood Joint Stock Company (MPC) to raise its stake in the Vietnamese shrimp processor to 35.1 percent.  

Vietnam's seafood exports to the other 10 members of the CPTPP have increased sharply since the agreement took effect earlier this year, according to the Ministry of Agriculture and Rural Development.