The Vietnamese stock market's valuation is equivalent to 18.2 times 2021's profit and 14.3 times 2022's profit forecast, said Fiin Trade, showing that the profit prospects for 2021 are reflected in share prices.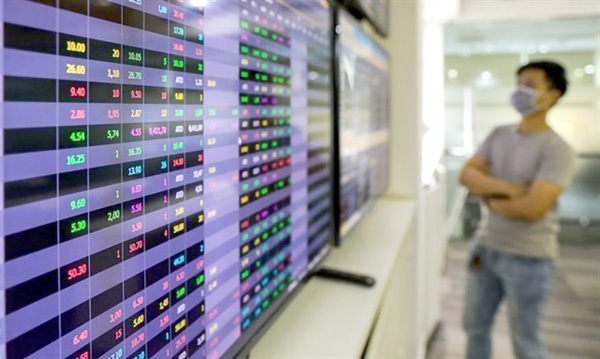 A man watching a stock trading board on a screen. VNA/VNS Photo
Statistics from Fiin Trade showed that as of November 7, a total of 897 enterprises and banks, accounting for 94.5 per cent of market capitalisation, officially released or have announced business results for the third quarter.
The list includes 826 enterprises, accounting for 93.1 per cent of the non-financial sector, 27 banks, accounting for 23.4 per cent of total market capitalisation, and 44 securities, insurance and other financial companies.
The third quarter profit after tax of these companies on average increased by 14.7 per cent year-on-year. However, the growth slowed down compared to the first and second quarters of 2021.
In the banking group, profit in the third quarter jumped by 19 per cent over the year, but was down nearly 16 per cent compared to the previous quarter, Fiin Trade said. Meanwhile, it was less positive in the enterprise group as it faced the negative impact of the COVID-19 pandemic, resulting in a rise of only 7.6 per cent year-on-year in profit after tax. Compared to the second quarter of 2021, profit declined nearly 24 per cent.
The profit growth mainly came from businesses that benefit from surges in commodity prices and sudden high demand during the pandemic. According to statistics, the best growth in profit is the steel group (170 per cent), followed by residential real estate (28 per cent), and office for lease (4.2 per cent). And even though the public investment group was expected to benefit from the pandemic, it witnessed a fall over the same period last year. 
The boom of global commodity prices also supported sectors including fertilisers, wood, chemicals, rubber or plastic. On the contrary, as Vietnamese coal prices are not vulnerable to international prices, profit of coal producers still slid nearly 81 per cent over last year. 
Up to three of five industries related to highly defensive products that maintained good profit growth in the third quarter were electricity (65 per cent), information technology (19 per cent) and pharmaceuticals (5 per cent), while the water and telecommunications industry recorded negative growth compared to the third quarter of 2020. In addition, the improvement in demand also supported the profit growth of five of seven consumer goods industries in pandemic hotspots.
In the first nine months of 2021, the whole market's profit after tax rose 56.3 per cent over last year. Of which, the banking sector's profit after tax increased by nearly 445 per cent and the business sector's climbed more than 60 per cent, completing about 86 per cent of the 2021 plan.
Fiin Trade estimated that the whole year's profit after tax of 897 listed companies and banks might rise by at least 38 per cent, on the assumption that listed companies would maintain profit after tax equivalent to that of the fourth quarter of 2020. This is a cautious forecast as some industries are expected to recover strongly thanks to higher demand during the period of 'living with COVID-19'.
Source: Vietnam News
Vietnam's economy remains heavily dependent on banks' capital mobilization, whereas credit risks are always lurking, especially during times of economic crisis, as is the case now.

The Vietnamese stock market has been rising to historical levels in terms of points and liquidity, still has huge growth potential and could even be at the beginning of a multi-decade surge, according to investment fund VinaCapital.