Vietnam's manufacturers and service providers alike are awakening to the immense gains from research and development, and cutting-edge technology which they can use to either comprehensively restructure their operations.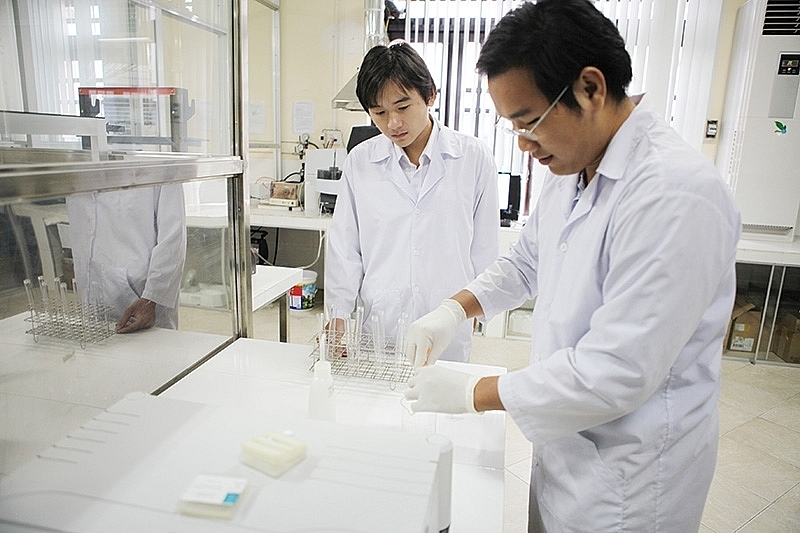 There are tremendous gains waiting for enterprises just a little way down the road of innovation
Realising the huge demand for cutting-edge technology and research and development (R&D) to improve most manufacturing and business activities, Vietnamese conglomerate Vingroup emerged as the first private business to set up its own artificial intelligence (AI) research institute, VinAI Research.
VinAI Research is managed by Vingroup's software arm VinTech, which specialises in developing AI products, software programmes, and new-generation materials, and is headed by Dr Bui Hai Hung, one of the world's leading AI researchers and a staff research scientist for Google's DeepMind AI project.
VinAI Research is tasked with studying fundamental scientific issues in AI that involve machine learning, deep learning, and the application of algorithms in a variety of areas, such as processing and understanding images, videos, languages, human voice, and user interactions.
VinAI Research will enable Vingroup to provide consultancy and technology transfer to local corporations and partners, as well as realising its vision of becoming a global technology power, following the establishment of its VinTech, Big Data Institute, Innovation Foundation, as well as Vantix, VinCSS, HMS, and Vinsoftware.
Of these, Vingroup's Big Data Institute has already launched a $4.5 million genome-mapping project aimed at producing the first complete sequences of the Vietnamese genome – the largest of its kind across Southeast Asia.
Meanwhile, VinTech plans to build a global network of offices, with the first launched in Daegu city of South Korea in March, and two more in Japan and the US, to research and apply Internet of Things (IoT) technologies, AI, robotics, smart manufacturing plants, as well as develop products and solutions for vehicles and transportation.
Assessing Vingroup's moves, Dang Quang Vinh, vice head of the Department of Business Environment and Competitiveness at the Central Institute for Economic Management (CIEM), said that corporations and conglomerates are pouring more and more capital into technology to establish a foundation for future development and take the lead.
"Vingroup has many factors for success, including skilled human resources, funds, seven eco-systems for hi-tech application (VinFast – automobile, VinEco – agricultural products, Vinhomes – real estate, VinCommerce – retail chain, VinSchool – education, VinPearl – resorts and villas, and VinMec – international hospital). These will facilitate R&D activities, as well as apply new technology like IoT, AI, blockchain, and big data in practice," Vinh added.
In addition to Vingroup, one of the leading companies in manufacturing and supplying quartz-based engineered stones, Phenikaa Group, also pours dozens of millions of dollars into R&D activities every year and considers it an essential task for the group.
"R&D is one of the compulsory conditions for the inclusive development and sustainable growth of a corporation. Without R&D, the successes of a business simply cannot be sustainable. However, businesses need a clear vision and long-term funds – as well as the necessary human resources – to improve the efficiency of their R&D activities," Ho Xuan Nang, chairman of Phenikaa Group, told VIR.
Indeed, Phenikaa spends around 1-2 per cent of the group's total revenue on R&D. It operates four R&D centres, three scientific research institutes, one university, and has established the VND500 billion ($21.7 million) Fund for Science and Technology. These aim to form a comprehensive eco-system for adopting technology, innovation, and ensuring the long-term sustainable development of the group.
Digitalising businesses
In the context of the Fourth Industrial Revolution, private enterprises are applying high technology and AI solutions across numerous sectors, and they are considered an effective solution to help private enterprises increase benefits for themselves and convenience for their customers.
AI applications have been developing well in Vietnam. AI is being used in apps such as face-identification technology, smartphone chatbots, self-propelling vehicles, and nanorobots, both in the service and the processing and manufacturing sectors.
In the service sector, for example, in November 2018, TPBank adopted the AI application called T'Aio on its Facebook fanpage to serve its digital banking customers. It was the first bank to use AI to improve service quality and serve customers 24/7.
T'Aio's response speed is less than five seconds. If the available answers input into the system are insufficient, T'Aio will connect customers with a consultant and automatically record new questions and answers for future use. It can answer questions related to payment accounts, savings accounts, bank cards, as well as eBank and LiveBank.
In early 2017, Prudential Vietnam also introduced PruBot – Chatbot, an AI-driven chatbot for customer service.
Developed on the popular Facebook Messenger platform, PruBot can provide 24/7 customer support as well as answer customers' queries on insurance products and services as well as promotions.
It also helps customers schedule appointments with insurance specialists and receive feedback from customers, and transfer it to the general data processing centre.
Meanwhile, in the processing and manufacturing sector, with the exception of leading private corporations, the remaining part, especially small- and medium-sized enterprises, are still only beginning to approach technology products.
In addition to AI, automatisation and robotisation have also been taking manufacturing lines by storm, with Truong Hai Auto Corporation (THACO) and Toyota Motor Vietnam as prime examples of corporations paying attention to improving technology and upgrading manufacturing lines, although they have yet to set up a separate institute for the purpose like VinAI Research.
In the middle of last year, THACO inaugurated the most modern automobile manufacturing plant in Southeast Asia, integrating cutting-edge and automated solutions and hundreds of robots.
Vinh from CIEM told VIR that there has been a gap between service enterprises and processing and manufacturing enterprises. Notably, processing and manufacturing enterprises would need to make significant investments to either replace their existing machinery or add more modern machines. Meanwhile, services enterprises only need to buy apps, which takes far less capital.
"In addition, processing and manufacturing enterprises do not have much knowledge about AI and lack opportunities to observe how AI is ­applied throughout the ­manufacturing process to ­improve the quality and ­quantity of output. Also, only a few enterprises understand that to apply AI, it is not ­necessary to change entire manufacturing lines – they could enjoy massive benefits from applying AI solutions in the manufacturing process at a far smaller price tag than they think," Vinh said.
"Instead of comprehensively applying AI throughout the manufacturing process, ­enterprises should invest part by part. At first, they could apply AI for marketing where it can suggest potential ­customers. Besides, they can apply AI in the customer ­service department to help ­categorise customer feedback and then suggest available ­answers. These investments will help enterprises save costs and human resources," Vinh added.
Huge prospective benefits
Over the next decade, ­innovations in digital technology will present vast opportunities for Vietnam to boost productivity and prosperity. The widespread adoption of existing technologies, coupled with advances in the use of ­industry 4.0 technologies – IoT, AI, 3D printing, advanced robotics, and wearables – has the potential to transform ­business capabilities.
Industries that will heavily depend on AI and machine learning are expected to stride forward as technology ­continues to permeate work and personal lives. Such ­industries include e-­commerce, online media and entertainment, and online bookings, which are expected to contribute to the ASEAN's digital economy, reaching 6 per cent of the bloc's GDP by 2025, according to a report from Google and Temasek ­released last November.
The report also estimated revenue from the ride-hailing, tourism, advertisement, and online gaming sectors at $3 billion in 2015, which ­rose to $9 billion in 2018, and is forecast to hit $30 billion by 2025 – offering plentiful opportunities to ­Vietnamese firms willing to take the first step. VIR