Agricultural businesses are amplifying investment to make use of opportunities provided by the EU-Vietnam Free Trade Agreement, which promises to increase Vietnam's export of agricultural products.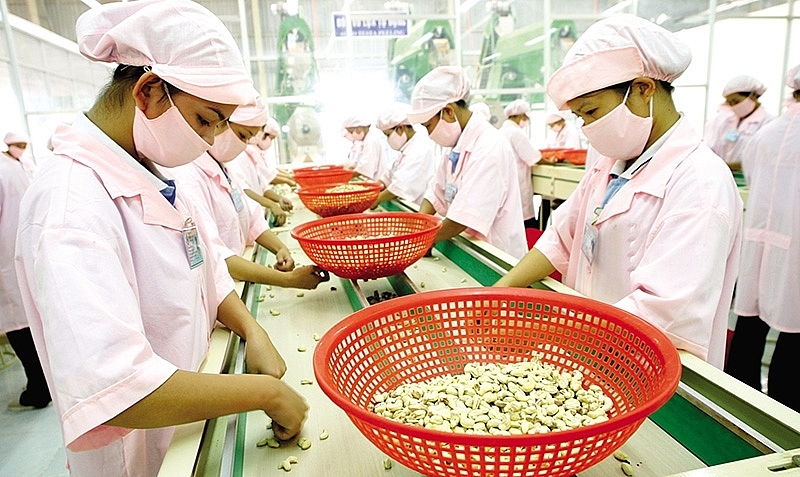 A vast array of companies are getting involved with foreign markets, especially Europe

With years of experience in exporting produce to the EU, Phan Van Thuong, director of G.O.C Food Processing Export JSC, a private company located in the northern province of Bac Giang, said that his company is investing a large amount of money in expanding its operations. Over the years, the company's export turnover of foods like pineapples, baby cucumbers, and asparagus to the EU has seen rapid growth.
"Our company once had to refuse an order of 35 containers to Germany, and was able to accept 20 instead, because we didn't have enough material," Thuong said.
According to him, since the EU-Vietnam Free Trade Agreement (EVFTA) was signed in late June, some EU companies have contacted his company seeking co-operation. "They're interested in typical Vietnamese products," he said.
In another case, at the Nafoods factory in the Mekong Delta province of Long An, hundreds of workers are getting ready for the expansion of the site and processing facilities. This chain represents part of an $8 million investment made by the International Finance Corporation (IFC). In 2019, Nafoods Group built a plant in the Central Highlands region for packing fresh fruit. With the IFC's support, the company has also developed a new field of fruit tree seedlings, thereby ensuring productivity and quality.
This development will ensure 150 extra full-time jobs in Nafoods factories, and the supply chain will be swelled by the addition of 11,500 more farmers.
Nguyen Manh Hung, chairman of Nafoods Group said, "We are trying to increase the value of our products by applying safe and sustainable agricultural practices and improving production facilities, so that our products can meet the requirements of high value export markets, including the EU."
Meanwhile, Nguyen Ngoc Luan, director of Lam San Agricultural Cooperative in the southern province of Dong Nai, is also preparing a budget for his co-operative's expansion. "Every year we export 1,000 tonnes of pepper to Europe," said Luan. "This year the amount has increased 1.5 times and the price is 20 per cent higher than other markets. We need more material planting areas and processing machines."
The domestic pepper sector is also in an upbeat mood. Nguyen Nam Hai, chairman of the Vietnam Pepper Association, said that Vietnam's pepper export turnover to the EU is about 40,000 tonnes per year, meeting 53 per cent of the market demand. "As well as pepper, many other Vietnamese agricultural products are gaining a foothold in EU countries," he said.
Data from the Ministry of Agriculture and Rural Development (MARD) shows that the EU is currently one of Vietnam's three largest agricultural produce import markets. In the first 11 months of 2019, exports to the region account for over 12 per cent of Vietnam's entire agricultural exports.
However, Vietnam's agricultural export market share to the EU accounts for only 2 per cent of the bloc's total imports, while the EU is the world's second-largest import market, with an annual total import value of about $2.3 trillion. Therefore the potential for Vietnam's agricultural products exported to this market is still huge.
According to Tran Tuan Anh, Minister of Trade and Industry, the EVFTA, expected to take effect in 2020, represents a big opportunity for Vietnam's agriculture industry. "The EVFTA could help Vietnam's export turnover to the EU increase by up to 45 per cent by 2030," he said.
However, Do Ha Nam, vice chairman of the Vietnam Coffee and Cocoa Association warned that there are challenges ahead for the Vietnamese coffee industry in particular, especially in terms of food safety and quality. "We must strictly implement regulations on technical barriers as well as food hygiene," he stated.
Meanwhile, Le Thanh Hoa, deputy director of the MARD's Agro-Processing and Market Development Department, said that the EU has set a maximum residue limit for food products. "For fresh fruit and vegetables, businesses must strictly comply with maximum residue limit regulations and prevent bacterial contamination, which are prerequisites for entering the EU market," said Hoa.
Thuong from G.O.C Food Processing Export said that the EU has a long list of banned chemicals, which is a further barrier for Vietnamese agricultural products. "However, the Vietnamese agricultural sector must change to satisfy the requirements of the import market in the context of international integration."
According to Thuong, his company has worked with some more material areas, supporting them and ensuring that the farming process is able to produce goods meeting EU requirements.VIR
Phuong Hao

The European Union and Vietnam are completing procedures related to the EVFTA and expect to ratify the deal next year, opening up new opportunities for both sides, according to Giorgio Aliberti, new ambassador of the EU to Vietnam.  

The need for laborers is expected to become more serious when the EU-Vietnam FTA (EVFTA) takes effect.