Vietnamese airlines are having a hard time mitigating the impact of the coronavirus outbreak which is threatening to erase the nascent air-travel boom in the country.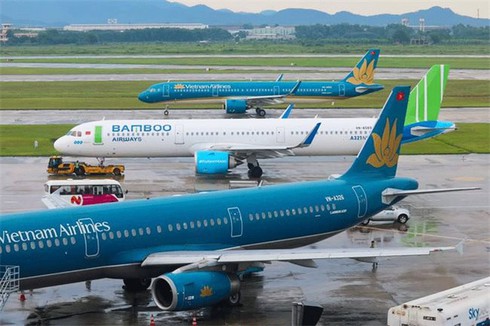 Vietnam Airlines and Bamboo Airways planes are parked at a local airport
Upon his return to Sydney, the nephew of the writer of this article sent a message saying "Everything as usual" on the crowded Jetstar flight from HCMC to Sydney. The direct flight was on time, and few passengers but no flight attendants donned face masks. 
This Australian low-cost carrier, which operates flights between Australian and Vietnamese cities, is operational as scheduled. But for Vietnamese carriers, it is a different story.
Local airlines are expected to sustain VND25 trillion in lost revenue this year due to the coronavirus outbreak, instead of the VND10 trillion announced half a month ago, according to the Civil Aviation Authority of Vietnam (CAAV).
Air carriers are scrambling to minimize the damage caused by the virus, which is linked to a disease called Covid-19, but things have turned out to be tough as the coronavirus is spreading beyond China, where the virus was first detected.
Vietnam Airlines said that it was planning to lease out a number of grounded aircraft but the plan has ground to a halt since the virus has hit multiple European countries, sending the aviation industry there into a tailspin.
The national flag carrier has lowered ticket prices in the hope of taking back customers, of whom many are afraid of traveling by air due to fears of being infected with the coronavirus at airports or on aircraft. 
The carrier's promotion for services between Hanoi and HCM City lasts until the end of March. If you fly before 6 a.m. and after 9:00 p.m., a one-way ticket may cost you a mere VND589,000, including taxes and fees.  For other departure times, the price is VND615,000 or above.
To stimulate travel demand, Bamboo Airlines, a unit of FLC Group, offers package deals for couples and families that want to fly from Hanoi or HCMC to other cities such as Quy Nhon. The price starts from VND5.9 million for the return ticket plus two nights at a FLC hotel or resort.
Vietjet has launched a promotional program for its new direct services to New Delhi and Mumbai and its existing direct flights to India with a one-way ticket starting from US$30. Flying with Jetstar Pacific, another low-cost carrier, others fees for services like baggage check or seat selection should be added to airfares. SGT

The initial loss caused by the suspension of flights to and from China for Vietnam's airlines could be up to VND10 trillion.

Flying an empty aircraft for the second time in one week, Hoang, a captain working for a Vietnamese airline, has heard that the airline is incurring big losses because of nCoV.