The Airports Corporation of Vietnam (ACV) has completed paying a cash dividend worth nearly VND2 trillion (US$86 million) for 2018.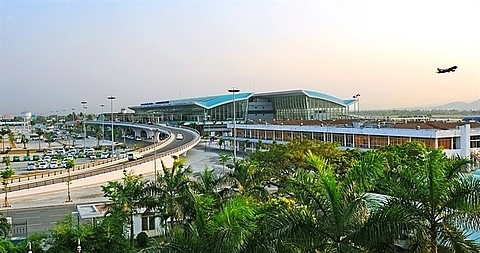 The view of the Da Nang International Airport in Da Nang.-Photo vietnamairport.vn
The dividend payout rate was 9 per cent. Every shareholder received VND900 for each share they have.
With nearly 2.2 billion shares traded on the Unlisted Public Company Market (UPCoM), the dividend payout was worth VND1.96 trillion.
The State Capital Management Committee holds the biggest stake of 95.4 per cent at ACV. It received nearly VND1.87 trillion from the company.
In 2018, ACV posted total revenue of VND17.77 trillion, up 19 per cent on-year, and VND6 trillion in post-tax profit, up 44 per cent on-year.
The company hopes to raise the earnings figures by 7 per cent and 9 per cent on-year, respectively, to VND19 trillion and VND8.2 trillion.
From January to September, ACV earned VND13.5 trillion in revenue and VND5.9 trillion in pre-tax profit.
ACV's shares (UPCoM: ACV) ended Wednesday flat at VND74,900 per share.
The company runs 22 airports across the country, including Noi Bai International Airport, Tan Son Nhat International Airport and Da Nang International Airport. VNA

The Ministry of Planning and Investment (MPI) has submitted to the Prime Minister a plan to assign the Airports Corporation of Vietnam (ACV) to develop the T3 terminal at Tan Son Nhat Airport.

International financiers may have no room to join Long Thanh International Airport project, with the lack of a government loan guarantee creating a major obstacle for would-be investor Airports Corporation of Vietnam to ensure bankability.