South Korea's Alliex Holdings plans to invest US$721 million in point-of-sale (POS) infrastructure in Viet Nam in the next five years.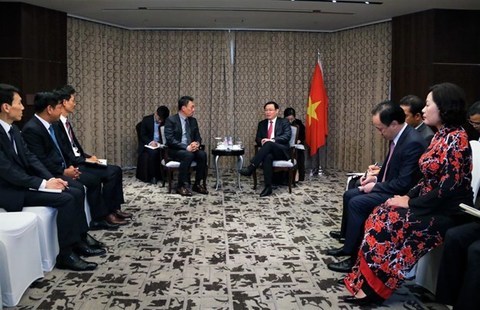 Deputy Prime Minister Vuong Dinh Hue and CEO of Alliex Holdings Park Byounggu discuss non-cash payment solutions at the meeting in South Korea.
The news was released at a meeting between Deputy Prime Minister Vuong Dinh Hue and Alliex Holdings leaders during his working visit to South Korea, which ended on Wednesday.
Hue said the rate of non-cash payment in Viet Nam is low compared to South Korea, where about 80 per cent of payments are made without cash.
"The Government of Viet Nam is currently implementing a non-cash payment development project in which the key promotion solution is to standardise payment via QR code and shared POS infrastructure," Hue said.
He said the Government has directed the State Bank of Viet Nam (SBV) to develop non-cash payment and a shared POS infrastructure.
He also proposed Alliex Holdings continue working with the SBV and the Government Office to build a roadmap for shared POS development and report back to the Prime Minister.
CEO of Alliex Holdings Park Byounggun thanked the Deputy Prime Minister and Vietnamese authorities for supporting and facilitating Alliex's investment in a shared POS infrastructure in Viet Nam.
He said that according to the current non-cash payment policy of the Vietnamese Government, Alliex will make its best effort to contribute to Viet Nam's economic growth through the development of the payment sector.
He shared his experience in the Korean market, saying that to promote non-cash payments, changing consumer habits and the Government's support policies are particularly important. Therefore, Alliex is willing to work closely with the Vietnamese Government by sharing technical documents and policies of the Korean Government.
Deputy Prime Minister Hue said Viet Nam will work to improve the business and investment environment and set up a new strategy to proactively attract foreign direct investment, prioritising environmentally friendly high-tech fields that are ready to connect with domestic businesses.
Hue also expressed his intention to strengthen the Government's support, such as supplementing Viet Nam's legal regulations and redoubling public relations activities to attract investment. — VNS