The group was found to have complied with the country's existing laws and regulation on product origin.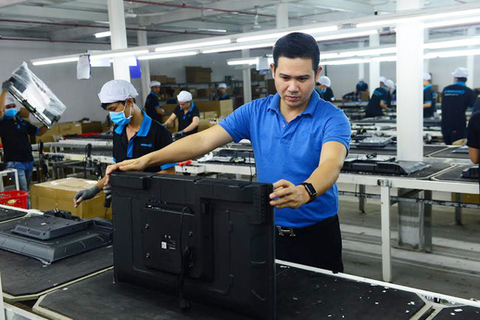 Asanzo's CEO Pham Van Tam inspect a TV screen at one of the group's factories. Photo vietnamnet.vn
Asanzo Group did not commit origin fraud when it slapped the 'Made in Vietnam' label on its products, said a task force from the Vietnam Chamber of Commerce and Industry (VCCI) yesterday.
The group was found to have complied with the country's existing laws and regulation on product origin, said Vu Kim Hanh, head of the VCCI task force.
They concluded Asanzo products were correctly labelled 'Made in Vietnam' because they were assembled in Viet Nam with some parts imported from outside the country.
The task force did not make any comment on the quality of the products.
As for the allegation Asanzo may have imported goods from China but claimed them to be of Vietnamese origin when sold to domestic consumers, VCCI advised the group to provide agencies with concrete evidence and written reports to ensure their rights and interests are protected.
Local media in June reported Asanzo had set up operations to import parts from China for assembly in Viet Nam. Their workers then allegedly removed the 'Made in China' stamps, assembled them into finished products and labelled them 'Made in Vietnam'.
The group's CEO Pham Van Tam denied the accusation on June 23, saying 70 per cent of the products' parts came from China and other countries as Viet Nam was unable to produce them. His group's is a common practice employed by many other companies.
The market backlash has been devastating for the group with major retailers taking their goods off shelves and consumers calling for a boycott of the brand.
Established in 2013, Asanzo Viet Nam sells mobile phones and home appliances such as air conditioners, microwaves, cookers and blenders, with TVs its key product line. — VNS

Asanzo, a 'rising star' in the electronics industry with revenue of VND6 trillion in 2018 and annual growth rate of 44 percent per annum, has been suspected of committing fraud by declaring that its products are made in Vietnam.

Given the varying criteria and rules on origins, it is possible that local electronics producer Asanzo Vietnam had legally identified its products as "Made in Vietnam," said lawyer Tran Ngoc Trung from law firm Baker & Mckenzie Vietnam.