Local banks may increase their pre-tax profits by 22.5 per cent on-year in 2020, SSI Securities Corporation's research unit has forecast.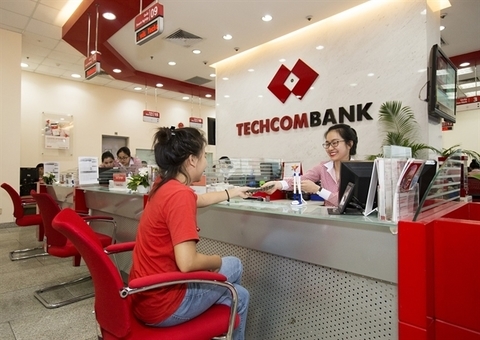 A Techcombank office. The bank is among four local lenders that are forecast to record higher profit growth in 2020. — Photo techcombank.com.vn
Vietcombank, Bank for Investment and Development of Vietnam (BIDV), VPBank and Techcombank may record the highest profit growth rates, according to SSI Research.
Profit growth of the banking sector in 2019 was estimated at 23 per cent.
Banks will see their profits increase, as some of them, such as BIDV and VPBank, will complete settling the bonds they sold to the Vietnam Asset Management Corporation (VAMC).
Others will improve earnings in their core divisions, raise revenues from bancassurance and transaction fees.
Credit growth is estimated at 13-13.5 per cent in 2020 as financial and fiscal policies are being tightened and the corporate bond market is growing strongly.
A number of large-cap companies have turned to issuing corporate bonds instead of borrowing from banks and a lot of individual investors are looking for opportunities in this market.
At Techcombank Securities (TCBS), about VND39.5 trillion (US$1.7 billion) worth of corporate bonds was sold to individual investors in the January-September period. Securities firms, including foreign players, are expanding their operations in corporate bond brokerage.
There is room for State-run banks such as BIDV, Vietinbank and Vietcombank to increase their stakes in retail banking as the division accounts for a small part of their business operation.
The percentage of retail lending in total lending at 12 listed banks increased to 40 per cent at the end of September 2019 from a total of 32.2 per cent in 2017 and 35.5 per cent in 2018.
In addition, as banks are trying to comply with Basel II standards, their total cost will increase. But those that have met the standards will gain a comparative advantage in the future.
Basel II-compliant banks had an average credit growth rate of 13.8 per cent, higher than the sector's average of 9.54 per cent as of the end of the third quarter in 2019.
Those banks will be given more room for credit growth and their market shares will increase thanks to the owner equity capital and healthier financial status, SSI Research said. — VNS

To keep up with the ever-evolving technology, banks have to be well-positioned to engage with the new wave of digitally empowered customers.

Commercial banks' finance reports show that bad debts have been increasing again. Bad debt will be one of big problems for banks this year.