Vietnam is set for wind energy expansion, with over a gigawatt expected to be installed by 2021.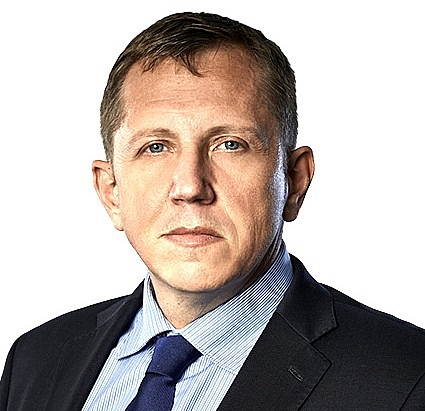 Ben Backwell, CEO of the Global Wind Energy Council
Ben Backwell, CEO of the Global Wind Energy Council, outlined to VIR the key tools in promoting wind energy in the Vietnamese market.
In the Global Wind Energy Council's (GWEC) report, it noted that Vietnam's 3,000-kilometre coastline has some of the best resources for both onshore and offshore wind, and it is the only country in the region that has developed offshore wind. What can the Vietnamese government do in order for the sector to reach its potential?
Southeast Asia has all the fundamentals in place to become the next big wind power market. With a rising population, growing GDP, ever-increasing power demand, and concerns over energy security, wind power is helping to meet the region's growing energy demand in a way that is low carbon, cost-efficient, and bringing local economic benefits.
The GWEC Market Intelligence's new report shows that Vietnam is the country with one of the highest potentials in the region for both onshore and offshore wind. Wind is clean, competitive 21st century technology that represents the option for quickly replacing coal as mainstream generation sources, and powering repaid economic growth and rising living standards.
There are three main issues Vietnam should address, including long-term policy stability, smart grid connection, and bankable financial power purchase agreements (PPAs).
The ambitions and the potential for wind energy in Vietnam are huge, but there is still little development in terms of concrete projects. Meanwhile, many international parties are interested in participating in the sector in Vietnam – countries like Denmark, Germany, the US, and the UK are already active in this country. Therefore, it is advised not to wait too long to take the first steps. Ideally, the aforementioned actions should be undertaken.
As mentioned, one of the bottleneck points for renewable power is unbankable PPAs. How can this be ­resolved?
To unlock growth, roadblocks such as permit issues and bankable PPAs need to be addressed. We know that the commitment of the Vietnamese government is in place through targets and feed-in tariffs (FiT), but the current Vietnamese set-up does not meet the standards of international financiers.
Local financing is not sufficiently in place to provide financing solutions for the required volume. Risk is driven by a lack of government guarantee, leading to deficient security of payment, although other support mechanisms such as tax incentives are in place.
Termination of a PPA, in combination with the use of Vietnamese laws in case of arbitration, makes the PPA non-bankable in the eyes of foreign investors.
In addition to this, limited regulations in case of curtailment round out the high-risk profile for the current PPAs.
The GWEC is currently working through efforts to finance a workshop for local and international financiers to discuss challenges and find the means to mitigation.
How are new technologies and trends increasing output and reducing costs for wind projects?
Increasing wind acts as a catalyst for investment and growth in hi-tech industries, as leading companies look to respond to the demand of their consumers and ensure a stable electricity price.
Modern wind turbines are increasingly cost-effective and more reliable, and have scaled up in size to multi-megawatt power ratings.
For example, GE's Haliade-X, the world's largest offshore wind turbine, is the latest in a line of turbine expansions that have mirrored the growth of the wind power industry itself.
Increases in the size of turbines come with a multitude of benefits, in particular helping drive down the cost of wind energy.
But new technology brings new challenges, such as maintenance and operation costs, construction and installation, and logistics, as well as human resources required to meet the higher demand.
Vietnam is planning to pilot the direct PPA model (DPPA) for renewable energy, which has drawn much interest from investors. Can this model accelerate renewable project financing in Vietnam?
The model is between an electricity producer and a corporate customer for power to be sold and delivered to the latter for its operation. It is aimed at encouraging development of renewable energy, and the mechanism will allow Vietnam to rapidly achieve its renewable energy goals by attracting private sector investment and meeting the needs of corporate leaders seeking to expand their operations.
For Vietnam, this is a good way to unlock investment in renewable energy. It helps ensure the feasibility of ventures, and encourages investment as some corporate buyers are attracted by corporate PPAs in emerging markets where they have facilities.
The DPPA model is surging around the world as a new model for renewable energy projects and like many other Asian markets.
The DPPA model refers to a PPA arrangement in which the power purchasers (off-takers) are private power consumers.
This represents a growing global trend whereby instead of buying electricity directly from the state utility offtaker, private businesses will purchase electricity under long-term PPAs directly from independent power developers (generators), as well as investing in power generation assets themselves. VIR
Thy Nguyet

UK based Enterprize Energy (EE) announced it had received a licence to conduct survey for a giant wind power farm offshore Ke Ga cape in the south central province of Binh Thuan.  
Local supporting policies together with global advanced technologies will help drive down input cost for wind power projects.