January-April total retail value grows at highest rate since 2015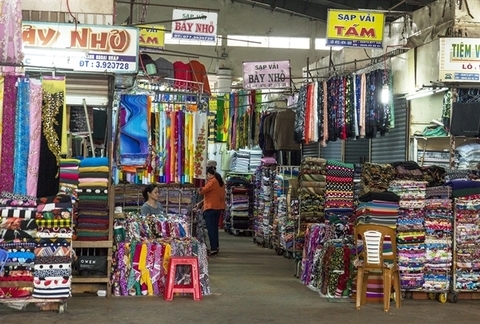 Kiosks selling fabric products at a market in Kien Giang Province.The retail sale value in January - April increased at the highest rate since 2015.
Goods and services trading continued its upward trend in the January-April period with the retail sale value increasing at the highest rate since 2015, according to the General Statistics Office (GSO).
Latest updates from the GSO showed that the total retail sale value of consumption goods and services in the first four months of this year was estimated at VND1.58 quadrillion (US$67 billion), representing a rise of 11.9 per cent over the same period last year. This was the highest rate of increase in the past five years, compared to 10.7 per cent in the same period of 2015, 10 per cent in 2016 and 2017 and 11.3 per cent in 2018.
In April alone, the retail sale value was VND400 trillion, up 2.3 per cent over the previous month.
Revenue from retail goods accounted for 76.8 per cent of the total retail sale value and increased by 13.2 per cent over the same period last year.
Goods which saw significant increases in retail sale value included food and foodstuffs, household appliances and garment products.
Provinces and cities which saw strong purchasing power for consumer goods were Tra Vinh (up 19.8 per cent), Phu Tho (up 17.9 per cent), Quang Nam (up 16.8 per cent), Binh Duong (up 16.4 per cent), Quang Ninh (up 15.4 per cent), Hai Phong (up 14.4 per cent), HCM City (up 13.5 per cent) and Ha Noi (up 13.1 per cent).
Revenue from accommodation and catering services totalled VND187.4 trillion, an increase of 9.2 per cent over the same period last year.
Tourism services recorded a revenue of VND14.9 trillion, up by 13.1 per cent.
Trà Vinh to switch to other crops on 7,400ha of low-yield rice fields
The Cửu Long (Mekong) Delta province of Trà Vinh plans to use 7,400ha of low-yield rice fields for growing other crops or fruits or for aquaculture farming this year.
The local Department of Agriculture and Rural Development is encouraging farmers to use 5,700ha to grow short-term crops like corn, sweet potato and peanut, 550ha for growing fruits, 240ha for growing coconuts and the rest for simultaneously farming rice and aquatic species.
In Trà Cú District, which is normally affected by saltwater intrusion in the dry season, rice yields are very low.
On more than 2,200ha of low-yield rice fields, the district will switch to short-term crops or breed snakehead fish, black tiger shrimp and white-legged shrimp this year.
Lê Hồng Phúc, chairman of the district People's Committee, said to help farmers to effectively restructure, the district is zoning concentrated growing areas based on market demand for various produce.
It is providing support to farmers to join co-operatives, build brand names and borrow on easy terms, he said.
It would teach them farming techniques to improve quality, reduce costs and improve incomes, he said.
The province has already helped make the switch on more than 16,000ha since 2014, according to the department.
Most of the new crops offer many times higher incomes than rice, it said.
Trà Vinh has more than 17,000ha of coastal sand dunes, the largest area in the Mekong Delta, mostly in Cầu Ngang, Duyên Hải, Trà Cú and Châu Thành districts and Duyên Hải Town.
Rice yields here are very low because of lack of water during the dry season.
Trần Văn Trôi, who has switched to growing two other crops along with just one rice crop each year on his 1.8ha rice field in Cầu Ngang District's Mỹ Long Bắc Commune, said he used to grow three rice crops annually and earn VNĐ40-50 million (US$1,170-2,140) each time.
But in winter-spring 2018-19, after growing water melon, he earned nearly VNĐ200 million ($8,590), he said.
He is now growing pumpkins and hopes to earn a similar amount, he said.
Võ Văn Thủy of Châu Thành District's Thanh Mỹ Commune said with encouragement from local authorities, he has switched to growing other crops on his rice field since 2015.
His income has tripled or quadrupled as a result, he said.
Phạm Minh Truyền, director of the province's Department of Agriculture and Rural Development, said the province has a large area of infertile rice fields because of lack of water and saltwater intrusion in the dry season.
It has encouraged farmers to restructure their crops to improve incomes and adapt to climate change, he said.
The province has adopted many policies to help farmers restructure their agricultural production like providing financial support for rice growers to switch to corn, developing agricultural co-operatives and applying good agricultural practice.
In 2017-18, it earmarked VNĐ46 billion ($1.97 million) to help farmers grow clean vegetables, improve fruit and coconut orchards, breed aquatic species, and switch to growing high-value crops on low-yield rice fields.
Ninh Thuận to link grape growing to sustainable practices
The south-central province of Ninh Thuận, the country's largest grape producer, plans to expand cultivation of grapes grown under Vietnamese Good Agricultural Practices (VietGap) and link tourism to sustainable development.
Grapes have long been a specialty of Ninh Thuận Province. Besides sweet grapes, wine grapes are also planted in the central coastal locality. However, supply has yet to meet domestic demand, according to farmer Lê Thị Tươi, who spoke during a seminar in Ninh Thuận Province last week.
The seminar was part of the Grape and Wine Festival that took place from April 26 to May 2.
The festival promotes local landscapes and local people's culture, and introduces local specialties to Vietnamese and foreign tourists, while offering opportunities for grape farmers, businesses and consumers to meet and seek partners.
With his 40-year experience in planting grapes, Nguyễn Văn Mọi, director of the Ba Mọi Grapes and Grapevines Company, has contributed to the brand name of wine grapes in Ninh Thuận Province. He grows both edible and wine grapes and has developed a closed chain from garden to table.
Besides Ba Mọi's firm, hundreds of local cooperatives have joined the supply chain of wine grapes. However, supply has not met local demand.
Ninh Thuận is capable of growing 8,000 hectares of grapes, but the current total area of grape cultivation is around 1,200 hectares, with only 5 percent being wine grapes. The province will expand the grape cultivation area to 2,000 ha in 2025 and 3,000 ha in 2030.
The province also plans to promote cultural values, famous landscapes and tourism products, and create a platform for tourism authorities and travel agents to meet investors.
Ninh Thuận has favourable conditions to develop tourism, which has been shown over the past five years, Moi said, adding that tourism revenue and the number of tourists have increased, particularly during weekends and holidays.
The province will continue to create a favourable investment environment, offering special land rental prices, preferential taxes and streamlined investment procedures, he said.
The province also plans to create a large field for planting grapes which is set to become a tourist attraction.
"Large fields will enable businesses to secure product outlets and make market forecasts. Large-scale production also enables quality control and transfer of technology," Mọi said.
The large-scale grape field model is being expanded this year. Each locality has its own model, but farmers in all areas will receive help to increase their productivity and find outlets.
During the recent Grape and Wine Festival, the wine grape is promoted with a view to boosting the production of grape and grape products in the province, including wine. The event drew 120,000 visitors, three times higher than the same time last year.
Ninh Thuận has a 105km coastline with many pristine and serene beaches, including Bình Tiên, Ninh Chữ and Cà Ná.
Its Vĩnh Hy Bay is one of the most beautiful bays in the country, and the Núi Chúa National Park is home to 1,500 plant species, 160 bird species and 60 mammal species.
The province, the driest and hottest region in the country, is well known for its white sandy beaches and vast gardens of grapes, onions and hot peppers.
Last year, Ninh Thuận welcomed 2.19 million tourists, a year-on-year increase of 15.3 per cent. Tourism turnover reached VNĐ1.05 trillion ($45 million), a year-on-year increase of 18.9 per cent.
The province has 145 accommodation facilities with a total of 3,100 rooms.
Leaders of local firms fined for stock market violations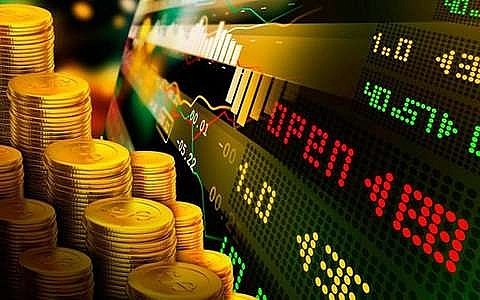 Many leaders of several other local companies will have to pay VND20-30 million ($870-1,300) in fines for administrative violations of stock market rules.
Several company leaders have been fined for not reporting stock transactions on time
The State Securities Commission (SSC) on April 26 issued a decision to impose a VND27.5 million ($1,195) fine on Nguyen Van Son, chairman of Bien Hoa Concrete JSC (code: BHC) for buying 259,465 BHC stocks, only half of the 500,000 stocks he had registered to buy in last September.
Previously, the SSC also fined Van Duc Tong, member of PV Drilling JSC's (code: PVD) management board for VND20 million ($870) for selling 20,000 PVD stocks on last October 4-5 without reporting to the SSC and the HSX.
In addition, Bui Thi Thu Ha, a major shareholder of Lilama 69-1 JSC (code: L61), on April 24 was fined for VND30 million ($1,304) for not reporting changing stock ownership rates. Specifically, on last August 2, Ha bought 20,000 L61 stocks, increasing her ownership from 980,969 to 1,000,869 (from 12 to 13.21 per cent).
Pham Thi Tuyet Mai, a shareholder of Development Investment Construction Hoi An JSC (code: DIH), was fined for VND31.25 million ($1,358) for a similar violation after raising her ownership by 5 per cent.
Accordingly, on last July 18, Mai bought 446,000 DIH stocks, increasing her ownership to 17.04 per cent.
Hoa Sen wallowing in debts
The revenue and profit of Hoa Sen Group (code: HSG) continues reducing sharply despite the closing of a lot of branches.
The financial statement of the second quarter of the company's fiscal year reported VND6.9 trillion ($300 million) in revenue and VND54 billion ($2.35 million) in pre-tax profit, down 10 and 53 per cent on-year, respectively.
The revenue and pre-tax profit accumulated during the first six months of the fiscal year were estimated at VND14.48 trillion ($629.56 million) and VND156 billion ($6.8 million), down 7.5 and 70 per cent on-year.
In the documents sent to shareholders, HSG's leaders explained the bad business results that the price of steel in the world and in the country is in constant flux. In fact, the gross profit margin in the first three months was 11.3 per cent, lower than the 13.5 per cent of the same period last year, so gross profit declined by 44 per cent, while revenue reduced by 10 per cent.
Hoa Sen has been facing so many difficulties due to its rapid expansion over the last years. During 2015-2017, HSG has extended its distribution network to numerous provinces, and raised its network to 491 branches by the end of 2018 from 150 at the end of 2015.
However, along with the expansion, HSG's debts have been increasing with every financial statement to end up at VND16 trillion ($695 million) at the end of 2018, from VND6.5 trillion ($282.6 million) at the end of 2015, with the majority (nearly 90 per cent) being bank loans.
HSG's revenue has also been rising in line with the scale-up. In 2014-2016, the group's annual revenue was only VND15-18 trillion ($652.2-782.6 million), and sharply jumped to VND23.6 trillion ($1.026 billion) in 2017 and VND34.6 trillion ($1.5 billion) in 2018. However, its profit decreased each year.
HSG has spent a lot of money on a bulky distribution network and corporate management, while financial costs have been increasing because of loans. Thereby, HSG's profit could not offset its expenses.
To overcome the difficulties, Hoa Sen has been restructuring its business activities. It has already stopped the operations of more than 100 branches for the first three months of the year.
Hoa Sen Group's board of managers has approved to take over 60 branches of Hoa Sen Investment Co., Ltd. across the southern provinces of Ninh Thuan, Lam Dong, Long An, Binh Duong, and Dong Nai. Thereby, the group will take over around 161 branches in total (including 101 ones handed over last year).
As of the end of March, the liabilities of HSG were VND3 trillion ($130.4 million) less than in last September, thanks to reducing inventory and changing distribution network, to VND13 trillion ($565.2 million), capturing 71 per cent of the group's charter capital. Despite these positive changes to overcome its debts, Hoa Sen seems a long way off from retaking its throne as the "king of steel."
MediaMart to be fined for violation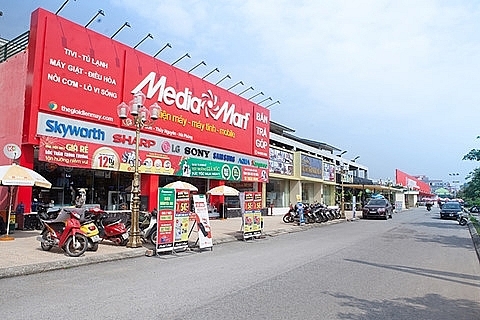 The MediaMart branch in Quang Ninh has just been isued a penalty of VND80 million ($3,500) for administrative violations, reported VN Investment Review.
The Quang Ninh People's Committee has just issued the decision to fine MediaMart Corporation's branch in the province for administrative violations after it put the building into operation without passing the pre-acceptance fire safety test.
Accordingly, MediaMart Corporation has been fined for VND80 million ($3,500) and was ordered to complete the pre-acceptance test for its supermarket at 849 Nguyen Van Cu Street, Hong Hai ward, Halong city.
There are around 108 points of sale in the MediaMart electronics network across North and Central Vietnam, with nine units in Quang Ninh province.
This electronics supermarket chain has opened nearly ten new stores in last January alone. Although the corporation is pouring a great deal into expanding its network, the chain reported very low profit margin. Its revenue in 2016-2017 was reported at VND5-5.2 trillion ($217-226 million) but pre-tax profit was estimated at only VND500 million ($21,700).
POR14 result causes difficulties to Hung Vuong Corporation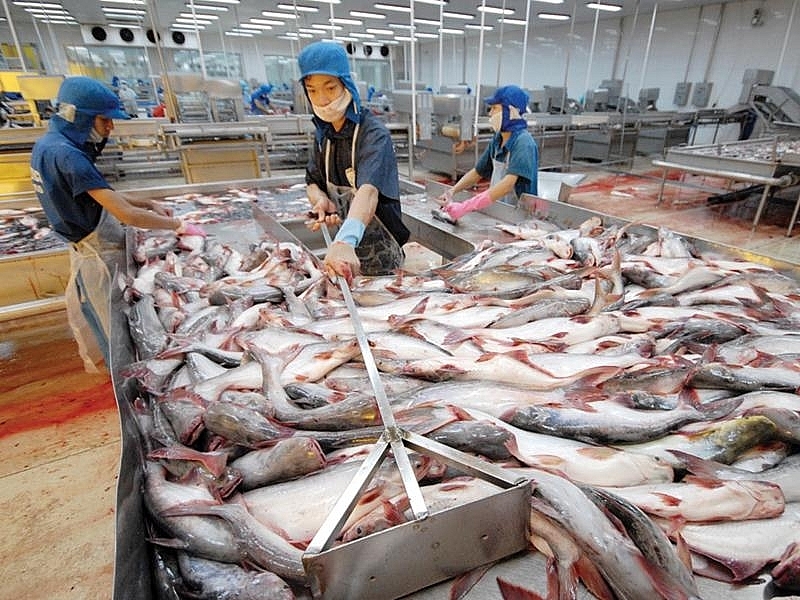 Hung Vuong Corporation (HVG on HSX) may fall on hard times after the US Department of Commerce (DOC) announced anti-dumping duties on Vietnamese tra and basa fish under its preliminary conclusion of the 14th period of review (POR14) for the period from August 1, 2016 to July 31, 2017.
According to the latest news from the Vietnam Association of Seafood Exporters and Producers (Vasep), the US DOC has announced the final anti-dumping duties of POR14 for HVG at $3.87 per kilogramme.
Previously, under the DOC's preliminary results published on September 10, 2018, HVG was to be applied 0 per cent anti-dumping tariff.
The bad news pushed HVG's stock down to only VND5,570 ($0.24), and liquidity on the stock market was about 830,000 units. HVG fell for four consecutive sessions, decreasing 31 per cent compared to the peak in the last three months (VND8,150 – $0.35 per share).
Prominent entrepreneurs planning to retireVietnam could face tra fish oversupplyTra fish exports to exceed $2bUS cuts anti-dumping taxes on Vietnamese catfishHung Vuong Corporation reports loss of $12 million in second quarter
Beside HVG, Nha Trang Seafood will still have to pay $1.37 per kilogramme in antidumping tax. The other four tra fish exporters are C.P Vietnam, Cuu Long Fish, Green Farms Seafood, and Vinh Quang Corp., with a tax rate of $1.37 per kilogramme, an increase of 0.96 cents compared to the preliminary tax rate.
The national export tax of $2.39 per kilogramme still applies.
According to VASEP, in February and March 2019, the value of Vietnam's tra fish exports to the US decreased by 22.8 and 44.4 per cent, respectively. Vietnam has dropped to the third position (after the EU) as the US' tra fish import markets with $71.16 million of export turnover, down 5 per cent compared to the same period in 2018, accounting for 15.1 per cent of the total tra fish export value in the first quarter of 2019.
Tra fish exports to the US may continue to decrease in the second quarter.
Speaking at the 2019 annual general shareholders' meeting (AGM), chairman Duong Ngoc Minhwas confident when talking about the company preparing for a long journey to "take the crown back."
Minh plans to retire from HVG in 2021, giving way for the new generation. HVG's chairman also predicted that the corporation would reach the revenue of VND20 trillion ($869.57 million) in 2020.
The unexpected blow from POR14 may be a throwback to HVG's ambitions and could cause further difficulties in repaying the looming debts that VIR previously reported HVG has accumulated.
Petrol trader seeks help to promote sluggish biofuel consumption
HCM City One-Member Limited Liability Oil & Gas Company (Saigon Petro) is seeking Ministry of Industry and Trade for support following low demand for E5 biofuel.
According to Saigon Petro, the average proportion of the firm's E5 biofuel out of the total petrol sales was 30.06% last year. However, the rate was just 25.58% in January this year, 22.74% in February and 19.76% in March.
The fall has been forecasted to continue in the coming time.
The company blamed the E5 slump use for the limited efficiency of activities to promote the biofuel by the government, localities as well as fuel traders.
Meanwhile, many people still doubt the quality of E5 petrol.
The price disparity between E5 and RON 95 is quite small at just VND1,530 per littre at present, but as a result, many petrol stations have stopped selling E5 biofuel.
Another reason is that the price stabilisation fund given to fuel traders with high sales of E5 remains modest, discouraging them from the sale of E5 biofuel.
To improve the situation, Saigon Petro proposed reducing the environmental tax for E5 biofuel and raising the price difference between E5 and RON 95 prices to some VND2,000-2,500 per littre to encourage fuel traders to sell this type of petrol.
In addition, programmes to promote E5 biofuel to the public should be strengthened.
Vietnam promotes tourism in Indonesia
A roadshow was held in Jakarta on May 3, aiming to promote the land, people, culture and tourism products of Vietnam to Indonesians. (Photo: hanoimoi.com.vn)
A roadshow was held in Jakarta on May 3, aiming to promote the land, people, culture and tourism products of Vietnam to Indonesians.
The event is also expected to connect Vietnamese and Indonesian travel companies.
In his opening remarks, Vietnamese Ambassador to Indonesia Pham Vinh Quang said since Vietnam and Indonesia established diplomatic ties in 1955, progress has been made in the bilateral ties.
In 2018, nearly 88,000 Indonesians visited Vietnam, up 8.5 percent year-on-year. However, the number has yet to match potential of both countries, the diplomat noted.
Nguyen Thi Thanh Huong, deputy head of the Vietnam National Administration of Tourism, said the roadshow is set to lure more Indonesian tourists to Vietnam.
Indonesia has been seen as a potential market for Vietnamese tourism, she said, adding that the number of Indonesian holidaymakers to Vietnam has increased sharply over the past time, hitting 36,500 in the first four months of this year, up 30 percent year-on-year.
Lai Quoc Cuong, President of the Vietnam Travel Group and Vice President of the Vietnam Society of Travel Agents, said the event has attracted the participation of many Indonesian travel companies.
After Indonesia, the roadshow is expected to come to the Philippines.
Hai Duong aims to harvest 40,000 tonnes of litchi in 2019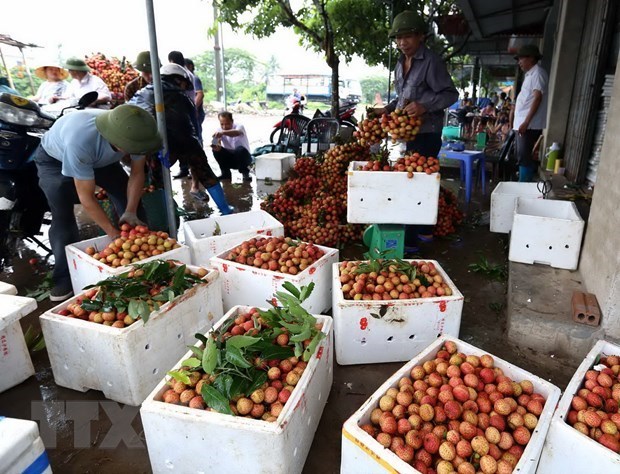 The Red River Delta province of Hai Duong is expected to harvest about 35,000-40,000 tonnes of litchi in 2019.
The locality is stepping up efforts in preparations for the export of litchi to China, which has demanded origin traceability of Vietnamese fresh fruits, including litchi.
According to Luong Thi Kiem, head of the provincial plant protection sub-department, as of April 2019, Hai Duong has 40 areas grown with litchi, longan, banana and watermelon, and two packaging facilities receiving codes accepted by China.
Other 115 packaging facilities and ten fruit-growing areas in the province are awaiting code grants and approval from China.
The provincial Department of Agriculture and Rural Development has issued detailed guidelines on the export of fresh fruits to China, which have been sent to the city and district people's committees and businesses in the locality.
It has asked relevant localities to instruct farmers to follow VietGAP standards as well as harvesting, package, transporting and labeling requirements.
According the Department of Agriculture and Rural Development, in 2018, Hai Duong had about 10,500 ha of litchi, mostly in Thanh Ha district and Chi Linh town, which yielded about 60,000 tonnes.
Hai Duong litchi received the geographical indication from the Ministry of Science and Technology's National Office of Intellectual Property in 2007. The local fruit was listed in the top 10 quality products in 2013 and 2014 and received the Gold Brand prize in 2015.
VN Government urged to remove visa bottlenecks
Visa hassles continue to hold back Vietnam tourism, blunting its competitive edge against neighboring nations, experts say.
Experts attending the ongoing Vietnam Private Sector Economic Forum urged the government to extend visa waiver policies, especially for high-spending tourists.
While Vietnam is the midst of a tourism boom with a record high of 15.5 million foreign arrivals in 2018, a year-on-year rise of 20 percent, the numbers remained lower than that of neighboring countries in the region.
Thailand (38 million), Malaysia (25 million), Singapore (18.5 million) and Indonesia (15.8 million) received more tourists than Vietnam, the forum heard.
Furthermore, Vietnam has not done a good enough job of cashing in on tourism.
A survey released last year at the Vietnam Travel and Tourism Summit revealed that a foreign tourist spent $96 a day on average in Vietnam in 2017, three times lower than in Singapore ($325), and well below that of the Philippines ($115), Indonesia ($132), Malaysia ($134), and Thailand ($163).
Vietnam tourism does not do well in terms of repeat visits by foreigners, industry insiders said, blaming this on unfriendly visa policies.
Vietnam currently offers visa exemption to 24 countries, compared to 61 by Thailand, 158 by Singapore, 155 by Malaysia and 169 by Indonesia. The competitiveness index of Vietnam in the category of visa requirements is very low at 116 out of 136 surveyed countries.
Kenneth Atkinson, executive chairman of Grant Thornton Vietnam, said at the forum that Thailand saw a significant number of foreign tourists returning to the country for repeat visits each year, but Vietnam is unable to achieve this.
He recommended that the Vietnamese government encourages tourists to stay longer in Vietnam by offering visa waivers to more countries, including developed economies like Australia, New Zealand and the Netherlands.
Nguyen Thi Huyen, a representative from Vietrantour, said at the forum that complicated visa procedures were one of the most important factors holding back the number of foreign arrivals to Vietnam.
Many Vietnamese tourism agencies agreed that the country should relax visa policies and simplify procedures to attract high-spending tourists from Japan, North America, Northern Europe, China and South Korea. The current 15-day visa exemption should be extended to 30 days, they said.
Truong Tan Son, a representative of Saigontourist, proposed a visa waiver policy of five to 10 years for a group of high-spending tourists and to those making frequent business trips to Vietnam.
However, Nguyen Lan Phuong, deputy head of consular department under the Ministry of Foreign Affairs, argued visa exemption was not a decisive factor affecting Vietnam's tourism industry.

He noted that according to a report from the Vietnam National Administration of Tourism, the growth rate of visitors from countries not exempt from visas like the U.S. and Canada was higher than from countries enjoying the visa exemption.
The extension of visa waiver takes into account several factors including the relationships between the two countries in terms of security and foreign affairs, as well as the need to guarantee the interests of Vietnamese citizens, Phuong said.
In addition, visitors who are typically big spenders from Europe or America do not enjoy significant incentives, forum speakers said.
With several Southeast Asian countries sharing similar characteristics including long coastlines, mountain scenery and affordable prices, foreign visitors can easily switch to other destinations that offer more convenient entry and exit procedures, they said.
Meanwhile, South Korea, Japan, China and other Southeast Asian nations who have long enjoyed preferential visa treatment from Vietnam typically make short trips and are not big spenders, they noted.
Hoang Nhan Chinh, head of the Tourism Advisory Board (TAB), said Vietnam should focus on attracting foreign visitors from Europe, the U.S., Australia and New Zealand who tend to travel longer and spend more on holidays.
The TAB has been proposing visa policy changes for many years so that the tourism industry can achieve its goal of welcoming 18.5 million visitors and earning $35 billion by 2020, he noted.
It has asked that the visa exemption period be increased to 30 days and that the rule about having to wait for 30 days after the last date of departure from Vietnam to enjoy the exemption again be removed.
TAB has also proposed that more countries are added to the visa exemption list, like Australia, New Zealand, Canada, the Netherlands, Switzerland and Belgium, and that citizens of more nationalities are allowed to apply for electronic visas.
It hopes by 2020, Vietnam will exempt visas for 60 countries and allow electronic visa applications for 80 countries.
Vietnamese tourism officials have admitted that the country has not done a good job of promoting itself abroad largely due to a lack of funds for advertising.
According to the Vietnam National Administration of Tourism, the annual budget for tourism promotion is only $2 million, which pales in comparison with its neighbors. That amount is about 2.9 percent of Thailand's tourism promotion budget, 2.5 percent of Singapore's and 1.9 percent of Malaysia's.
The Vietnam Private Sector Economic Forum 2019, the largest of its kind in the country this year, is jointly organized by the government and the Central Economic Commission, in collaboration with VnExpress and the IEC Group.
How power bills can kill
It is like a deafening cry when local media has an extensive coverage of abnormally higher power bills for this past month. Complaints by consumers amount to tens of thousands, with many saying their power bills for April double or triple the previous month, while the State utility Vietnam Electricity Group (EVN) says the average rise for household power charges hovers around 35%, and that the surge is normal for a longer month of scorching weather. Experts, however, point the finger at the policy of applying the power consumption ladder that has stayed put for years despite drastic changes in the economic landscape.
Many consumers, say the local media, have been shocked at the power bills just sent to them, after the power hike took effect on March 20. The charges have skyrocketed though their power consumption has remained as normal as ever.
A man at EHome 3 apartment building in HCMC's Tan Binh District says in Tien Phong that his power bill for April jumped by four times over March and nearly five times against February. Specifically, "my February bill was VND290,000, which rose to VND320,000 in March and VND1.25 million for April, with the power volume of 482kWh consumed," says the man known by his first name of Vinh in the paper.
Thousands of other consumers have also voiced their complaints over the steep rise in power bills, as seen in local media. As of April 26, up to 13,000 consumers had lodged their complaints to power companies countrywide, says Tuoi Tre, citing data from EVN.
However, EVN says the average increase in April's bills is only some 35%, which the company explains as normal due to higher power consumption in the recent past. Commenting on this 35% rise in power bills, EVN says power consumption in March --- with power bills issued for April --- was much higher than in February due to the longer month, at 31 days against 28 days, or an increase of 10.7%. In addition, the average daily demand also went up by some 16% due to higher temperatures, and coupled with an 8.36% price hike approved by the Government, the final power bill for the month has gone up that much, Nguyen Xuan Nam, deputy general director of EVN, is cited by Dan Viet as saying.
Also according to EVN, as of April 26, up to 57.2% of households in HCMC saw their electricity bills rising by over 30% over the previous month due to higher power consumed.
Data on power consumption over the past few weeks also supports such claims.
In Hanoi, power consumption rose from 47 million kilowatt hours a day in late March to 58 million kilowatt hours in early April, and peaked at 63.4 million kilowatt hours on April 20, according to the news site VTC. Meanwhile, over the corresponding period, power consumption in HCMC rose from 71 million kilowatt hours to over 83 million kilowatt hours and topped at over 90 million kilowatt hours.
All factors make the higher power bill reasonable. However, many experts disagree, saying the key agony for consumers rests with the power consumption ladder policy that has persisted for years.
In early 2014, the Prime Minister issued a decision approving the power consumption ladder policy. Under the policy, residential power consumption is divided into six different ladder rungs for progressive power tariffs. Currently, the minimal consumption of 50kWh a month is subject to a price of VND1,678 a kilowatt hour, while the next level up to 100kWh bears a price of VND1,734, and the following 100kWh is subject to a tariff of VND2,014, all exclusive of value-added tax. Then, the power tariff surges strongly for every next 100kWh, at VND2,536, VND2,834, and VND2,927 a kilowatt hour.
Most consumers incurring a steep rise in their power bills are those who consume high volumes of power.
The volume of power consumption for each rung, says the news site zing.vn, is no longer suitable. The power demand over the past six years has surged alongside the per capita income growth of over 30%.
In 2014, according to zing.vn, the proportion of households using less than 50kWh a month accounted for 21%, but this proportion fell to 17% in 2017 and just 15.5% last year. Meanwhile, the number of households consuming more than 400kWh has increased by half between 2014 and 2018.
Therefore, according to the news site, the six ladder rungs in the power price policy are no longer suitable, especially right so in the future when the per capita power demand rises alongside the pace of economic growth.
Meanwhile, Ngo Tri Long, former head of the Research Institute for Market and Pricing at the Ministry of Finance, pointed out the illogical pricing for each rung of the consumption ladder. Only in the lower rungs 1 and 2 are the prices somewhat lower than the average price approved by the Government, while prices go up far steeper in the upper rungs of the consumption ladder, the veteran expert says in Lao Dong.
"The Government entrusts the power sector to make calculations so that the commercial power will be charged at the average tariff of VND1,864 per kilowatt hour, but given the prevailing ladder rungs, the power sector will reap benefits, putting consumers at a disadvantage," he is quoted as saying.
In giaoduc.net, Long says the ladder rungs are only considered appropriate when the total revenue divided by the amount of commercial power volume makes the average price approved by the Government, but the power sector has not been transparent in this calculation.
Currently, most households consume between 200 and 300kWh a month, and the power tariff for this ladder rung should be only 10% or 20% higher than the average power tariff endorsed by the Government. In reality, consumers under this ladder are paying a price which is 50% higher than the average, Long says in Lao Dong.
Nguyen Tien Thoa, a pricing expert and president of the Vietnam Pricing Evaluation Association, seconds the point, saying in the news site Vietnamnet that the number of households consuming less than 50kWh a month is minimal. Therefore, the power consumption ladder should be redone so that the majority of people could pay the average tariff instead of the steeper ones.
The Ministry of Industry and Trade has estimated that Vietnam's power demand would increase by 10% annually and by 2030, and the per capita consumption will rise by threefold over 2018 to some 6,000kWh, according to zing.vn.
While the power sector, specifically EVN, has all reasons to claim that there is no abnormality in the monthly power bill following the price hike approved in March, people's agony rests with the power volume assigned for each ladder rung, as well as the wide gap between prices of such ladder rungs. And, power bills can inflict more suffering in the absence of transparency on the part of State utility companies.
Developing a transparent water filter market in Vietnam
Tan A Dai Thanh Group has invested in a large scale of product development and research for years and has been able to make products are suitable for the Vietnamese market.
The Economic and Urban Newspaper has held a panel session standards for the water filter market, aiming to propose adequate solutions for effective management of water filter market as well as protecting consumers' health.
Demand for water filters has risen rapidly in Vietnam, but some domestic businesses have counterfeited water filters taking advantage of loopholes in policies and inspection, evaluation, product registration and quality standards enforcement in Vietnam. Counterfeiting is troubling manufacturers and traders of genuine water filters as well as weakened consumer's belief when the demand for water filters in the country is increasing.
Tan A Dai Thanh Group has gained long-term experience when competing fairly with foreign enterprises in the water filter market. The group has invested in a large scale of product development and research for years and has been able to make products are suitable for the Vietnamese market, said Director of Tan A Dai Thanh's R&D Center Tran Anh Tuan.
"We work with many top research companies and corporation of the world in the field of water filter in order to bring the most advanced technologies to the domestic market. For example, our newest product - Tan A Dai Thanh RO water purifiers applying the advanced Aqualast filters of DOW, has a rate of water recovery up to 70% and has longer life span," Tuan said.
In the near future, the group will cooperate with other prestigious entities in many fields to apply advanced filtering technologies for not only drinking water but also for water of other uses.
Among components of a filter, the membrane is the determinant factor of water quality. DOW brings the most cutting-edge filtering technology to its Vietnamese partners, including Tan A Dai Thanh, said Yan Zhaohui, director of Marketing, Asia-Pacific, DOW.

Meanwhile, Dr. Bui Thi An, chairperson of the Chemical Society of Hanoi, pointed out that Vietnam is home to a large variety of water purifiers, but there is an absence of a complete set of norms for this product.
Vietnam's Ministry of Health and Science and Technology should publish a list of water purifiers for consumers to make decisions, An suggested.
Vinasun confidently announces eight-fold profit thanks to Grab lawsuit
Thanks to winning the lawsuit against Grab, Vinasun expects to reach VND77.1 billion ($3.35 million) in 2019 profit, eight-times as much as in the past years.
This information was announced at the Vinasun shareholders' meeting in late April. Accordingly, its revenue was forecast to reach VND2.14 trillion ($93 million), up 3 per cent on-year.
The lawsuit took place in late last October and ended in last December with the court awarding VND4.8 billion ($208,695) in compensation to Vinasun.
Vinasun alleged that Grab claims to be a tech firm but is indeed a taxi transport company, hiring a large number of drivers and causing economic damage to Vinasun.
The company's deputy director general Truong Dinh Quy said, "Operating this huge network of so-called 'driver-partners' is just a smokescreen for Grab to operate as a taxi firm. This, coupled with the large discounts and incentives to attract a large number of driver-partners, has severely affected Vinasun's operations."
He claimed the allegedly 'illegal operations' of Grab in the country have caused Vinasun to lose around VND42 billion ($1.82 million) in revenue in 2016 and 2017. Vinasun has subsequently requested lump sum compensation.
At the meeting, Vinasun's leaders said that since Grab first entered Vietnam, it has been constantly developing partly thanks to the lack of policies to supervise its activities in the country. "The lawsuit shows that there are many inequalities between local firms and has made it difficult for the government to supervise Grab and similar firms," one leader said.
Vinasun's revenue in the first quarter of 2019 increased to VND534 billion ($23.2 million) from VND498 billion (21.6 million) in the same period last year. Its profit at the same time also hit VND32 billion ($1.39 million), up three times against the first quarter of 2018.