Foreign investment falls 23.6 percent in first two months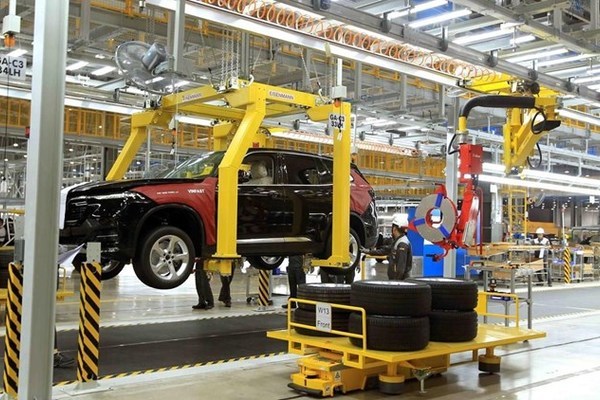 The inflow of foreign investment into Vietnam experienced a year-on-year drop of 23.6 percent in the first two months of the year to 6.47 billion USD, according to a report from the Ministry of Industry and Trade's Foreign Trade Agency.
Disbursement of foreign capital declined 5 percent to 2.45 billion USD in the period.
As many as 500 new projects received investment licenses, with total registered capital of 5 billion USD, doubling the amount recorded the same time last year.
Singapore's Delta Offshore Energy Pte Ltd Co was the largest investor with its liquefied natural gas-fired (LNG) power plant valued at 4 billion USD in the Mekong Delta province of Bac Lieu.
There were 151 projects registering to adjust their capital. Total additional capital fell nearly 25 percent to 638.1 million USD.
Capital contributions and share purchases by foreign investors fell substantially by 84 percent to 827.3 million USD.
From January-February, most foreign capital was injected into 18 sectors. Power production attracted the largest amount of investment with 3.89 billion USD, followed by the processing and manufacturing sector (1.76 billion USD), wholesale and retail sales (195 million USD), and technology and science (180 million USD).
Up to 73 countries and territories have invested in Vietnam in the first two months of 2020. The largest investors included Singapore (4.12 billion USD), China (720.4 million USD), and the Republic of Korea (425.4 million USD)./.
Japanese firm expects to supply LNG to O Mon 1 thermal power plant
Vice Chairman of the municipal People's Committee of the Mekong Delta city of Can Tho Truong Quang Hoai Nam held a working session with representatives from Japan's JERA Co. Inc. to discuss the use of liquefied natural gas (LNG) at O Mon 1 thermal power plant in Can Tho.
Shinsuke Nakayama, a representative of the company, said JERA now has a base depot in Vietnam and is investing in a LNG warehouse and Ca Na LNG-fueled power complex with a total capacity of 6,000 MW in the south central province of Ninh Thuan.
JERA believes that it is able to ensure a stable LNG supply to Can Tho at reasonable prices, firstly for the operation of the O Mon 1 thermal power plant, he said.
Deputy General Director of the Power Transmission Company No.2 Le Quoc Vu said JERA's proposal meets the demand of the O Mon 1 thermal power plant that will switch to the use of gas in 2021.
He added that the Power Transmission Company No.2 and JERA could supply gas to the plant in the third quarter of 2021 at the earliest.
Nam asked JERA to soon complete a detailed plan to submit to the city's leaders and committed all possible support to the company during the process./.
Vinalines builds scenarios to cope with market difficulties
Vietnam National Shipping Lines (Vinalines) has developed scenarios under which they would restructure resources and reduce costs in a bid to cope with market difficulties amid negative impacts from the COVID-19 outbreaks, especially in the Chinese market.
It would also promote marketing activities in the less affected markets, such as Europe and other Southeast Asian countries, a Vinalines representative told local media.
Vinalines estimated it would lose 992 billion VND (42.6 million USD) in seaport-related revenue and 224 billion VND (9.6 million USD) in profit in the first two quarters of 2020 because of the COVID-19 epidemic.
The firm calculated that sea logistics revenue would fall by 600 billion VND (25.8 million USD)
In the first six months of the year, seaport output is estimated to fall by nearly 19 million tonnes.
With the debts the firm's shipbuilding sector is currently owing, the poor business result would make the repayment of principal and interest an extremely difficult task, said the representative.
According to the representative of Vinalines, it has asked the Government, ministries and departments to support enterprises with better tax policies, as well as called banks to reduce lending interest rates and reschedule debts to help overcome the difficulties.
Vietnam, Belgium strengthen cooperation in auditing
A delegation from the State Audit Office of Vietnam led by Auditor General Ho Duc Phoc had a working session with President of the Court of Audit of Belgium Philippe Roland in Brussels on February 26.
Welcoming the Vietnamese working session, Roland expressed his willingness to boost cooperation between the Court of Audit of Belgium and the State Audit Office of Vietnam in sharing experience and methods in audit such as operational audit and IT audit.
He shared experience in increasing his court's capacity and presence at the International Organisation of Supreme Audit Institutions (INTOSAI) and the European Organisation of Supreme Audit Institutions (EUROSAI), and in applying information technology in operational audit.
Phoc expressed his hope that the two sides continue intensifying delegation exchanges, inviting each side's representatives to participate in international conferences they organise or within the framework of activities held by INTOSAI and EUROSAI.
As the Chair of the Asian Organisation of Supreme Audit Institutions (ASOSAI), the State Audit Office of Vietnam is exerting efforts to contribute more to the development of ASOSAI and its members towards becoming a model working group of INTOSAI, he stated.
He said he hopes the Court of Audit of Belgium, with its role as an active member of INTOSAI and EUROSAI, will support ASOSAI in general and the State Audit Office of Vietnam in particular in governmental audit./.
Trade minister asks for optimising EVFTA commitments
Minister of Industry and Trade Tran Tuan Anh on February 26 asked relevant departments and agencies to optimise commitments in the European Union – Vietnam Free Trade Agreement (EVFTA) which will take effect later this year.
He made the request during a working session in Hanoi to discuss the government's action programme and the plan to realise the EVFTA.
Luong Hoang Thai, Director of the Ministry of Industry and Trade (MoIT)'s Multilateral Trade Policy Department, said the EVFTA's ratification has been added into agenda of the National Assembly Standing Committee's meeting scheduled for April 13 – 17.
According to him, two laws, one decree and one decision of the government are required to be revised in order to implement the deal.
In the near future, four new decrees will be issued and the total number of commitments will be raised to 12.
Minister Anh requested attention to completing legal procedures between now and the NA's upcoming session scheduled for May and June, as well as cooperation contents with EU agencies and building a bilateral mechanism for the supervision and implementation of the deal.
He stressed the importance of popularising the deal's requirements and Vietnam's commitments to centrally-run and local authorities, businesses and localities via personnel training in the field.
The minister asked for building a training course to improve the capacity of authorities in ministries and localities.
About exports and market, he asked units concerned to hold major events in Europe to attract more businesses.
The minister also required specifying each export market in Europe, building a Vietnam – Europe trade data centre, adding sci-tech content into the action programme, and raising awareness of firms about trade protection./
Int'l exhibition for horticulture and floriculture sector opens in HCM City
The 3rd International Exhibition & Conference for Horticultural and Floricultural Production and Processing Technology (HortEx Vietnam 2020) opened in HCM City on Wednesday.
With an exhibition scale of 2,200sq.m, HortEx Vietnam 2020, the biggest exhibition for the horticulture and floriculture sector in the country, has attracted nearly 150 exhibitors from 24 countries and territories, including the Netherlands, Spain, Israel, the US, Australia, Japan, Singapore, South Korea, Taiwan, India, Thailand and Viet Nam. There are no exhibitors or visitors from China due to the COVID-19 epidemic.
The exhibition showcases equipment and technologies for the vegetable, flower and fruit industries, including greenhouse films, net houses, packaging machines, gardening tools, agricultural materials, fertilisers, post-harvest and processing of fresh vegetables, flowers, ornamental plants and plant nutrition.
One of the most prominent activities within the exhibition is the second edition of the Export Forum, which provides a platform for international buyers to meet Vietnamese growers and exporters, and offers an opportunity for local exhibitors and visitors to discover the latest information on export markets.
The exhibition also includes annual programmes such as B2B business matchmaking, international VIP buyers, and seminars.
Willem Schoustra, agriculture counselor at the Embassy of the Kingdom of the Netherlands, said: "We have over 20 Dutch companies here. I think we are the largest participating country in this fair after Viet Nam. These companies can show you the latest products, innovations and techniques of the Dutch agricultural sector and they are very keen to work with the Vietnamese agricultural sector."
Le Van Duc, deputy director general of the Department of Crop Production, said despite taking place amid the COVID-19 epidemic fears, this year's exhibition has attracted a large number of exhibitors from many countries, which demonstrates the interest of foreign businesses in the Vietnamese market.
"Hortex Vietnam 2020 would be a good place for local and international companies and organisations to enhance co-operation in seed research and production technology and in seeking consumption markets."
By strengthening co-operation with foreign partners, local firms can develop a better orientation and contribute to boost the development of the local fruit and vegetable sector in a sustainable manner, he added.
Speaking at the seminar on investment prospects in the vegetable, flower and fruit industries held on the sidelines of the exhibition on Wednesday, Nguyen Hong Son, president of the Viet Nam Academy of Agricultural Science, said: "The sector has gained achievements in the past 10 years, with fruits cultivation area, productivity and output going up by 4.2 per cent, 4.9 per cent and 9.2 per cent a year."
Fruits and vegetables exports value increased steadily at 22 per cent annually in the 2010-19 period. The market for Vietnamese fruits and vegetables expanded to 60 countries and territories, including more selective markets such as the US, South Korea, Japan, the Netherlands, and Australia.
Many concentrated growing areas that are linked to processing facilities have been set up, while multiple processing facilities have formed with a capacity of approximately 1.2 million tonnes per year.
In addition, producers and processors have focused more on improving quality to meet food hygiene and safety standards required by importing markets, he said.
"But the sector has shortcomings and needs more investment to enable it to develop further, which will offer investment opportunities to local and foreign firms," he said.
Son said he saw high investment opportunities in "high-tech technology in the production of vegetables, flowers and fruits, especially the development of temperate vegetables and flowers varieties, high-yield and quality fruit tree cultivars, technologies for producing seedlings, and tending and post-harvest activities.
In addition, investment opportunities exists in input materials, especially biological products for safe and organic production, processing technologies, agricultural machines and horticulture logistics.
Held by the Minh Vi Exhibition and Advertisement Services Co., Ltd (VEAS), the Netherlands' Nova Exhibitions B.V. and GIE Exhibition Company Ltd., the exhibition will run until Friday at the Saigon Exhibition and Convention Centre and expects to receive more than 4,500 trade visitors.
Horticultural, floricultural production technology exhibition opens
The third International Exhibition & Conference for Horticultural and Floricultural Production and Processing Technology in Vietnam (HortEx Vietnam 2020), the largest of its kind in the Southeast Asian country, kicked off in Ho Chi Minh City on February 26.
The three-day exhibition attracted over 150 enterprises from 24 countries and territories, including those with hi-tech agriculture such as the Netherlands, Israel and Spain.
Speaking at the opening ceremony, Nguyen Hong Son, Director of the Vietnam Academy of Agricultural Sciences, said that vegetables, flowers and fruits are an important commodity group in Vietnam's agricultural restructuring project.
The country has reported average annual growth of 5 percent in terms of production scale, productivity and output of vegetables, flowers and fruits, he said.
However, the sector is facing a lot of challenges, including limitations in investment, lack of processing and production technologies, and unstable consumption markets. In addition, the export of agricultural products to China, Vietnam's largest importer, is suffering difficulties due to negative impacts from the SARS-CoV-2 outbreak, Son added.
Dang Phuc Nguyen, General Secretary of the Vietnam Fruit and Vegetables Association, said that with the participation of big buyers from many countries and territories, HortEx 2020 will serve as a forum to enhance trade connectivity and seek markets for Vietnamese products.
This was also a chance for management offices, research institutes and enterprises to exchange investment-related information, update production technologies and share experience, he added.
A series of seminars are expected to be held during the exhibition./.
Over 208 million USD raised through G-bond auction
The State Treasury raised over 4.8 trillion VND (208.6 million USD) through a G-bond auction on the Hanoi Stock Exchange (HNX) on February 26.
A total of 6 trillion VND worth of G-bonds were offered, including 10-year, 15-year and 30-year ones, each valued at 2 trillion VND.
The ten-year bonds attracted over 1.66 trillion VND at an annual interest rate of 2.29 percent, 0.02 percent higher than the previous auction on February 19.
Meanwhile, those with 15-year maturity raised more than 1.93 trillion VND, yielding 2.88 percent per year, or 0.03 percent higher than that in the February 19 auction.
Over 1.2 trillion VND were also collected via 30-year bonds with an annual yield of 3.55 percent, 0.15 percent lower than that in the February 12 auction.
Since the beginning of this year, the State Treasury has raised a total of 23.26 trillion VND via G-bond auctions on the HNX./.
Agro-forestry-fishery sector runs trade surplus in two months
The agro-forestry-fishery sector recorded a trade surplus of over 1 billion USD in the first two months of 2020, a year-on-year rise of 18.4 percent.
In January-February, the country's total export turnover of agro-forestry-aquatic products was estimated at 5.34 billion USD, down 2.8 percent against the same period last year, while the import turnover fell 6.7 percent to 4.3 billion USD.
Declines were seen in tra fish (27 percent), cashew nuts (17 percent), rubber (16 percent), and fruits and vegetables (12 percent).
The four main export markets for Vietnam's agro-forestry-fishery sector are China, the US, the European Union, and the Association of Southeast Asian Nations.
The Ministry of Agriculture and Rural Development (MARD) said it has coordinated with relevant ministries and localities to carry out trade promotion activities in new markets and attempted to boost domestic sales.
The General Statistics Office said the agro-forestry-fishery sector expanded 2.01 percent in 2019, contributing 4.6 percent to the year's gross domestic production growth.
Meanwhile, the MARD estimated agro-forestry-aquatic product exports for 2020 at 41.3 billion USD, rising 3.2 percent year on year./.
Hanoi strives to promote growth amid COVID-19 outbreak
Hanoi authorities convened on February 26 to assess the impact of the acute respiratory disease caused by the SARS-Cov-2 (COVID-19) outbreak and work on solutions to fuel local socio-economic development.
Director of the municipal Department of Planning and Investment Nguyen Manh Quyen said the hardest hit sector is tourism as the number of visitors from China, Vietnam's biggest source, so far has dropped by some 60 percent, followed by Malaysia (34.9 percent), Singapore (19.6 percent), and Thailand (13.4 percent), while that of the domestic tourists has also fallen by 21.2 percent.
Participants at the meeting said if the outbreak is brought under control in the first quarter, the F1 Vietnam Grand Prix could take place as scheduled, as well as other cultural, sporting and festive events. This would help Hanoi's tourism sector to halt the downward trend in Q2 and rebound from Q3.
In this scenario, the number of tourist arrivals in the city may fall 41.3 percent in Q1 and 10 percent in Q2, but rise 6.4 percent in Q3 and 15.5 percent in the last three months.
However, they said if the epidemic gets worse and traveller numbers nosedive, revenue collected from tourists this year could fall 8.3 percent to 95.18 trillion VND (4.1 billion USD), equivalent to 81.5 percent of the annual target.
Meanwhile, Quyen noted that production and business activities in February and the first two months of 2020 have been affected by the outbreak, as well as the Government's Decree 100/2019/ND-CP that regulates fines against administrative violations in road and rail traffic.
Industrial production is forecast to continue growing in Q1 but at a pace slower than in previous years.
FDI businesses from China, the Republic of Korea and Japan, where COVID-19 is raging, are using a large number of managers and experts from their home countries. Restrictions on entry into and exit from Vietnam may lead to a shortage of personnel at their factories, thus adversely affecting production and import and export activities.
Additionally, material supplies are running low and likely to run out at the end of March. In the current context, both domestic and FDI firms working in industries such as animal feed, garments and electronics are likely to experience shortages since most input materials have to be imported, the director added.
If COVID-19 is contained in Q1, it will take companies and factories in China more time to resume operation, he said.
Experts said agricultural production in Hanoi has suffered only a little since the outbreak. However, A/H5N6 has been reported here, and if the avian influenza is not curbed, it will influence animal farming and growth of the agricultural sector.
Admitting the considerable impact of COVID-19 on many sectors, Chairman of the municipal People's Committee Nguyen Duc Chung said the city has also realised certain opportunities, adding that the epidemic is also a driving force for businesses to seek new markets and modernise technology.
The most important solution now is to boost communications to raise public awareness and prevent the disease from spreading. Besides, it is necessary to push ahead with administrative reforms, business climate improvement, and investment promotion, he noted, asking each agency and sector to issue both short- and long-term solutions to foster economic development./.
Hanoi creates optimal conditions for foreign investors
Hanoi has been working to enhance administrative reform and address difficulties in an effort to create an optimal investment climate for investors, Politburo member and Secretary of the Hanoi Party Committee Vuong Dinh Hue has said.
He made the remark at a recent reception in Hanoi for Keigo Shiomi, President and CEO of Sumitomo Corporation Asia and Oceania.
At the meeting, Hue underlined that Vietnam and Japan boast a sound relationship with cooperation in various fields, as the countries have upgraded ties to an extensive strategic partnership.
Speaking highly of the ongoing smart urban project jointly launched by Sumitomo Corporation and BRG Group of Vietnam, he said it will be a driving force for Nhat Tan-Noi Bai axis in the north of Hanoi, which is among the city's most important areas of development.
The municipal leader asked the two firms to ensure progress of the project.
In reply, Shiomi informed his host on the progress of the project and others being implemented in collaboration with BRG Group.
He voiced his hope that Hanoi authorities will continue to facilitate investment projects for the Japanese corporation in the city./.
Business condition reforms need higher effectiveness: workshop
The elimination of business conditions has helped ease burden on enterprises, but much work needs to be done to boost the effectiveness, heard a workshop in Hanoi on February 27.
At the event, held as part of the Australian programme on supporting Vietnam's economic reforms (Aus4Reform), Director of the Central Institute for Economic Management (CIEM) Tran Thi Hong Minh said in the recent past, reforming regulations on business conditions to create a favourable environment for enterprises has been one of the Government's priorities.
Between 2017 and 2019, ministries and sectors proposed the removal and simplification of about 50 percent of all business conditions, thus helping firms to reduce time, costs and risks.
However, she said, there still exist unnecessary or unreasonable business conditions that are useless for the State's management. Therefore, improving the quality of business conditions remains a focus of business climate reforms in Vietnam, Minh stressed.
Nguyen Minh Thao, head of CIEM's board on business environment and competitiveness research, noted in the 2017-2019 period, the Government issued nearly 40 documents to direct the reform of business conditions, adding that it is hard to find any reform area that the Government has paid such great attention to like the reform of business conditions.
Most of business conditions have been simplified and few of them have been removed, she said, adding that although the work has resulted in certain outcomes, obstacles related to business conditions remain popular.
Particularly, companies' feeling of reform effectiveness is still limited, Thao stressed.
Dau Anh Tuan, head of the Legal Department at the Vietnam Chamber of Commerce and Industry (VCCI), pointed out that management agencies are still using administrative measures to intervene in the market. There is even a fact that they want to increase, not decrease, conditional business sectors.
He suggested ministries and sectors review reform effectiveness in each field, continue reviews to abolish and simplify business conditions, strictly deal with actions that intentionally cause difficulties for enterprises, and set up dialogue and feedback mechanisms for the business circle.
Meanwhile, Thao said they should make breakthroughs in this regard by changing management methods.
Accordingly, companies should be allowed to actively operate and be responsible for their satisfaction of business conditions. State agencies will carry out examination after that, basing on firms' adherence to laws, she added./.
Vietnam Business Forum launches Made in Vietnam Energy Plan 2.0
The Made in Vietnam Energy Plan 2.0 (MVEP 2.0), a business case for the primary use of Vietnam's domestic resources to stimulate investment in clean, secure and affordable energy generation, was officially launched by the Vietnam Business Forum (VBF) on February 27.
At the launching ceremony, VBF Co-Chairwoman Virginia Foote said the plan was rolled out in the context that development of renewable, clean and safe energy is an urgent issue as the country is suffering sheer exhaustion of fossil fuel resources.
The MVEP 2.0, based on the groundbreaking 2016 edition – MVEP 1.0, was developed during a time of the fast transition towards renewable energy and increasing use of natural gas in electricity production in Vietnam.
The report recommends Vietnam to prioritise renewable energy in national power planning; increase use of natural gas as the current best-fit baseload for renewable energy; construct a regulatory and permitting environment that attracts private sector and smaller scale off-grid investment in clean energy generation and energy efficiency; invest in grid infrastructure to improve stability and capacity; and halt any new approvals for coal.
It also suggests the implementation of regulatory frameworks and incentives that encourage investment in renewable energies, such as rooftop solar, battery storage, floating solar, and offshore wind projects, with simplified approval processes, while still maintaining safe power systems.
According to John Rockhold, head of VBF Power and Energy Working Group, Vietnam holds huge potential for the development of clean power, such as solar power, win power and hydropower.
The country's demand for power is increasing, and the system of transmission lines should be completed as soon as possible, he said, adding as the state's resources are limited, it is necessary to promote the private-public partnership model and engage the participation of the private sector in power management, distribution and retail prices./.
Construction of My Thuy Port begins in Quang Tri
The construction of My Thuy Port started in the south-east economic zone of the central province of Quang Tri's Hai Lang district on February 27.
The port will be built at a budget of 14.23 trillion VND (608 million USD). Over 2 trillion VND of which came from the investor My Thuy International Port Joint Venture Company, while the remainder from other sources.
The 685-ha port will be home to 10 wharves capable of receiving ships of up to 100,000 tonnes. It is expected to significantly contribute to freight transport and economic growth of Quang Tri province.
During the first stage from 2018-25, four wharves will be built with an investment of nearly 5 trillion VND. There will be another three constructed at the same cost during the second stage from 2026-31, and the remaining three worth more than 4.3 trillion VND in the third stage from 2032-36.
The port will mainly serve the province's south-east economic zone and industrial zones, as well as cargo in transit from Laos and the northeast region of Thailand on the East-West economic corridor./.
Hanoi gives a hand to enterprises affected by Covid-19
In addition to the ongoing efforts of reshuffling and reducing unnecessary costs for enterprises, Hanoi is providing a wide range of supporting measures to enterprises hurt by Covid-19, according to Tran Thi Phuong Lan, vice director of Hanoi's Department of industry and Trade.
This is not solely a matter of removing hindrances for business operations as the major issues of concern for them at present are input materials and markets for their products, Lan said, adding more measures should be worked out in terms of lowering interest rates, tax incentives or debt payment.
Hanoi would continue to invest in commercial infrastructure, including digital market, e-commerce platform, while pushing for more administrative reforms towards greater transparency and convenience for enterprises, Lan stated.
Due to the ongoing Covid-19 epidemic, China's decision to extend the closure of border markets and informal cross-border trade until late February is putting pressure on local traders and companies.
In case the epidemic persists in the next few months, local enterprises are predicted to face shortage of input materials for production, especially those in economic sectors that heavily rely on Chinese materials and markets such as textile and garment, rubber, plastic, agricultural product exports.
Lan said companies are considering importing materials from other countries alternative to China. However, this is only a short-term solution as prices of materials from those markets are much higher than those in China, not to mention high transportation costs and long-distance transportation.
These are major factors influencing prices of final products and production plan of enterprises, Lan added.
Moreover, the official said small and medium enterprises are among the groups hardest hit by Covid-19, mainly due to limited financial capabilities, small scale production, and vulnerability to disruption of capital for production and supply chains, and others.
Lan said her department is coopering with its counterparts in other provinces/cities in reviewing lists of agro-forestry-fishery products that may become overstock for distribution in Hanoi.
Lan added the department also plans to hold weeks of agricultural products in Hanoi, creating a platform for cooperation between producers and distributors.
Hanoi boosts One Commune-One Product program
Approved in May 2018, the One Commune-One Product (OCOP) program aims to develop the rural economy as a way to realize the national target of building new style rural areas.
Hanoi has spent more than US$11 million on the program last year and this year.
The OCOP program promotes advantageous agricultural, non-agricultural, and service products in each locality based on value chains, which will be realized by private economic sectors and the collective economy.
The program focuses on 6 groups of goods and services - food, beverages, herbs, souvenirs-furniture-decorations, fabrics-apparel, and rural tourism services. OCOP products are ranked into 5 levels, of which the 5-star level is the highest, meeting international standards.
Hanoi's Rural Development Sub-Department has been assigned to coordinate with localities to implement the program, the largest in Vietnam's 63 provinces and cities.
Nguyen Van Chi, the Department's Director and Deputy Chief of Hanoi New Style Rural Coordination Office, said "In 2019 and 2020, we have to identify which products can be used as OCOP products and evaluate their quality. Pursuant to the central-level roadmap, there should be about 2,500 products in two years, of which Hanoi must have 1,000. Last year, Hanoi already chose 300 products and plans to have 700 products this year. Hanoi will build an innovation and design center in Dong Anh district near Noi Bai International Airport to introduce OCOP products."
Hanoi has the most craft villages in Vietnam, 1,350, nearly one-third of the total number. It also leads the country in using QR codes to track agriculture, forestry, fishery and food products.
More than 5,000 products are now identified by bar-code and are the foundation of Hanoi's OCOP program. Hanoi officials continue to encourage collectives and individuals to register their trademarks and run marketing campaigns.
Ta Van Tuong, Deputy Director of the municipal Department of Agriculture and Rural Development, said "The Ministry of Agriculture and Rural Development and the Hanoi People's Committee have jointly organized a program to connect supply chains of safe agricultural products in Hanoi.
There are 1,263 chains nationwide. Hanoi will work with all provinces and cities across Vietnam to develop these chains. Hanoi has been and will be a center for producing high quality breeds and seedlings for the whole country."
Hanoi will standardize at least half of existing craft villages and agricultural products. It is investing in Bat Trang ceramic village in Gia Lam district, Van Phuc silk village in Ha Dong district, and Duong Lam village in Son Tay town to create OCOP products in combination with tourism development. It is calling on businesses to invest in high-tech or bio-tech agriculture.
Dam Tien Thang, Deputy Director of Hanoi's Department of Industry and Trade, said "Hanoi pays close attention to the policy on craft village development under which each village should turn out more than one leading enterprise. These businesses will lead and support local small production facilities which don't have enough personnel, technology, or experience to make items for export."
This year, Hanoi plans to consolidate management and administration of the OCOP program. Its goal is to make sure that all businesses, cooperatives, and households who register to participate in the OCOP program are trained and that 100 products will be certified as 5-star level.
Tourism businesses offer huge discounts to stimulate domestic demand
The Ho Chi Minh City Tourism Association have unveiled their tourism stimulus program with a series of companies registering their interest to participate whilst also pledging to offer huge discounts to local travelers.
tourism businesses offer huge discounts to stimulate domestic demand hinh 0Nguyen Thi Khanh, Vice President of the Ho Chi Minh City Tourism Association, said due to the impact of the novel coronavirus epidemic, the southern city's tourism industry has been forced to accelerate a restructuring process and has identified tourists travelling domestically as a key demographic.
At present, approximately 40 tourism firms located in Ho Chi Minh City have registered for participation in the program and launched special tours with huge discounts of up to 50 per cent to local people .
Airlines such as Vietnam Airlines, VietjetAir, and Bamboo Airways have also offered a reduction of 50 per cent on flight tickets, while the railway sector has also provided discounts of up to 40 per cent on ticket prices.
A number of road tours designed by enterprises have implemented discounts of between 15 per cent and 18 per cent, while tours by plane have seen discounts reach up to 22 per cent.
Firms note that prices are to be significantly slashed in the time ahead with support from the state through a reduction in VAT and corporate income tax.
Khanh stated that members of the Ho Chi Minh City Tourism Association have designed a number of programs offering attractive prices to visitors in preparation for the end of the epidemic in the near future.
Vo Anh Tai, Deputy General Director of Saigontourist, said that the company has been implementing the stimulus program since the beginning of February by strengthening connectivity with service units, culinary restaurants, and accommodation facilities in the southern city.
It is hoped that the move will provide a basis for the company to connect its products with many of the tourism industry's products when the city unleashes its stimulus program.
Masan Group completes US$24-million stake acquisition of Net Detergent
Masan Consumer Corporation has announced that Masan HPC, its established home and personal care subsidiary, has completed the acquisition of 52% stake of local Net Detergent (Netco), local media reported.
At a price of VND 48,000 (US$2.07) per share, Masan valued the company at US$46 million and price to earnings (P/E) multiple of 13x.
Netco, established in 1968, is a local home care business. In 2018, the company delivered net revenue of VND1.15 trillion (US$49.54 million), up 3.6% year-on-year and a net profit of VND81 billion (US$3.48 million), up 42.3%, primarily driven by its two popular laundry detergent brands: NET and NETSOFT.
After the deal, Masan HPC becomes Netco's largest shareholder, and Vietnam National Chemical Group (Vinachem) the second with a 36% stake.
Netco's current market share in the laundry segment is 1.5%, currently trailing Unilever (54.9%), Procter and Gamble (16.0%), Dai Viet Huong (11.6%), LIX (2.7%) and Vico (2.4%), according to Euromonitor's "Laundry care market in Vietnam" report.
Following the transaction, Masan Consumer is expected to integrate Netco's products into its distribution network across the country.
In a previous statement, Truong Cong Thang, chairman and CEO of Masan Consumer Corporation, the consumer business of conglomerate Masan, said the home and personal care (HPC) sector in Vietnam is still at the early stages of growth when compared to other developed markets.
The HPC market is one of the largest and most attractive consumer sectors in Vietnam with a total market size of US$3.1 billion, while Netco is a strategic entry point for Masan to build a diversified HPC platform.
In just over a month, Masan Consumer Corporation has initiated two deals to take its businesses beyond the food and beverage sector. On December 6, Masan and Vingroup agreed to merge the latter's retail arm VinCommerce and its subsididary VinEco into Masan Consumer.
After completing the takeover, Masan would form "the country's largest retail group", while Vingroup would swap its stake in VinCommerce for that of the new company and become a stakeholder.
Vietnam eases grisp on car import
The Vietnamese government took a significant step in easing restrictions on car import after removing the requirement for vehicle type approval (VTA).
The move is regulated in Decree No.17, which was issued on February 5 to revise a number of clauses in Decree No.116 -- effective in 2017 -- regulating conditions and licenses for automobile manufacturing, assembling, importing, maintenance, and warranty businesses.
VTA was the main restriction leading to a plunge in the number of imported cars to Vietnam from late 2017 to early 2018 as countries with large volumes of car shipments to Vietnam, including Thailand and Indonesia, do not grant such a certification.
In addition to removal of VTA requirement, Decree No.17 also simplifies customs clearance process for imported cars by reducing the frequency for quality control process for shipments of the same car models. The move would help reduce time for customs clearance and expenses for car imports.
Decree No.116 was considered a non-trade barrier to control the number of cars imported into Vietnam, especially after the ASEAN Trade in Goods Agreement (ATIGA) took effect in the beginning of 2018, eliminating automobile import tariffs.
However, as car importers started getting VTAs, the number of imported cars into Vietnam has risen sharply, leading to fierce competition between domestically-assembled car producers and importers.
Over the past few years, the Vietnamese government has been providing supportive policies for the development of the domestic automobile industry. However, as the country is further integrating in global economy, competition is inevitable and Decree.116 could only restrict the wave of imported cars in a short period of time and was not a long-term solution.
Vietnam, India bolster bilateral investment, trade
Minister of Planning and Investment Nguyen Chi Dung has affirmed that India is a major trade partner and investor of Vietnam, urging the two sides to spare no efforts to soon realise the target of bringing bilateral trade to 15 billion USD.
The official made the call during talks with his host Indian Minister of State for External Affairs Shri V. Muraleedharan on February 25, as part of his working visit to the country.
At the talks, Dung spoke highly of India's increasing position in the international arena and affirmed that the Vietnam-India relations are thriving, voicing his hope that the bilateral ties will be strengthened in the future.
Regarding India's financial and scientific-technologically potential, Dung said that the nation's investment in Vietnam remains modest, adding that Vietnam hopes to welcome more Indian investors in the coming time.
For his part, V. Muraleedharan pledged that India will closely collaborate with and support Vietnam as the country is holding the role of the ASEAN Chairman in 2020 and a non-permanent member of the United Nations Security Council in 2020-2021.
The host also affirmed that Vietnam is a key partner in Southeast Asia and playing the role of a pillar in India's Look East Policy.
The two officials also took note of existing difficulties in the bilateral trade. That India adjusts floor rate, raises import tariff on Vietnam's cashew nuts and imposes restriction on incense stick imports has caused difficulties for Vietnamese firms and producers, Dung noted.
Meanwhile, V. Muraleedharan expressed his hope that Vietnam will open its door to Indian fruits and create favourable conditions for its pharmaceutical companies.
A roundtable between the Vietnamese minister and Indian businesses was held the same day, drawing nearly 100 leading firms including Essar, HCL and Mahindra.
The India visit of the Vietnamese Minister was made at the invitation of the National Institution for Transforming India (NITI Aayog). While in India, Dung joined working sessions with leaders of Ministry of Commerce and Industry, Confederation of Indian Industry (CII), and visited Indian tech giants of Nasscom and Wipro./.
PM urges tax sector to continue with reforms
Prime Minister Nguyen Xuan Phuc on Wednesday praised the tax sector for reshuffling working apparatus, and urged it to continue with reforms to better serve taxpayers.
He was speaking at a conference to announce the completion of the sector's plan to streamline the tax offices, merging 711 offices into 415, ten months ahead of deadline.
Finance Minister Dinh Tien Dung reported the work was done through merging district-level tax offices into regional units controlled by provincial-level tax departments.
He said the new offices have operated smoothly, causing no difficulties to tax payers.
PM Phuc said despite the reduction, the tax sector still surpassed the assigned collection target by 9.3 per cent to gain a total tax revenue of VND1.27 quadrillion (US$55.21 billion) in 2019. At the same time, the tax collection of all 63 provinces and cities exceeded the plans for the first time.
He attributed the success to the sector's reforms in streamlining legal regulations and applying technology.
"We have recently seen rapid, strong and dramatic changes in tax administrative reforms. A total of 78 per cent of tax payers satisfied with the tax sector in 2019, compared with 75 per cent previous year," Phuc said.
The success should be an example for other sectors to follow suit, especially when the whole country is striving to meet the dual targets of constraining the COVID-19 epidemic and achieving economic growth, the PM said.
As businesses are suffering adverse impacts because of the epidemic, Phuc also directed the Ministry of Finance to scrutinise and issue policies to postpone or extend tax payments for affected companies.
He required the tax sector to continue making reforms in applying technology, modernising tax management methods and improving administrative procedures to facilitate conditions for local people and enterprises to exercise their responsibility for the State budget.
Phuc set the goal for the tax sector to cut another 10 per cent of the current 304 administrative procedures this year.
He stressed the task for the sector to surpass tax collection target by 5 per cent this year, explaining despite the COVID-19 epidemic, Viet Nam had performed well in containing the virus, and production and businesses were likely to recover in the second quarter.
In addition, the PM said, the sector must set a target of up 7-10 places to ease tax payments in the World Bank's Doing Business upcoming report.
In the latest WB's report released last year, Viet Nam ranked 109th out of 190 countries and territories on ease of paying taxes, up 22 places from the previous report, as the country made paying taxes easier by upgrading the information technology infrastructure used by the General Department of Taxation.
The ranking was measured by the four component indicators - number of tax payments, tax payment time, total tax rate and post-filing index (VAT refunds and corporate income tax audits).
According to the report, Viet Nam is expected to see improvements in most of the indicators in 2020 compared to last year.
Time spent on tax payment would be cut from 498 hours last year to 384 hours this year. Meanwhile, the total number of tax payments will be reduced from 10 in 2019 to six this year and total tax rate is said to drop 0.2 per cent to 37.6 per cent in 2020.