Though businesses have been hit hard by the Covid-19 pandemic, many will offer Tet bonuses equal to last year in an effort to retain workers.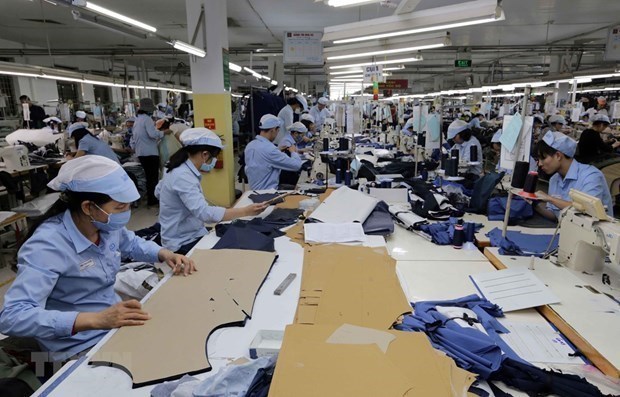 Nguyen Van Thanh, a railway worker, said the railway sector has been nearly paralyzed over the last two years because of Covid-19, which lowered workers' incomes.
"In fact, the sector had already been in difficulties. Before the pandemic, I earned only VND8 million a month and I was very frugal in spending. But the situation became even worse in the last two years as my income has been halved," he said.
Asked about Tet bonus, he said in previous years workers could expect the bonuses equal to one or two-month salaries. But there has been no bonus but only some financial support since the outbreak.

A VNR (Vietnam Railways Corporation) manager said the corporation has not made a plan on Tet bonuses yet, but VNR and subsidiaries are expected to manage to arrange bonuses to support workers after a year of hard work.
Deputy General Director of Garment Company 10 Bach Thang Long said 2021 has been a tough year for textile and garment companies. They don't lack orders but lack workers to implement orders.
According to Long, the company's revenue and profit are expected to be higher this year but the company has had to pay more for anti-pandemic measures. It's expected that workers will receive bonuses equal to a 1.5-month salary.
Former Minister of Labor, War Invalids and Social Affairs Pham Minh Huan commented that the employment and income situation this year has been worse than the year before because of Covid-19, so 2022 Tet bonuses are expected to decrease. However, many enterprises will still manage to reward their workers.
Tourism, hospitality, service and passenger transport businesses have suffered the most from Covid-19. Other business fields, including finance and banking, securities, automobile, healthcare, pharmacy and e-commerce, are operating well.
Vietnam Labor Federation's Deputy Chair Phan Van Anh confirmed that most Vietnamese businesses are facing difficulties and many of them have had to suspend production.
The Trade Union has decided to use VND3 trillion from trade union fees to give support to 10 million workers (VND300,000 per worker) at public non-business units.
Anh stressed that supporting workers with a Tet bonus policy is a necessity to help them feel secure about their jobs, which will allow businesses to recover when the pandemic ends or is better controlled.
Deputy Minister of Labor, War Invalids and Social Affairs Le Van Thanh said 4.7 million workers lost their jobs in the third quarter, 14.7 million took temporary leave, and more than 10 million had fewer working hours, or temporarily stopped working. 
Vu Diep
The highest Tet bonus workers this year is VND1.07 billion, or over $41,000. The highest pay in 2020 was VND516 million a month.

Seventy-one percent of businesses anticipate revenue decreases in 2021, higher than the 65 percent figure in 2020, according to a survey.