Ministry of Transport (MoT) has asked provinces and cities to urgently update and add types of goods that are allowed to travel during the lockdown...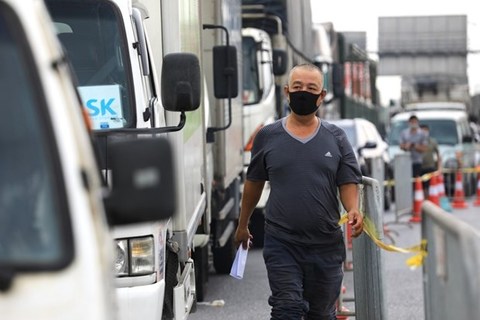 Trucks wait in line to be inspected at pandemic checkpoints. 
The Ministry of Transport (MoT) has asked provinces and cities to urgently update and add to the types of goods that are allowed to be transported during the lockdown period under Directive 16.
A number of businesses have requested more specific instructions on what exactly constitutes 'essential goods'.
Transport departments are also confused as to who can be issued QR codes.
Speaking at an online meeting, Monday, Phan Thi Thu Hien, Deputy Director of the Directorate for Roads of Viet Nam (DRVN), said as of July 24, over 34,000 vehicles had been granted QR codes, bringing the total number of vehicles issued QR codes nationwide to 77,397.
Congestion reported earlier this week in Ha Noi had now been resolved, she said.
The DRVN had agreed to set up a traffic coordination team to regulate traffic at checkpoints and reduce traffic congestion.
Vu Van Vien, director of the Ha Noi Department of Transport, said the agency had received more than 20,000 requests for QR codes and granted more than 7,000 travel permits.
However, there were many documents that were not eligible, that did not provide enough information. Difficulties in determining the list of essential goods allowed to travel through the city's gateways were also hindering the ability to issue QR codes, he said.
In recent days, the DRVN also reported cyberattacks that affected the ability to grant QR codes.
The agency asked the Department of Informatics to provide technical support to improve the security of the network.
To ensure the smooth circulation of essential goods and reduce pressure on the Ha Noi Department of Transport, DRVN on Monday requested transport departments in the northern provinces take part in issuing QR codes for vehicles transporting essential goods.
At the meeting, the Minister of Transport Nguyen Van The asked the Ministry of Industry and Trade and the Ministry of Agriculture and Rural Development to soon have guidance on the list of goods allowed for circulation.
Localities must also oversee businesses that transport goods and conduct rapid COVID tests or RT-PCR tests for truck drivers and their support staff and strictly handle violations.
MoT has ordered People's Committees of the provinces and cities to facilitate the transport of essential goods, workers and experts.
Vehicles carrying logos and QR codes and drivers with a valid certificate of negative test results for SARS-COV-2 are allowed to go through checkpoints without any checks. These drivers will also be permitted to go through checkpoints.
Drivers who get valid COVID-19 test certificates will also be allowed to pass through the checkpoints even though their cars has not been issued with a logo or QR code. 
Source: VNS