Food consumption trends in the domestic market, identification of nutritious and safe food, and improved understanding of chilled and frozen foods were among the topics discussed at a seminar held yesterday.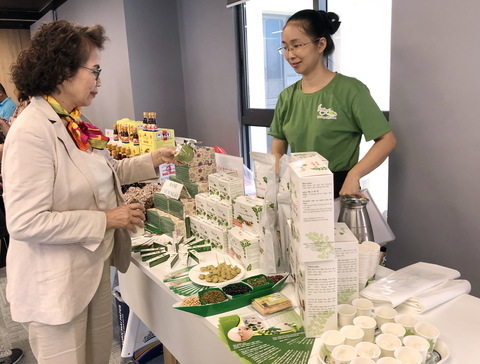 Morninga Vietnam Trading Production Co. Ltd showcases its moringa products on the sidelines of a seminar held by the Association of Food Transparency in HCM City on Friday.
Organised by the Association of Food Transparency, the seminar provided consumers with basic knowledge about choosing quality and safe food, as well as a better understanding of fresh, chilled and frozen foods. It also discussed healthy diet plans, and provided businesses with food consumption and market trends.
Nguyễn Thị Hồng Minh, chairwoman of the association, said that unsafe food was still widespread in the market, and that consumers were concerned about what kind of foods were safe to eat and drink.
Hoàng Thị Hồng Loan of the Information Technology College of HCM City said traditionally consumers chose different kinds of food based on looks or what they were told was "good", but without knowing if the food had met safety standards.
Today, however, consumers pay more attention to the safety aspect of food products, with more of them choosing natural and organic products.
Food producers, therefore, need to voluntarily provide transparent information about their products to win consumers' trust, thus enhancing their competitiveness.
In addition, with the development of technology, more and more consumers have opted to order food online, she said.
According to the dietary recommendations of the World Health Organisation, per capita consumption of fish and vegetables of Vietnamese is low compared to the benchmark, while salt consumption is much higher. This is not good for health, and consumers with such eating habits should change their diet plans, speakers said.
The seminar also shared information about the import of beef, pork and chicken, which has increased significantly in recent years. Pork imports are expected to increase by 12 per cent next year. — VNS

Vietnam will continue to solicit investment in food processing to add value to the industry, a conference heard in HCM City on November 14.

The US Department of Agriculture has recognized Vietnam's food safety control system on catfish as equivalent to American regulations after three years of Vietnam having been engaged in fine-tuning food safety law and enforcement.