The shortage of materials and various labor-related problems attributable to the spread of the Wuhan coronavirus have affected the production and business activities of large foreign direct investment (FDI) enterprises in Vietnam.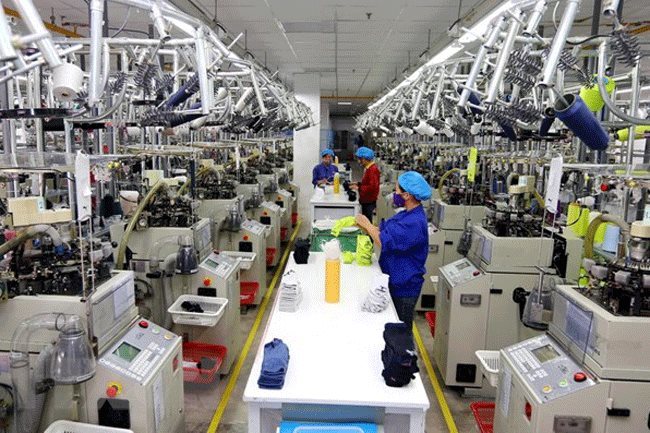 Workers at a factory owned by Jasan Textile and Dyeing Vietnam Co., Ltd, a Chinese-invested firm in Haiphong City. The Wuhan coronavirus has affected the production and business activities of FDI enterprises in Vietnam
According to a report by the Ministry of Planning and Investment on the influence of the coronavirus on the country's socioeconomic development, among the 50 localities employing Chinese laborers, Bac Ninh has taken the lead with 9,000 laborers, followed by Haiphong City with more than 4,300 people and HCMC with nearly 4,200 people, Nguoi Lao Dong newspaper reported.
Of the total, nearly 5,500 Chinese people have returned to Vietnam for work after the Lunar New Year holiday. Most of them have been quarantined.
However, over 11,000 others will return to Vietnam in the coming weeks.
To ensure the smooth operation of enterprises hiring Chinese laborers, Vietnamese workers must work overtime to complete the jobs of Chinese laborers who have yet to return.
If the epidemic is not brought under control soon, the Vietnamese labor market will be negatively affected. The demand for laborers in the tourism, catering and other sectors will plunge, which may increase unemployment and other social troubles, according to the Ministry of Planning and Investment.
The epidemic has directly affected the agriculture, industry, construction, trade and service sectors. Once enterprises' production is affected, investment in the country will fall.
Due to the impact of the coronavirus, potential investors from China and other countries have postponed their plans to seek investment opportunities in Vietnam.
In addition, the demand for nonessential goods will fall, leading to large inventories and stagnant production.
The lack of input materials for FDI projects triggered by the closure of border crossings with China has hindered the progress of these projects in Vietnam.
The Ministry of Planning and Investment cited complaints from LG Vietnam, claiming that if the coronavirus is not brought under control within the next two weeks, it will face a shortage of input materials for production.
In addition, hundreds of containers of input materials for Samsung are stuck in Lang Son Province. If customs procedures for these containers are not completed soon, Samsung's sales may plunge by 50% this year.
As for Hung Nghiep Formosa Ha Tinh Iron and Steel Co., Ltd, in Ha Tinh Province, besides its inability to import materials from China, thousands of its laborers will not return to work until February 15.
Moreover, Apple aims to increase its exports by 30% this year, but it is dependent on original equipment manufacturers, such as Samsung, Foxconn and LG. Therefore, if these firms' sales dip, Apple's export revenue will also drop. SGT

The novel coronavirus has caused problems to most of the roadway logistics firms, however at sea it is having a mixed affect.  

Bao Viet Securities (BVSC) predicted that the GDP would grow by 6.5 percent in Q1 2010, or 0.2-0.4 percent lower than the same period last year. The growth will recover in Q2.