A number of U.S.-invested firms in Vietnam suffering supply chain complications have deep concerns about the economic impact of the novel coronavirus, or Covid-19, a survey of American Chamber of Commerce (AmCham) members indicated.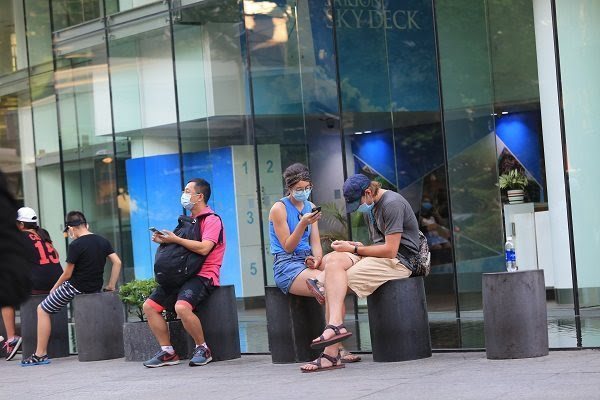 Visitors take a rest at an office building in HCMC's District 1. They wear face masks to protect themselves from the Wuhan coronavirus
The AmCham in Hanoi conducted a survey on February 13 and 14 about the business impact of the coronavirus on business operations in Vietnam.
The survey focused on quantitative issues, such as the coronavirus' expected impact on corporate revenues and Vietnam's gross domestic product (GDP) as well as workplace issues such as travel and work-from-home policies.
Most members stated it is too early to gauge the impact of the coronavirus on their estimated 2020 revenues. However, of companies that are able to estimate the impact, some 70% said the coronavirus is expected to reduce their revenue by 10% or less this year.
One-quarter of respondents predicted Vietnam's GDP growth will be slashed by more than 1.5 percentage points due to the viral outbreak. Another quarter of them expect little or no change in the GDP growth, while half fall between the two expectations.
"More than half of our members in the manufacturing sector are experiencing difficulty sourcing supplies/materials due to disruptions from the coronavirus," AmCham executive director Adam Sitkoff noted in a statement, citing the AmCham survey.
Some 35% of respondents indicated that current supply chain disruptions are already seriously affecting their company's global operations.
The greatest challenges lie in securing alternative materials and goods supplies, along with inventory management.
"Supply chain disruptions and travel restrictions are having and will continue to have an impact on many business sectors," Sitkoff said.
The survey also found that some 60% of companies responding now allow staff to work from home and almost all members offer hand sanitizer in the workplace.
A quarter of respondents are restricting staff travel within Vietnam, while three-quarters are restricting travel to some or all countries abroad.
Half of the respondents are experiencing difficulty getting people to come to Vietnam from abroad, and almost 80% of member firms have cancelled or postponed meetings or events due to concerns over the coronavirus outbreak.
Gareth Leather, Senior Asia economist at London-based think tank Oxford Economics, remarked in a note on February 13 that factory shutdowns in China are starting to have significant knock-on effects on the rest of the region as companies struggle to source intermediate goods.
"The garment and electronics sectors are likely to experience the worst of the disruption, while Vietnam and Malaysia are set to be the hardest hit countries," explained Leather.
According to the economist, some firms should be able to source inputs from elsewhere, just as they managed to reroute supply chains during the U.S.-China trade war, but this will be "a tall order" in many cases.
He pointed out it will be difficult for alternative foreign suppliers to make up for the shortage of intermediate goods across numerous sectors in Vietnam, where 40% or more of imported manufacturing inputs come from China.
The new coronavirus emerged in the Chinese city of Wuhan late last year, which has claimed the lives of more than 1,700 people in mainland China. Vietnam has confirmed 16 cases of infections so far, with 11 being from the northern province of Vinh Phuc. SGT
Pham Nhat

The US has proposed to reduce the import tax on some of its agricultural products, including chicken, some fruits, wheat, potato, pork and dairy products.

After more than three years serving as U.S. Consul General in HCMC, Mary Tarnowka has been appointed as executive director of the American Chamber of Commerce in Vietnam HCMC.